When designed well, an email drip campaign can be one of the most effective ways to guide your prospects through the sales funnel, while simultaneously building long-term relationships. If you haven't built an automated marketing campaign, it might seem complicated, but once you've got the basics down it will become an invaluable tool in your marketing toolkit.
What are drip marketing campaigns, and why are they important?
An email drip campaign is a marketing strategy that involves sending a series of automated, pre-written messages over a period of time to help nurture prospective customers through the sales funnel toward a final conversion point. Typically a drip marketing campaign would be triggered when visitors take a specific action on your website or landing page.
Automated email marketing campaigns are all about relevance and timing. Although the content is pre-written and automated, it is personalized to the interests and needs of the target audience. Done well, drip marketing campaigns can be an effective strategy for building trust and deepening relationships with prospective customers by slowly "dripping" helpful information, updates, products, and notifications over time.
For example, if a prospect has repeatedly visited a product upgrade landing page but hasn't upgraded yet, a drip email might be useful for explaining the benefits of upgrading or addressing barriers or concerns the customer may have.
How are drip campaigns used?
Drip campaigns can be used at each stage of the sales funnel, from welcome mails, onboarding sequences, and lead nurturing campaigns to prompts triggered by abandoned shopping carts. The approach is all about delivering subscribers the right information at the right time to guide them down the funnel to eventually convert.
Drip campaigns are are different from other types of email marketing in the following ways:
The use of timing and behavioral triggers to send automated messages
The campaign is designed as a series, with emails that build on each other
Content is personalized and targeted to a specific audience
Only sent to subscribers that have actively opted in to receive emails
Because drip campaigns are personalized and targeted, there's a lower unsubscribe rate
Benefits of drip email campaigns
Drip marketing can attract prospects, educate leads and reward loyal customers — all within the same campaign — by targeting, segmenting, and engaging specific audience groups.
This targeted approach allows more personalized communication, which translates to higher engagement — drip emails can generate a 119% increase in click rate — while weeding out unresponsive subscribers early on. And because drip campaigns are automated, they require less day-to-day effort creating and distributing new emails.
Providing valuable information through a series of targeted and personalized communications can also build trust and loyalty — which may translate to increased repeat business and higher customer lifetime value.
When used effectively to nudge leads and customers through the sales funnel, the sales process can be accelerated, resulting in an increase sales velocity, and ultimately, an increase in revenue.
Email drip marketing examples
Ready to start converting leads into customers? Here's a set of examples to get you started.
1. Welcome emails
The welcome email is exactly what it sounds like — it greets new subscribers and welcomes them into the brand experience. This can be a simple "hello, thank you for subscribing," or it can be used to offer a prompt toward deeper engagement, such as a discount code. Or it can be used to begin sharing some of your basic content.
This example from the toy store Hazel Village uses the initial welcome email to offer the subscriber a special new customer discount.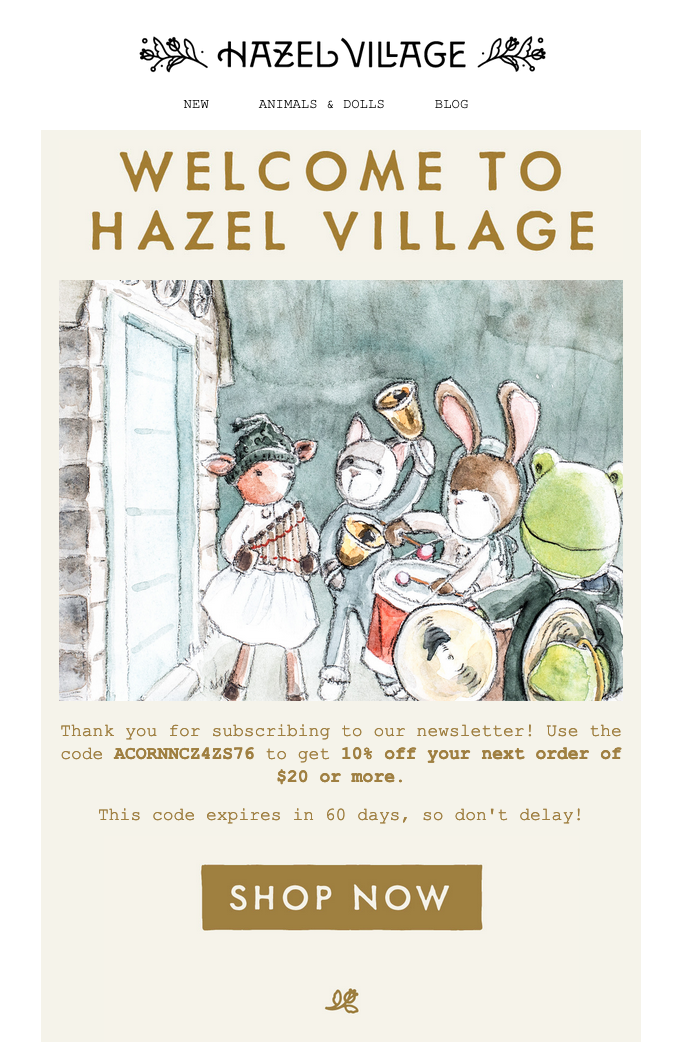 The second email draws the subscriber deeper into the brand, with a product update that invites the customer back to the website to explore other toys.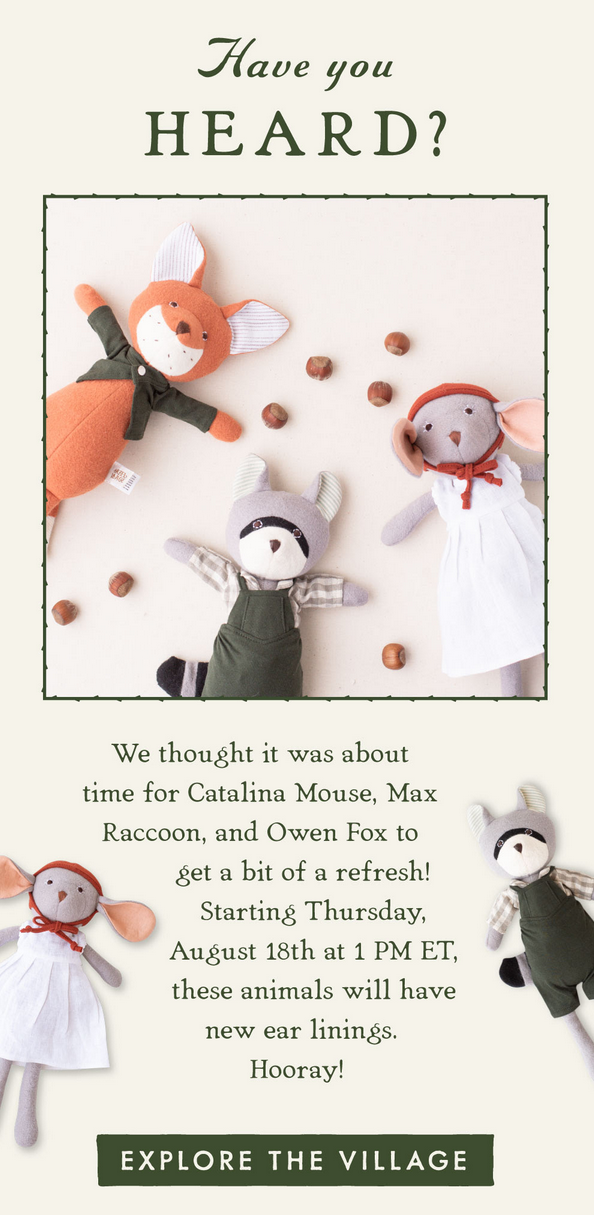 2. Onboarding Emails
The onboarding email is used to orient a prospective customer who has signed up for a free trial. The objective of this email is to provide all the necessary information to ensure a successful trial, with the aim of ultimately converting them into paying customers.
In this example from the Jasper AI platform, once the user has signed up for a free trial, they are greeted with a sequence of emails encouraging them to use their trial, addressing potential barriers, inviting feedback and directing them to training materials.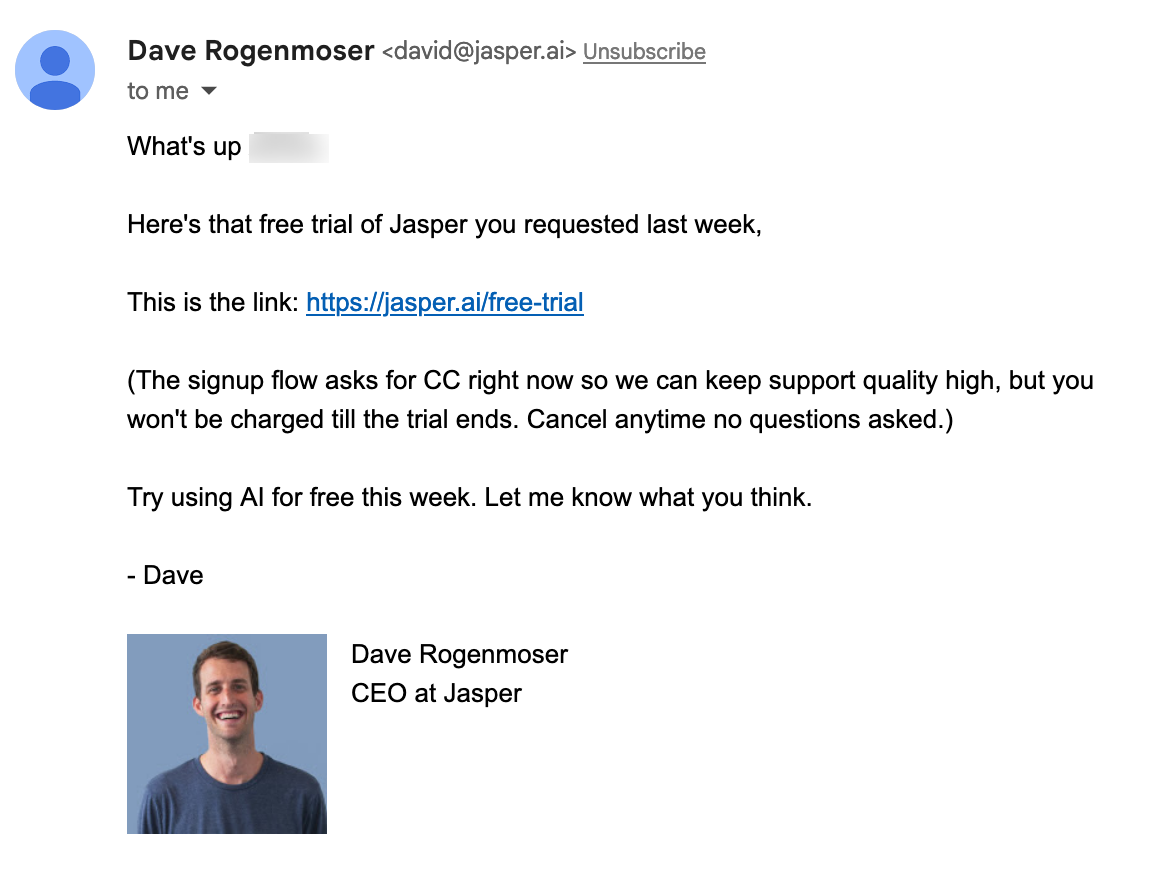 Similar to landing pages, an effective onboarding email has only one clear CTA — because the more choices people have, the less likely they are to take action.
3. Re-engagement emails
These email sequences are used to connect with inactive prospects with the aim of re-engaging their interest. There's any number of reasons a previously interested prospect may have stopped engaging, but sometimes a reminder with a compelling offer is all that's needed.
This example from the luggage brand Modobag uses the re-engagement email as an opportunity to provide a brand update, and then gives a little push toward purchase with a limited time offer.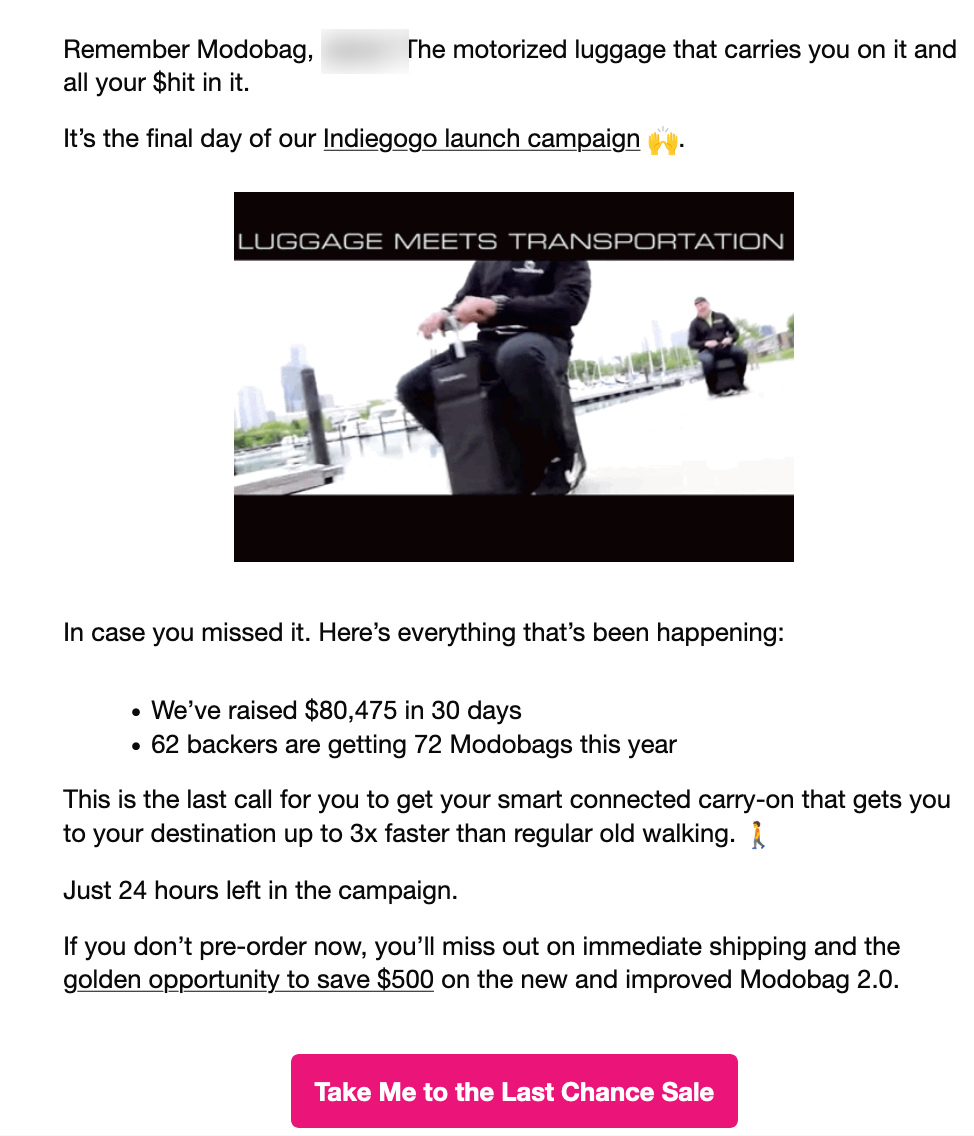 4. Abandoned cart emails
It's not uncommon for users to get to the last step of check-out, only to abandon their shopping cart without finalizing the purchase — the abandoned cart email is a tool for leading users back to complete the transaction.
This example from Explore Cuisine reminds users what they left behind, confirms that it's still available and uses the same enticing imagery that captured their attention on the website to compel them to pick up where they left off.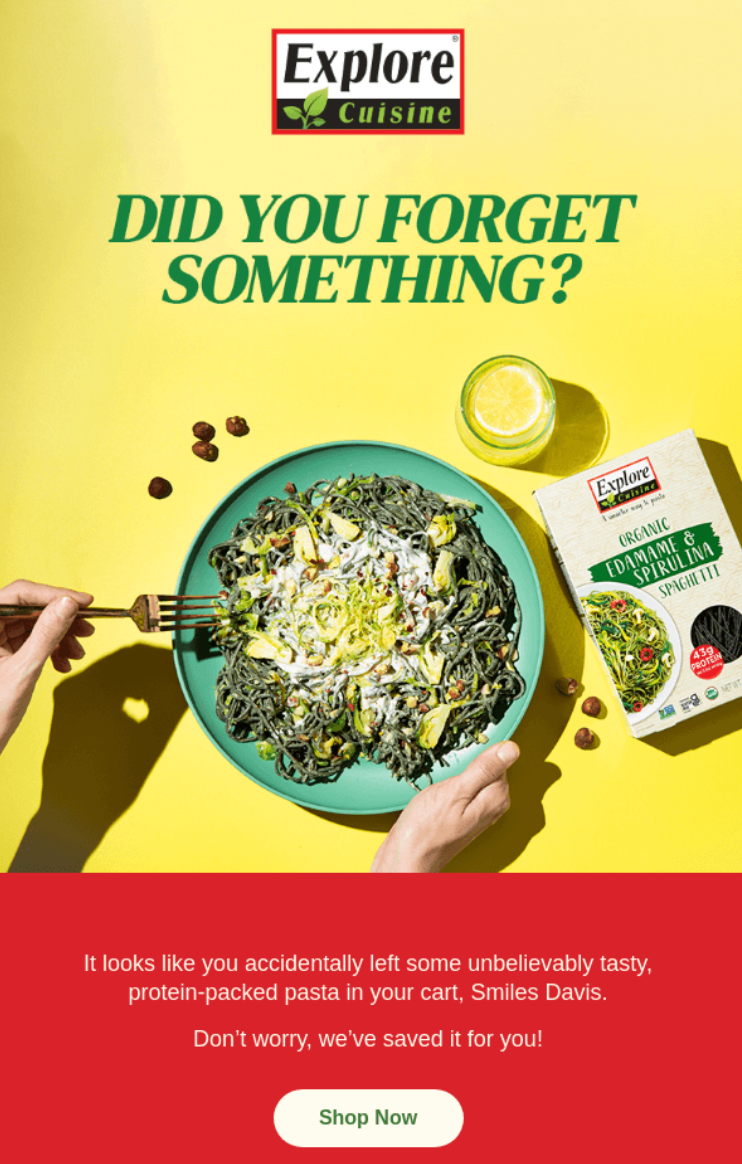 5. Confirmation emails
Once you've made your sale, the next step in your drip campaign should be a confirmation email, that puts the purchase information into your customer's inbox, along with a "thank you" note.
You can also use post-purchase email sequences to collect some social proof by asking visitors to leave a product review in exchange for a coupon code or discount or set up a referral campaign.
For example, the coffee company Cometeer uses its confirmation emails to prompt customers to refer the brand to a friend in exchange for a discount.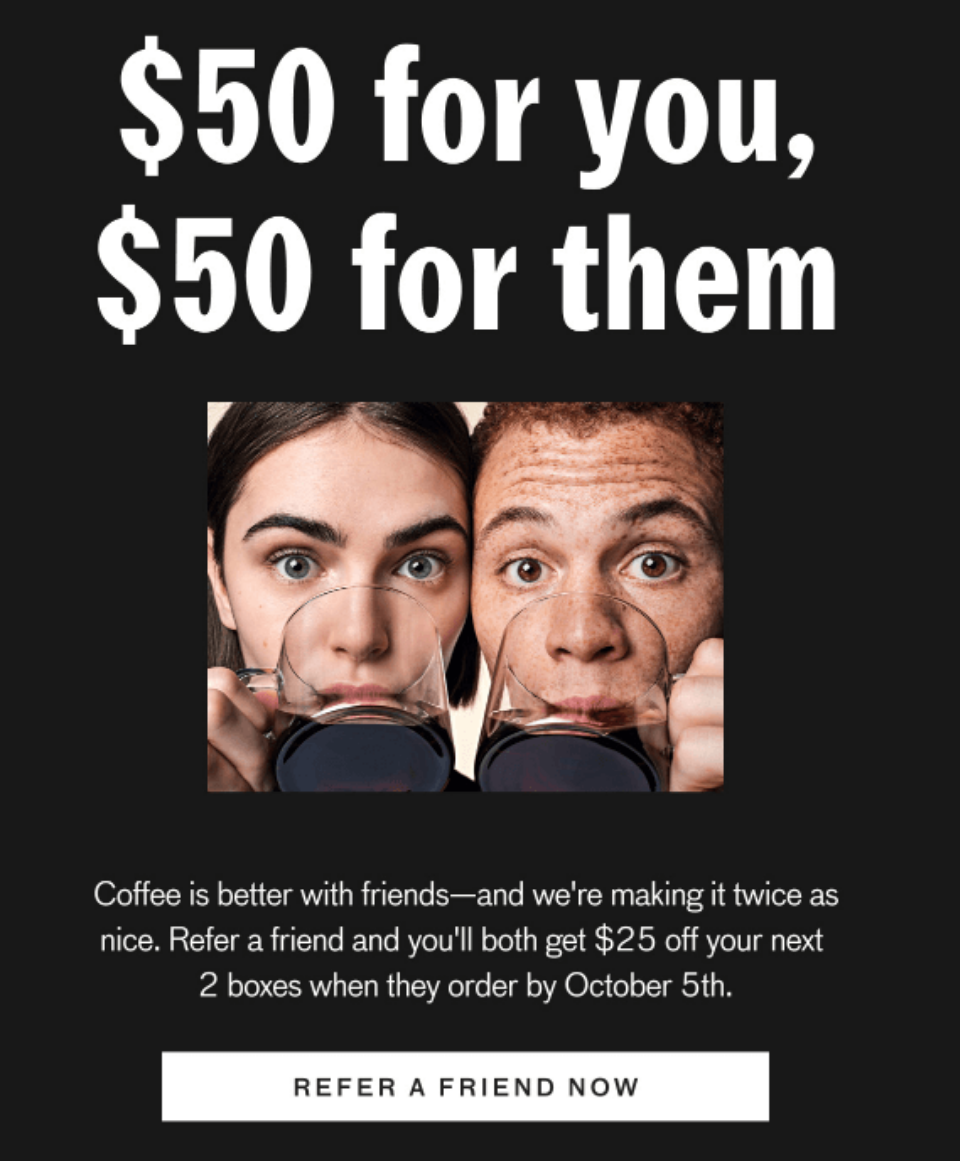 Ensure your drip campaigns are successful with these best practices
The success of your drip campaign will ultimately be determined by the strength and relevance of your content. The following best practices will help you get the best results.
1. Consider the customer journey
Make sure the content of your email is aligned to your customer's relationship with the brand as they move through the sales funnel. For example, if they only recently became aware of your brand, they're likely not ready to buy. At this stage it's appropriate to nurture the relationship by providing educational content before hitting them up with a sales pitch. Whereas subscribers who know your brand and are in the consideration stage will likely appreciate product comparisons, free trials or discount coupons.
2. Space out emails and create a smooth flow
Don't overwhelm your subscribers to the point that they unsubscribe. You want to deliver a steady stream of communication, but paced appropriately. The optimal frequency will vary across categories and brands, and will require a test and learn approach to dial in.
Most importantly, an email drip campaign should tie together for a consistent message and seamless experience. The best approach to achieving this consistency is to draft each of the emails in the campaign together as a single story.
3. Follow basic email writing tips
Follow basic email writing best practices:
Focus on value: Make sure every email you send contains something of value to your subscriber
Keep text short and succinct: Make content easier to read on small screens by avoiding long paragraphs and dense blocks of text
Be aware of spam triggers: To prevent your email from triggering spam filters, avoid using overly promotional language and punctuation in the subject line, including too many images in relation to text, and sending large files
Use compelling email subject lines: Getting people to open the message is the first step, so the subject line must be compelling
Create urgency: Set deadlines and offer exclusive deals
Include a CTA: Show them what the next step is by offering more value, such as visiting an email landing page to download a whitepaper
Add a P.S.: Tease the next email you'll send and get the subscriber excited for it
4. Connect your campaign to other channels
Drip campaigns don't need to be limited to email. Utilize other brand channels such social media, paid media, blog posts and direct mail to create an unified campaign and brand experience. Connect all of the campaign touchpoints by driving them to relevant, optimized landing pages.
Start planning your next campaign today
The key to creating a high-converting campaign is to craft an engaging story and experience for your subscribers that flows across the buyer journey. To complete your campaign and reduce wasted clicks, be sure to connect your drip emails with the perfect landing page.
And where there are landing pages there's Instapage.
Instapage makes it easy to create personalized, relevant landing pages for every email campaign and audience with hundreds of templates and easy in-app testing. Sign up for a 14-day trial and start increasing your conversion rates and return on advertising spend (ROAS) today.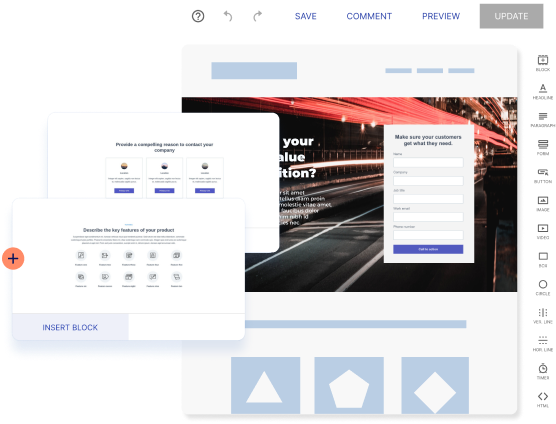 Try the world's most advanced landing page platform with a risk-free trial.