When you Google "diamond necklace," you'll see everything from a sterling silver necklace with a diamond accent for $30, to a two ctw diamond pendant necklace in 14kt white gold for several thousand dollars. Plus many results in between.
With so much online competition, you need an ecommerce marketing strategy that captures people already looking for your products, and convinces others to want to look for your products.
Of the many different strategies to choose from, today's article looks at five of the most essential strategies you can use to set yourself apart and generate sales.
What is ecommerce marketing?
Ecommerce marketing is the process of driving awareness and action to grow sustainable traffic resulting in online sales and loyal customers. Ecommerce marketers apply traditional marketing principles (social media, digital content, search engines, etc.) to a multichannel strategy to attract more visitors and facilitate more online purchases.
So what is the best ecommerce marketing strategy? There is no "best." One businesses' best is another's worst, and vice versa. What works for you depends on your brand, industry, product, customers, and context. Here are some options to consider.
5 proven ecommerce marketing strategies
1. Retargeting
98% of users don't convert on their first website visit, so retargeting is a no-brainer in an ecommerce strategy. There are several ways you can retarget prospects so they reconsider their purchase decision and decide to buy.
One of the most common ways is with paid ads on other websites. So when a customer leaves your site before buying, show your products on other sites and get them to come back.
You can also retarget visitors with email campaigns — abandoned cart emails to be specific. Canvas On Demand even offers an extra discount to potential customers who left items in their cart without buying as an incentive to return and complete their purchase: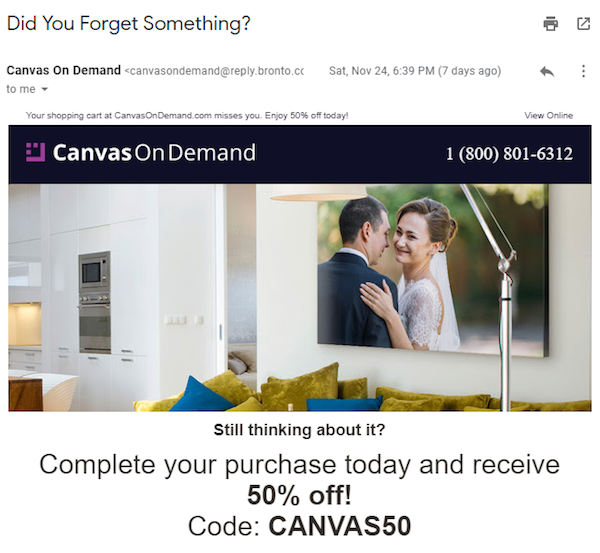 Onsite retargeting is an exit-intent tactic that tracks a visitor's actions on your site and lets you display an offer to them at the precise moment they're about to leave. Since onsite retargeting converts abandoning visitors before they even leave your site, you save on third-party retargeting ad spend.
IncStores, an ecommerce brand specializing in niche, specialty flooring, uses ecommerce retargeting by adding an exit-intent to every page on their website. The campaign captures hundreds of email addresses every month, and converts 2.05% of abandoning visitors: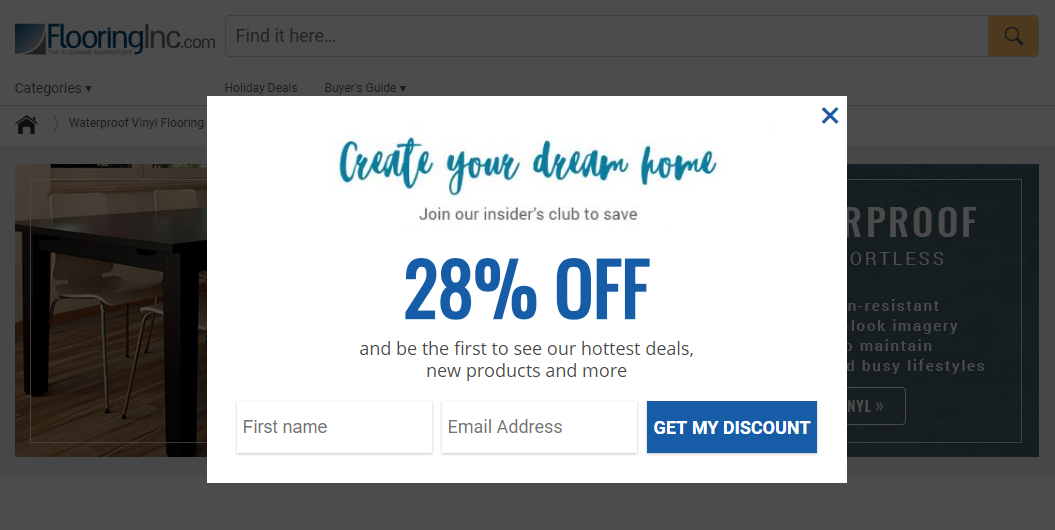 2. Content marketing
The average conversion rate with content marketing is nearly 6x more than marketing without content — 2.9% vs. 0.5%: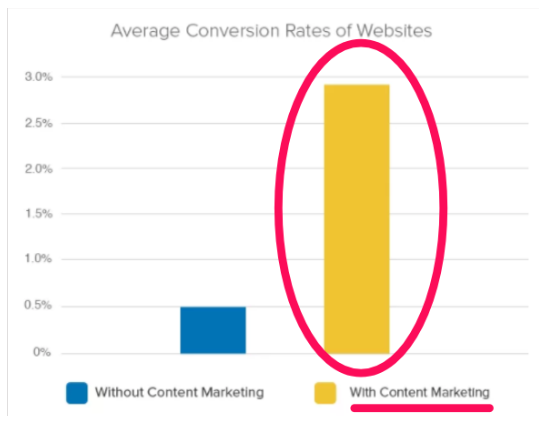 Ecommerce content marketing consists of many activities — blogs, videos, product guides, infographics, GIFs, images — any online material that attracts your target audience and helps generate transactions. Interactive content (personality quizzes, online calculators, etc.) are especially great options for ecommerce brands.
However, ecommerce content marketing shouldn't be used to sell products directly. Rather, educate prospects about your products and raise brand awareness.
For example, an ecommerce company promoting a new line of athletic shoes shouldn't write a blog article about the new sneakers. Instead, write about the different qualities people should look for in sneakers, depending on the activities they do. You'd be surprised how many people Google questions like, "What shoes are best for weight training?" — which could be your perfect opportunity to promote your new line without being overly salesy.
3. Email marketing automation
Email marketing is a necessity for ecommerce brands because it's one of the best methods for influencing your customers and convincing them to buy more. Despite the popularity of other marketing channels like social media, email remains the top communication method for many consumers, with a median ROI of 122%. It can be used to target potential, current, and past customers, and can involve standalone or automated emails.
Ecommerce marketing automation involves sending systematized promotional emails to prospects and customers. Before sending your emails, though, you have to build your email list. Many ecommerce brands do this by persuading website visitors with a gated offer in exchange for their email address. A common incentive is a discount on the customer's first purchase: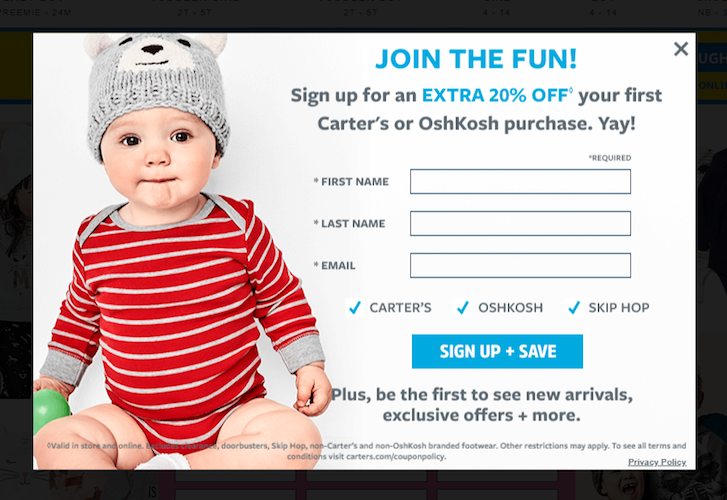 With your email list, you can then set up a variety of email automation triggers:
Welcome automations
These are emails automatically sent to customers when they first sign up for your email list. Many companies include a short message about their brand, and how they're happy to have the recipient as a new customer or subscriber: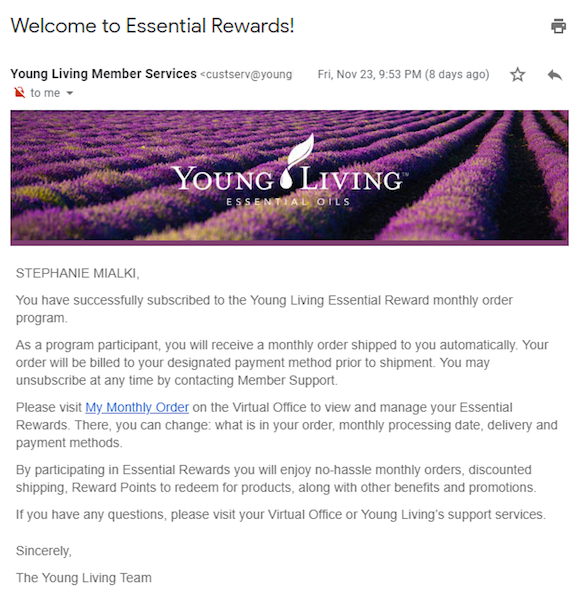 Some brands also include a coupon in their welcome email to entice recipients to make their first purchase.
Cart abandonment automations
These emails retarget customers who left something in their shopping cart. They serve as a friendly reminder to people that they have products waiting for them, which greatly helps you regain lost sales. Again, this type of email can include a product discount or free shipping as an incentive to complete the purchase (see Canvas On Demand above).
Order automations
Several emails should be a part of this automation sequence to keep customers updated on their purchases. First, an order confirmation email: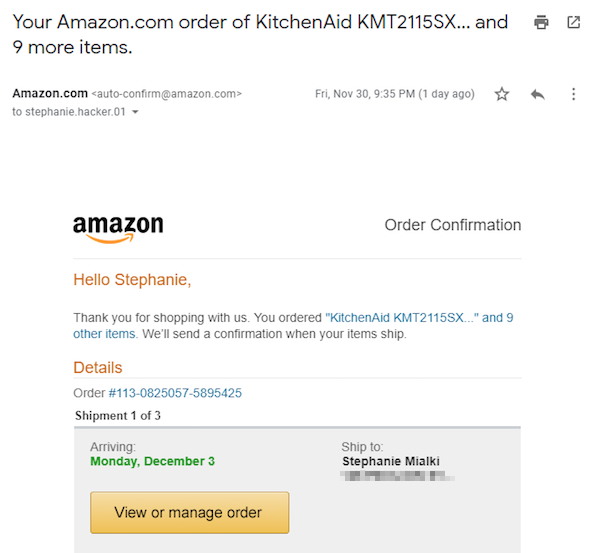 Then, a shipping email confirming the items have been sent out for delivery: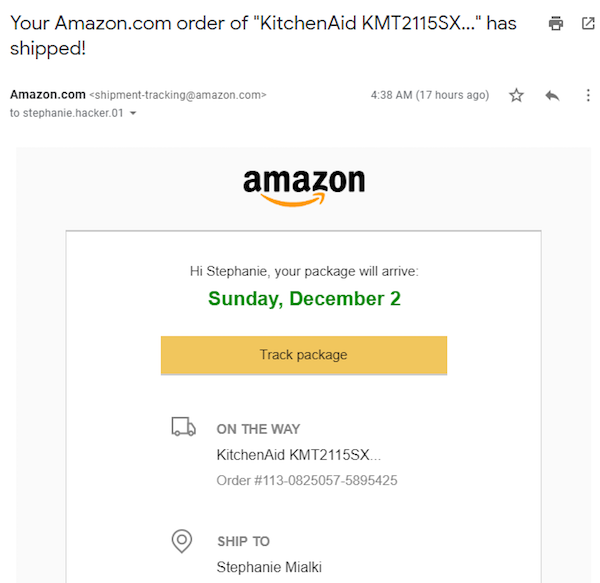 And usually, even a delivery confirmation to let customers know that their products have been dropped off.
Follow up automations
Post-purchase, send a follow-up email asking customers for their feedback about the products they received. This feedback is helpful for other interested customers who are trying to decide whether or not to purchase your product. It's important to consider when making improvements to your business as well. Follow up automations are also great for continuing the conversation, building relationships, and gauging future interest in your business.
4. Affiliate marketing
Ecommerce affiliate marketing connects a merchant or advertiser to an independent marketer looking to sell their product in exchange for payment. It leverages product-focused referrals, such as reviews, comparisons, and testimonials to drive traffic to a company's site.
Ecommerce is the niche most closely related to affiliate marketing because it represents a straight sale flow. Every sale the affiliate refers to the merchant allows the affiliate to earn a designated commission. So on one side, you have a merchant looking to sell more; and on the other, you have someone with content and an audience they're looking to monetize. It's the perfect combination, which is why many online stores earn a large portion of their revenue with an ecommerce affiliate program.
Affiliate marketing is performance-based, so merchants only pay when affiliates deliver a specified customer action (typically, an online purchase). The most common approach to affiliate compensation is called pay-per-sale.
Amazon's affiliate program — one of the world's largest ecommerce affiliate programs — uses pay-per-sale. The company pays its affiliates a percentage (up to 10%) of each qualified sale: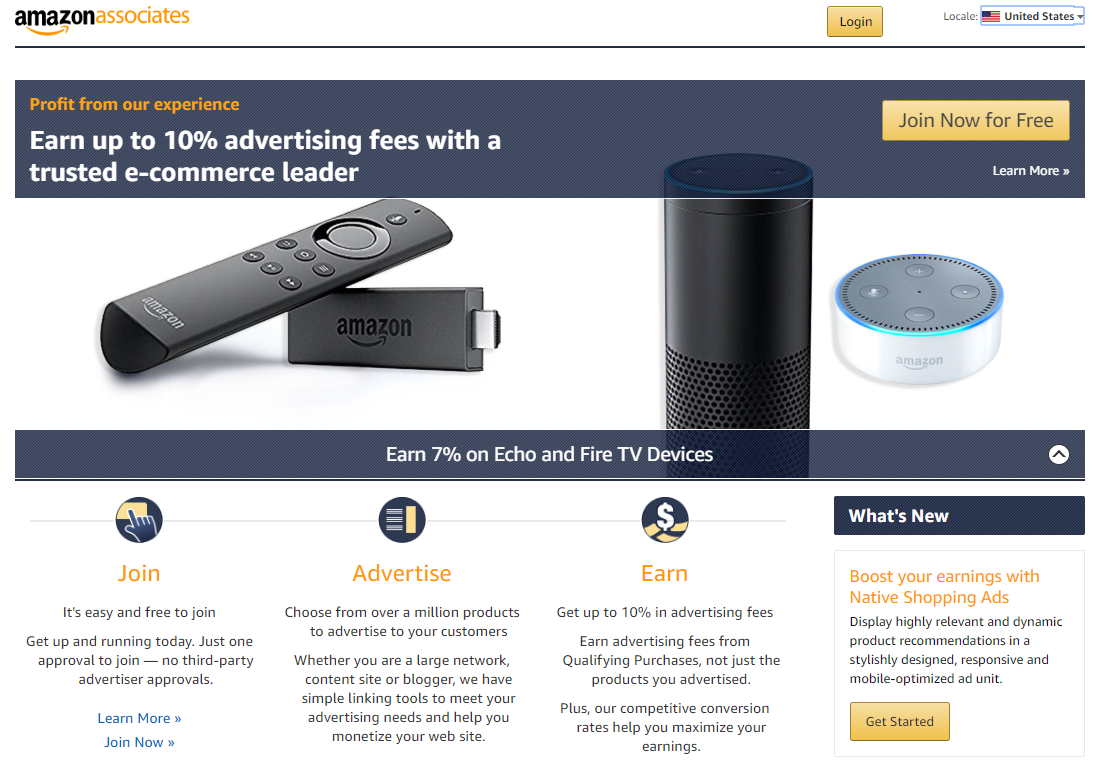 The term "qualified sale" (or "qualified purchase") is defined in advance by the merchant. An example looks like this:
The customer clicks an affiliate link
The purchased product must be added to the cart during a single session following the link click
The customer must pay for and receive the product purchased
The customer does not return the product
Your incentives are important to define as well, as this is the primary reason the affiliate will share. The "right incentive" depends entirely on your context – your industry, store, products, pricing, competitors, etc.
5. Social media marketing
Regardless of industry, social media can be one of the most cost-effective advertising channels. That said, being on social media and posting occasionally isn't enough to grow your business. Rather, you'll need a detailed ecommerce social media marketing campaign to do that.
Since ecommerce websites are generally highly visual for showing off products, your social media marketing strategy should be too. This will attract more attention and drive traffic to your web pages.
Instagram is a perfect platform for ecommerce businesses for that exact reason. With Carousels, Stories, and more, Instagram enables you to post engaging product visuals to grow brand awareness, drive traffic, and generate sales.
Video marketing on social media is an effective ecommerce strategy as well because it quickly demonstrates how your product works. This is significant for two main reasons:
Most customers are seeking instant gratification, and video gets the point across quickly and efficiently. Conversely, an advertisement with a lot of text is more likely to go unread.
If users can see your product in action, they're more likely to purchase.
Browze has the right idea by using this Instagram product ad to promote their Clever Cutter: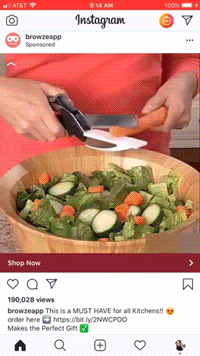 The video does a great job demonstrating how the product is used while highlighting its features and benefits. Prospects can then purchase the Clever Cutter by clicking the Shop Now CTA button and visiting the sales post-click landing page: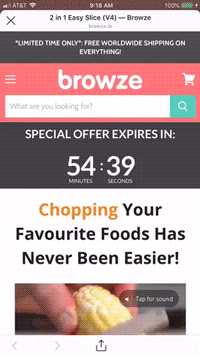 By creating ecommerce post-click landing pages for each product you promote (not just on social media), you can deliver a more personalized shopping experience. Which leads us to our last point…
Personalization is everything
Every customer is unique and therefore requires personalized attention and engagement to be persuaded to convert. In fact, the majority of Gen X and Millennial shoppers say they'll share their personal data in exchange for personalized offers and experiences that match their needs: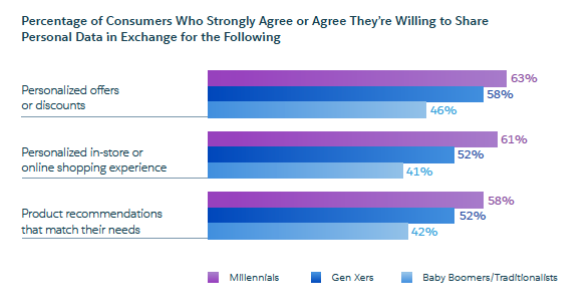 In addition to creating ecommerce post-click landing pages to deliver a personalized experience through specialized digital storefronts, other ways to add personalization to your ecommerce marketing strategy include:
First name tokens in the subject line or the email itself
Automated emails with dynamic content
Product recommendations based on marketing segmentation
LinkedIn's Matched Audiences to distinguish between different phases of the buyer journey
No matter how you elect to personalize your ecommerce strategy, the objective is to make customers feel like your store is dedicated to helping them find the perfect product. Every little detail of personalization makes your customers feel special and pushes them one step closer to a transaction.
Personalize the buyer's journey to get the sale
Ecommerce websites exist solely to make merchants money. That means everything about your marketing strategy — throughout the entire customer journey — should be designed to convince visitors to purchase. Although many ecommerce tactics exist, try the five above to start.
Don't forget to optimize and personalize the post-click landing page, either, as this is just as important as the pre-click experience. After providing visitors with a dedicated product post-click landing page, use the guide below to get even more out of your post-click optimization opportunities. Sign up for an Instapage Enterprise demo today.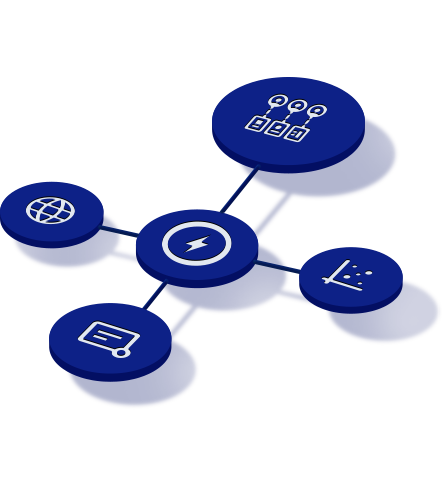 See the Instapage Enterprise Plan in Action.
Demo includes AdMap™, Personalization, AMP,
Global Blocks, heatmaps & more.