The ecommerce landscape is incredibly competitive with new ways to sell products online continually becoming available. Businesses everywhere must actively seek out new methods to find customers and cut through the noise.
While it's not new, Facebook provides an excellent opportunity for ecommerce stores and businesses to do this. With 2.41 billion monthly active users, the largest number of ecommerce orders from a social media platform, and a typical ROI from Facebook Ads at 152%, ecommerce Facebook advertising is a goldmine for businesses.
If you're looking to build or reinvent your ecommerce advertising strategy on Facebook, these 10 tips will get you started.
10 Tips to level up your ecommerce Facebook advertising campaigns
1. Create the perfect image
Your ad's image is the very first thing users see, so it's essential that it's both attention-grabbing and aesthetically appealing. Some components to keep in mind when designing your ad creative include:
High-quality — Ecommerce Facebook ads should be scroll-stopping images that stand out in the newsfeed. Instead of stock imagery that often get overlooked, use professionally-shot, beautiful representations of your product in real-life situations: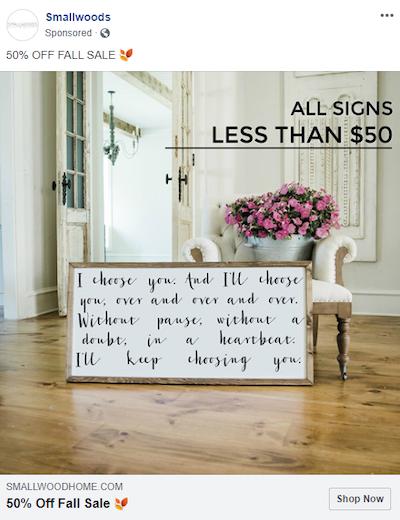 Faces — Humans connect best with other humans, so welcoming, personal, emotive faces are ideal for catching attention and allowing individuals to visualize themselves using your product:
Simplicity — Overly complex images with distracting elements take attention away from your product, while simple images with empty space can draw more focus to your product: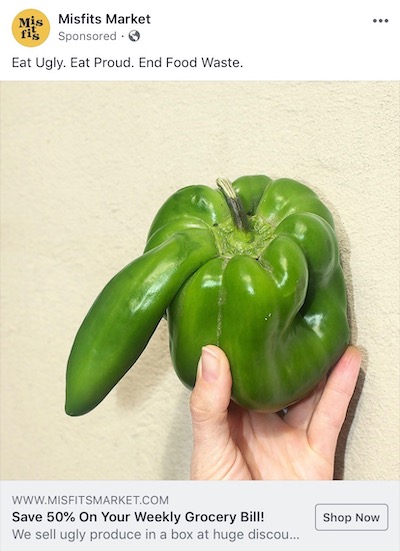 2. Use Carousel or multi-product ads
Multi-product or Carousel Ads give advertisers the ability to show several products (or different features and benefits of one product) in a single ad — each with its own image, description, and final URL: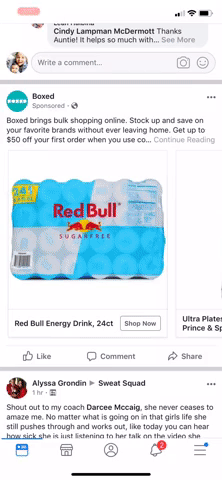 Since these ads give users more options to choose from, there's a higher chance a product will be relevant to them, and a greater chance of you earning a conversion.
Studies have proven that multi-product ads can be more effective and efficient than single-image ads. Adobe, for instance, found that this ad type generated:
Up to 300% increase in CTR
35% reduction in CPC as a result of higher engagement
More efficient CPA
3. Install conversion tracking pixel
A common frustration among business owners is knowing whether or not their ads actually performed well. You can boost a Facebook post, or even set up an entire ad campaign, but without installing the Meta Pixel you won't know if it drove any sales.
Facebook's conversion tracking pixel — a small snippet of code that tracks visitors' behavior on your site — is the connection point between your Facebook ads and website: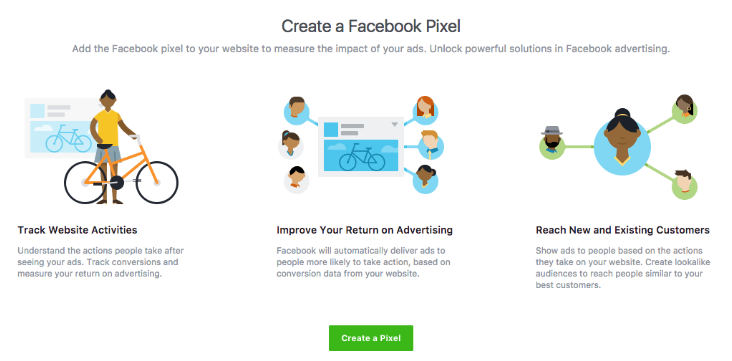 It shows every action taken by visitors on your site, who arrived there through your Facebook ads. Essentially, it tells you not only if your ads drove results, but also which audiences and ads those conversions came from. Another reason to install the pixel is because the platform uses it to improve Facebook ad campaigns.
4. Communicate your brand story
Since Facebook is first and foremost a social network, and not necessarily an online store, most people are there to connect rather than shop. This makes it extremely important to connect and build relationships with prospects before rushing a sale.
You can do this by communicating your brand's story and identity, or how you want your brand, business, and products to be perceived by customers. Use Facebook ads to show your target audience what you're all about, and once you've built a solid identity for your brand, people will instantly recognize it and be more likely to purchase.
One case study that supports this idea is Adaptly, who ran two Facebook campaigns side by side and saw drastic differences. One campaign focused strictly on generating subscriptions right from the beginning, while the other told the brand story first, then provided product information, and finally inviting people to sign up: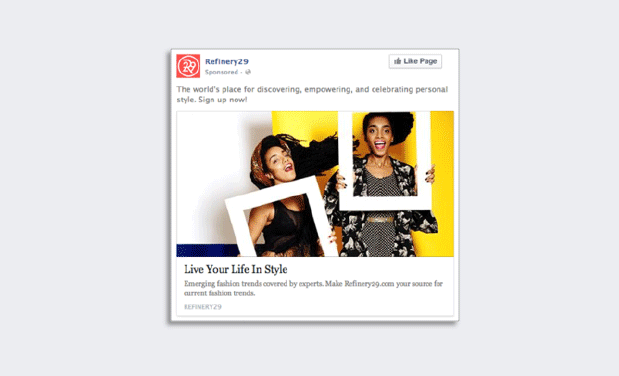 Adaptly's research had three major findings:
An 87% increase in post-click landing page traffic when people were exposed to the sequenced ads.
Subscription rates increased by 56% among people exposed to the sequenced ads.
People exposed to all three of the sequenced ads converted at higher rates than those who had seen just one or two of the ads.
These results indicate that telling your brand story before asking people to purchase can help build trust, establish a reputation, and therefore, increase people's receptiveness to different ads.
Telling your brand story can be done in many ways, some of which include:
Showing how/where the product is made
Discussing how the product idea was discovered
Interviewing people who make the product
For example, Pela Case uses the ad below to tell prospects why they make these specific phone cases, instead of immediately pushing for a sale: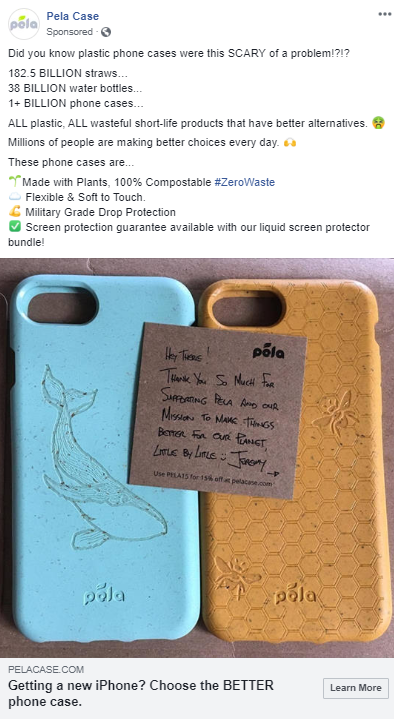 5. Use dynamic product ads
One study shows that nearly 76% of online shoppers abandon their shopping carts without completing a purchase. It's slightly worse on mobile, with abandonment rates reaching almost 78% for mobile users. With retargeting, though, sites can bring back about 26% of abandoners, and increase their conversion rates by 70%.
This is why dynamic product ads are vital for Facebook ecommerce advertising.
They are one of the most common Facebook ad formats in the ecommerce landscape — and one of the highest ROI strategies ecommerce sites can use — because they serve as a chance to bring back that 76-78% of hesitant customers that left without purchasing.
Dynamic product ads pair your Meta pixel data and product catalog to retarget potential customers and show them tailored ads based on their site activity.
Take Jamie Kay, for example, who showed me this ad after spending quite a bit of time on their website and putting too much in my shopping cart: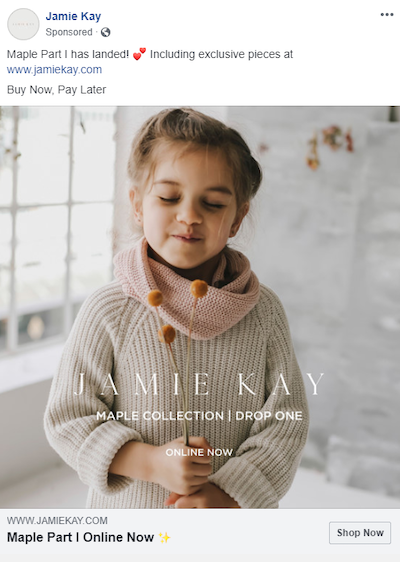 These types of ads don't require advertisers to create ads for each catalog product either, because Facebook templates will pull images, product names, pricing and other information from your catalog based on product details you upload to Facebook.
6. Create Custom Audiences
Custom Audiences are another way to tap into the data captured by your Meta pixel and retarget the right people — those who have already shown interest in your brand. When creating a Custom Audience, the three main sources for ecommerce brands include:
Customer file — This allows you to upload a list of email addresses, phone numbers, and any other contact information collected from customers or leads. Facebook then matches this information to its own users so you can target them directly. Creating an audience this way is ideal for re-engaging past customers with new products or reaching email subscribers who haven't purchased yet.
Website traffic — This allows you to create retargeting lists of previous website visitors, based on actions taken or website pages visited. Retargeting lists that generally convert best in this case are those who visited your website in the past 30 days or added something to their cart in the past 7 days.
Engagement — This provides you with a list of various engagement types by which you can retarget. Whether you have a video on your Facebook Page collecting thousands of views or an event with a ton of attendees, any positive engagement indicates that someone might be interested in your product, and are therefore worth retargeting.
7. Lookalike Audiences
This is a great feature to use because it helps you find new customers based on previous customers' characteristics. So you're advertising to people who are similar to your existing customers, and more likely to be interested in your products as well.
In fact, Lookalike Audiences are usually one of the highest performing target groups for many advertisers.
The feature uses data from Custom Audiences to create a new audience, ranging in size and likeness from 1% to 10% of a selected population: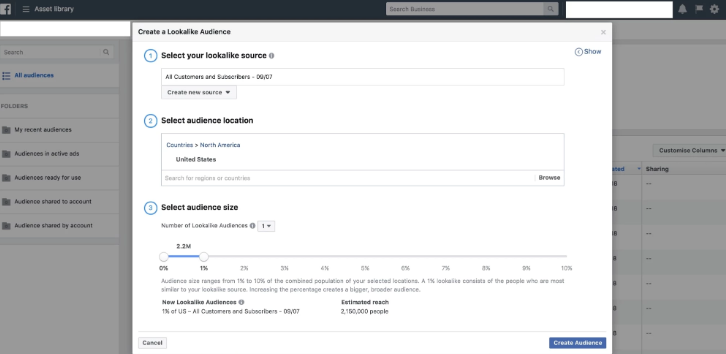 A 1% Lookalike Audience contains people who most closely resemble the Custom Audience source. As you expand your targeting and increase your ad spend– eventually moving to a 10% Lookalike Audience — you get more scale while still remaining close to a user profile that matches your existing customers.
Naturally, the larger and more detailed your customer list, the more accurate your Lookalike Audience will be.
Using the Lookalike Audience feature allows advertisers to personalize their content. Since you already know what your audience responds well to, you can provide them with experiences they'll appreciate more and be likely to convert on. In fact, 80% of shoppers are more likely to buy from a company that offers personalized experiences, so brands should be tailoring experiences as much as possible.
8. Get creative with offers
Discounts
People love discounts so much that someone who is not actively looking for a product might end up purchasing it just because it's on sale. So it's worth testing advertisements that highlight a discount as part of your ecommerce Facebook advertising strategy. Similar to QVC here: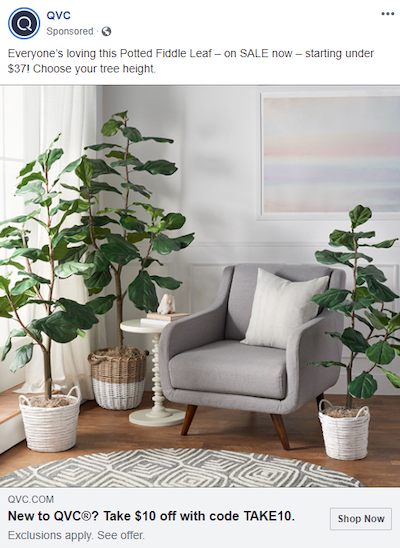 Facebook even has an app to offer your followers coupons for exclusive discounts or even free items:

These Facebook coupons help:
Drive traffic and conversions
Encourage more people to sign up as fans
Build loyalty with existing followers
Offers
The Offers feature within Facebook ads allows you to minimize the gap between the discount offer and the actual sale where you can lose customers, because they don't even have to leave Facebook to redeem your offer. They get a code as soon as they click the Offer ad.
Another advantage is that you can show the number of people who have taken advantage of the offer. This serves as social proof — "If others are enjoying the benefits of the offer, then why shouldn't I?"
Contests & giveaways
Contests and giveaways may seem counterproductive to driving sales, but they can be quite powerful in the long run if you use them strategically.
First, they help build brand credibility and loyalty. If prospects know you're not all about the sale — but also willing to appease them (with contests and giveaways) — they'll likely keep you on their radar and be back to purchase down the road.
Not only that, but it's a great way to draw people in. Take this ad, for example: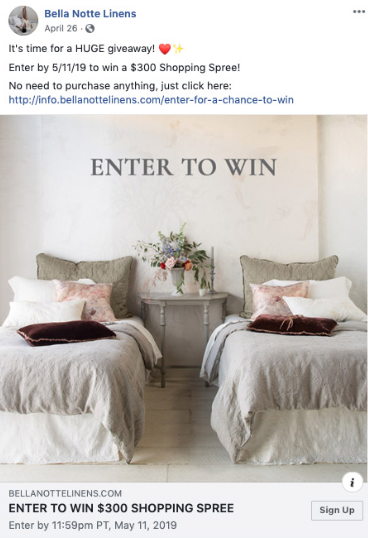 The winner of that $300 would likely end up spending more than $300 on the shopping spree. And if someone saw this ad and didn't win, the visually appealing image may have still been enough to make them want to shop here.
9. Create urgency
No matter what type of ad you decide to create, always include powerful words and phrases that encourage action now.
For instance, people are highly susceptible to language that incorporates a sense of urgency. So if you already know your prospect is interested, push them towards a purchase with copy such as:
Flash sale
Limited time only
While supplies last
Hurry
Don't wait
Buy now
Don't miss out
Offer expires
Act now
Clearance
One day only
Last chance
Deadline
Here are a few great examples: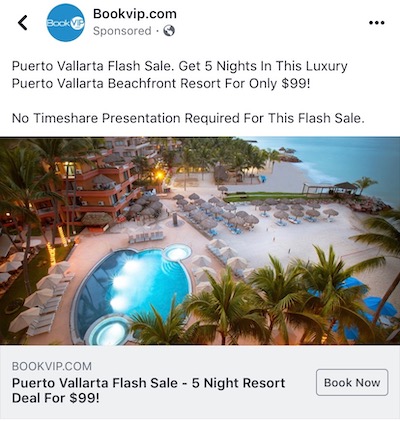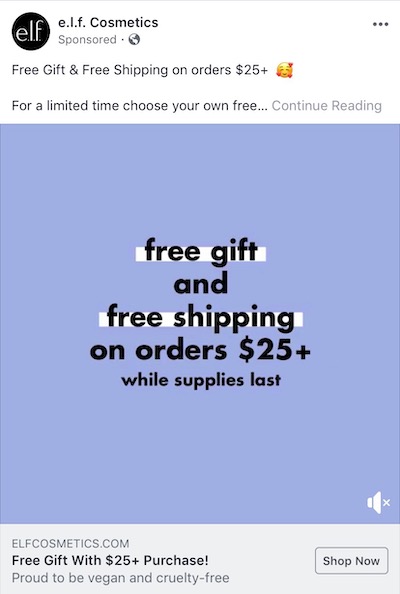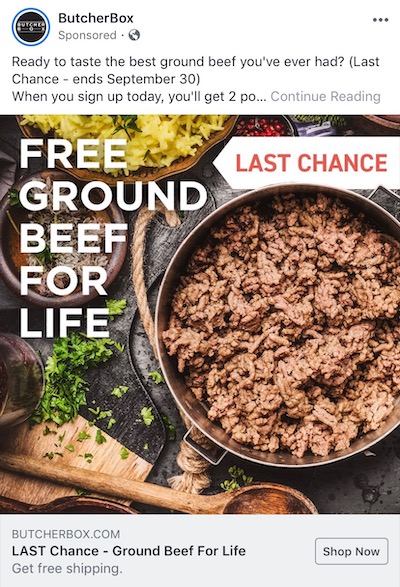 10. Create a funnel
When it comes to ecommerce Facebook advertising, the confusion can start at the very beginning, because many people look at the objectives offered on Facebook and immediately go for the conversion.
While sales are the ultimate goal, the vast majority of people aren't ready to buy your product the first time they see it. High-value conversions typically occur after a user has interacted with your brand over multiple touchpoints.
A three-step funnel-based approach to advertising is recommended to tailor your ads to users' familiarity with your brand and intent to purchase. The three sales funnel stages are:
Brand awareness
If users don't know who, they're not likely to buy from you. By starting with a brand awareness campaign, you're casting a wide net on the platform, getting your brand and product in front of as many Facebook users as possible.
In these campaigns, start with a low-commitment offer used merely to inform your audience of how you can help them, not necessarily aiming for a sale yet.
Once they know who you are and what you offer, then proceed with more engagement.
Engagement
The more positive engagement from an ad, the more likely other viewers are to stop and interact with it, too. That's why engagement campaigns come immediately after brand awareness campaigns.
Valentina Turchetti, Founder of YourDigitalWeb, explains:
In the second phase, Engagement, my goal is to establish a relationship with the fans of the page. The goal is to receive likes, comments, shares, and maybe questions about how to buy the product or the service. In an engagement campaign, I usually use a video ad that immediately highlights the benefits, the advantages and/or the main strengths of a product or a service.
Click/conversion
Following the previous two touchpoints, advertisers can solicit higher commitment engagement — clicks and/or conversions.
Brandon Thurgood of Disruptive Advertising takes this approach:
We can now take this audience of people who have engaged with our ad and put them into a traffic campaign that we can optimize for landing page views. At this point, our goal isn't just to increase brand awareness -- we also want them to visit a page on our site.
What tips will you use in your ecommerce Facebook advertising?
Using these ten tips in your Facebook advertising will help give your ecommerce business a boost — improving your chances of more sales and generating more ROI.
See where else you could generate conversions by downloading the Marketer's Guide to New Optimization Opportunities here.