The sellers spoke and eBay listened. Brands let the company know that they needed a way to stand out from the competition and sell more — and in response, eBay Promoted Listings launched. Since the ad type launched at the end of 2015, they've been a game-changer for many advertisers.
What are eBay Promoted Listings?
Promoted Listings help advertisers' products gain more visibility among the billions of eBay listings. Marked with a "Sponsored" label at the top, these ads are seen by millions of active buyers as they browse and search the platform for specific products and help increase the likelihood of a sale:

Sellers with any type of eBay Stores subscription in the US, UK, Germany, and Australia can use these ads for greater exposure to their merchandise from eligible eBay Promoted Listings categories. The following types of merchandise can be advertised with Promoted Listings on eBay:
Best sellers
Moderate performers
New listings
Seasonal items
Where do they appear?
Similar to product listing ads on Google and Bing (which have the same purpose), Promoted Listings appear when users actively search and shop for specific products. They appear on both desktop and mobile in prominent placements across eBay, including the search results page in the 4th and 5th spots: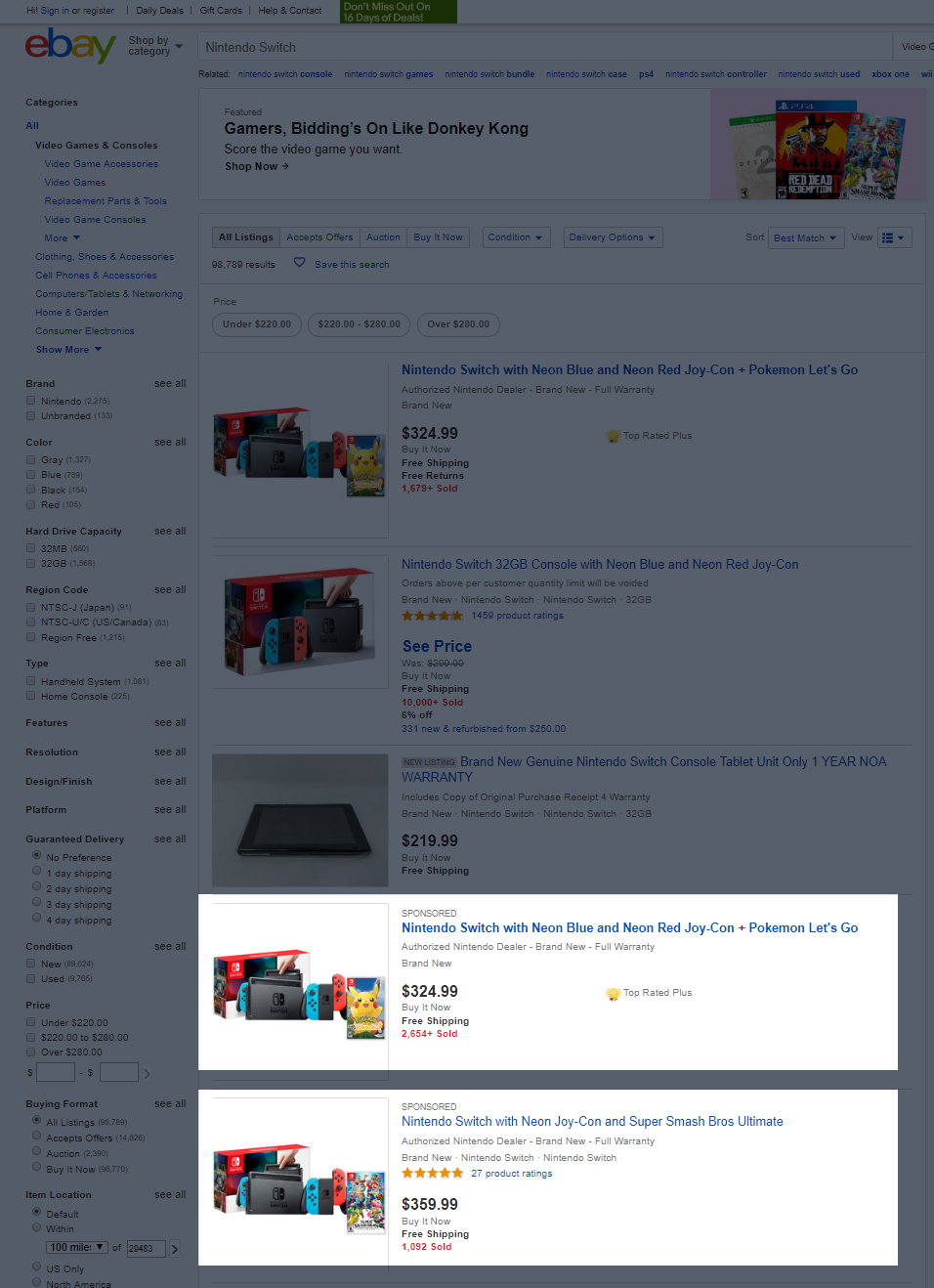 And in the similar (top row) and related items (bottom row) section on the item page: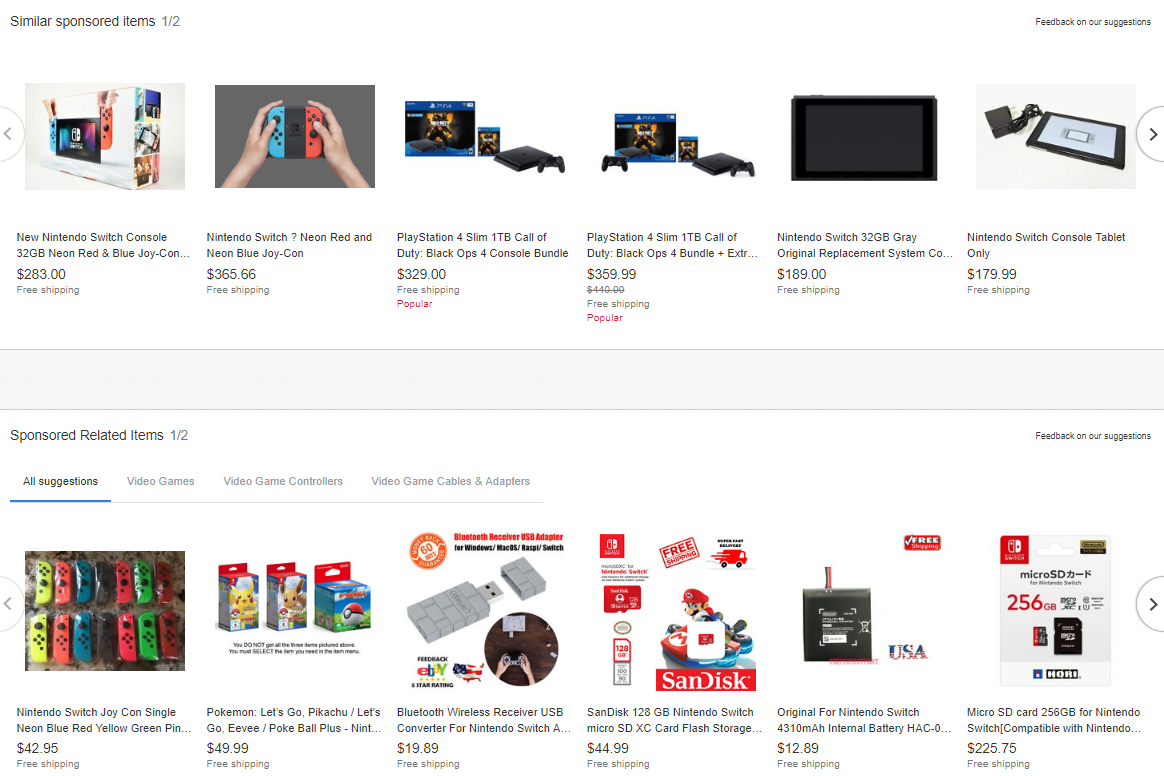 What to consider before running an eBay Promoted Listings campaign
Rating requirement
This type of ecommerce marketing is only available to sellers with an above-standard seller rating.
"Hot" inventory
This type of ad is best for selling more of your "hot" inventory (listings that sell moderately well and have higher conversion rates via organic search), rather than pushing items that aren't selling well organically.
Listing changes
A Promoted Listings ad contains information automatically retrieved from your original listing (primary photo, title, price, and format), so any changes you make to your original listing will automatically appear in your ad.
eBay Promoted Listings cost
You choose your own ad rate, from 1% or more of the item's sale price (higher ad rate means a higher likelihood of increased promotion). eBay then chooses which listings to show and where, based on ad rate, relevance, and quality.
Once you've considered each of the above, ask yourself: Are eBay Promoted Listings worth it?
The following benefits answer that question.
Promoted Listings benefits
1. Cost-per-sale model
You only pay if your ad is clicked and the item sells with 30 days, so ultimately, it's a risk-free way to get your products noticed. Contrast this with paid ads on Google or Bing, where you get charged for ad clicks, regardless if you sell what is advertised or not.
2. Boosted visibility
Promoted Listings show your items to more shoppers, boosting visibility by up to 30%. Naturally, your items are more likely to sell when more people see them.
3. Easy setup
eBay's tools take the guesswork out of the setup process, providing a complete, guided setup instead. Remember, your ad is built directly from your listing, and the platform even suggests which items to promote and at what cost.
4. Full control
Although eBay provides personalized product recommendations, you still have full control over the listings you promote, and how much you're willing to pay for them.
5. Detailed reporting
With detailed campaign metrics and sales reports available (impressions, clicks, revenue, etc.), you can monitor campaign performance and buyer demand, and adjust your ads and pricing strategy accordingly.
Best practices for Promoted Listings on eBay
Promote recommended items first
Promoting the right items can mean the difference between a completed sale or not. eBay suggests promoting their "Recommended Items" first, because they're personalized based on marketplace trends and historical performance, and re-generated each time a seller uploads a new listing.
eBay also advises being selective with Promoted Listings. Start with only 10-20 that would benefit most from added exposure and traffic (such as best sellers, new listings, and seasonal items).
Optimize your ad rates
For this, start by looking at the trending ad rates — the average ad rate, set by sellers, for similar promoted items — to see what other people are bidding. This will help you stay competitive by improving the chance that your ads are shown more often.
Setting your ad rate at or above the trending rate makes it more likely that you'll get maximum visibility through Promoted Listings placements. However, other sellers may end up choosing a higher ad rate, which could then negatively impact the chances of your ad appearing.
So the next best practice is equally as important.
Continue monitoring
Check trending rates regularly (eBay recommends weekly) and adjust yours as needed to stay ahead of the competition. eBay allows merchants to review performance metrics, such as impressions, clicks, items sold, and ad fees in near real-time: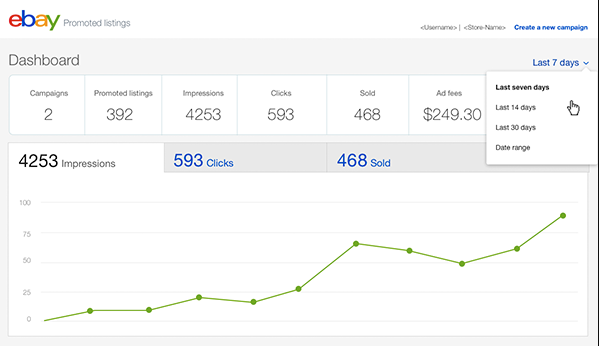 You can also track item-level sales data with sales reports, and divide "Promoted Listings Sold" by "Quantity Sold" to measure the impact of Promoted Listing ads on your overall sales figures.
Test different listings
The beauty of Promoted Listings is that you can leave your campaign running indefinitely, but still pause it at any time because you only pay when items sell.
Keep testing new inventory and adding new listings to your campaigns. Since prices fluctuate, continue assessing what similar inventory is selling for on average, and set your price point slightly lower to remain competitive. Again, you have nothing to lose by constantly adding and items.
Get your products seen with eBay Promoting Listings
Start creating Promoted Listing campaigns, individually or in bulk, from the advanced listing form, the Seller Hub Active Listings page, or the Promoted listings dashboard. All you have to do is select the items you want to promote from the available categories, set your ad rate, and launch your campaign.
Sign up for an sign up today for a 14-day trial today and see the impact Instapage has on your campaign results!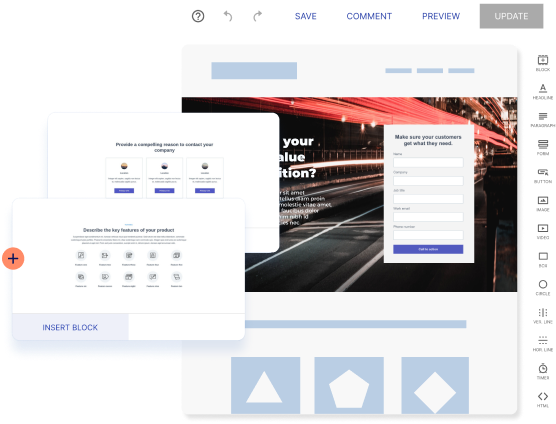 Try the world's most advanced landing page platform with a risk-free trial.