Email marketers take pride being associated with one of the successful marketing channels with 81% customer retention. This is great news since it costs five times more to acquire a new customer than retain an existing one. Yet retaining a customer requires a lot of work; part of which includes providing personalized content without being too intrusive. Additionally, subscribers want more than 'Hey ' when it comes to personalized email content. It is an age of hyper-personalization.
In the email samples below, the name tag changes based on the subscriber's first name in the database: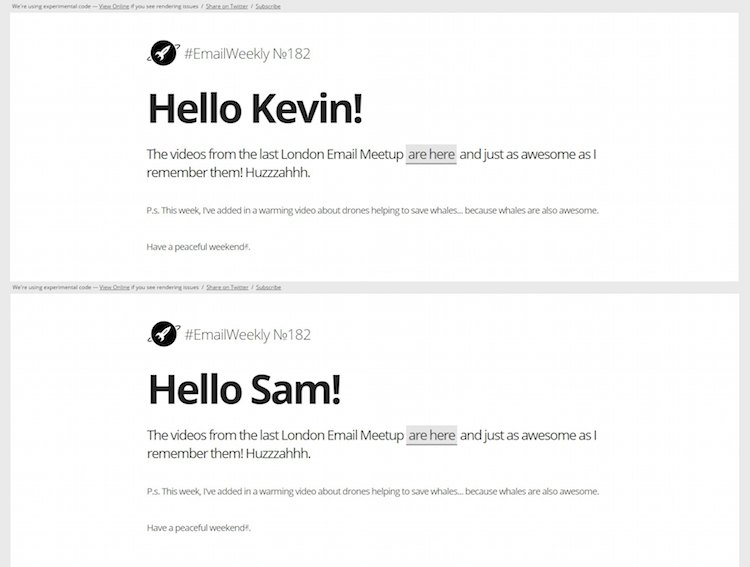 Email personalization involves customizing the email content based on the customer persona, online behavior, purchase history, and many other touch points. It focuses on treating your subscribers as individuals with unique personalities instead of names on an emailing list. To achieve this, email marketers segment their lists based on common preferences, but it is not the only way to introduce email personalization.
Email personalization using dynamic content is growing in popularity as an alternative to email segmentation.
What is dynamic email content?
Dynamic email content is unique in that it is based on the content you update, at the moment of the email open. Various factors are applicable, including:
Demographic (Name, Age, Sex, etc.)
Firmographics (Organization Name, Work Address, Associated Industry, etc.)
Behavioral (Purchase Pattern, Response to different offers, Browser and Cart abandonments, etc.)
Psychographic (Lifestyle, Interests, Hobbies, etc.)
VentureBeat conducted a study about the data points most widely used for email personalization and concluded that most email marketers include demographics and previous email engagements for email copy personalization: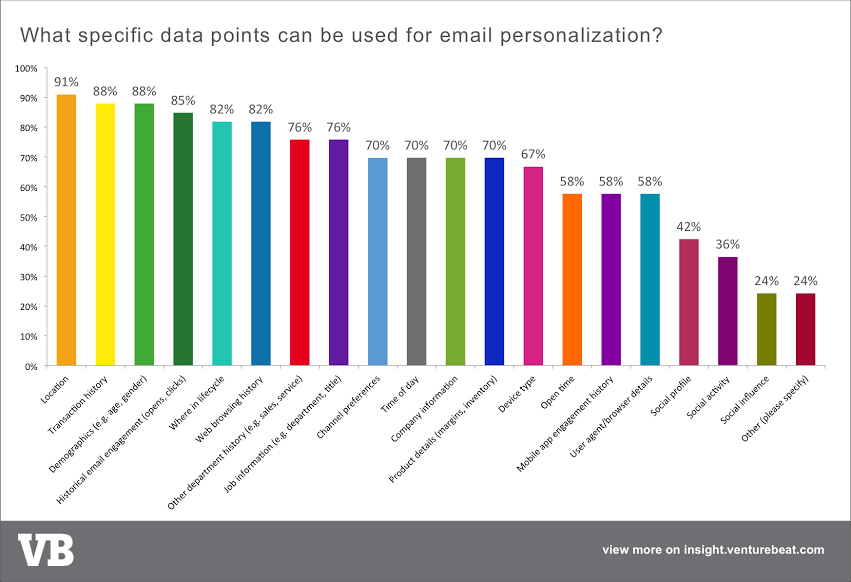 So, the inclusion of dynamic content in your marketing emails enables you to send targeted messages and 74% of marketers agree that targeted personalization significantly increases customer engagement multifold.
Why use dynamic content?
The core advantage of dynamic content over sending segmented emails is:
You bypass the trouble of updating your email list based on the content
You create separate email templates for different configurations
By having a dynamic content block in your email copy, your subscribers get the same email but the copy can have separate images, product offers, and even the call-to-actions can be modified based on their customer personas.
Let's understand the advantages in detail.
A great way to save time
In case of personalization via list segmentation, you first need to customize the email copy for different lists. Secondly, separate email templates must be created when the images also change for different lists. The number of templates will grow exponentially if the content is customized as per the customer lifecycle.
An example
Let's say you have your email list segmented into 'x' number of email segments based on location. The number of email copy variation needed will be 'x.' If you further customize the copy as per the gender, the email template variation becomes '3x', i.e., 3 to the power of x (for male, female, and other responses). Factor in 4 different lifecycle stage and the variation becomes 43x. You can see this quickly becomes time-consuming and unnecessary waste of resources.
Compare that scenario to designing a single email template with two dynamic content blocks, where all you need to provide is the email copy.
Send relevant content
The subscriber gets personalized content irrespective of list segmentation or dynamic content being implemented. The dynamic email helps provide better tailored relevant content to your subscribers.
Dynamic content can be especially useful for ecommerce where personalized product recommendation helps boost user engagement. As the content is dynamically refreshed, you can provide custom pricing, discounts, or hook that counters the reason for cart abandonment. Provide a custom reminder for product re-order email or product recommendation.
Doing the same with list segmentation involves investment into a custom product recommendation engine and individual attention into the users' online behavior. This level of relevancy using dynamic content has another advantage…
Increased conversions
You build brand trust by providing a relevant solution to your subscriber's problem at the right place and time. This brand trust goes a long way in helping create loyal customers who then become your brand advocates/evangelist.
Steps to take in setting up dynamic email campaigns
Dynamic content blocks must be planned well for seamless execution and some prerequisites apply for best results:
Create your customer personas: Customer personas are hypothetical personalities which house the common characteristics for one set of your subscribers. The steps for creating a customer persona is similar to segmenting your email lists. Just be sure the personas are accurate representations otherwise the content you create may not be relevant to recipients.
Update profiles of subscribers with insufficient data: It is highly possible that some email subscribers may not fit into any of the predetermined personas due to insufficient data. So it is imperative that you update their profiles. Send them emails urging them to update their online profiles/accounts they created when they subscribed or registered, dive into their online behavior to know more about them. Set up a process for newcomers to collect relevant data.
Plan which content section will be dynamic: Based on the customer persona being targeted, create out different contents that shall take place into relevant content blocks.
Implement necessary metrics: It is important to measure how well is your content being received and making required changes to keep the content engaging for subscribers. Look for the click rates for different dynamic content blocks, analyze the heatmaps for your emails, currently supported in ESPs such as Adestra, HubSpot, Pinpointe or online tools such as CrazyEgg, Email On Acid, to understand the engagement rate of your subscribers.
Make sure your content fits the block size: This may seem insignificant, however it is important to consider the content length when developing your email template. If the content is less than the allocated space, there will be unnecessary empty space; if the content is longer than the allocated space, the content might overlap.
ESPs that support dynamic content
Knowledge about dynamic content in emails is incomplete without knowing which ESPs support sending such emails:
Adestra: Adestra is unique in that the features are scalable based on the company size. Their MessageFocus is an enterprise-level digital marketing platform, built to customize to match the business requirements of clients.
Bronto: This platform focuses on powering personalised, multi-channel content and generate higher engagement needed for retail success. It is built for brands associated with ecommerce and online retail.
Campaign Monitor: An ESP that promotes dynamic content and simplifies the task of creating dynamic emails with it's email builder tool. With big brands such as RipCurl and Jaybird being a part of their clientbase of 200,000 companies, it is a popular choice amongst the email marketer circle.
dotmailer: A marketing automation platform that plays with different CRMs well with 'ease-of-use' as their core motto. EasyEditor and Program Builder is their drag and drop based email editor and automation campaign creator, respectively.
ExactTarget: Now known as Salesforce Marketing Cloud, ExactTarget is the swiss army knife of email marketing platforms. It features tools for social media marketing, online advertising, mobile marketing, and a CRM.
HubSpot: This all-round CRM platform unifies the efforts of different teams within a company such as sales, marketing, and customer service. In addition to keeping track for individual customers and prospects, HubSpot also is a great tool for blog creation and lead flow generation.
Marketo: An enterprise level ESP for predominantly large number of B2B customers for email campaigns. Marketo Engagement Applications helps in production and execution of personalized engagement across email, web, mobile, and more. It is one of the ESPs who implemented machine learning to suggest specific content from your website.
SharpSpring: A full-fledged marketing platform that specializes in sending behavior-based emails along with a dedicated reporting and analytics tool for all-round campaign execution. It's Anonymous Visitor ID is useful feature for ecommerce and online retail brands.
Examples of brands using dynamic content in emails
A common use of dynamic content is gender-based product personalization as shown in the Northern Trail Outfitters and Adidas examples here: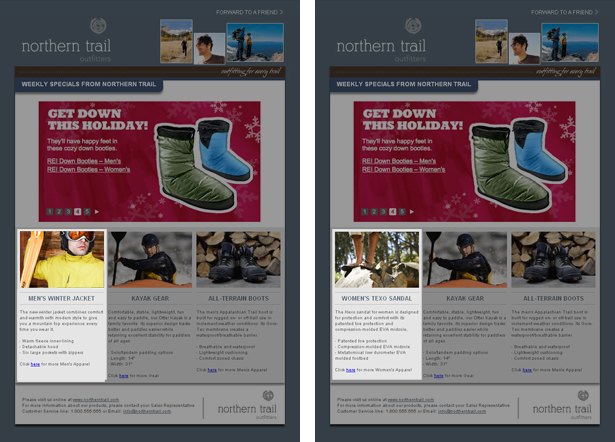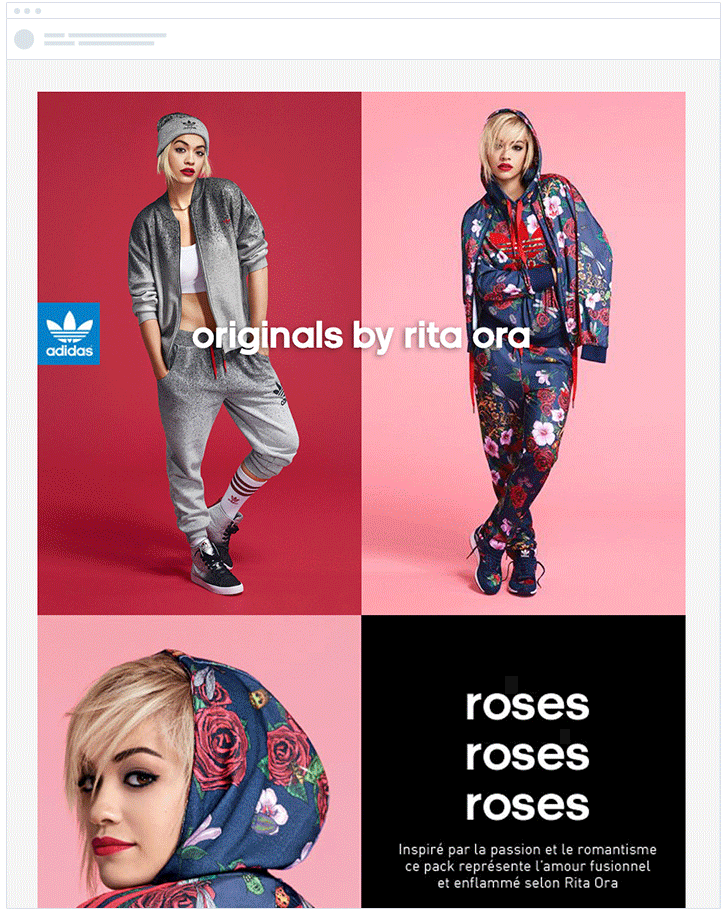 Nordstrom's email went a step further and implemented subscribers' location to dynamically change the content based on the location and associated weather: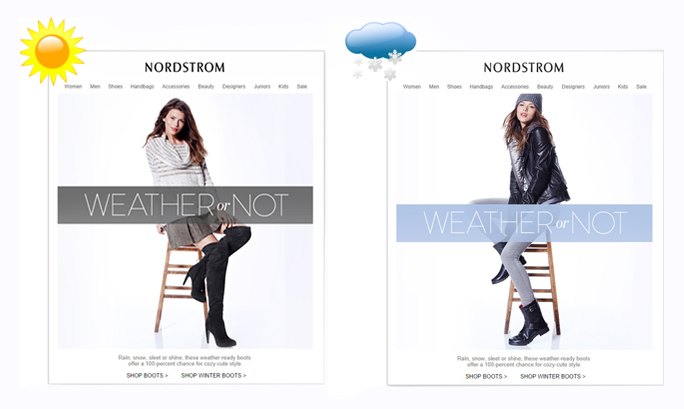 Wrapping up
Avari, a company specializing in real-time predictive content in email, observed that by including a predictive content personalized email, the user engagement level of subscribers increases substantially. The below graph shows the different industries where dynamic content plays a great role in increasing user engagement: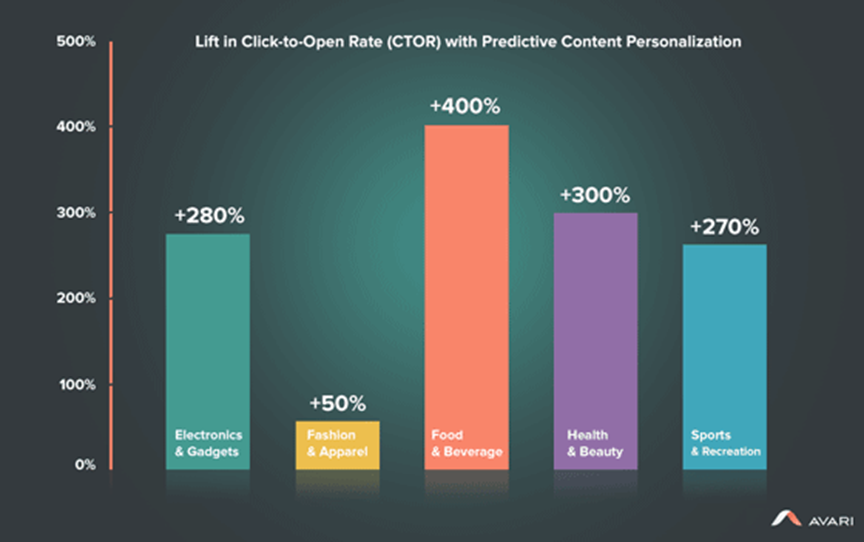 This is paramount evidence that using dynamic content to personalize your email campaigns is a great way to boost your open and click-through rates. To an email marketer who is collecting the right data and delivering relevant content, only the sky's the limit.
To learn more ways to generate conversions with relevant, personalized ad campaigns, get an Instapage Enterprise demo here.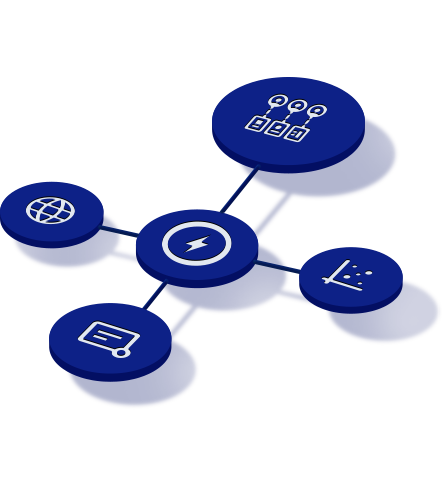 See the Instapage Enterprise Plan in Action.
Demo includes AdMap™, Personalization, AMP,
Global Blocks, heatmaps & more.