Consumers don't trust marketing and advertising anymore. Even digital advertising suffers, as global click-through rates of ads across all formats and placements are at a dismal 0.05%, which amounts to 5 clicks per 10,000 impressions. That's why brand differentiation is necessary, and customer reviews are more important than ever.
Anyone can voice his or her opinions about brands through online reviews. This is a big deal when you consider customer feedback is known to provide high-value social proof. So if you're not using their reviews in marketing campaigns, you're ignoring the most important voice available.
To demonstrate how to incorporate customer feedback, the following best practices and examples show how brands can be authentic while making a big impact.
Ways to use customer reviews in marketing
Each recommendation helps your brand establish itself as a trustworthy company based on unbiased customer reviews and offering a proven solution.
1. Using reviews on key pages
According to a 2017 survey, 84% of consumers trust reviews just as much as personal recommendations. The same study found that people read up to 10 reviews before making a purchase. Translation: consumers want to learn from other people's experiences before trusting you enough to do the same.
So how can you use social proof to create compelling experiences?
Build consumer trust by showcasing your current customers' experience with your company. Key pages include your homepage and other high traffic pages (product, pricing, checkout, or landing pages). Reviews here show you're being transparent and gives consumers the encouragement they need to complete a purchase.
Below is an example from Fabletics using reviews directly on the homepage:

2. Using reviews in search ads
Search engines don't just rank you based on how well you optimize your listing. They also monitor what other people have to say about you.
Reviews can help show prospects how you measure up to your customers' expectations. Plus, collecting fresh, new content on a regular basis can help you acquire Rich Snippets and Google Seller Ratings, thus improving your visibility on search engines:


The orange stars, the rating, and the number of reviews show useful feedback information to search users. This helps you stand out from every other listing and build trust earlier in the funnel before shoppers even visit your website. For the examples above, a 4.8 and 9.4-star rating are even more impressive when you consider the number of reviews received for Natural Baby Shower.
3. Using your customer's voices on social channels
Having your audience engage with other consumers can be a huge marketing win and can be what turns an undecided visitor into a loyal, paying customer.
To research brands, consumers often turn to social channels and monitor what other customers say about the product and overall customer experience. To that point, 1 out of 4 users follows brands on social media which they might buy from. So it's safe to say that showcasing your customers' feedback on social channels is necessary.
Sharing third-party validation on social media helps increase your brand's credibility, can boost engagement, and grow your company's bottom line. To demonstrate, Surety Bonds promotes their service and customer experience by highlighting a quote, star rating, and the number of reviews: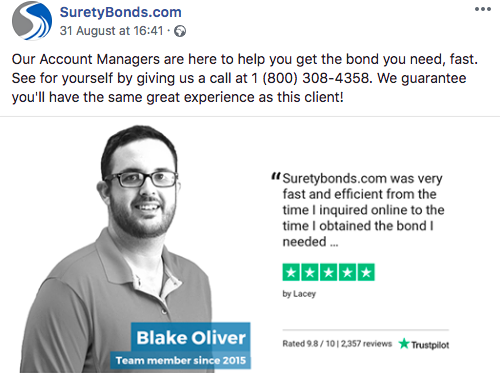 4. Using reviews in emails
Digital marketers recognize that email is the best channel for ROI since it generates $44 for every $1 spent. With that kind of positive return, highlighting feedback in email messages not only builds credibility off-site but is also likely to boost your click-through and conversion rates.
Therefore, it is no surprise that reviews in emails are great to showcase what others have experienced with you. It also lets readers know what to expect if they become customers too.
See how Tawkify does this with their customer's headshot, star rating, and detailed review: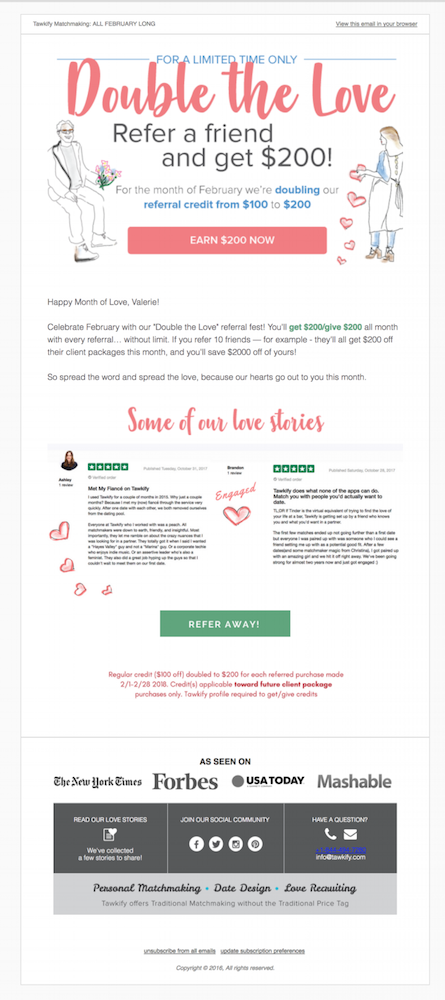 5. Using reviews in ads and marketing material
According to Trustpilot data, 88% of consumers believe ads are more trustworthy with online reviews. Other research shows that user-generated content-based ads get four times higher click-through rates and a 50% drop in cost-per-click than average. With those proof points, it's easy to see how trust signals like star ratings, reviews, and testimonials fit in.
MailMyPrescriptions added reviews in their product video to enable their customers to tell their own story. This validates the customer experience and builds trust earlier in the funnel:
Start leveraging your reputation today
Showcasing customer feedback more often is key since 92% of consumers read reviews as part of their purchasing decision. In doing so, you have a better chance at building trust throughout the funnel and boosting customer engagement in the process.
Start leveraging your own company's reputation in marketing campaigns for improving conversions, click-through rates, sales, and revenue. Your bottom line will thank you.
To turn ad clicks into conversions, create dedicated, fast-loading pages for every offer. See how to provide all of your audiences with unique landing pages by signing up for an Instapage 14-day free trial today.
About the author
Flora Frichou has been the lead content strategist at Trustpilot since 2016. In the past, Flora's been lucky enough to work for brands like Eurostar or Converse, where she managed the websites' and SEO content. In addition to writing for the Trustpilot blog, Flora also blogs about travel and food.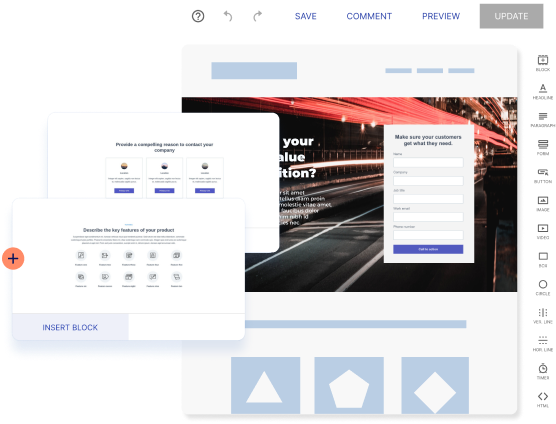 Try the world's most advanced landing page platform with a risk-free trial.