In a world where marketers care about the customer journey "from click to revenue," there's still too much emphasis on the click — and not enough on the post-click stage.
When you spend too much time and budget on customer acquisition and not enough on engagement and retention, you're inviting thousands of people to a party with no food. An attendee only needs to be fooled once before they distrust your party-planning skills (aka your customer experience).
In today's on-demand economy, your marketing must personally speak to each customer, regardless of where they interact with your brand. 88% of consumers shop where they receive personalized, cross channel messaging, and customer satisfaction rates are 23x higher among brands with cross channel strategies.
Every message you send across the customer journey holds the potential to capture attention, fuel interest, and drive action. The team at Iterable defines this journey in four simple stages:
Acquisition: the initial stage designed to acquire subscribers, often via display ads, paid social, SEM/PPC and other sponsored campaigns.
Activation: the early stage where companies seek to activate consumer attention and interest through welcome and onboarding campaigns.
Nurture: the ongoing lifecycle stage where brands nurture and engage consumers to strengthen relationships.
Reactivation: re-engagement stage of the lifecycle where companies reactivate customer engagement to drive retention and loyalty.
To design the best post-signup experience, you'll need more than a "thank you" confirmation. Make sure you leverage these seven proven marketing channels once you get that click so you can ultimately close the sale.
Integrate these 7 marketing channels for the best post-signup experience
1. Email
This is a no-brainer and you're likely already using it since email achieves an ROI of 38:1 on average. It's also consumers' preferred method of communication.
An easy win post-signup is to send a multi-touch welcome series with unique calls-to-action in each message. Consider a welcome journey like MapMyFitness below where they build customer rapport with a four-touch welcome email series. In it, they include resources for getting started, goal setting, social connection, and a premium upgrade offer:

2. Direct mail
You may have traditionally overlooked this channel, but you can't forget to cut through the digital clutter with automated postcards. Considering 98% of consumers bring their mail inside daily, and that email inboxes have become increasingly crowded, it's an effective channel to reach decision makers.
Consider using a modern growth marketing platform to trigger personalized direct mail to supplement your welcome series, send abandoned cart reminders, and re-engage inactive email subscribers. A simple QR code, as seen in the example below, can adapt a digital message for print: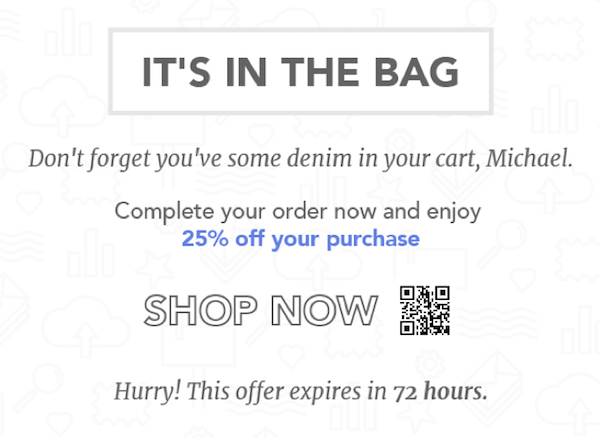 3. SMS
An intimate yet effective channel, SMS is an excellent way to grab immediate attention. Typically used for transactional messages, such as order confirmations and delivery notifications, SMS is increasingly popular as a form of email acquisition for brick-and-mortars (e.g., text KICKS for 20% off your next pair of shoes).
Iterable's clients, like Aceable, have achieved a substantial lift in revenue after incorporating SMS into their cross channel messaging. You can see how Aceable automates SMS and mobile push in the workflow for its referral program below: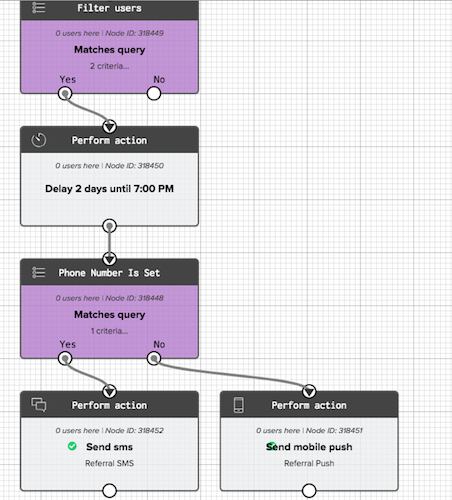 4. Mobile push notifications
When it comes to motivating customers to increase their brand loyalty, there's no better way than using mobile push. Modern features like rich, dynamic content and interactive push action buttons make this channel more effective than ever.
Popular reasons to use push notifications include triggering reminders to perform specific actions, announcing new products, recognizing milestone activities, or encouraging user engagement like Venmo does here: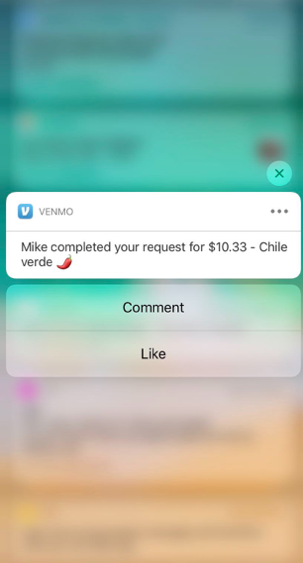 5. In-app notifications
The mobile gaming industry has exploited in-app messages, but they're essential for all brands with mobile applications. It's an excellent channel to inform and reward active, engaged users since they must already be in the app to see notifications, as seen here in Robinhood's product update: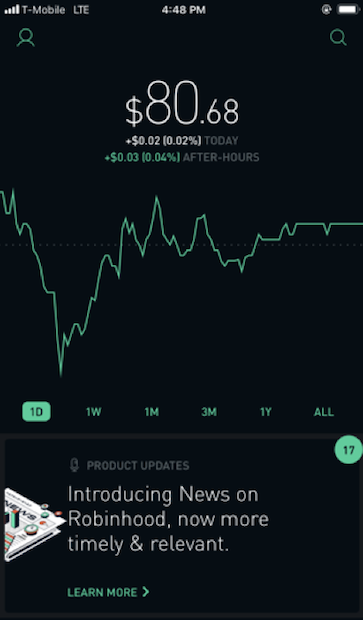 Use these notifications to cross-sell and upsell, or offer special promotions and coupons for loyalty members. Even the slightest design change can increase engagement, so conduct A/B testing for added lift.
6. Web push notifications
Since web push or browser notifications aren't limited to a brand's website or app and can pop up whenever you're online, they are an intensely personal form of communication. However, this channel holds incredible potential if used correctly, since unsubscribes are rare. Although only 15% of unique website visitors opt-in to receive them, 94% of those who do opt in, remain subscribed.
Web push can be highly valuable for nurture campaigns, like sales and promotions, as well as behavioral triggers, including shopping cart abandonment. Fashion Nova, for instance, shows this browser notification to remind shoppers of the items left behind in their shopping cart:

7. Social retargeting
Social media platforms account for one in five minutes spent online in the U.S., so if your subscribers aren't actively engaging in channels you are, meet them on their terms.
Modern growth marketing platforms like Iterable directly integrate with Facebook and Instagram Custom Audiences, so you can easily retarget a customer segment and identify lookalike audiences. By enriching user profiles with social data, you can understand your customers' evolving preferences.
Bringing it all together
Now that you know which channels you should have in your marketing toolkit, how do you optimize your post-signup experience?
Start with these five steps of growth marketing success:
1. Identify your target audience How are you selecting the right customers? It's vital that you understand every subscriber's unique characteristics by storing hundreds of demographic and custom event data fields for each user profile. Dynamically segment your subscribers for highly targeted campaigns, then create lookalike audiences and retarget users on social media.
2. Integrate all your data sources Once you've identified the right people, which information will you use to engage them?
Leverage all your subscribers' demographic, behavioral and event data — both internal and from third parties in real time to trigger personalized messaging and campaigns. A flexible data model is a must, but fortunately, today's MarTech leverages modern APIs and universal webhooks to retrieve information from any source at virtually unlimited scale.
3. Compose your cross channel campaign How comprehensive is your campaign design? We've listed seven marketing channels above, so make sure you trigger relevant messaging across all of them. If you don't have access to any listed above, that doesn't mean you have to purchase seven new tools. Instead, your marketing automation platform should allow you to add filters, schedule delays, deploy triggers, and activate messaging in one place.
4. Personalize messaging based on behavior How unique is your message content? Facilitate interactive conversations with each customer by creating highly-targeted messaging that is unique to them, in that moment, wherever they are. Examples of 1:1 messaging can include product recommendations, support feedback requests, and live polling. With the right template builder, like Iterable's Workflow Studio, you can design personalized, dynamic content with advanced handlebars logic, data feeds, and standardized snippets.
5. Optimize your campaign performance How are you testing and fine-tuning to improve your marketing campaigns?
Get a bird's eye view by maintaining a running list of campaigns and maximize your campaign success with tools that provide custom reports and dashboards. Improve critical campaign metrics through robust A/B testing and multivariate experiments that auto-select the winning content to boost opens, clicks, and conversions. Not just for email, but every channel listed above.
Want to learn more?
You can optimize the post-signup experience across the customer journey, from acquisition to reactivation by combining the powers of Iterable and Instapage. To see our integration is action and learn how today's leading brands are delivering the cross-channel experiences that customers love, request an Instapage Enterprise demo today.
About the author
Alyssa Jarrett is Sr. Content Marketing Manager at Iterable, where she specializes in creating data-driven content to educate growth marketers on how to develop world-class customer engagement.
She has previously served in marketing roles for companies in SaaS and big data, including Ripple, Objectivity, Splice Machine, and Cray. Alyssa holds an M.A. in Mass Communication and Journalism from California State University, Fresno.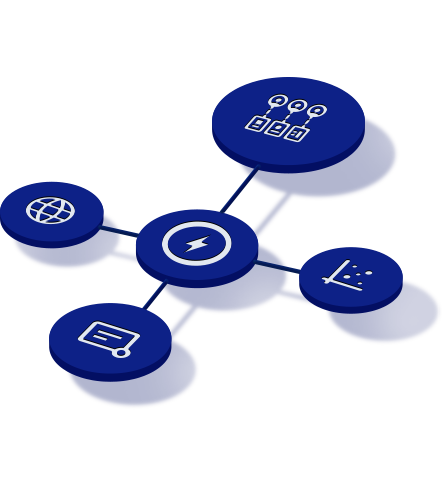 See the Instapage Enterprise Plan in Action.
Demo includes AdMap™, Personalization, AMP,
Global Blocks, heatmaps & more.