If you sat down with business leaders from across the country and asked about the key to their success, the odds are that workplace collaboration would repeatedly be mentioned. Workplace collaboration is often referred to as an indicator of success, but it isn't always clear what the term means.
What is collaboration in the workplace?
Workplace collaboration is when two or more individuals come together to solve a common problem. Collaboration in the workplace can be extremely effective. Individuals with different expertise, perspectives, and ideas can brainstorm to find innovative solutions and implement their ideas. It is important because it allows companies to solve problems faster and more efficiently.
A lack of workplace collaboration can be a sign that a company isn't maximizing its potential. 86% of respondents to a Fierce Inc. study reported that a lack of collaboration or ineffective communication was responsible for workplace failures.
Collaboration comes in many forms, such as augmented reality which allows shoppers to "try on" accessories like watches and glasses without visiting a store. In the workplace, even something as simple as removing assigned seating can increase employee interaction and spur collaboration.
Is your company maximizing productivity by encouraging collaboration? We've compiled eight tips how you can improve collaboration in the workplace.
8 tips for enhancing your workplace collaboration
1. Take advantage of alternative communication channels
Email may still be the dominant method of online work communication, but there is plenty of evidence that it's actually a drag on productivity.
With discouraging numbers like these, it's no wonder that workplace productivity takes a hit: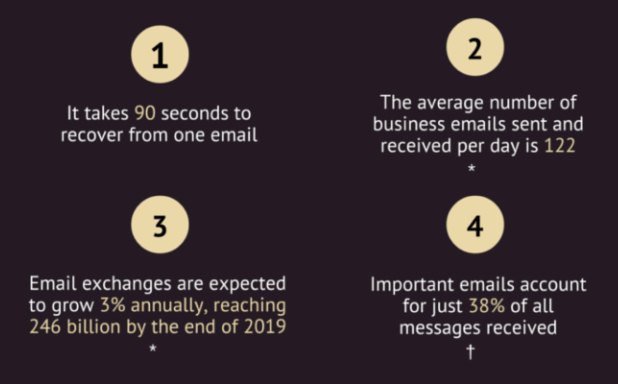 Slack is an instant messaging and collaboration system designed for work teams. Slack cuts out excess information in ways that email can't by using channels, direct messages, and notifications. Employees can set their Slack preferences so they only get relevant information which they need. It makes the process of sifting through a large volume of messages less time-consuming.
Slack has soared in popularity in recent years largely because it is an effective alternative to email. A survey of Slack users found that teams who used the service were 32% more productive. The one significant reason was the teams reduced email usage by 48.6 %.
2. Simplify the file sharing process
If you've ever had to send email attachments back and forth for editing, you understand how frustrating and time consuming the process can be. A document with many contributors could be passed back and forth dozens of times, and receiving an older version of a document could set the entire process back days or even weeks.
File storage applications like Dropbox and Box revolutionized this process because they allow companies to keep files in the cloud and only one document gets shared — eliminating the old file version problem.
Dropbox's file sync feature updates shared files instantly. It allows users to work together from different locations will always have the most recent version of the file. And if you need to refer to an older version, users can recover older versions of a file for 30 days.
Like Dropbox, Box also allows users to mirror data stored in the cloud on their desktop for easy access. If you change a file locally on your desktop, it will sync with the cloud and update the file stored in your Box account.
TrackVia found that companies using cloud storage believe that the service positively impacts their effectiveness. 47% of companies polled said the cloud makes them more productive, and 40% said it makes them more flexible: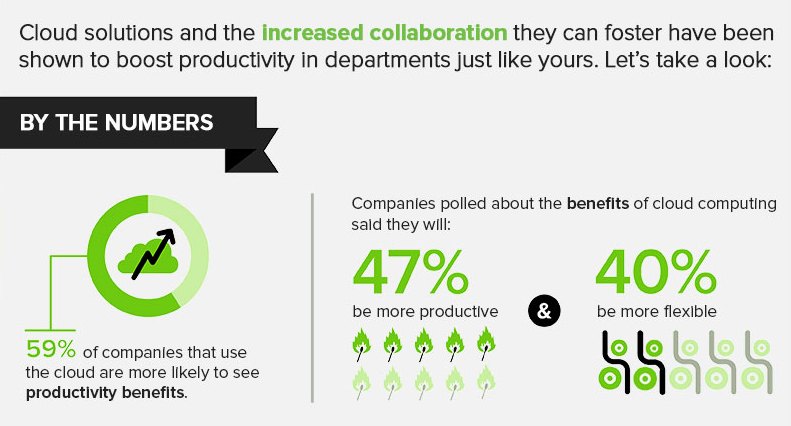 The cloud has simplified the file sharing process, and a greater share of companies are using services like Dropbox and Box each year. By removing the problem of old files and email attachments, the cloud has become an invaluable tool for collaboration.
3. Improve network security
When you think of collaboration, the first thing that comes to mind likely isn't the security of your servers. But the sheer volume of files uploaded/downloaded from the cloud is massive, and more employees than ever are bringing their own devices to work. The sheer amount of network usage presents a growing number of opportunities for hackers and malware to get access to your system.
Cyber attacks are growing in size, scope, and interruptions. These attacks on your network service can cause major problems for your employees and your customers. The ransomware attack that hit over 150 countries earlier this year took thousands of devices offline and cost companies tens of thousands of dollars in damages. A 2016 report from the Ponemon Institute for HPE found that the average cost of a data breach per day was $21,155!
Establishing strong network security is important because your employees often don't know the risks of malware. A study from Friedrich-Alexander University cites that even though 78% of people claim they are aware of the risks of unknown links in emails, 45% click them anyway: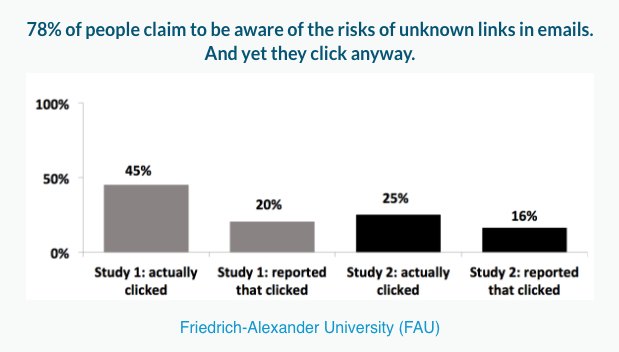 Keeping your company's files encrypted and safe from hacking is an important key to maintaining safe collaboration. Don't let your company's projects or data be vulnerable to threats by taking the necessary precautions to keep them safe.
4. Overlap zones
Researchers from the University of Michigan found that using spatial design to encourage unplanned interactions actually improved the overall performance of their scientists. Designers who want to encourage collaboration are creating what are called "overlap zones," where the opportunity for unplanned interactions between employees increases.
These unplanned interactions can spark collaboration and innovation which is precisely what Steve Jobs had in mind when he planned the design of Pixar's headquarters: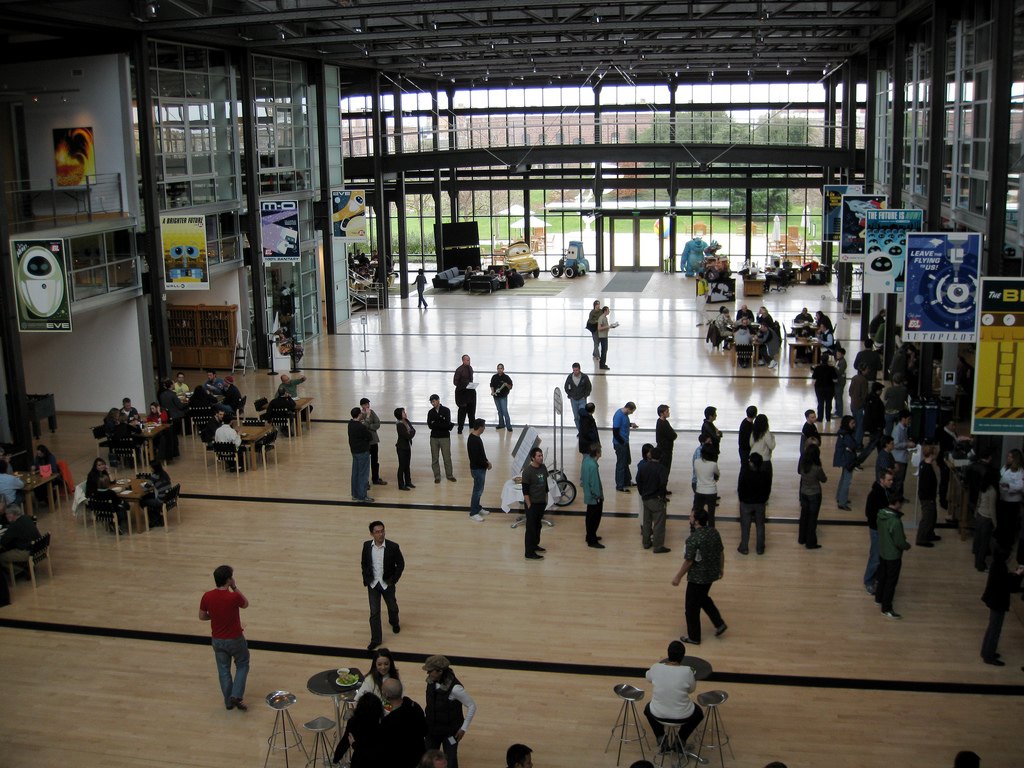 Jobs moved mailboxes, meeting rooms, and the cafeteria to the atrium so script writers, artists, and animators would interact more than they would otherwise. Pixar is one of the best examples of collaboration in the workplace. It forces employees to cross paths frequently, discuss projects and share ideas.
Overlap zones don't have to be as elaborate as the Pixar headquarters. They can be as simple as a shared staircase or an outdoor space that is shared between multiple departments. The goal is to get employees who don't regularly interact to talk with each other more easily.
5. Hot desking
Work is no longer like grammar school, where rigid rules dictate who you sit next to. Collaboration in the workplace is now happening in lounge areas, couches, and cafeterias, for example. New work trends have shown you don't have to be strapped to your desk for 8 hours to be considered a productive employee. Enter hot desking.
Hot desking is a new trend where employees no longer have mandatory assigned seating. Instead of an assigned desk, employees rotate through public, open spaces. Modern workplace collaboration is fluid and encourages employees to interact with other people they might not normally chat with outside of their departments.
In addition to increasing opportunities for collaboration, hot desking saves companies money. Consulting and design firm Strategy Plus estimates that office utilization peaks at 42% on any particular day. Condeco, a UK based workspace management company, found that most businesses assume they have a workspace utilization of 60-70%:

Hot desking allows companies to remove some of that excess space in addition to pushing employees to interact and collaborate more often. The money saved from hot desking can really add up — research from Vodafone indicates that the practice could save UK companies £34 billion per year (or $43 trillion).
6. Don't settle for your current software
Improving teamwork and collaboration in the workplace means consistently looking for new solutions to your company's problems. Technologies like Google Docs can make your business more efficient and improve communication between your employees, teams, and your clients.
post-click landing page design is a process where collaboration is essential but communication issues can make the effort inefficient and time consuming. The post-click landing page creation process can involve many stakeholders — copywriters who write the content, designers who create wireframes and customize the page, managers who oversee the process, and clients who want their input to be heard.
Clearly, not a seamless way to communicate.
If everyone is communicating via different channels, this can add excessive amounts of time and present major problems. What happens when the copywriter is sending email attachments, the project manager is communicating in Slack, and the client is using Google Docs? You get frustrated because there is no central place for communication and experience publishing delays.
The Instapage Collaboration Solution was created to combat this inefficient workflow by streamlining the post-click landing page design process. Copywriters, editors, managers, and clients can all leave comments right on the page and receive feedback in real-time.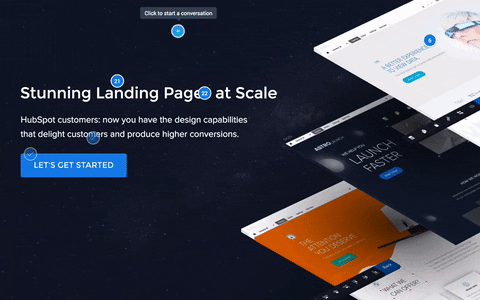 The Instapage platform also allows users to password protect their pages and add additional layers of security so only certain decision makers have access. Furthermore, the comment feed allows for a running conversation that doesn't even require users to leave the platform.
7. Video conferencing keeps remote workers engaged
This year, Gallup released a survey in that 43% of American employees spent at least some time working remotely (up 4 percentage points from 2012). More employees are making use of flexible schedules. Companies are hiring more freelancers who work remotely to complete specialized work on tighter budgets.
But since remote employees aren't in the office, they often miss out on body language and nonverbal communication. Most communication is nonverbal, and employees who don't visually interact with their co-workers can feel isolated and become less productive. That's where video conferencing can bridge that gap.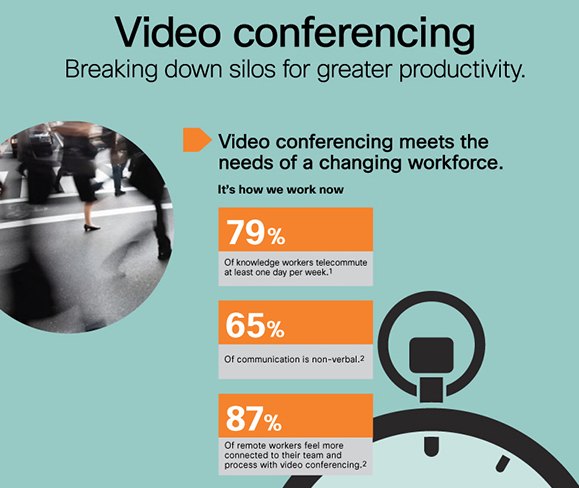 Research shows that video conferencing can make remote workers feel more connected to their teams. Polycom states that businesses believe video conferencing provides benefits across the board:
94% of respondents say it increases productivity
87% claim it accelerates the speed of decision-making
87% confirm it significantly reduces travel costs
With increasing amounts of business conducted over multiple locations and timezones, it's no wonder that video conferencing platforms enable more collaboration and efficient workflows.
8. Reducing inefficiencies in meetings
Executives consider 67% of meetings to be failures. Those inefficiencies are costing your business time and money.
Each year companies waste over $37 Billion worth of time on unproductive meetings. Middle managers spend about one-third of their time in meetings. Employees even spend up to four hours a week just preparing for status update meetings: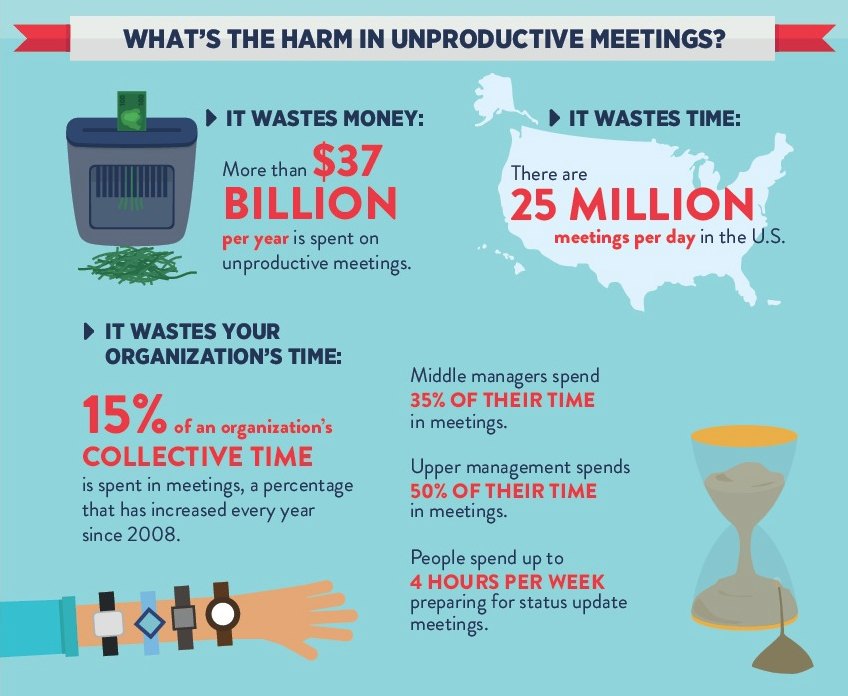 According to the graphic above, 15% of an organization's collective time use in meetings. This is a significant portion of a company's time, and wasting it is reducing both productivity and collaboration opportunities. Businesses should consider problems like multitasking and the isolation of remote workers, two things that can cause significant inefficiencies in meetings.
Multitasking is one of the biggest causes of unproductive meetings. With about half of employees admitting to working on unrelated projects and nearly 70% checking their email. Remote workers often feel isolated on conference calls because the majority of communication comes from body language and nonverbal cues they can't pick up on over the phone.
Companies looking to improve the quality of their meetings should look to keep meetings short and focused on reducing multitasking. Remote workers should communicate via video conference when possible. They can pick up on nonverbal cues and visually engage with the rest of the group. Setting clear expectations and an agenda beforehand can help keep everyone engaged throughout the process.
Start improving your workplace collaboration today
Video conferencing, data sharing, and overlap zones are just a few ways that companies are taking steps to improve collaboration.
Improve collaboration in your workplace, sign up for an Instapage Enterprise demo today.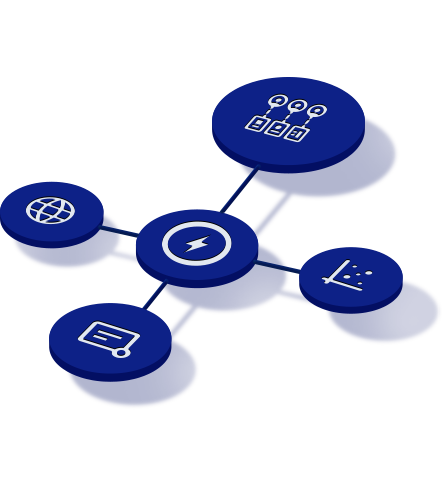 See the Instapage Enterprise Plan in Action.
Demo includes AdMap™, Personalization, AMP,
Global Blocks, heatmaps & more.