Innovative business collaboration techniques can improve your company's productivity by 20 to 30%. In a competitive industry like data analytics, that can mean the difference between success and failure. Businesses are using advanced tools like virtual reality and artificial intelligence bots to boost internal productivity and to better communicate with clients and prospects.
Today's workforce is more flexible than ever, with businesses hiring remote freelancers to work alongside full-time staff. The result is quicker feedback and projects that are finished on time and on budget. Consumers expect faster response times from businesses even as the size and scope of projects continue to grow. New collaborative tools are helping businesses not only capture that data but to analyze it and find patterns and results that can be acted upon.
Technology collaboration continues to evolve as new tools are developed. Let's take a look at some new business trends that are changing the way companies collaborate.
4 Business collaboration trends to consider adopting
Virtual and augmented reality
When you hear the phrase "virtual reality," you might think of video games or even science fiction novels. But virtual reality isn't all fun and games. There are real enterprise applications for both virtual reality and augmented reality, and businesses are investing heavily in the new technologies.
Goldman Sachs Global Investment Research expects virtual reality and augmented reality to have an enterprise and public sector market size of $16.1 billion by 2025: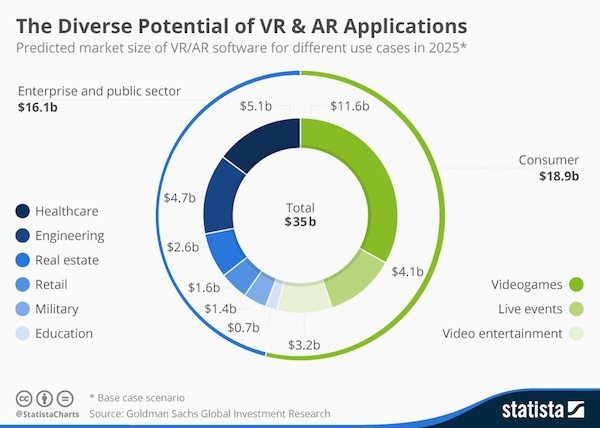 Virtual reality companies like RealSense, AltspaceVR, and DORA all offer immersive experiences for the boardroom.
RealSense allows live streamers to change the background to content from a Windows PC, which can enhance the experience of a presentation.
AltspaceVR's virtual reality headset catalogs users' body language and then replaces their body with avatars. This allows two users to interact more closely even if they are not in the same physical space, which is key for collaboration.
DORA users wear an Oculus Rift VR headset that is connected to a robot. When the user turns their head, the robots does the same, and the user sees through the robot's "eyes." The result is an experience that makes it seem as if the user is living in the robot's body. This technology could be used to connect users working in industries such as architecture and design.
Augmented reality differs from virtual reality in a few crucial ways. Virtual reality typically gives users a full immersive experience where their surroundings are completely replaced. Augmented reality users can still see their surroundings, but additional digital information is added.
For example, an augmented reality user shopping for watches could "try on" different models and see how they looked on their wrist without ever having to travel to the store: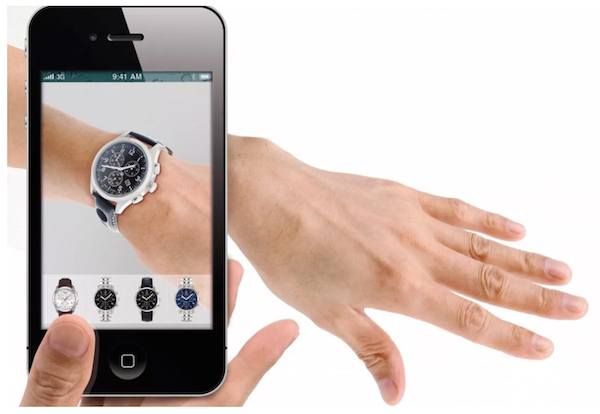 This allows greater collaboration, communication, and customization between businesses and their customers. Augmented reality is expected to be quickly adapted in industries such as healthcare, architecture, and manufacturing. In the healthcare industry, specifically, augmented reality could help medical students "see" where particular organs are in the body without having to open up a patient. Augmented reality could allow architects to showcase their work to clients in the real world instead of using mockups on a 2D screen.
Data collaboration
According to IBM, enterprise data is expected to grow at a rate of 50x year over year through 2020. Capturing and recording massive amounts of data used to be a challenge. Now, the problem isn't recording the data, but analyzing it and finding useful patterns and conclusions, without having a dedicated team of data scientists at your disposal.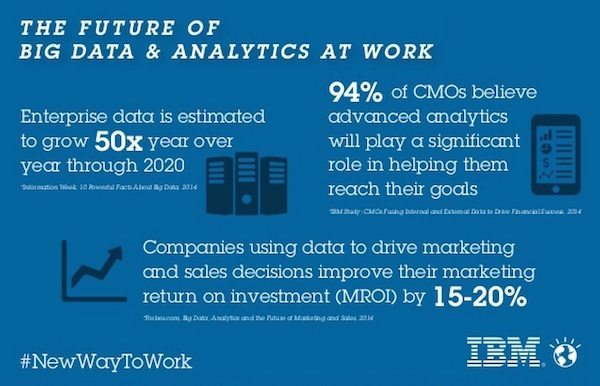 The overwhelming majority of new data is created by consumers. This data is created when consumers communicate through social media channels, move through a marketing funnel, or make purchases online. Businesses are accumulating an ever expanding amount of consumer data, and their old data tools are no longer up for the job. Older tools were designed to collect and analyze far simpler data types from fewer sources — not the unstructured data coming from social media or data from mobile devices.
Data collaboration has become imperative because it allows companies to blend multiple sources of data to help teams reach meaningful conclusions. According to a Harvard Business Review study, 46% of organizations are now trying to blend between five and fourteen sources of data for analysis. Evaluating multiple sources of data helps companies to see the full picture, and to build an analytic dataset to answer specific questions about their business quickly.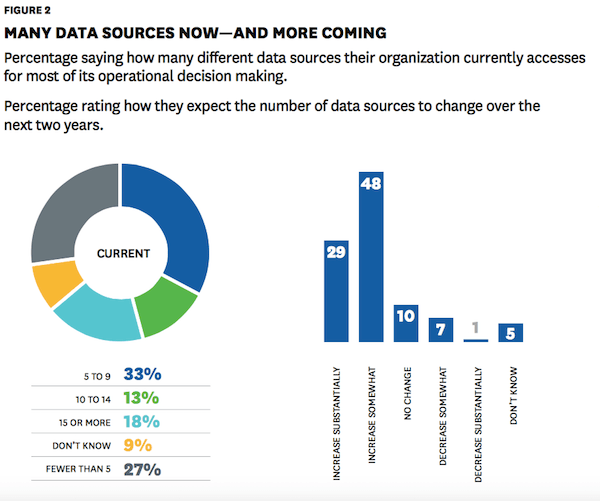 Big data analytics tools also allow companies to track how their team members are collaborating. Tracking workflow and outcomes allows companies to figure out which processes are effective and which ones aren't. By evaluating results and the data that leads to them, businesses can become more efficient over time.
New visual collaboration tools
It's been proven that humans are visual learners and studies have shown that visual information is retained longer than written or spoken information. So it makes sense that visual collaboration tools are increasing business productivity.
Communicating over long distances and multiple platforms used to be a lengthy, time-consuming process. Projects with multiple stakeholders would communicate through different channels, which allowed comments to get lost and made for a more frustrating collaboration process overall.
Today's visual collaboration tools are simplifying previously complex processes, like designing post-click landing pages. In the post-click landing page creation process, copywriters, designers, managers, and clients are all involved in the design and approval process. It requires constant communication to ensure proper branding, messaging, and publishing the page on time. And when communication is done through multiple channels, collaboration can become inefficient.
A cohesive collaboration platform is necessary to produce optimized post-click landing pages on time and under budget. The Instapage Collaboration Solution enhances the process by allowing all stakeholders to communicate through a single visual collaboration tool. Users don't have to send screenshots of their work or communicate via multiple software applications like Google Docs and Slack. All team members and stakeholders can collaborate in a single place: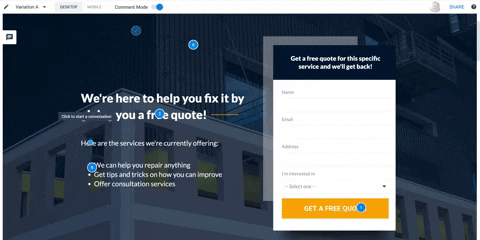 Another new visual collaboration tool comes from Oblong Industries. Oblong produces a visual collaboration solution called Mezzanine, a gesture controlled user interface which allows users to move visuals from one screen to another. A report from Forrester Consulting found that Mezzanine can generate a 226% return on investment by improving productivity. Forrester's study found that Mezzanine makes company meetings more immersive by making content more visible and accessible. This in turn enhances collaboration and internal workflow.
Collaboration with artificial intelligence bots
A survey from Digital Pulse found that one of the biggest frustrations consumers have with online services is the inability to get immediate answers to simple questions with 40% of consumers citing this problem: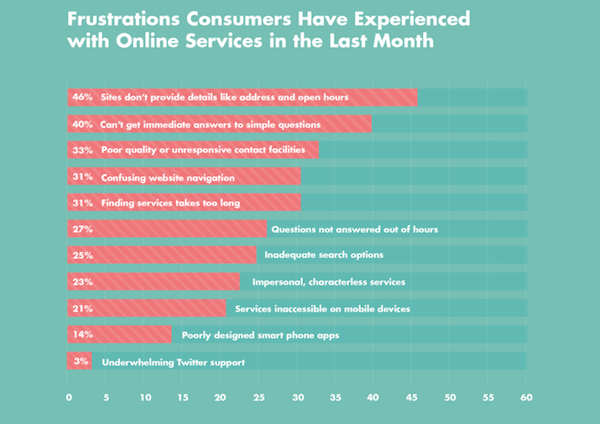 When your consumers can't get answers about your products and services quickly, they'll leave your site for a competitor. That's where artificial intelligence bots come in.
Artificial intelligence bots interact with your prospective customers and immediately provide them with the information they need. Both Facebook and Microsoft made major investments in artificial intelligence bots — sometimes called chatbots — in 2016. Other industries, such as retail, are expected to follow as the technology evolves.
The Digital Pulse survey also found that 68% of respondents believed 24-hour availability was the top benefit of artificial intelligence bots. These bots give consumers more choices when it comes to accessing information — 18% of respondents avoid calling helplines because of the fear of encountering automated menus. The survey found that chatbots ranked as the 2nd most preferred channel of communication for consumers, behind face-to-face contact but ahead of email.
Chatbots aren't the only form of artificial intelligence businesses are using though. IBM is using Watson to summarize workplace conversations, Cisco is creating its own intelligence agent, Monica, and Apple is opening Siri up to third-party developers. Slack even announced a venture capital fund for bot startups in 2016.
Businesses are using bots to quicken the pace of communication. If you missed a meeting, you could ask a bot for a summary instead of sending your co-worker an email. This enhances collaboration and saves businesses time and money.
What is the future of business collaboration?
The future of business collaboration is in tools that make collaborating a more seamless experience for all stakeholders. Strong collaborative processes can save money on travel and hardware costs. Integrated systems and data collaboration can help decision makers come to important conclusions about consumer behavior.
In the future, collaboration technologies could become so sophisticated that more employees will work virtually, saving companies money on office space and many other expenses.
Which business trends makes sense for your company?
Virtual reality, data collaboration, visual collaboration tools, and artificial intelligence bots are changing the way that companies do business. Each trend may not apply to your business or industry, but that doesn't mean you shouldn't stay on the forefront of technology to improve your team's workflow while providing solutions to what your customers want.
What new collaboration trends will your business adopt? Are you looking to improve collaboration between team members, managers, and clients?
Start improving your team's post-click landing page collaboration, sign up for an Instapage Enterprise demo today.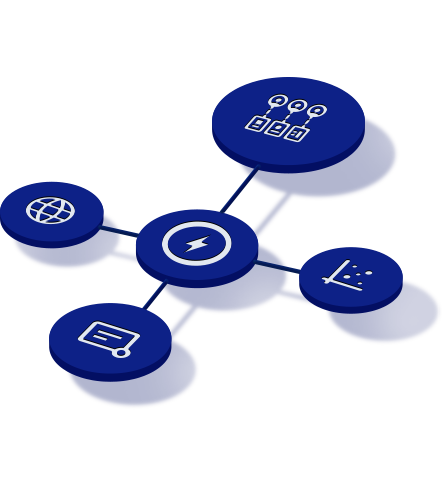 See the Instapage Enterprise Plan in Action.
Demo includes AdMap™, Personalization, AMP,
Global Blocks, heatmaps & more.