Enterprise and agency teams often include professional designers who produce sophisticated designs for in-house and client projects, respectively. Designers are accustomed to using robust, design-centric applications, like Adobe Creative Cloud, that follow similar workflow layouts. Instead of spending unnecessary time learning a new workflow, they prefer to work in an interface that they're already familiar with so they can quickly locate tools and functionalities.
Following the Experience Manager update, which improved the workflow of your team by separating workspaces of designers and other stakeholders, our team is happy to announce the new designer-friendly Instapage builder interface. This update provides a more familiar layout to other leading design software.
With today's announcement, the builder gets a fresh new look and customers on all plans have access to the latest enhancements.
What's new with the builder interface?
The designer-friendly enhancements better meet the needs of professional designers and enterprise teams because you get the same powerful builder features in a new interface that's intuitive for your team.
The enhanced design is formatted with tools and settings placed along the sides of the screen. The horizontal Page Elements Toolbar is now repositioned vertically to the left side of the builder and the Page Settings Menu is statically displayed in the expanded state on the right side: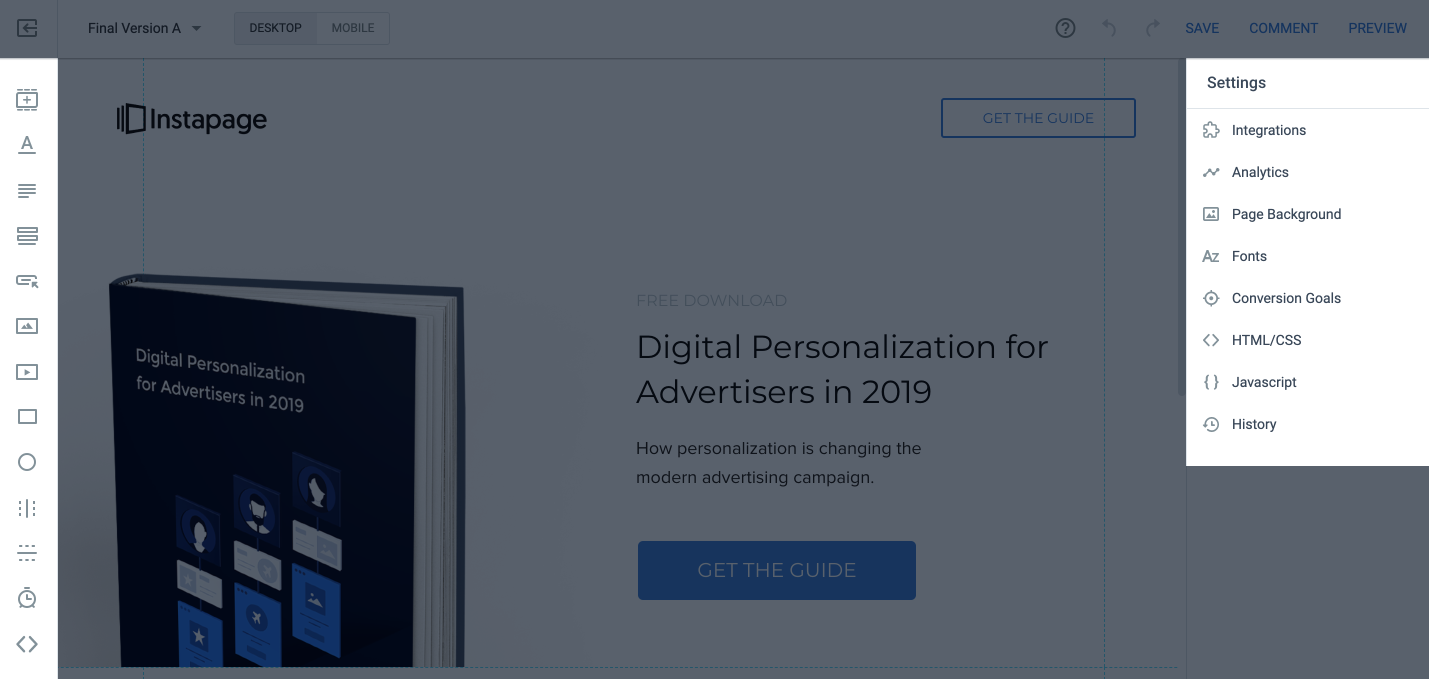 For AMP page experiences, the in-builder Validation button is located in the bottom-left of the Page Elements Toolbar: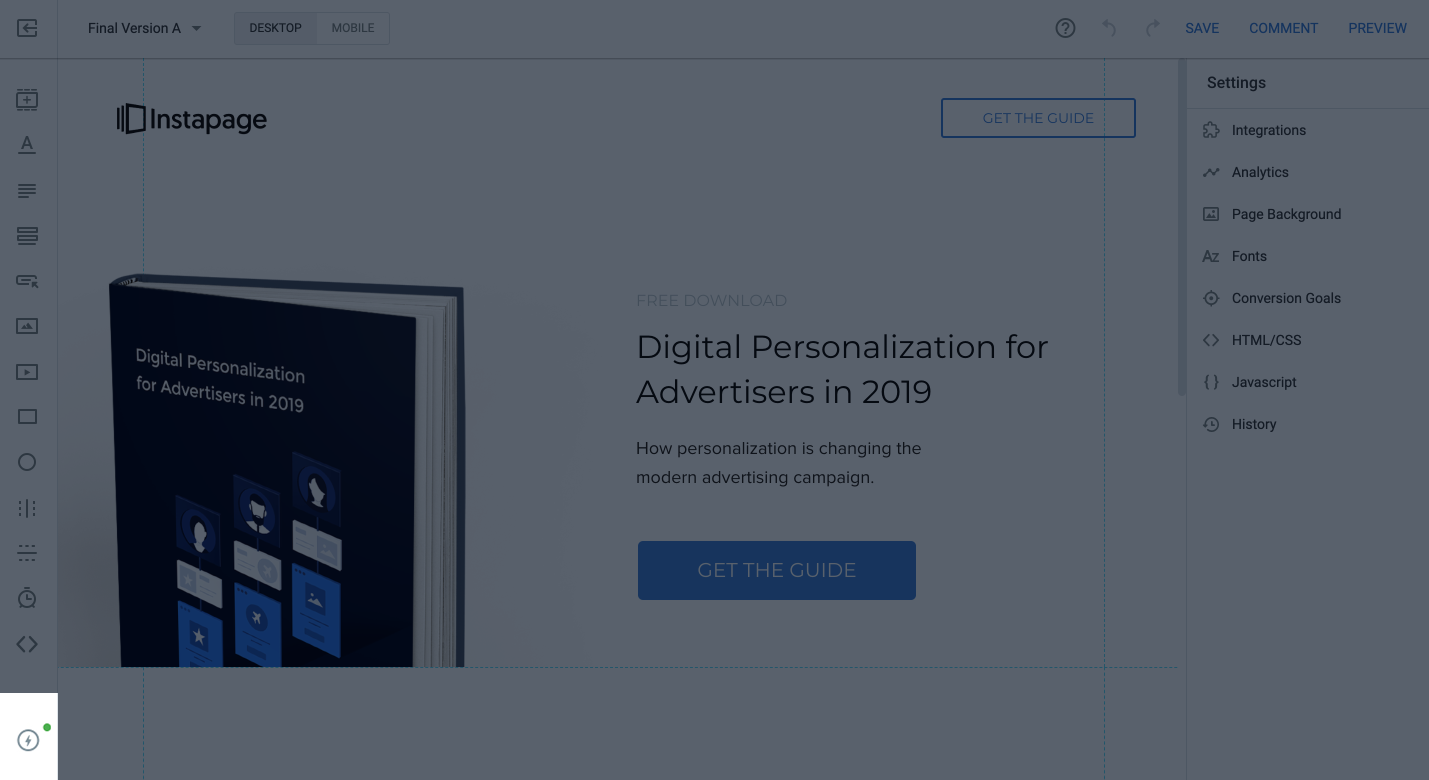 The main control panel Page Toolbar where you access features such as A/B testing, Mobile and Desktop selection, Help, Undo/Redo, Save, Comment, and Preview remains at the top of the builder: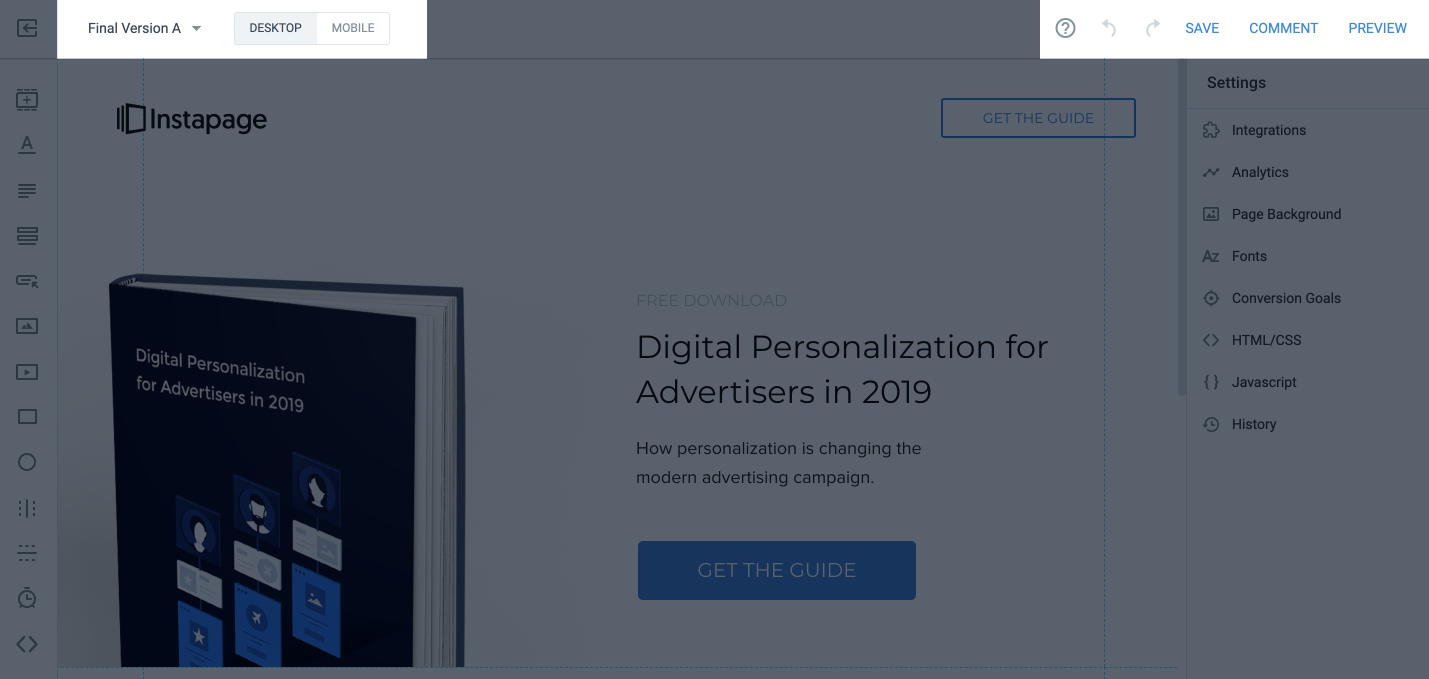 Now, your design team can efficiently create sophisticated, robust landing pages using a workflow they are familiar with, speeding up the design process. With a more familiar builder layout, there will be less onboarding time while simultaneously increasing workflow efficiency.
Sign in to see the builder enhancements
The Instapage Builder is more closely aligned with other sophisticated design tools than ever before, and we look forward to your feedback on the update. Sign into your account and try the new builder today.