Marketers on a budget should consider comparing Bing Ads and Facebook Ads. The search engine and the social media platform both have lower cost-per-click (CPC) than their main competitor, Google Ads, while still offering a variety of ad types and significant reach.
Bing Ads not only reach 63 million searchers that Google Ads doesn't, but the average CPC of Bing Ads can be up to 70% lower too. For some industries, this presents an opportunity to reach new customers while saving significantly.
Meanwhile, Facebook still offers businesses a massive bang for their buck on a social media platform. With over 2.3 billion monthly active users and an average CPC of $1.72 across all industries, every sized budget has a chance to reach a big audience.
But between Facebook Ads and Bing Ads, which platform is the best for your business? This article will help you choose by comparing several factors, including ad types, audience, targeting options, intent, analytics, and industry.
A comparison of Bing Ads vs. Facebook Ads
Bing and Facebook have a similar average CPC with $1.54 and $1.72, respectively. However, the similarities pretty much stop here.
Bing Ads appear when a search user is looking for something within the Bing network, while Facebook Ads appear within the platform regardless if a user is specifically searching for that product or service. Both are poised to reach different audiences with potentially very different buying intentions. In addition, the ads on each platform look and behave differently.
Ad types
Bing
Bing has several different ad types, ranging from basic text ads to more media-rich options.
Expanded text ads have replaced the standard text ads, giving you up to 180 characters in the body of the ad, not including the title, like this example: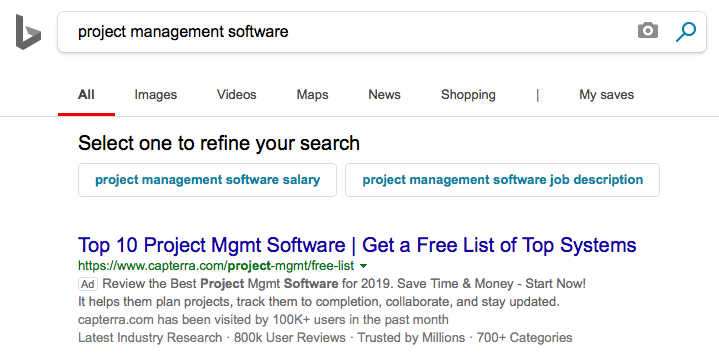 This format features a title, display URL, short description, and sometimes ad extensions. The ads are intended to persuade searchers to click through to a post-click landing page that will provide more information and convince them to convert on an offer.
There are also product ads, which display photos from your product catalog, promotional text, pricing, and seller details: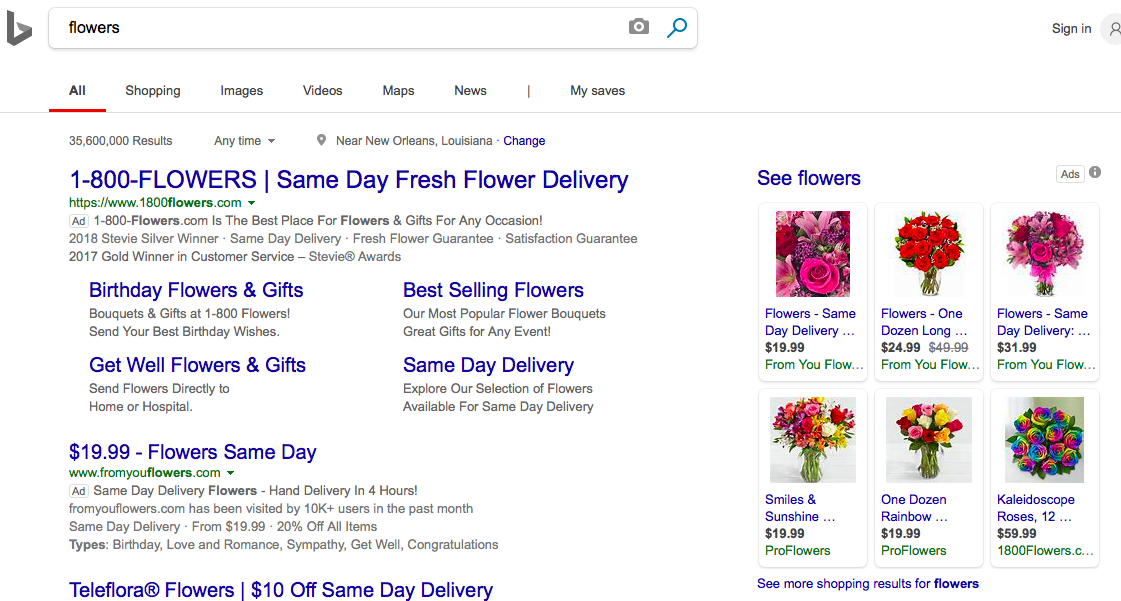 Microsoft Audience Ads are native ads that are placed within articles or on premium sites like MSN, Microsoft Edge, and Microsoft Outlook: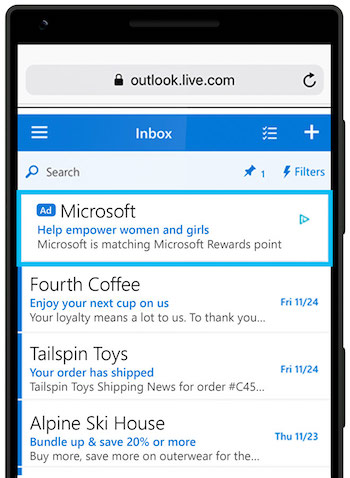 Bing has also introduced Smart Search ads, which are displayed in the Windows 8.1 Smart Search results. These ads can include a preview of your landing page: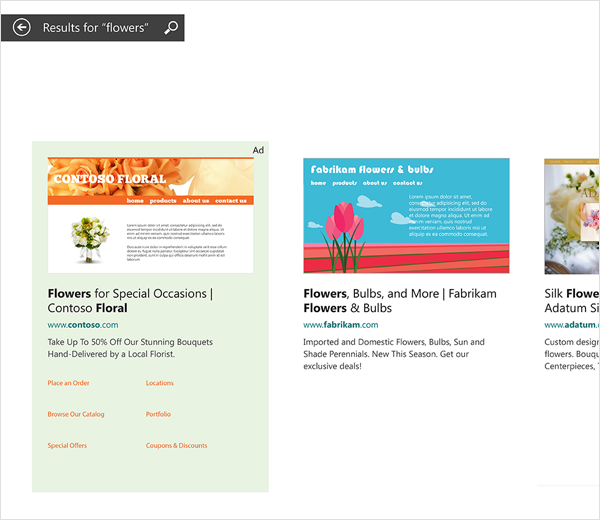 You can choose to have ads display in search results for the entire Bing Network (including all Bing-owned and operated websites and partners like Yahoo and AOL), all syndicated search partner sites, or both.
Facebook
There are also several different types of Facebook Ads, all of which are built to be media rich and maximize engagement within the social media platform. The following are just a few of the many options available.
Instant Experience ads have several design options that can incorporate video, magazine-style photo layouts, and even mimic landing pages: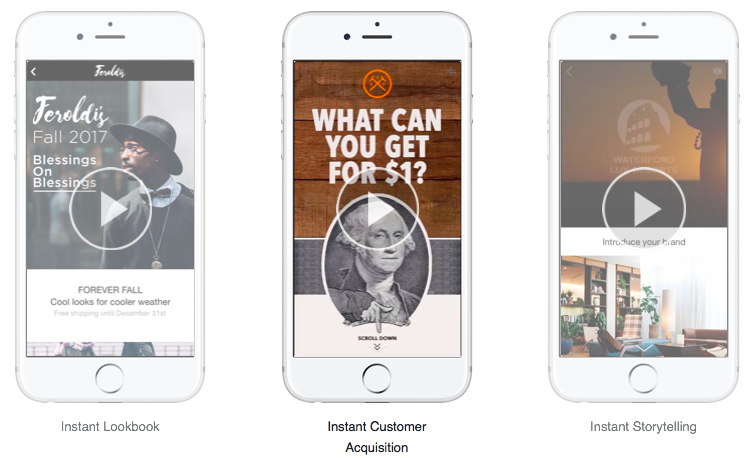 Messenger Ads allow businesses to send highly targeted ads to users and connect with them directly in private conversations: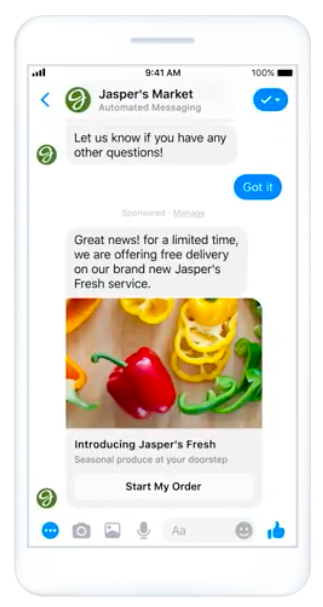 One of the newest ad types is Playable Ads, which allow users to test out a game before installing it: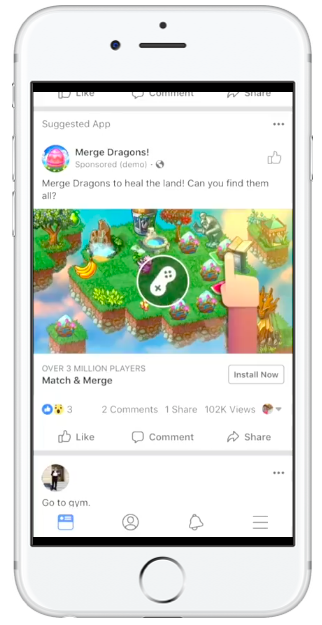 There are also classic photo ads, video ads, Facebook Stories ads, Slideshow ads, and Collection ads that function like a product catalog users can explore. It just goes to show that there really is a Facebook Ad format suited to every business type.
While Facebook offers more eye-catching visuals and interactivity than Bing Ads, this doesn't necessarily make it the better choice for your business. Also, consider the following several other factors.
Audience
With nearly a third of the world using the platform, Facebook's audience is evenly spread across demographics. A report from Pew Research Center shows that 75% of U.S. adults earning $75,000 or more use Facebook, as do 77% of U.S. adults with a bachelor's degree or more.
Bing has significantly fewer users, with 137 million unique searchers. However, those users spend 36% more online when shopping from their desktop computers than average internet searchers.
While Facebook's audience more evenly represents all demographics, Bing's audience tends to be older and more educated. 40% of the Bing Network users are between 35-54 years old, while one-third of the network graduated with a bachelor's degree and 17% graduated from graduate school. Furthermore, over one-third of the Bing Network's audience has a household income of $100,000 or more, while 55% have at least $75,000: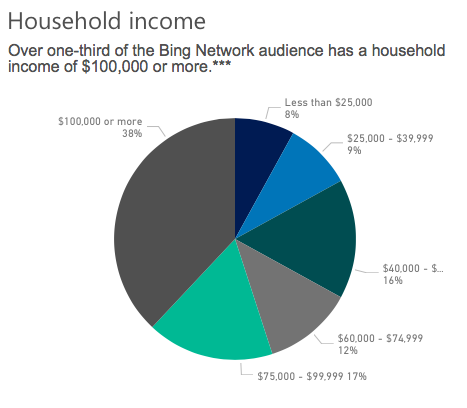 Targeting options
In addition to creating campaigns around specific search keywords, Bing allows businesses to target users in a few key ways, including:
Geographic location
Day of the week
Time of day
Gender and age
Device (desktop or mobile)
Bing offers remarketing extensions to help retarget visitors that previously left a website. To get started, you need to install the Universal Event Tracking tag on the site.
Facebook not only offers all of the same targeting options that Bing does, but enables businesses to get even more specific about their audience by targeting users in the following ways:
Education
Relationship status
Interests and hobbies
Job title
Prior purchase behavior
Connections to pages or events
Like Bing, Facebook can also re-engage with audiences that have already had some prior contact with a brand. Businesses can target contacts already in their CRM, use the Meta Pixel to retarget their site visitors, or even retarget users of a brand's app by installing a Facebook SDK.
Intent
Intent can signal how qualified the person is and how likely they are to convert. Due to differences in the platforms' primary uses, Bing and Facebook users generally have different intents.
Facebook users typically don't have an intent to buy anything when they log in since the platform's primary use is to connect with friends and family. Not surprisingly, the average click-through-rate (CTR) for Facebook ads across all industries is a dismal 0.9%: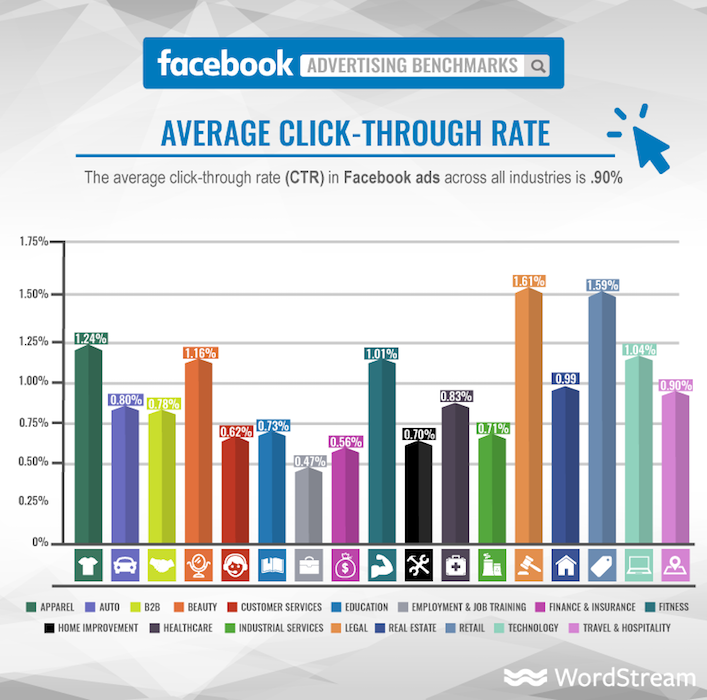 That doesn't mean that businesses should ignore this market because the average conversion rate of those clicks is 9.21% across all industries.
Bing users are typically searching for answers, a solution to their problem. So inherently they could be more qualified leads for businesses that can provide the right solution. As expected, click-through-rates for Bing Ads tend to be higher than Facebook Ads with the average CTR across all industries being 2.83%: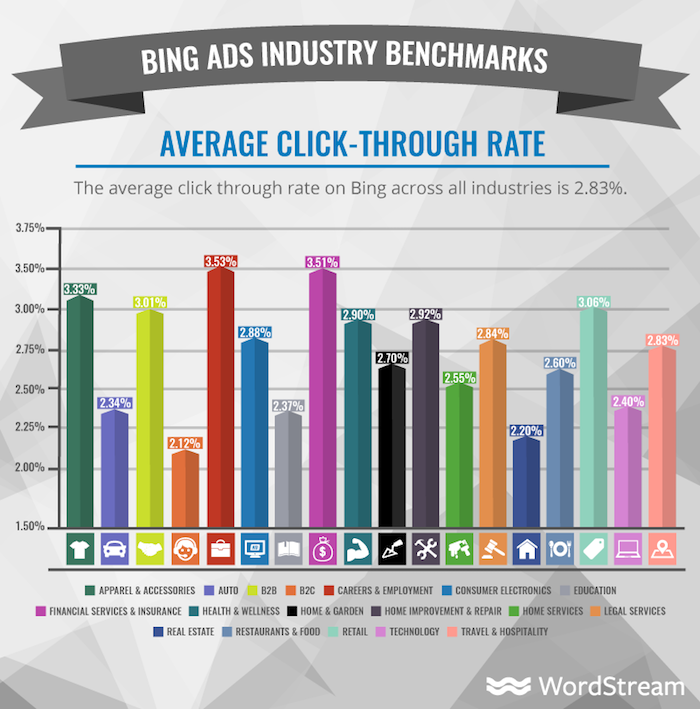 However, the average conversion rate for Bing Ads is lower than Facebook Ads at 2.94% across all industries. This may be because Bing users will likely shop around and compare options before settling on a purchase and because they're likely spending less time on the search engine compared to Facebook, giving businesses fewer chances to remarket to them.
For example, the average time a person spends on Google's search engine each month is 1 hour, 47 minutes, while the average time a person spends on Facebook each day is 41 minutes.
Analytics
Both Bing and Facebook can measure the overall effectiveness of ad campaigns, but each has a few benefits that the other doesn't.
In addition to providing analytic tools that help businesses understand engagement metrics for users clicking ads, Bing Ads performance reports also track campaign effectiveness and show businesses exactly how to interpret the numbers: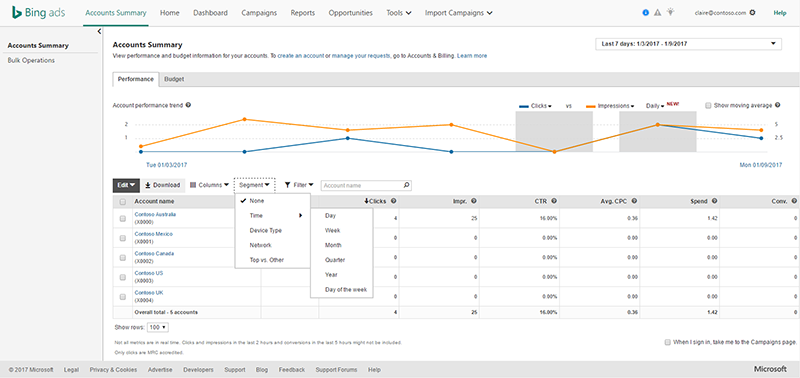 Bing Webmaster Tools aren't associated with Bing Ads, but they can increase campaign effectiveness by showing how visitors use a website and what needs to be improved on the site for brands to increase ROI.
With Facebook, businesses can track the effectiveness of their ad campaigns after installing the Meta Pixel on their website. Facebook also offers offline measurements so businesses can measure the impact of ad campaigns on offline conversion events, such as sales in-store.
There's even a function that measures how well TV and Facebook ads are working together. It compares effect size to cost and can recommend the most cost-efficient strategy: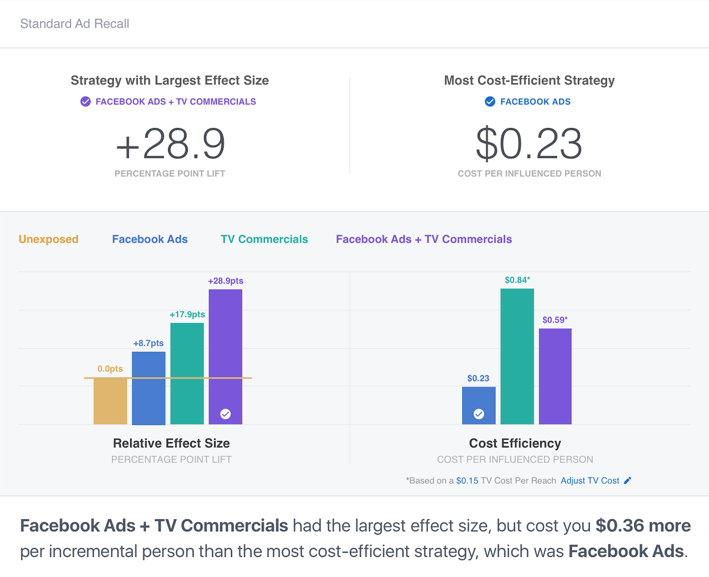 Are you B2B or B2C?
Whether or not your business sells to individual consumers or other businesses will likely play a big role in which platform is ultimately best for you.
When Facebook may be best
In general, Facebook is more promising for businesses selling directly to consumers (B2C). Facebook's variety of visual ad types and low average CPC make it ideal for products and services at lower price points. Users also have less or no intent to buy products when they log on, as indicated by low click-through rates. However, industries like education, fitness, and real estate all have the same or higher conversion rates than B2B, indicating that users are open to products that can increase their quality of life.
When Bing may be best
Bing is the more logical choice for businesses selling to other businesses (B2B). Bing users are actively looking for a solution to their query and, therefore, are more qualified leads. Ads have higher CTR on Bing than Facebook, indicating that users are hunting for a solution to their needs. Bing's audience demographics also show that users tend to be older, more educated, and earn $75,000 a year or more, which may indicate that they are in positions with purchasing power.
However, it's worth noting that Facebook can still work for B2B brands. The conversion rate for B2B ads on the platform is 10.63%, which is above the average of 9.21% across all industries.
Which ad platform is best: Facebook or Bing Ads?
If it has to be one or the other, the answer might lie in what your business is selling and how you want to sell it. Facebook's audience is primed for highly visual and engaging B2C ads, while Bing makes sense for B2B customers that are further along in the marketing journey. However, you won't know which ad platform makes more sense for your brand until you run and test campaigns on both platforms.
The best scenario is to experiment with both platforms. Placing ads in the Bing Network targets businesses or individuals researching solutions, while Facebook Ads can retarget those site visitors and nurture leads. Best of all, the relatively low CPC of both Bing and Facebook ads can make this possible even for modest budgets.
Before you start to design your Bing or Facebook ads, you have to know the necessary ad specs and targeting options for each format. The Instapage digital advertising reference guide includes all that, plus real-world examples and a checklist for the post-ad click experience to ensure that you maximize ROI from your campaigns.