Welcome emails are a lot like online dating—your subscribers signed up for your list because they were attracted to your profile (your landing page and sign-up form). To make the relationship work, you need to deliver on the promises that were made. And the first step in reassuring your new subscriber that they made the right choice, is your welcome email. Let's look at a few successful welcome email examples.
Your welcome message is your opportunity to really "wow" subscribers with your personality so they look forward to your next newsletter. When you consider that welcome emails have an unusually high open rate of 50% – making them 86% more effective than newsletters, it's crucial that you get it right.
So what separates an average email from one that leaves subscribers wanting more? Let's look at some welcome email examples to find out.
The best welcome emails show sincerity and appreciation; after all, you're excited to have them join your list! To help get you started, we've collected seven of our favorite formulas that engage new users and some pro tips to inspire you. Feel free to use the examples below as welcome email templates when creating (or rewriting) your own.
7 of the best welcome email formulas to influence new users
1. Say "thank you"
First things first, welcome new subscribers and say "thank you" for opting in to receive your emails. Show your appreciation by sending a note of thanks. It can be as simple as a line of text, or you can get creative and use images or GIFs. If you think a plain "thank you" isn't enough, you can test creative ways to say welcome to your new subscribers.
LARQ thanks users for subscribing to the newsletter in their welcome email.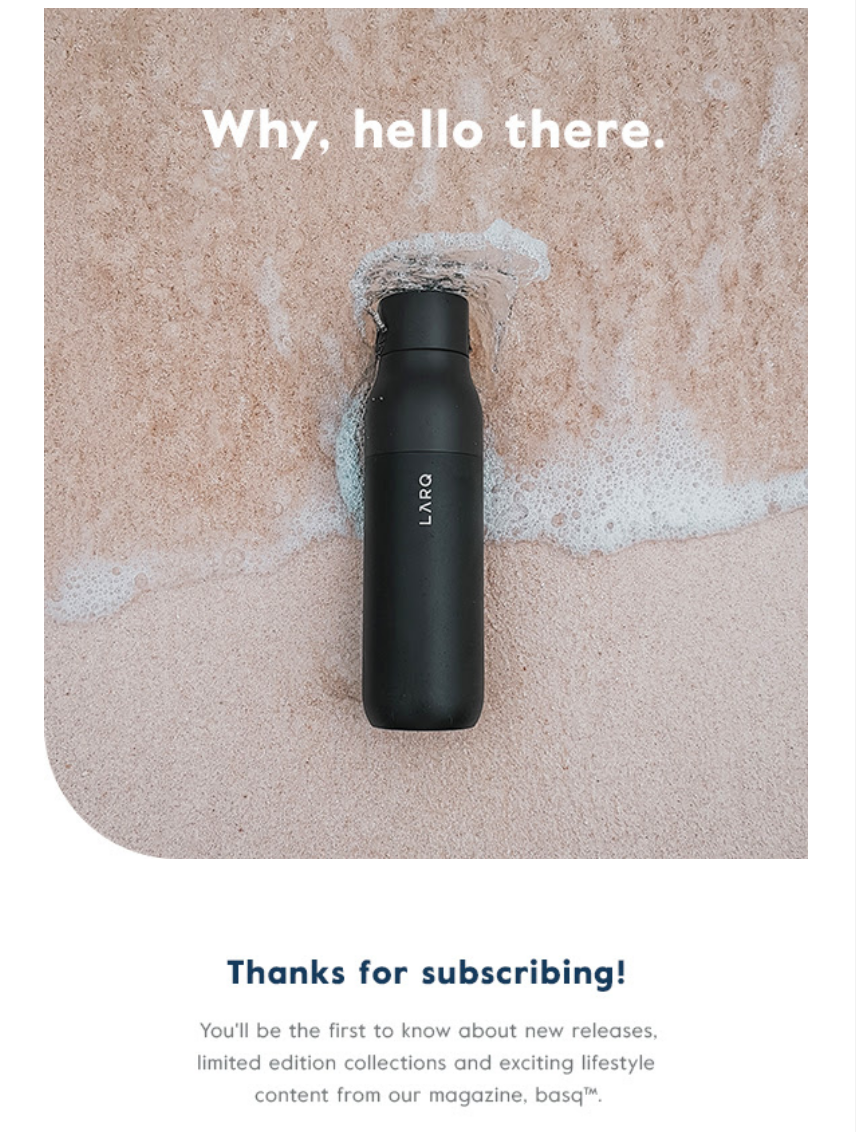 2. Set expectations
Along with the welcome message, it's important to share information about the type of content and the frequency in which your subscribers will receive your emails. This also ensures that your emails make it to the inbox (and don't get marked as spam!). Being as clear as possible helps to build trust with your new audience.
Harry's newsletter thanks folks for subscribing and lets them know to expect one newsletter every Monday.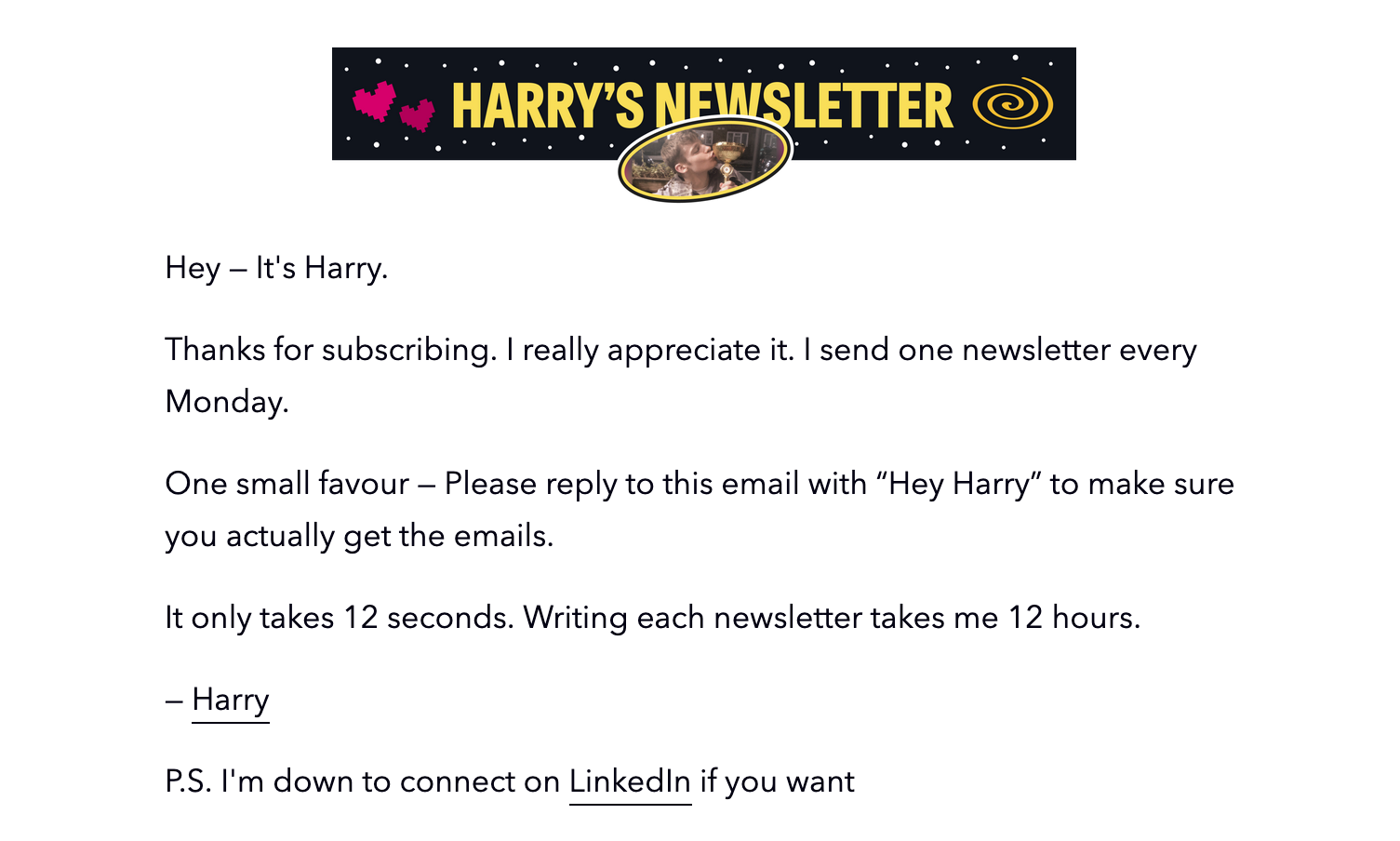 3. Introduce yourself
Not everyone who signs up for your list is a current customer, so they might need a little more context around you and your brand to start building up trust. Your welcome email is a great place to share who you are, what you do, and how you can help them. You can even encourage a two-way conversation by asking subscribers to share a little information about themselves as well!
The Sheets & Giggles welcome email introduces the brand and promises to deliver puns and exclusive deals to subscribers.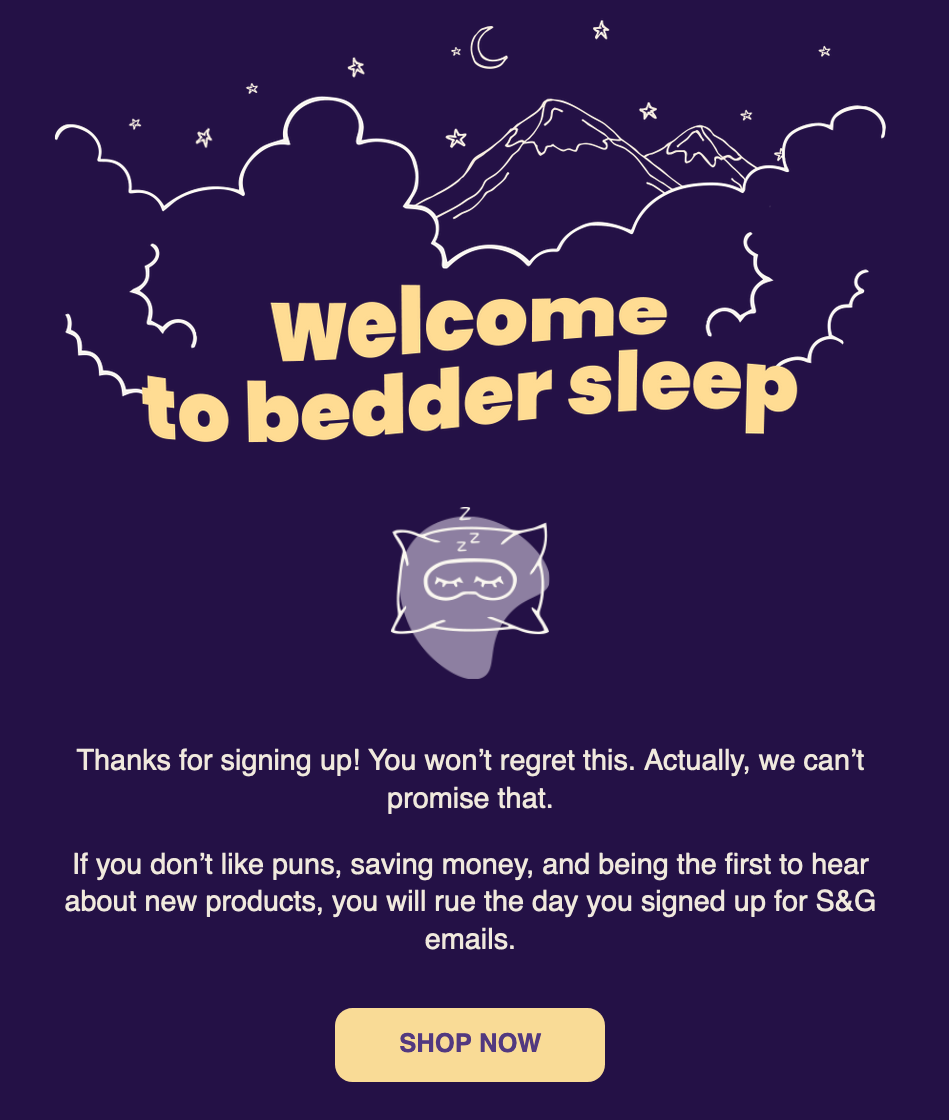 4. Deliver your incentive
If you promised an incentive upon signup, whether it be a guide, promo code, or exclusive offer, this is the time to share it. You don't want to keep your new subscribers waiting. And what better way for them to start diving right into and engaging with your content?
This is how BarkBox showcases their exclusive offer in the welcome email message.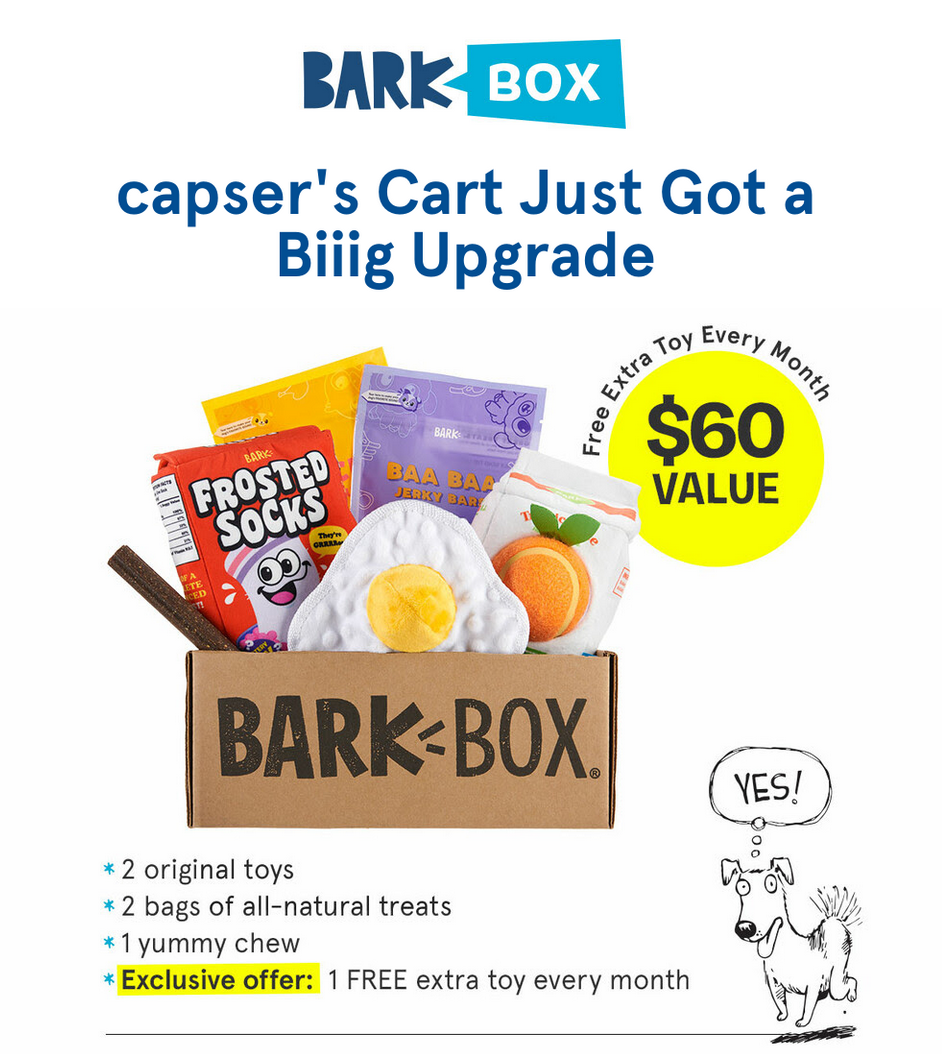 5. Share helpful resources
While subscribers wait for your next email send, why not use this opportunity to link out to helpful resources and content that can get them to engage with your brand and start learning more? If you have any relevant blog posts, guides, or videos, this is a great opportunity to share them.
This Patagonia email not only gives subscribers access to the brand's new travel clothing line, but also shares the latest story on their blog.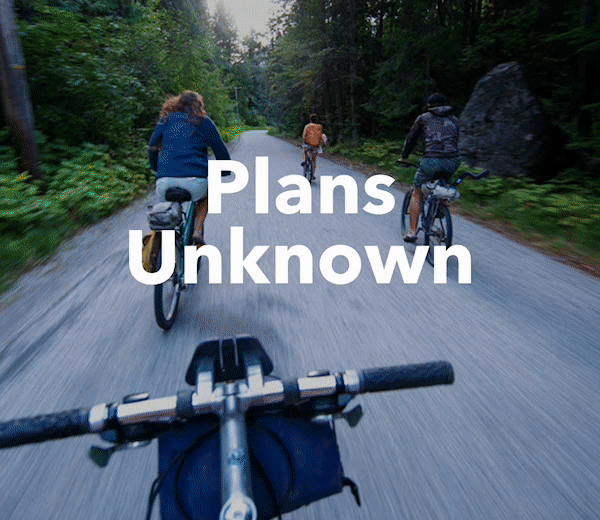 6. Get social
Another great way to encourage engagement is by linking out to your social channels and having them connect with you on other platforms. You can also include a click-to-tweet in your email that encourages new subscribers to share your email with their friends and network. And bonus points for showing social proof within your email.
This RUX email showcases social proof in the form of press reviews from renowned publications like Mental Floss and The Awesomer.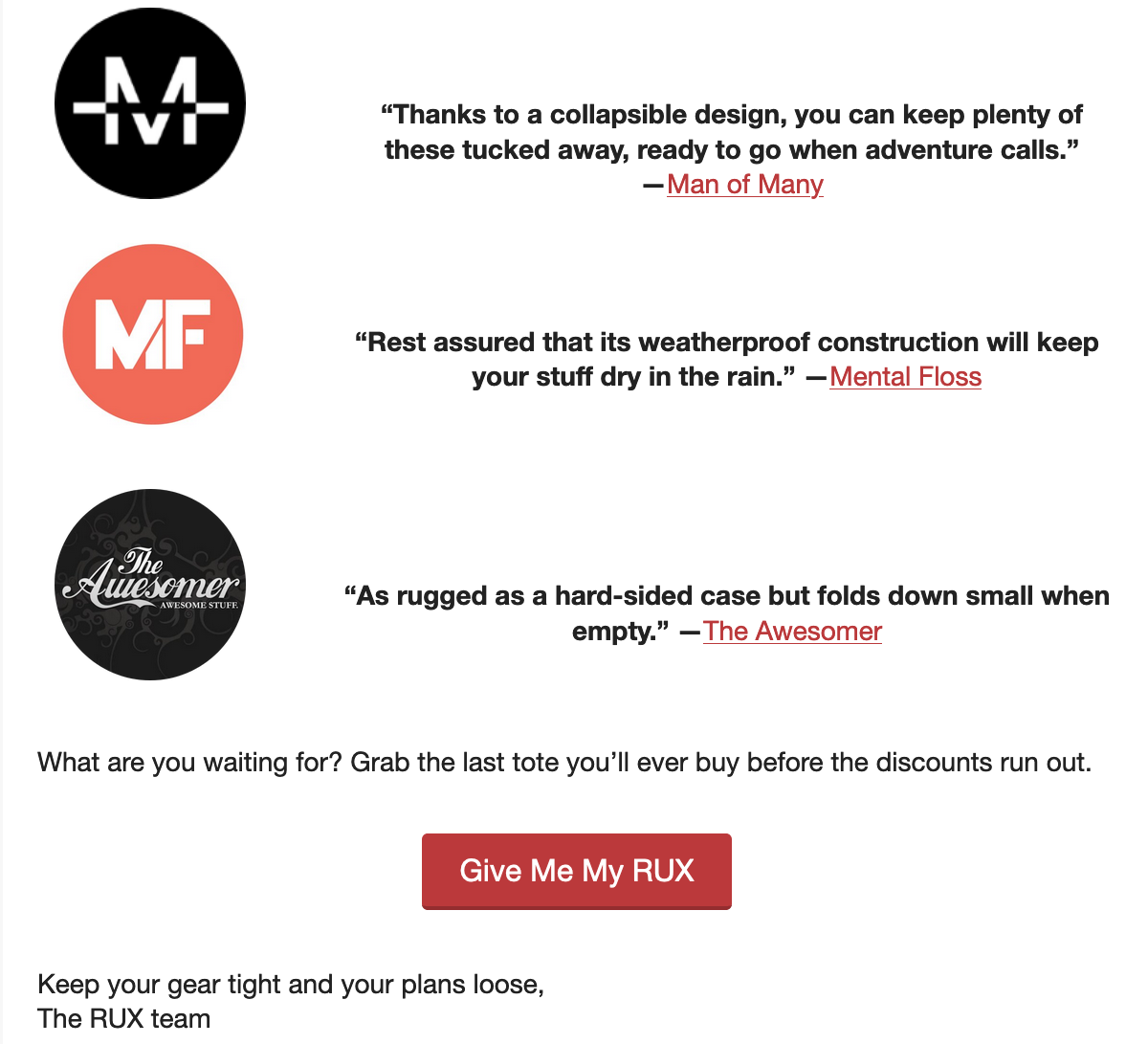 7. Stay connected
Be sure to share contact information and encourage feedback so that if any questions come up, your new subscribers know exactly where to go to get the help they need.
The Modobag email allows subscribers to ask questions or leave feedback by replying directly to the email.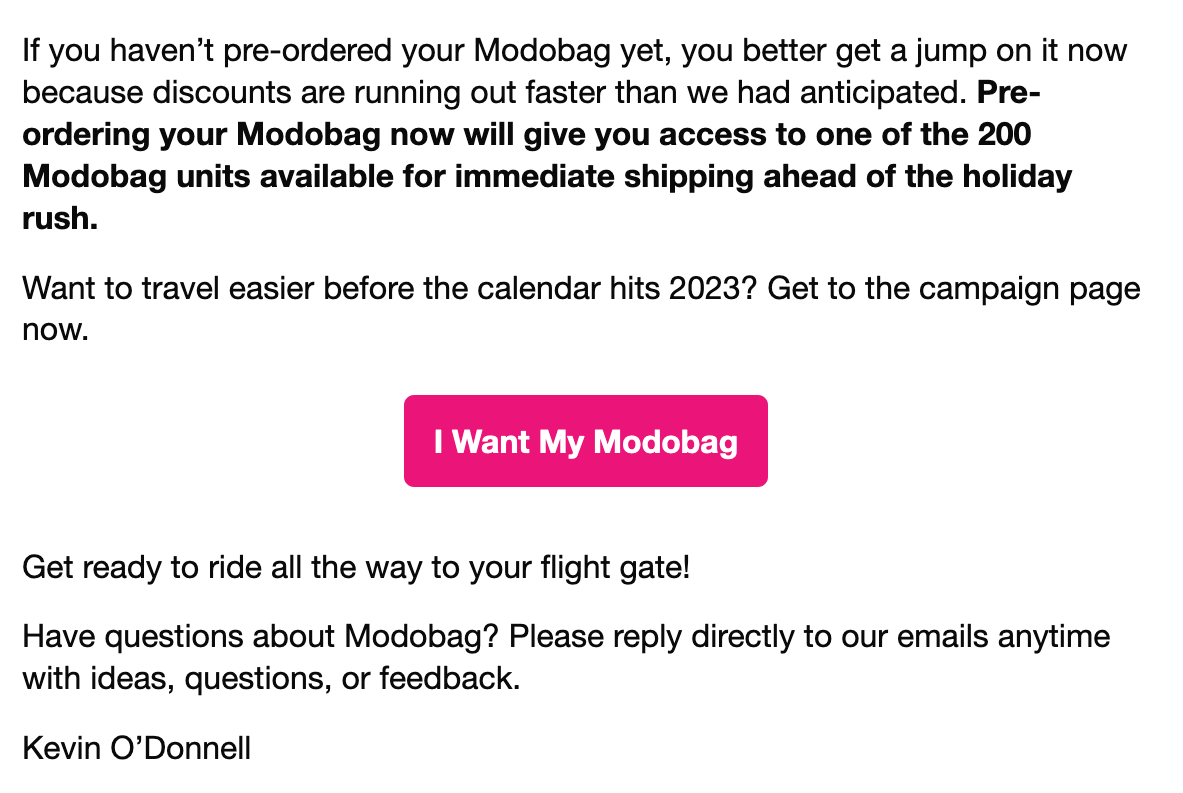 Write more engaging welcome emails today!
An engaging welcome email helps start your customer relationship off the right way.
In addition to considering the best practices outlined in this blog, consider connecting all your emails to dedicated and optimized landing pages. This is where Instapage comes in.
Instapage empowers you to create and scale optimized mobile responsive landing pages without a developer. Book your demo today to get started.