Automation is no longer the future — it's here now. It's here to offer incredible value to your business; to automate repetitive marketing tasks to allow more time for higher priority activities; and to provide the advanced personalization and relevance that your business needs to stand apart from the competition.
If you're not yet using automation to improve efficiency — and in turn, your business's bottom line — consider the following software automation statistics. After all, inefficiencies are costing many organizations 20-30% of their annual revenue.
60 Software automation statistics to review
Advertising automation statistics
Advertising automation can save businesses $130,000 a year in costs.
As of May 2019, more than 70% of advertisers were using Google automated bidding strategies.
In 2019, programmatic advertising will reach $45.94 billion, accounting for 84.0% of all U.S. digital display ad spend: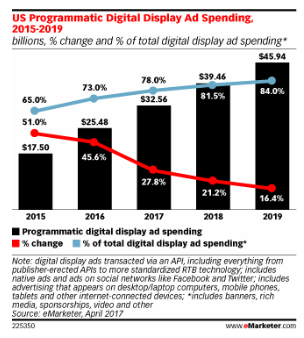 72% of display ads are responsive ads.
Nearly 90% of mobile display ads will transact programmatically by 2020.
By 2022, 80% of all advertising processes will be automated.
Marketing automation statistics
An average of 51% of companies currently use marketing automation.
58% of B2B companies plan to adopt marketing automation software in the foreseeable future.
Omnichannel marketing automation can produce 250% higher purchase and engagement rates than single-channel marketing automation: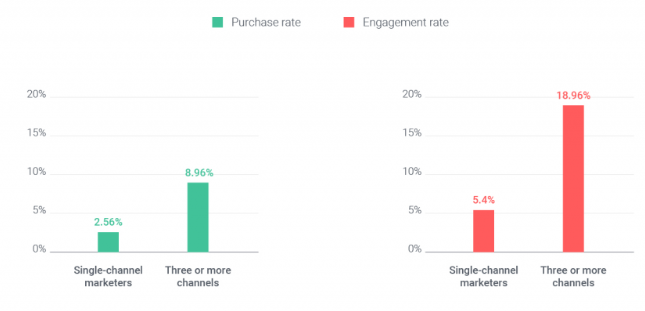 90% higher customer retention rates can come from omnichannel marketing automation
Global spending on marketing automation tools is predicted to pass $25 billion by 2023 — a 14% annual growth rate.
80% of marketing automation users see increased leads, and 77% see increased conversions.
91% of users say marketing automation is "very important" to the overall success of their online marketing activities.
92% of users say that their main goal with marketing automation software is to improve their qualified lead pipeline, followed by customer retention (81%), and then lead nurturing (66%):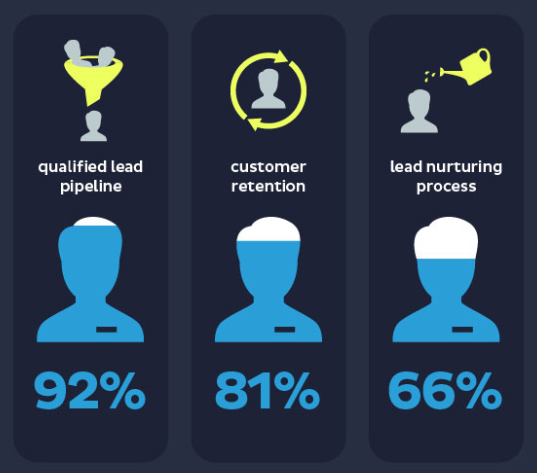 75% of marketers use at least one marketing automation tool.
Business owners, executives, and marketers say that the biggest benefit of marketing automation for them is saving time at 30%: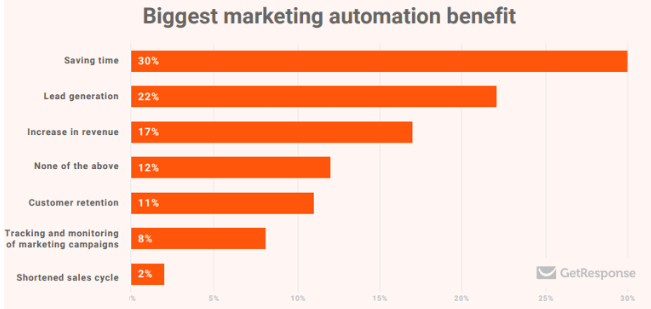 66% of marketing automation software users feel it is either 'moderately' or 'very' effective.
Almost 90% of agencies feel their marketing automation strategy is successful: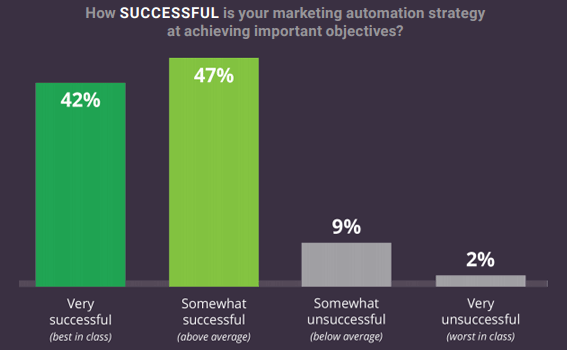 Database automation statistics
Lost productivity and poorly managed leads cost companies over $1 trillion annually, some of which could be saved with database automation software.
40% of productivity is lost to multitasking and task-switching. With automation, data across apps can be streamlined, optimizing time by increasing visibility and centralizing work.
97% of employees and executives believe that a lack of alignment within a team impacts the outcome of a task or project. Automation helps improve team collaboration, from syncing departmental apps to automating a long process like on-boarding and reporting.
Professionals spend 50% of their time manually searching for information (and an average of 18 minutes to locate each document). With automation, admin work is significantly reduced, as it allows you to automatically streamline data between a CRM and an accounting program, for example.
More than half of professionals expect to adopt a fully automated process for deploying database changes within the next year.
Sales automation statistics
47% of users say their most important goal of marketing automation is increased sales revenue.
Automation is proven to boost sales productivity by 14.5% and reduce marketing overheads by 12.2%.
Sales Force Automation can lead to a 30% increase in deal closures, an 18% reduction in sales cycle, and a 14% reduction in sales administration time.
60% of users say marketing automation has increased the quantity and quality of the leads that get passed to sales.
Marketing automation users report 3x more leads passed to sales after one month.
Brands have seen a 225% increase in the volume of prospects that converted to sales opportunities with lead nurturing sales automation.
58% of marketers use automation for upselling.
B2B marketers have increased their sales pipeline contribution by an average of 10% with sales automation.
Automated, personalized offers based on past browsing and shopping history can increase sales by 20%.
By using automated, one-click upsells when selling products online, average order size may increase by more than 360%.
Cloud automation statistics
Companies using cloud automation experience a 15% year-over-year revenue growth.
Business that offer cloud automation may gain 5x more clients than traditional companies.
71% of business using cloud automation anticipate at least 10% revenue growth over the next year and 47% expect more than 20% growth (compared to only 38% who expect 10% revenue growth).
The number of new enterprise applications that use cloud automation will more than double by 2020.
84% of cloud automation leaders have seen increased revenue and lower operating costs.
81% of businesses using cloud automation feel their ability to deliver business model innovation has improved.
75% of the most established IT companies (top 20%) say that cloud automation has helped them to change their business models to boost overall revenue and profitability.
86% of the most established IT companies say that customer experience has benefited from cloud automation.
59% of the most established IT companies have been able to redeploy engineers onto higher-value activities (such as new development) due to cloud automation.
84% of the most established IT companies feel that cloud automation has improved their company's agility.
Social media automation statistics
Social media post scheduling and social media advertising are among the top three processes that marketers feel are most suitable for automation: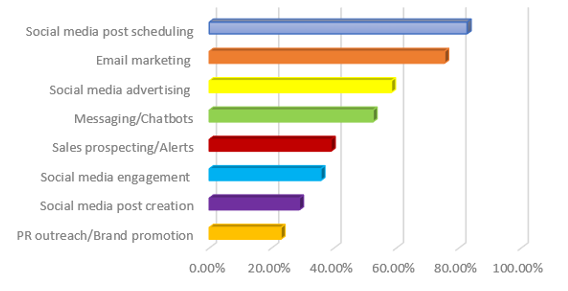 For 64% of marketers, social media management is just one of their multiple job responsibilities.
Automating social posts and ads can save more than 6 hours per week.
70% of marketers want to learn more about messenger bots, including social media messengers.
47% of SMBs use marketing automation software for social media management.
Email automation statistics
Automated emails have a 70.5% higher open rate and 152% higher click-through rate than generic email newsletters.
Companies using marketing automation software are 2x more effective in lead generation than those using only blast email software.
Autoresponders have 73% higher open rates than generic emails.
The top 3 performers of email automation include financial services, consumer products, and general consumer services.
Email marketing software is used by 82% of B2B and B2C companies.
50% of SMBs use marketing automation software to send email drip campaigns.
Segmented and personalized automated email messages average 46% higher open rates than traditional marketing messages.
Reply rates can increase by 250% by automating outreach and follow up emails.
Automating lead nurturing with well-timed emails and offers has been proven to generate a 10% or greater increase in revenue.
Over 75% of email revenue is generated by triggered campaigns.
Automated email campaigns account for 21% of email marketing revenue.
Companies who send automated emails are 133% more likely to send relevant messages corresponding with a customer's purchase cycle.
How will you implement automation?
Software automation is an investment that can't be denied. As evidenced by the stats above, it can no longer be considered a luxury feature or bonus add-on of the future. It's an essential pillar of modern advertising designed to reduce time spent on administrative work, allowing you to focus more on revenue-producing tasks.
Start implementing automation in your workflow and learn more about optimizing all of your campaigns with the Instapage Marketing Optimization Opportunities Guide here.
Sources
Advertising automation
https://www.business.com/articles/the-birth-of-automated-advertising/
https://support.google.com/google-ads/answer/9339301
https://www.emarketer.com/Report/Advancing-Programmatic-Advertising-Buyers-Sellers-Seek-Greater-Control-Over-Ad-Campaigns-Audiences-Reached/2002001
https://www.semrush.com/blog/display-advertising-stats-2019/
https://www.emarketer.com/content/us-programmatic-ad-spending-forecast-2018
https://www.cmo.com/features/articles/2017/9/25/the-future-of-advertising-automated-personalized-and-measurable-.html#gs.j03iqm
Marketing automation
https://www.emailmonday.com/marketing-automation-statistics-overview/
https://www.clickz.com/onmichannel-marketing-automation-statistics-for-2019/231381-2/231381/
https://go.forrester.com/blogs/global-marketing-automation-spending-will-reach-25-billion-by-2023/
https://moosend.com/blog/10-marketing-automation-statistics-need-know/
https://www.invespcro.com/blog/marketing-automation/
https://www.socialmediatoday.com/news/smts-state-of-marketing-automation-survey-2019-part-1-current-state-of/551755/
https://sharpspring.com/resources/state-marketing-automation-infographic/
Database automation
https://blog.workato.com/2017/06/8-automation-stats-cio/#.XQKWSohKiM8
https://www.wrike.com/blog/high-cost-of-multitasking-for-productivity/
https://blog.clearcompany.com/7-workplace-collaboration-statistics-that-will-have-you-knocking-down-cubicles
https://www.m-files.com/Content/documents/en/res/ECM_Stats_White_Paper.pdf
https://www.red-gate.com/solutions/database-devops/report-2018
Sales automation
https://www.invespcro.com/blog/marketing-automation/
https://www.emarsys.com/resources/blog/11-best-examples-of-b2c-marketing-automation/
https://www.badgermapping.com/blog/features-of-sales-force-automation-sfa-benefits/
https://www.protocol80.com/blog/21-lead-nurturing-statistics-that-show-the-power-of-marketing-automation-and-workflows
http://www.marketo.com/reports/calculating-lead-nurturing-roi/
https://moosend.com/blog/10-marketing-automation-statistics-need-know/
https://www.entrepreneur.com/article/281089
Cloud automation
https://www.xero.com/blog/2017/05/cloud-based-accounting-firms-add-five-times-the-amount-of-clients-of-traditional-firms/
https://www.capgemini.com/service/cloud-services/the-automation-advantage/
Social media automation
https://www.socialmediatoday.com/news/smts-state-of-marketing-automation-survey-2019-part-1-current-state-of/551755/
https://www.fronetics.com/10-social-media-statistics-b2b-marketers-2018/
https://www.entrepreneur.com/article/281089
Email automation
https://www.epsilon.com/a-brand-new-view/region/us/email-trends-benchmarks-mobile-impact-utilizing-triggered-email-messages/
https://moosend.com/blog/10-marketing-automation-statistics-need-know/
https://hyperise.com/blog/sales-automation
https://emailmonks.com/triggered-email/infographic.html
https://www.campaignmonitor.com/blog/email-marketing/2018/12/70-email-marketing-stats-you-need-to-know/
https://www.statista.com/statistics/921895/leading-activities-usa-smbs-using-marketing-automation-software/
https://www.entrepreneur.com/article/281089
http://dma.org.uk/uploads/National%20Client%20Email%20Report%202013_53fdd7e6684de.pdf
http://www.lenskold.com/content/landing_2013_B2b_Lead_Generation_Marketing_ROI