The seismic growth in mobile usage — specifically app usage — has created an extremely competitive marketplace. The number of available mobile apps was most recently placed at 2.6 million in the Google Play Store, and 2.2 million in the Apple App Store.
In such a crowded marketplace, you need more than just a well-designed app. You also need an effective way to market your app to get it to the top of the app charts and generate more downloads. The best way to do this is with app install ads.
What are app install ads?
App install ads are designed to drive installs of your mobile app from sources outside of app marketplaces. This ad type usually appears in places such as social media feeds, where the user is redirected to your app within the stores: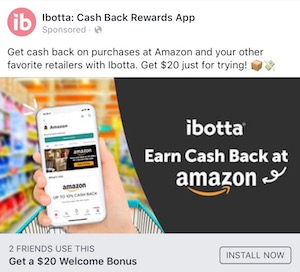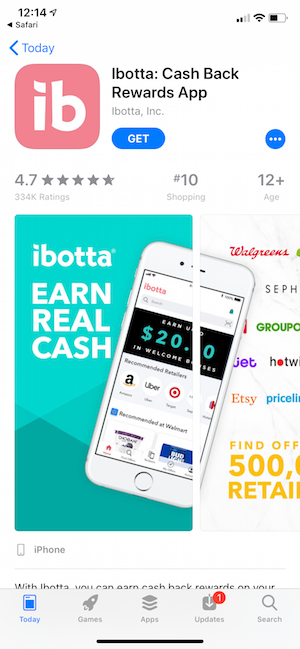 App install campaigns push a bulk of downloads during a short period, increasing the app's ranking in app stores. They also help with organic traffic, which leads to even more downloads and exposure.
This ad type generally consists of the app name, description, image, and a CTA button. However, it may have some additional features, depending on its host platform.
That said, let's dive into install ads across various platforms, starting with Facebook.
Facebook app install ads
Half of the top grossing apps on the App and Play Stores are used with Facebook mobile app install ads. Developers say these ads reduce acquisition costs by 15% to 60%.
What makes Facebook app ads so powerful are their targeting capabilities:
Facebook Custom Audience targeting allows you to reach users based on specific demographics, interests, behaviors, and device types
Lookalike Audiences of your highest-value users can be created based on Facebook's wealth of user data
Re-engagement campaigns can be set up to re-target users based on actions they previously took inside your app (e.g. viewing a specific product) with the goal of bringing them back into the app
Facebook install ads can be shown across Facebook, Instagram, and Audience Network, linking directly to the App, Google Play, and Kindle Fire Store where people can download your mobile app.
Facebook even offers Playable ads, which enable users to preview and play a game app before they install it: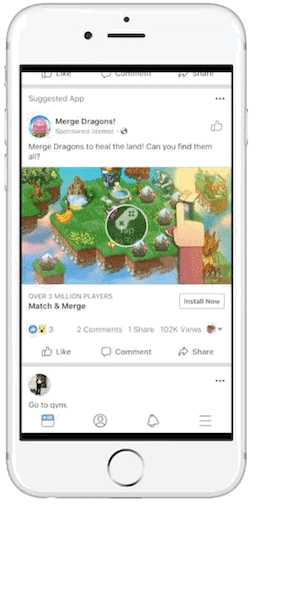 When they're done playing their trial game, the CTA button takes them to the App Store (or Google Play Store) where they can download the full app: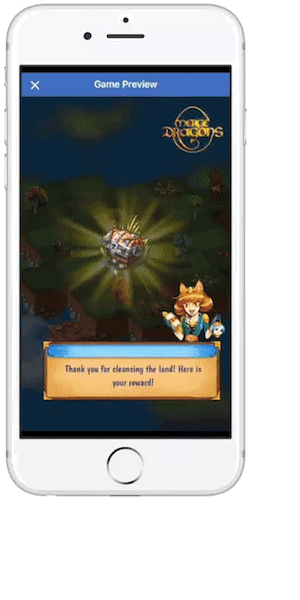 This is an interactive, try-before-you-buy video ad experience designed to drive higher-quality and higher-intent users to install apps.
Twitter app install ads
Twitter app install ads display in the user's home feed as an "App Card," in either video or image format: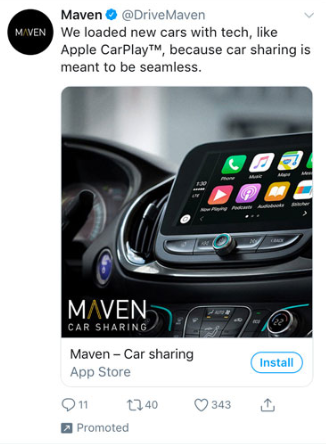 App Cards allow mobile users to preview an image, view app ratings, and install or open an app directly from within a Tweet on their timelines.
Although the number of Twitter users doesn't compete with Facebook's, Twitter still has a large user base and advanced targeting capabilities. Similar to Facebook, install ads on Twitter can target specific demographics and lookalike audiences for acquisition, or re-targeted towards lapsed users for retention.
Twitter mobile app campaigns work on a cost per app click pricing system, which ensures you only pay for clicks that lead to app stores or open the app. This shouldn't be difficult, since 83% of Twitter users are on mobile, and they're already looking for apps to download.
Unlike Facebook with its popular game app ads, app types that have the most potential on Twitter include:
News apps
Utility and productivity apps
Finance apps
Educational apps
Event-related apps
Pinterest app install ads
On Pinterest, app ads are called Promoted App Pins. They are an effective way for Pinners to install your mobile app from Pinterest, rather than sifting through the competition in app stores. App downloads from Pinterest actually generate more lifetime value, because Pinners spend more time and money in the apps they've purchased.
Available on iOS and Android devices, Promoted App Pins include an easy to recognize app icon and an install button, so Pinners can easily install your app while on Pinterest: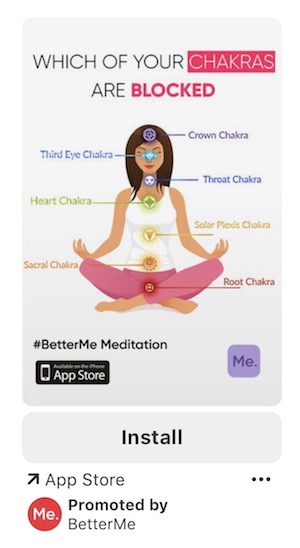 When creating your Pinterest app install ads, you can choose between two optimization objectives:
App Install (completed installs of your app) — You set the bid at your target CPI, the Pinterest algorithm automatically adjusts CPC bids daily (based on your provided target CPI and the predicted likelihood of an install), and then you pay the CPC when users click through to your app store page.
App Install Traffic (traffic to the download page) — Ads run like a normal CPC campaign, optimizing for click traffic. You manually adjust bids to meet install goals.
Snapchat app install ads
App ads on Snapchat include a swipe up feature that takes users directly to your app listing in the Google Play Store or App Store to download the promoted app: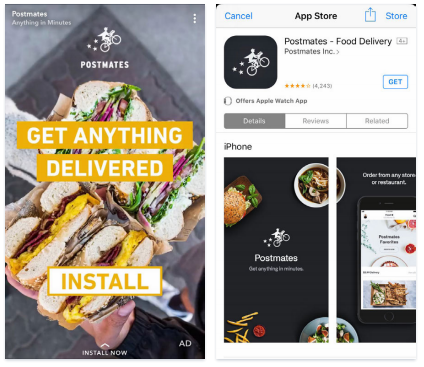 The main benefit with this ad type is that users can stay on Snapchat to download the app. It downloads in the background as users continue to engage on the platform.
Snapchat also offers a Deeplink attachment option to re-engage previous users. If Snapchatters already have your app installed, their swipe up action will take them to a specific place within your app — a certain level in a game, section in a shopping app, etc. A Deeplink attachment can even take someone who already has the app installed — but hasn't bought anything — to the point of purchase. If they don't already have the app, they'll automatically be sent to the app store to download it.
Google app install ads
As the largest search engine in the world, Google is one of the best channels to reach potential app users. Google install ads can be placed on:
Google Search Network
Google Display Network
Google Play Store
YouTube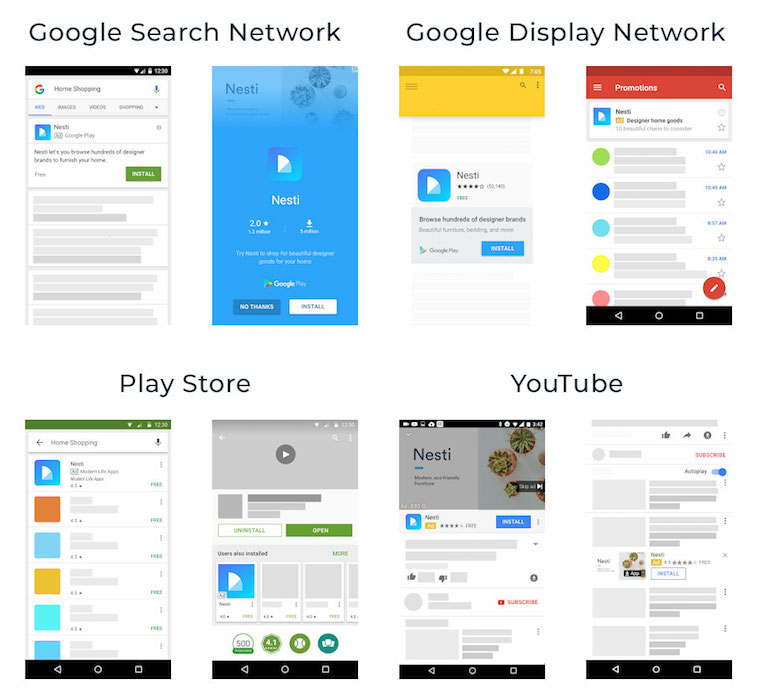 Based on where your ad appears, any original content may be added to, removed, or modified during the ad serving process. This is so that users get a great ad experience no matter where they see it.
While standard app ads give advertisers full control, Universal App campaigns enable marketers to drive app installs without doing any of the heavy lifting. You simply set up the campaign (location, target CPI, etc.) and let Google take over. Google uses machine learning to optimize your ad based on its performance while showing across Search, Display, and YouTube.
YouTube app install ads
Since YouTube is the largest video sharing website (with 1 billion monthly active users, of which 550 million are on mobile), it only makes sense that you advertise your app here.
What separates YouTube ads from other platforms' ads is that they're all video. So your YouTube mobile app install ads consist of videos combined with CTAs that link to your app store listing: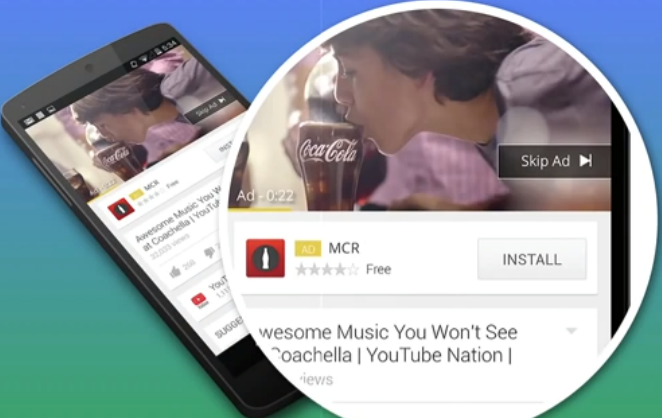 They can include video from a YouTube link, text, app icon, app store text, and app store rating.
Much like other social platforms, targeting can be based on user demographics, interests, and device. Also, since YouTube falls under Google, you can connect your account with Google Play to review all the stats.
Note: App install ad specs vary depending on the platform they're used. For more on the app install ad specs across the different platforms, download the Instapage digital advertising reference guide.
4 best practices for app install ads
1. Target custom audiences
The best way to get the most out of your advertising budget is to run campaigns that target a custom audience that's already familiar with your brand or app — people who have used your app, engaged with your ads, submitted personal information, etc. You should also build lookalike audiences to connect with new users who are likely to be interested in your app.
2. Use quality content
The video or image to promote your app is what makes the first impression, so make sure it is:
Eye-catching and scroll-stopping
Relevant to your app
High-quality and high-resolution
Your app description copy needs to be just as compelling because after the video or image has captured the user's attention, that's what could make or break someone installing the app.
3. Consider the full-funnel when making app advertising decisions
Although last-click attribution is the industry standard, the "last touch" source isn't the only one that matters in the customer journey. Conversion is typically influenced by multiple touch points throughout the funnel, each playing a key role leading up to decision-making.
For instance, someone could see your app ad on Facebook, and then later on YouTube, but not install it until they see it for a third time on Twitter. In such case, it doesn't make sense to give all the credit to Twitter because the first two touch points introduced the app and then kept it top of mind. If it weren't for their presence, the user might not have converted at all.
4. Analyze and adjust
Many brands measure the effectiveness of their campaigns by tracking how big of a leap the app makes in the app store rankings once the campaign launches. Keep in mind that app store rankings also factor in uninstalls, active users, ratings, reviews, and more. Another way to measure success is whether or not revenue and users increase.
Based on these numbers and the data available to you, take the time to adjust your targeting strategies. Also, be sure to test different videos, images, and copy to find the perfect combination of messaging.
Note: If you have both an iOS and Android app, it's a good idea to create separate campaigns that each link to their specific store. Doing that, one study shows can lead to a 9% increase in downloads.
Get your app seen and drive installs
With an overflowing app marketplace, you have to stand out from the crowd some way or another. App install ads are the best way to catch a prospect's attention across a variety of platforms, and notably boost app downloads.
To get the most out of your ads, be sure to choose the right advertising platforms, follow the best practices above, and download the Instapage digital advertising reference guide for more ad specs, best practices, and examples.