Since its launch in 2015, AMP has grown to power billions of web pages from tens of millions of domains across all industries. With its growth, however, a number of misconceptions and myths surrounding the AMP project have also come about. In fact, many publishers and businesses are skeptical to adopt AMP because of its assumed flaws and limitations.
Today's article wants to clear up those misconceptions and bust 10 of the most common AMP myths. Read on to learn how you can take advantage of its incredible page delivery speed.
10 AMP myths you need to stop believing
Myth #1: AMP is only for mobile.
Truth: AMP is built with responsive features to work across all devices.
At first launch, AMP stood for "Accelerated Mobile Pages". Since then, though, the longer title has simply become AMP. That's because, the framework involves optimizing all web pages to improve user experience, not just mobile.
AMP has expanded over the years to offer various responsive design features to improve web pages across all devices and screen sizes, including desktop and tablet. So rather than being mobile-only, AMP is actually mobile-first — optimized for mobile, but expanded for other device types.
(Note: Some features for third-party platforms (e.g. Google's Top Stories carousel) may only be designed for the mobile experience, and you should confirm with the third-party platform for how they integrate with AMP.)
Myth #2: AMP is exclusively a Google project.
Truth: AMP is an open source initiative led by Google and other companies and members of the web community.
Although AMP is Google-led, it's designed as a standalone open source project that invites developers and other members of the community to contribute as core committers, making AMP fully independent.
From day one, AMP was developed with publishers, ad vendors, technology providers, and platforms aside from Google, such as Twitter, Linkedin, and Pinterest. It was also conceived as an open source project of the "GitHub generation" with very open collaboration.
From 2016 to 2019, AMP has received contributions from over 850 contributors — 78% of whom were not employed by Google, including those above along with Yahoo, Bing, and eBay.
While Google does employ a team working full-time on AMP, the team's weekly meeting notes are published for anyone to view in an attempt to make the project very accessible to outside contributors. AMP even moved to a new governance model that explicitly gives a voice to all constituents of the community, including those who cannot contribute code themselves.
The AMP framework's overall goal is to make the mobile web work better for all — not just a single platform, one set of publishers, or one group of advertisers. Making the project truly open source enables people to share and contribute their ideas and code for making the mobile web faster and better.
Myth #3: AMP pages can only be accessed from Google.com.
Truth: AMP pages are accessible through any distribution platform and device.
Some platforms (e.g., Google, Bing, LinkedIn, Twitter, Yahoo JP, Baidu, etc.) will always serve AMP pages by default on mobile, when available. Others — including Google.com and Bing.com — take an extra step to cache your content for a much faster user experience.
The bottom line: Users can access AMP pages via links on any distribution platform or site — not just Google.com.
Myth #4: Every AMP page must have a non-AMP counterpart.
Truth: AMP pages don't need to be associated with a non-AMP version.
It's common to have both an AMP and non-AMP version of the same page, especially during the early phases of your AMP migration when you're still testing — but it's not a requirement.
Once you decide if AMP is the right solution for your business, there's no need to maintain two versions of the same content anymore. You can opt for one page — an AMP version — to reduce creation, tracking, and management costs (as opposed to creating, tracking, and managing two page versions).
You can also choose to build your entire site using AMP, so then there's no need to worry about creating or maintaining different versions of individual pages.
Myth #5: AMP post-click pages are difficult to build.
Truth: It typically takes less than a week to build AMP landing pages.
"AMP HTML" is built exclusively from existing web technologies, so the development process mirrors the one publishers and advertisers already use today. In addition, there are templates and plugins available to make building AMP pages an even more streamlined process.
Although AMP development time and difficulty level varies on the page type, 80% of development teams say they built their AMP post-click landing pages in less than a week.
(The Instapage AMP builder is even faster than that… with a built-in AMP validator, intuitive interface, and integrations support, you can create pages in a matter of minutes.)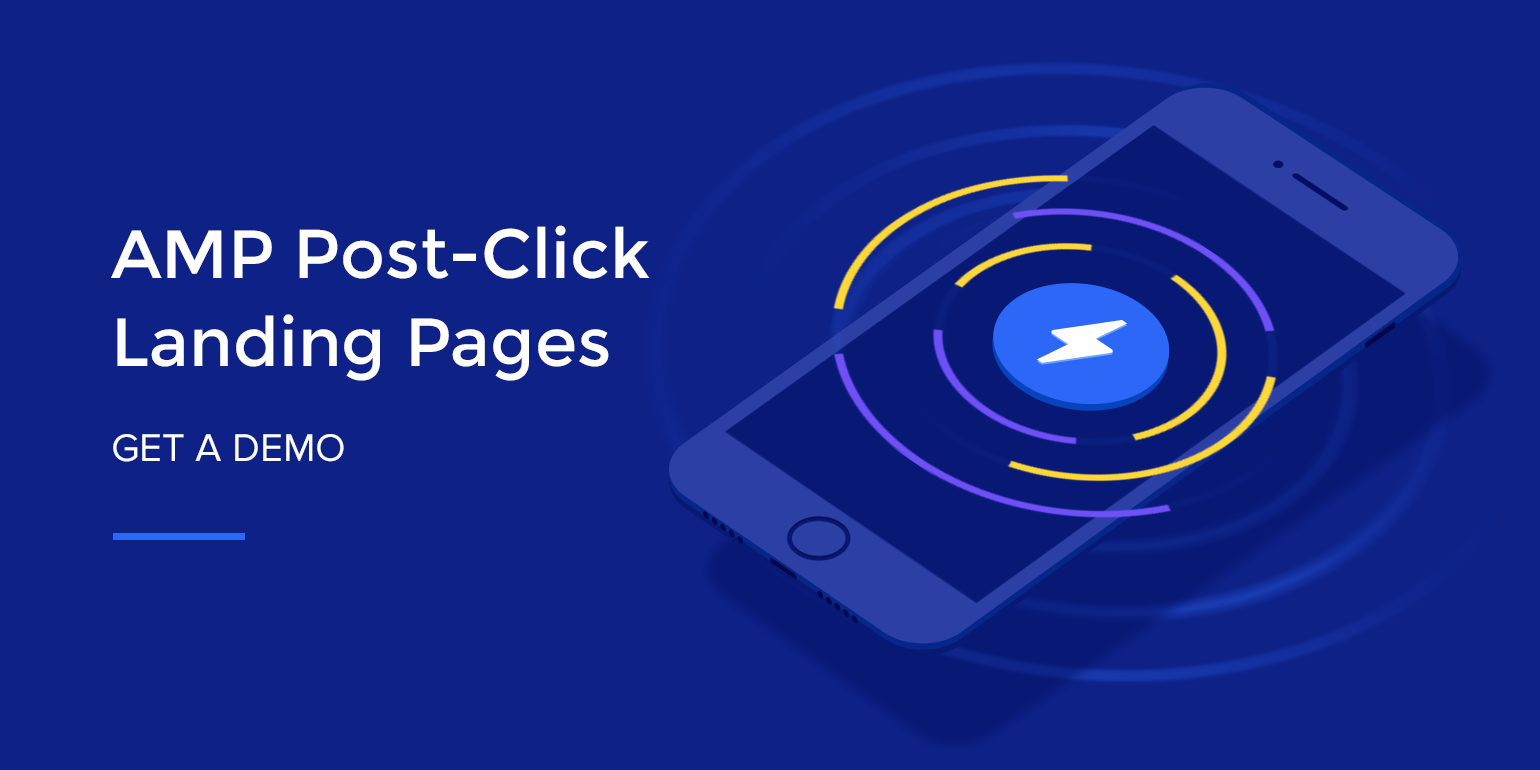 Myth #6: AMP is only for publishers and static websites.
Truth: The majority of Google Search clicks to AMP pages go to non-static sites.
It's true that AMP was initially adopted by publishers. Yet, the framework is now significantly leveraged by advertisers and ecommerce companies.
TransUnion is one non-news company who has experienced great success with AMP pages. After suffering from higher bounce rates and lower mobile conversion rates compared to desktop, the company turned to AMP to enhance the mobile experience, hoping to increase mobile conversions.
AMP was quickly confirmed to be an ROI-positive project for the credit reporting company, as their AMP pages loaded in 1.6 seconds compared to 7.1 seconds for the non-AMP versions. This enhanced user experience also led to:
26% lower bounce rate
2.5X more time spent on site
3% more conversions
These results and others are why more than 60% of Google Search AMP clicks now lead to non-news sites.
Myth #7: AMP is not for ecommerce websites.
Truth: AMP increases page speed, which can help ecommerce sites boost purchase conversions.
New components are available that allow brands to create fast, beautiful, interactive experiences. So not only is AMP great for publishers and static sites — but ecommerce businesses, too.
Consumers have high expectations for their mobile shopping experiences, and fortunately, AMP supports many features that are essential for ecommerce sites:
Dynamic content — To ensure your customers are always seeing up-to-date information, amp-list and amp-bind can be used to fetch and render current content on your pages.
Checkout/payments — With the Payment Request API or amp-form, you can implement seamless checkout flows directly from within your AMP pages.
Personalization/log-in — Whether through recommended products or saved shopping carts, amp-list can be used to provide personalized content to your customers.
Many big ecommerce companies have demonstrated great success with proper AMP implementation, including Myntra — the largest online fashion player in India — who saw a 60% improvement in page load speed and a 40% reduction in bounce rates across their most important post-click pages: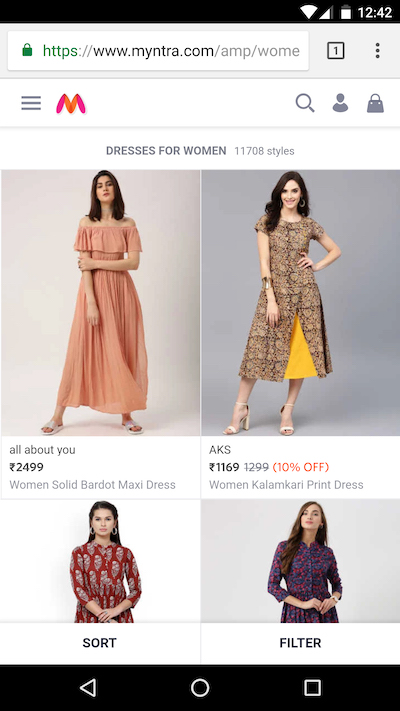 Myth #8: Fresh content can't be served on AMP Pages.
Truth: There are many ways to keep AMP page content up-to-date.
You can serve fresh content on AMP pages in several different ways, including:
Dynamic components (like amp-list and amp-bind mentioned above)
In Myntra's success story, the brand also used amp-bind to implement sorting and filtering, and size selection to give their users a rich experience with the freshest content.
Myth #9: AMP is not secure or private.
Truth: The AMP framework was built with privacy protection and data security in mind.
It's true that AMP landing pages are often served from the Google AMP Cache, which caches a version of your AMP landing page. But, this is simply to validate AMP documents and provide reliable, fast delivery — not for any other reason.
In fact, the Google AMP Cache — along with AMP JavaScript — are served from cookieless domains that do not track users in any way. AMP also has a security review process that is routinely used when launching new AMP components.
Myth #10: AMP pages don't convert as well as non-AMP pages.
Truth: Properly optimized AMP pages often perform better than their non-AMP equivalents.
If you are experiencing poor performance with your AMP pages, it's unlikely that the reason is the AMP framework itself.
Studies have shown that AMP pages can actually generate:
A 20% increase in sales conversion rate
10% year-over-year increase in traffic
60% increase in pages per visit
So if you're not seeing the positive results you might expect from your AMP pages, it's more likely that you're not providing dedicated, personalized, post-click landing pages with each of your offers.
Get an AMP demo
If your pages are experiencing high bounce rates and low engagement, it's likely because of slow page load speed. The AMP framework offers optimization techniques that help not only with page speed, but also with providing users an overall ideal mobile experience.
Request the Instapage AMP Demo today to deliver near instantaneous loading, smooth scrolling and an overall better browsing experience.
Get an Instapage AMP Demo
See how quick and easy it is to create AMP
post-click pages in Instapage.