In May, we held a webinar to discuss the AMP post-click landing page feature in Instapage and we learned that digital marketers are very curious about the new functionality. Attendees posed many questions about the open-source framework and how marketers can build AMP pages in Instapage. This AMP FAQ article will answer them and clear up any confusion. Answers are provided by Instapage Product Manager, Kevin Yang.
(The information below is current as of this article's publish date, July 11, 2018.)
1. What is it about AMP pages that make them load faster?
KY: There are 7 ways AMP pages enable faster page loads. Among them include:
Content and scripts load at the same time
Efficient font triggering
Only GPU-accelerated animations allowed
Prioritized resource loading
More details in this Google AMP video:
2. What is the AMP page validator tool?
KY: Pages that pass the AMP validation will be served from Google's cache system, increasing the page load speed significantly. However, there are a number of criteria that pages must fulfill to pass the AMP validation — one of them entails limiting the CSS file of the page to less than 75KB.
The validator offered in Instapage makes sure that the AMP page you are publishing will pass Google's validation, so that you can build with confidence and know what to fix if validation isn't successful: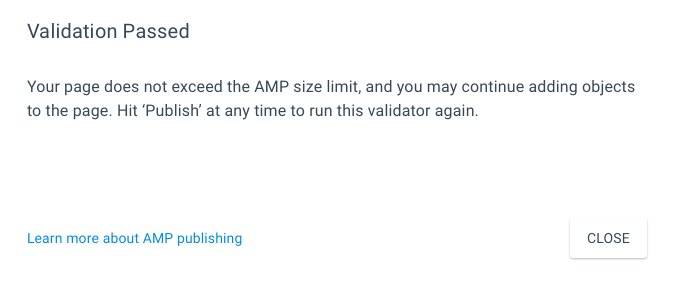 3. Is AMP available for desktop pages as well?
KY: No, our AMP builder is currently only available for mobile pages.
4. Do you use a different URL for AMP pages?
KY: You have the freedom to publish your AMP pages to whatever domains that you own, and WordPress, too (see number 5 below).
5. Can you A/B test AMP post-click landing pages?
KY: Yes, as of September 2018, we added A/B testing and WordPress publishing functionality. Both features make the Instapage AMP builder that much more powerful and we encourage users to check out the step-by-step process for more information.
6. What kind of analytics does the AMP framework support?
KY: The AMP framework works with a number of analytics platform/vendors/solutions. Here is the complete list: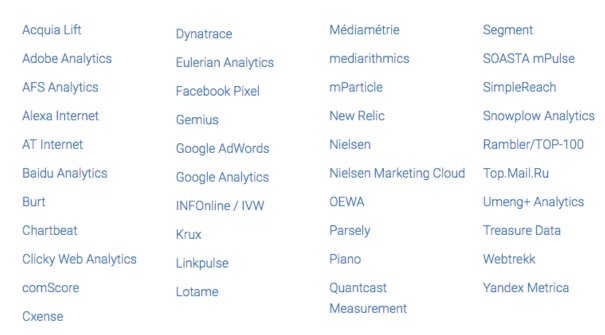 However, the AMP builder within Instapage currently only supports Google Analytics, Meta Pixel, and Google Tag Manager.
7. Will GTM work effectively on AMP pages?
KY: Yes, we recently added GTM support in our AMP pages. To take advantage of this feature, you will have to create an AMP specific container within your GTM account. Please be mindful that AMP containers have a lot more limitations than standard containers as functionalities such as Custom HTML Tags aren't available.
8. Will AMP pages support conversion tracking on Facebook and Google?
KY: Yes, conversion tracking is supported within our AMP builder through the Meta Pixel and Google Analytics.
9. How is AMP different than Facebook Instant Articles and progressive web apps (PWA)?
KY: Facebook Instant Articles, progressive web apps, and AMP pages are all similar in a way that they attempt to tackle the same problem — slow page loads and the negative impact that comes with it. What is different about them is their approach to solving the problem.
For more details on Facebook Instant Articles, go here and to learn the differences between AMP vs. PWA, check out this article.
10. Can you use AMP forms to pass data to a non-AMP page?
KY: Our builder currently does not support this functionality. All information collected in an AMP form can only be passed as leads into integrations.
11. Is it possible to connect a standard desktop page to AMP? Is there a how-to on that in support?
KY: Yes, you can connect a standard desktop page to an AMP page. Doing so will allow you to show your AMP page if a visitor clicks on a Google search result while on a mobile device and the standard desktop page when a visitor clicks on a search result from a desktop device. This help center article details the step-by-step process how to do that for organic search results.
For paid traffic, you have to approach it slightly differently and configure it within your Google Ads account:
Select one of the ads and click edit
In the final URL field, input the standard page URL
Check the box that says "Use a different final URL for mobile" and input the AMP URL: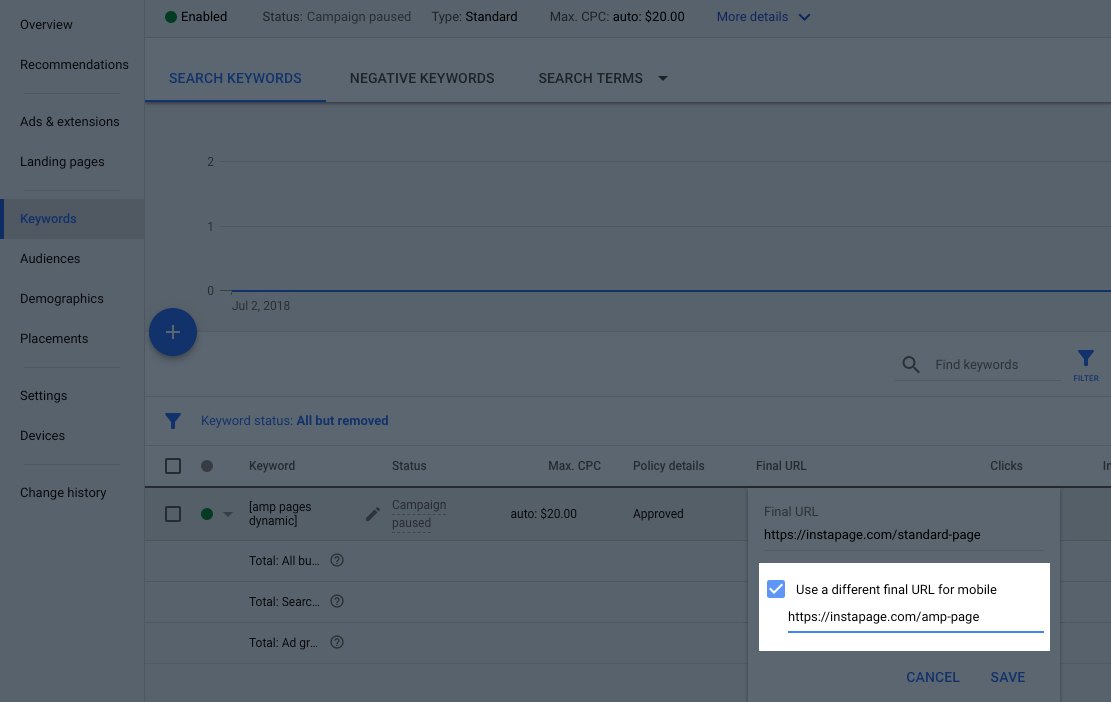 12. Is dynamic text replacement possible with AMP pages?
KY: That depends on how you use dynamic text across your AMP pages. The one case that they do support is dynamic text within Google Ads. As long as you specify the parameter within your ads under the Final URL, the value of the parameter will be passed through into the AMP page.
13. Does the Instapage AMP builder support custom code, or are there certain dos and don'ts?
KY: The Instapage AMP builder does not support custom code. This is one of the tradeoffs with the AMP framework. Therefore, it is important for marketers to decide what the priorities are within a particular campaign.
If custom code is necessary for your post-click landing pages, then we recommend you use our traditional builder. However, if page load speed is a priority and you are willing to sacrifice the custom code implementation, AMP is your best bet.
14. What post-click landing page elements are not allowed with AMP?
KY: It depends on how you define the word page element. If we are strictly talking about page elements available in the traditional Instapage builder but not in the AMP builder, there are three:
Timer Object
Custom HTML Object
Multi-Step Form
These post-click landing page elements are not allowed due to the inherent limitations in the AMP framework.
Take your mobile post-click landing pages to the next level
The AMP framework is an evolving technology and we can only imagine it will continue to get better. Get a custom demo of the Instapage AMP feature and see why Instapage is the go-to post-click optimization solution for brands like Verizon, eBay, Eurosport, HelloFresh, Vimeo, and Heap.
Get an Instapage AMP Demo
See how quick and easy it is to create AMP
post-click pages in Instapage.