Update: As of May 2018, Instapage offers AMP post-click landing page functionality. Go here for the official announcement.
Google wants to provide its users the best possible experience at all times. Conversely, users expect their content to load instantly — no wait times and no buffering — or else they bounce almost immediately.
Yet, Google recognized that web page bounce rates were a huge problem and the user experience was suffering from incredibly slow-loading pages:
Page load times is one of the strongest reasons of page bounce.
So in October 2015, Google announced their Accelerated Mobile Pages (AMP) project as a framework for publishers to create fast-loading web pages. Since then it has been a growing hot topic and to date, more than 4 billion AMP pages have been published.
And now that we live in a mobile-first world, the user experience is even more paramount with our limited patience and shrinking attention spans.
What we're doing to solve the problem?
This year, Google invited us to speak at their AMP conference, to discuss our journey implementing advanced optimization features within the AMP framework into the Instapage builder.
Google has worked with many publishers before, yet Instapage is the only post-click landing page solution they've partnered with for AMP. As a platform that enables thousands of companies to create post-click landing pages at scale, this is vital because the post-click landing page (i.e. post-click landing pages) deserves better than simply mobile-responsive pages.
With the AMP framework coming soon to our post-click landing page builder, marketers will be able to create personalized AMP post-click landing pages for all of their digital campaigns.
Why is this a big deal?
We've all seen the data; mobile device usage has surpassed desktop and every additional second in load time increases bounce rate (i.e. lower conversion rates). This trend presents a huge opportunity for advertisers and marketers.
Clearly, faster page load speeds is crucial in establishing the optimal user experience and converting more of your prospects. We know this firsthand from analyzing our customer post-click landing pages in that we noticed 51.7% of their post-click landing page traffic originated from mobile devices. Not to mention, we also saw growing traffic numbers to our own company pages.
A reminder how AMP works
AMP restricts HTML/CSS and JavaScript, so it allows for faster rendering of mobile web pages. Unlike regular mobile pages, AMP pages are automatically cached by Google AMP Cache for faster load times on Google search.
As a search user, you've likely clicked an AMP page before, you just didn't realize it. You probably just noticed the page loaded instantly from "click" to fully-loaded page. To demonstrate, AMP-built web pages have a lightning bolt indicator in the search result, like these two examples: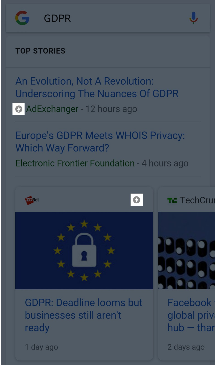 Once this functionality is available in Instapage, marketers will be able to provide a superior mobile user experience and faster page load times. In turn, increasing engagement and likely more conversions. We wrote about the AMP project here and even the pros and cons to using AMP ads for post-click landing pages, too. With the AMP framework coming soon to our post-click landing page builder, marketers will be able to create personalized AMP post-click landing pages for all of their digital campaigns.
The need for AMP post-click landing pages
Not convinced AMP is necessary? Consider the stats:
Why this matters for you
While publishers have embraced frameworks like AMP to speed up web content delivery on mobile devices, the marketing industry has not caught up. As more consumers and B2B buyers spend increased amounts of time on mobile, marketers and advertisers will be forced to adapt with mobile-optimized campaigns.
AMP pages are attractive to both advertisers and search users alike:
Advertisers: they allow for more compelling mobile user experiences through near instantaneous load times and smooth scrolling, while still supporting some styling and branding customizability
Search users: less waiting time for pages to load and access the content faster
As for developers, we're building AMP post-click landing page functionality so you don't have to!
Get early access to our AMP feature
Establishing a great post-click user experience from ad click to post-click landing page should be marketers' highest priority when trying to maximize leads and sales. By neglecting that key component, you're leaving your conversion rate up to chance.
Make no mistake, AMP is going to be a critical piece of a mobile-first future, and your post-click landing pages need to be ahead of the curve.
Make the smart decision for your team and allow the Instapage post-click automation platform to create your AMP post-click landing pages. Go here to request your customized AMP demo!
Get an Instapage AMP Demo
See how quick and easy it is to create AMP
post-click pages in Instapage.