The AMP framework was developed due to the slow, lagging feel of the mobile web. The creators recognized this wasn't a fundamental technology problem, so they made it their mission to develop an easily deployable, validatable, user-first framework that would ultimately provide a better mobile web experience.
As a successful open source project with countless releases and constant improvements over the past two years — AMP adoption happened fast, to say the least.
AMP adoption by the numbers
Within its first two years of existence, from 2015 to 2017, the AMP project grew from a select few launch partners to over 25 million domains publishing more than 4 billion AMP pages: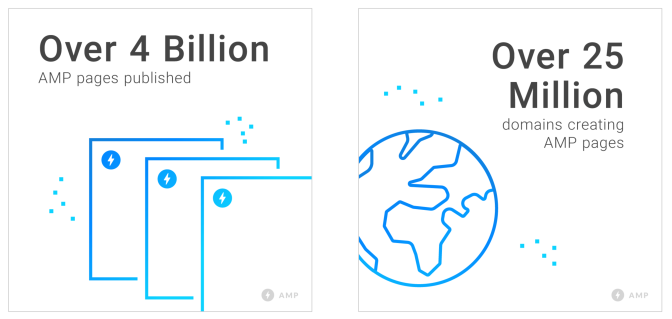 Google AMP adoption by geolocation also took off during this time, when the biggest search engines in the Asia Pacific (Baidu, Sogou, and Yahoo Japan) began distributing AMP pages to a brand new, international audience of over 1 billion people in March 2017.
Not only was there growth in the number of AMP pages built; but their speed increased as well. Compared to non-AMP pages and with a median page load speed of less than half a second, AMP pages helped generate a 10% increase in website traffic, doubled time spent on AMP pages, and 20% increase in sales conversions: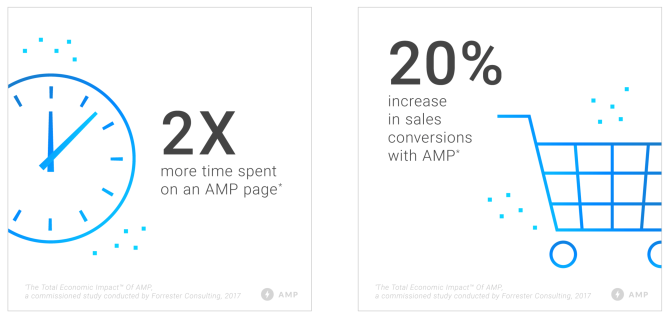 Continuing to expand in 2018, there were over 400 contributors, more than 31 million domains, and 5B+ AMP pages in February. And in May 2018, AMP had more than 500 contributors and over 6 billion AMP pages.
While these numbers show AMP's explosive growth, what exactly caused that growth?
The simple answer: Brands went from seeking fast page load speeds and more page views — to seeing the huge opportunity also to generate more leads.
How AMP was used initially
At launch, AMP was used primarily by publishers to improve the user experience with fast page load speeds, which in turn led to more page views. This was critical because publishers had ad space available and they required fast page loads for their advertisers to get impressions and clicks.
For instance, in 2016:
Slate experienced a 44% increase in monthly unique visitors and a 73% increase in visits per monthly unique visitor.
Gizmodo's AMP pages loaded 3x faster than their regular mobile site, over 80% of their AMP traffic was new traffic, and they saw a 50% rise in impressions per AMP page view.
The Washington Post witnessed page load times 88% faster than their traditional mobile website, with a 23% increase in mobile search users returning to their site within 7 days.
That same year, a DoubleClick study compared ad performance of AMP vs. non-AMP pages across 150 publishers. It found that:
Over 80% of publishers generated higher viewability rates with AMP
More than 90% of publishers had greater engagement and higher CTRs with AMP
The majority of publishers saw higher eCPMs with AMP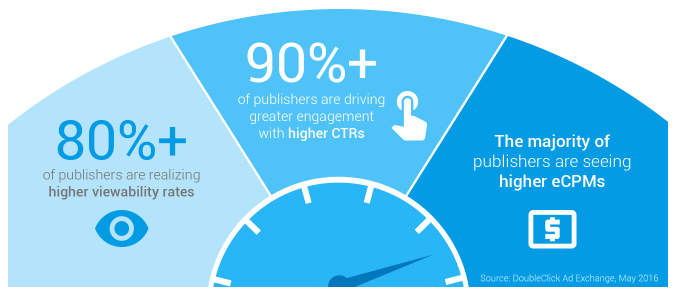 In June 2016, AMP adoption saw another huge milestone when eBay was the first major non-news site to announce that they were serving over eight million AMP pages.
How AMP is used now: lead gen and growing revenue
No doubt publishers still depend on AMP for speed and ability to increase page views — but now nearly three years later, brands rely on AMP pages for more than that alone. Today, advertisers are also using AMP for lead generation and revenue growth:
TransUnion discovered that AMP pages do lead to better conversion rates. By adopting AMP, the company experienced a 26% lower bounce rate, 2.5X the amount of time spent on the site, and 3% more conversions.
When U.S. Xpress used 5X faster-loading AMP pages, they witnessed a significant increase in completed job applications. The AMP post-click landing page converted 3.41% of visits into completed job applications, while the non-AMP page only converted 2.12%.
By switching from standard web pages to AMP pages, Monetti was able to reduce its page load times by 84%, and in turn, improve its conversion rate by 28%.
In September 2017, Google enabled all of its advertisers to link their mobile search ads to AMP post-click landing pages. Combine this with the fact that in June 2018, the search giant began testing the AMP lightning bolt on mobile search ads: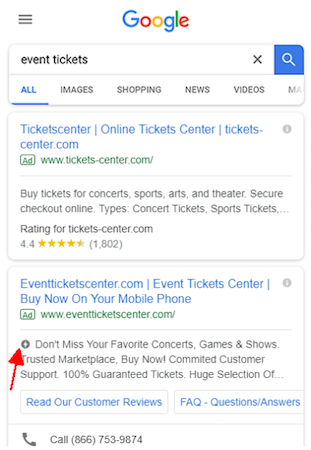 …and there's no question that paid search ads should always lead to AMP post-click landing pages.
The future of AMP
For nearly three years, AMP has been a top choice for publishers and advertisers looking to create excellent experiences for web users. Knowing this, AMP creators recognize that its mission is more important than ever before, and its development is never complete. Current focus areas still include:
Addressing JavaScript restrictions
Engaging storytelling experiences with AMP Stories
Dynamic email
Developing additional integrations between platforms and content into Google Search
Encouraging the development of more AMP Caches beyond Google and Cloudflare
As the leader in post-click optimization, Instapage provides the only platform with an AMP post-click landing page builder. With the new AMP feature in Instapage, you can create fast-loading AMP post-click landing pages in just minutes, using a designer-friendly interface, built-in validator tool, advanced analytics, and more.
Enterprise customers can sign into their account and start building AMP post-click landing pages today. If not, request an AMP demo to witness the Instapage difference yourself.
Get an Instapage AMP Demo
See how quick and easy it is to create AMP
post-click pages in Instapage.