Are your agency contracts bulletproof? Are you using contracts at all?
If your agency uses contracts that don't cover everything they need to, or worse, you're not using contracts at all, you're putting your entire agency at risk.
A marketing agency contract is more than a document you send over to a client and then file away. Each section is crucial for covering your business in case something goes awry. And a poorly written contract can leave you exposed to anything from extra work to a lawsuit.
Let's dive into why you should be using long-term contracts and the details of a great client contract.
Why agencies always need a contract with clients
No matter how well you pitched a new client and how interested they are, you should negotiate a contract that's fair for both parties before work starts.
Failing to have an airtight contract with no room for additional work to be snuck in is crucial for your agency. If your contract has loopholes and isn't explicit with the services provided, a client can legally demand work outside of your scope.
Of course, this can then lead to a loss in revenue for your agency. The more time you spend working on a project, the smaller your ROI will be.
The worst-case scenario is if you've entered into a bad contract and end up in a lawsuit with clients. They can drag on for months and years, and nobody wants that kind of dark cloud hanging over your company.
The best advice when preparing to take on a new client? Prepare for the worst, hope for the best. The easiest way to always be prepared without spending excessive time writing up contracts is to have an editable template. Although the template outline will be the same, you can customize it for individual clients: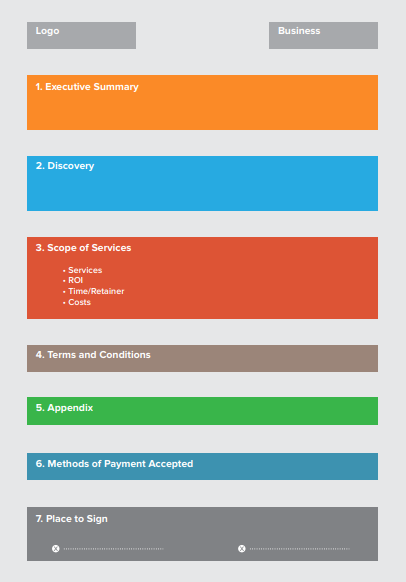 Changing up the template means you can customize the terms of the scope and length of work, and still have your agency covered.
When you hand over the contract to your client, you'll know that when they sign, all expectations, costs, scopes, and timelines have been spelled out clearly. No surprises or lost revenue and an agreement that makes both parties happy.
11 Items to include in your contract agreement
The majority of your marketing agreement with a client will focus on legal obligations and what's included in your scope. While most templates are perfectly fine to use, you should always consult with your legal team if you want to double check a clause or the contract's wording.
Here are 11 must-haves for any client contract.
1. Names and addresses of the agency and client
This is the first part of your contract and should be at the top as it clearly shows who will be entered into the agreement: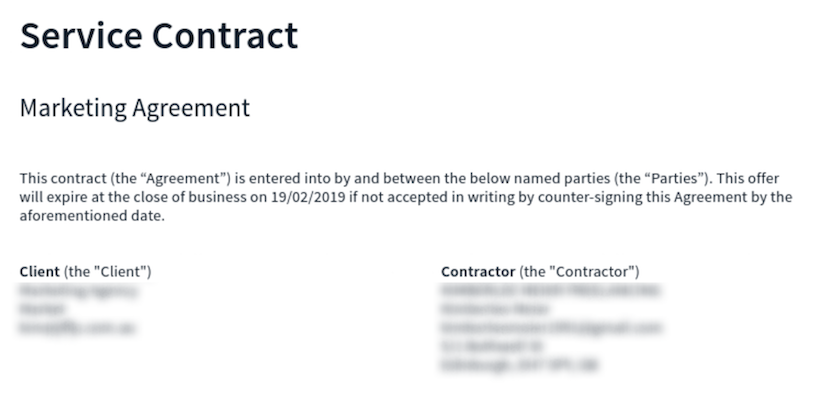 It must cite both yours and your client's legal trading names (no nicknames). Underneath the trading names, you need to list the address where each business is legally registered. This is important because, if the relationship goes south, it's easier to contact them should you need to take legal action. Double check these details over with your client before anyone signs the dotted line.
2. Outline the contract's duration
When does your client want you to begin work, and when is the work going to end?
It's important to not only have a start and finish date but what a conclusion of work looks like. You need to clearly define that the contract will end when you've completed the job. No later. Once work is completed, you should hand over all work in return for final payment.
Write it into your contract that final works will be released when final payment has been received. That way, there's no confusion on either side.
3. Make your scope of work bulletproof
Your scope of work is the one place that can land you in all sorts of trouble if you're not careful.
If you don't specify how many revisions a client is allowed on a project, or you fail to outline precisely what you mean by website management (for example), don't be surprised if your agency ends up doing a bunch of extra work for a client… for free.
The scope should be highlighted in the very first page and needs to be more detailed than this: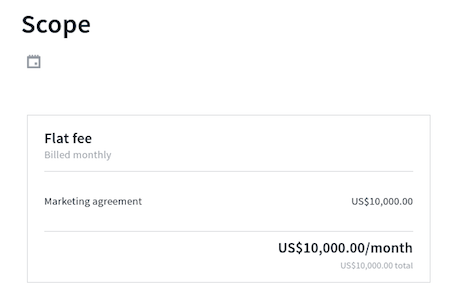 Instead, it should be like its own appendix within the contract. The primary goal is to be very specific about what services are included in the price your client pays.
At the absolute minimum, you want to identify:
What you and your client have agreed upon
The services you will be providing
What the tangible deliverables are for the services
What you need from the client
How many revisions you will allow
For example, if you're designing a client's website and don't limit the number of revisions, you could be tied up for months changing up color palettes and text boxes.
Don't be that agency. Make your scope as detailed as you possibly can, and take as many pages as you require. Look how detailed this template is: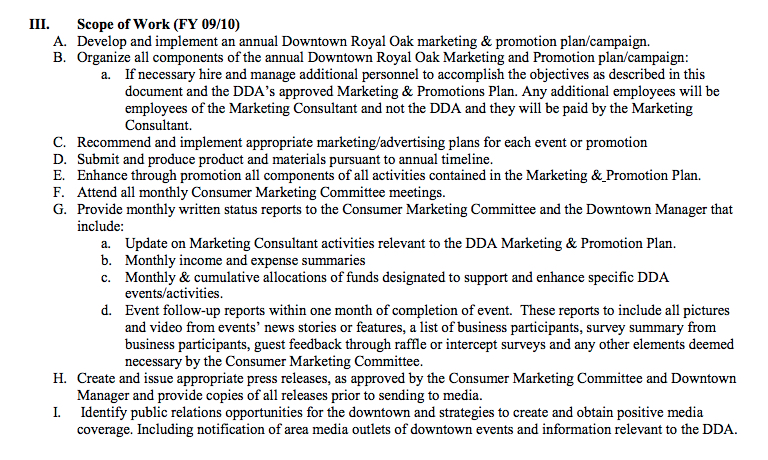 A scope of work with open-ended deliverables can become your enemy once you start work. An enemy that your agency can't afford.
4. Set a clear payment schedule
Nobody likes hammering a client for a late payment or an overdue invoice. It's frustrating and can affect your client relationship.
The best way to avoid this is to have a clear payment schedule outlined from the moment you start working with clients. This part of your contract must outline the total amount you will be paid, how they will make payment, and if the payment is refundable:

If you're billing the client on a retainer basis, you can set your payment terms to monthly. But if you're working on a project basis, you can opt for a 50/50 payment plan where you get paid half of the project total up front (think of it as a deposit) and receive the other half once all work is completed.
Or, you can bill your client in milestones. If you're building a website, you can choose to bill your client when a milestone has been completed (homepage, online store, blog, etc.). This is a great way to keep money flowing in if the project will take a couple of months to finish.
5. Don't be a pushover with late payments
It's awkward when people owe you money. But at the end of the day, business is business.
Make it clear from the moment you enter into an agreement with a client that if they pay your invoices late, there will be a penalty. If you've sent out an invoice to a client you have on a monthly retainer and they pay it ten days late, this affects your agency's cash flow. Don't think twice about including a late payment fee in your contract.
A late payment fee can either be a set dollar figure or a percentage of the invoice:

It's a gentle way to encourage clients to pay on time, and if they happen to be late once, you can use it to your discretion and wave the fee if you'd like. But if it becomes a regular occurrence, you should enforce the fee.
6. If a client wants to add on work, write down your conditions
Commonly known as "scope creep," this happens when a client asks you for a small extra bit of work here, and a little touch up there. It doesn't seem like much when it first happens, but before you know it, the client gets you to perform work outside of your scope for free.
Avoid this at all costs. Be honest when a client comes to you requesting extra work. You can agree to take the work on, but you should provide them with a new quote at the same time.
Mentioning additional work requests in your contract is mandatory. Place it just below your scope and write that all additional work requests outside the scope will be quoted at a separate rate and agreement.
7. When you want to break up with your client
Before you send a break-up email or have an uncomfortable phone call, look through the terms and conditions of your contract to see how much longer you need to keep working together. Or, if you are legally able to break the agreement at all.
Write a termination clause into the contract that will work for both parties, as the conditions to terminate the agreement will be the same for both of you: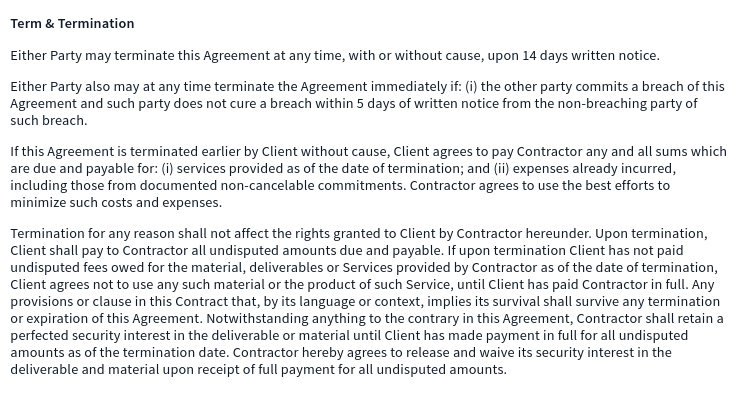 Be sure to include:
How much notice either you or your client must give
Does the notice have to be given in written form like an email?
How will you handle any outstanding work with your client?
8. Outline what will happen with a breach of contract
If either you or your client hasn't lived up to your end of the bargain, you are in breach of contract.
In this section of your agency contract, you must be firm and state a breach of contract can result in an immediate breakup, with no refund to your client.
It might seem harsh, but if you've entered into an agreement with a client, and they are shopping around for another agency behind your back, that could be a massive breach of contract. You need to break up quick and cut ties immediately.
To prevent this from happening put a breach of contract clause into your agreement that states your client can't work with another agency that performs the same work as yours while your contract is active. Or if they do, they have to terminate your contract first. That way, your agency isn't left out in the cold.
9. Who will own what? Make it clear.
You're creating the work. Your client pays for it. But who owns it?
Copyrights are an important clause to include in your marketing contracts, so there's no confusion about who owns what.
But copyrights can mean much more than that. Even if you hand over the final work to your client, there could be specific processes your agency uses to create the work (intellectual property), and you can decide if you want to keep them or hand them over in your contract price.
A lot of agencies "lease" their work to their clients, and if the client doesn't read their contract thoroughly, they may never be aware of this. This section might take some negotiation with your client, but in the long run, you'll be glad you discussed it thoroughly.
10. Have a confidentiality clause to protect your agency
Not only does this clause protect your agency, but your client, too. It should clearly state anything you don't want talked about in public without your written consent.
Common items to put in a confidentiality clause are:
Your agency's rates
The processes you use to create products
Any email exchanges between your agency and your client
Here is an example: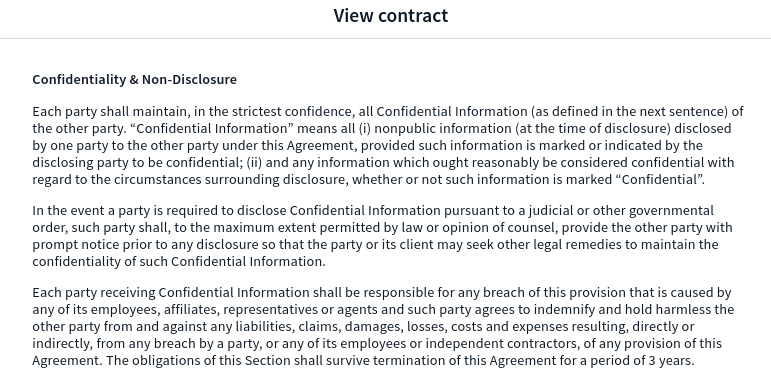 On the flipside, you won't legally be able to discuss your client's operations, yet-to-be-released news about their company or emails either. The clause is a way for both parties to show that you've got each other's back.
11. Include an indemnity clause
Here's the scenario. Your client takes a financial hit that is a direct result of the work done by your agency. It's not great, but it happens. But if you haven't included an indemnity clause in your contract, your agency could be in big trouble.
It's the difference between you having to compensate your client, or getting off the hook: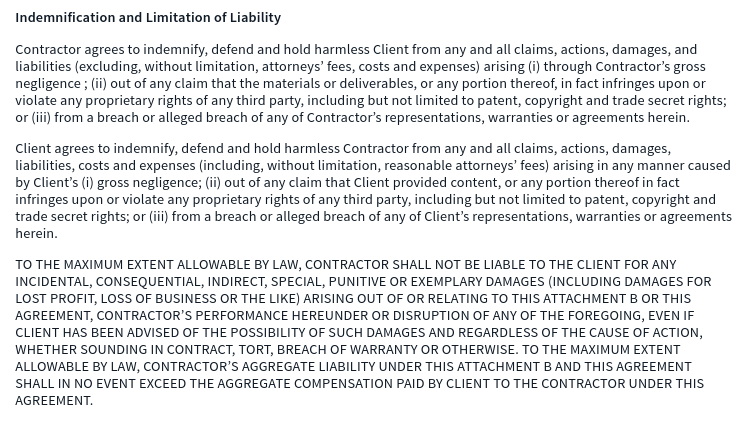 So it should come as no surprise that an indemnity clause is complicated and should be looked over by a legal team to ensure your agency is fully covered.
How to deliver a killer agency contract to your client
With the list above, the next step is preparing the contract.
First, the contract needs to look legit. Not a single client will hand over $20,000 to an advertising agency if you've spent five minutes typing it up. It also needs to have your agency's logo, be correctly formatted, and typo-free if you want to close deals.
PandaDoc is an easy, free tool you can to download a standout cover for your marketing agency contract: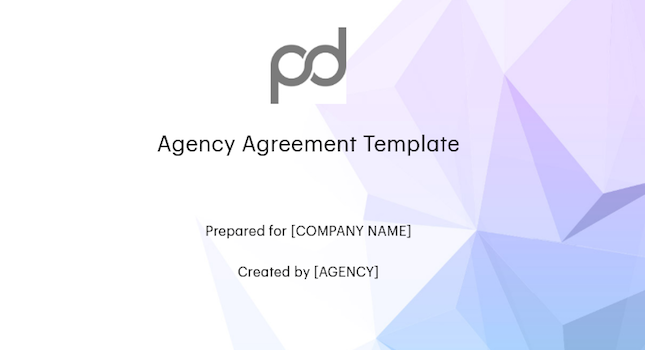 But beyond making your contract look shiny and new, think about your client when writing the project as well.
If you are hired for a $100 flyer design job, it's probably unnecessary to send a 100-page document that is undefeatable in any courtroom. Not only can this be intimidating to a client, but it could also delay the process of starting the project since they will need to review all 100 pages in full.
On the other hand, if you are hired for a big-ticket project (e.g., website redesign), you'll want to include everything we mentioned above and make the contract as airtight as possible.
Help with wording your contract
As already mentioned, you should always run a contract template past a lawyer before you start using it to sign clients. But if you don't have the budget to create a contract from scratch, you can use an online template instead.
Tools like Docracy can provide you with easy templates where you just fill in the blanks: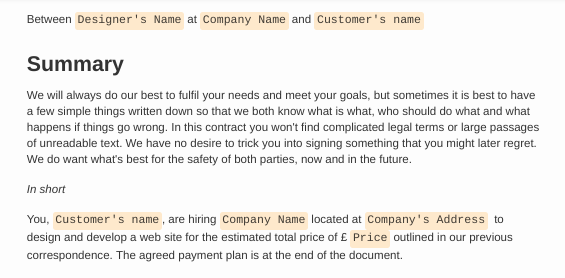 PandaDoc also provides marketing agencies with free templates. Plus, the templates are littered with tips from PandaDoc to help you fill out the contract correctly if you get stuck: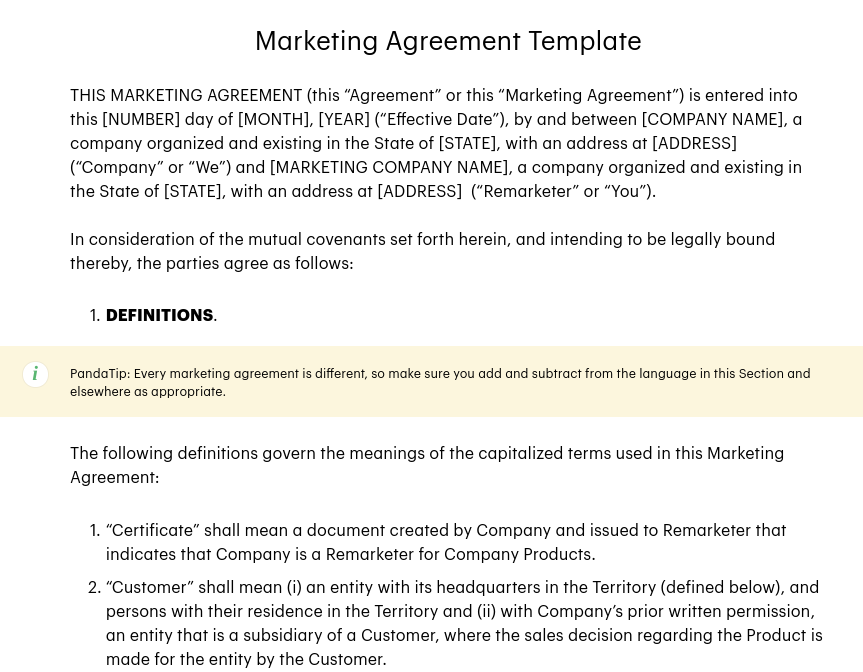 Always ask for legal help before using a contract
Agency contracts can be complicated. There are lots of clauses to add to cover your agency in case a deal goes south, or to stop you from doing extra work because of a loophole.
That said, always consult a lawyer before using one in a business deal. This way, they can point out if there's an important detail that you've overlooked, and if a clause hasn't been written out properly.
The extra money spent on legal can pay for itself in the long run.
While contracts are an important part of any successful agency, they're just one piece of the puzzle when it comes to getting new clients. Sign up for an Instapage Enterprise demo today.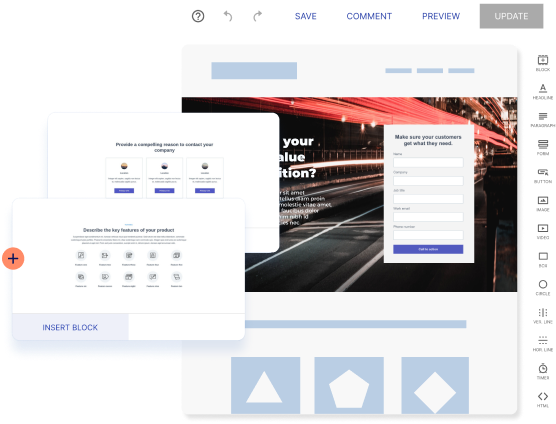 Try the world's most advanced landing page platform with a risk-free trial.