Search advertising accounted for 50% of internet advertising revenue in the first half of 2016 according to IAB Internet Advertising Revenue Report. Matching every search ad with a high-quality post-click landing page will lower the cost of customer acquisition, so every AdWords ad needs an AdWords post-click landing page. In addition to the fact that post-click landing pages make visitors more likely to convert, Google rewards you with a better Ad Rank if you follow AdWords post-click landing page best practices.
Determining how closely you are following post-click landing page best practices can be troubling at times since the Google post-click landing page guidelines are quite general. The recommendations in this post should help you leverage unique Instapage features to quickly improve post-click landing page experience.
Why even bother?
Quality Score is a diagnostic tool for identifying and addressing issues with your ad CTR, ad relevance, and post-click landing page experience. If you focus on improving the user experience of both your ads and post-click landing pages, then a higher Quality Score will naturally follow. Myopic focus on Quality Score may result in poorer user experience and fewer key conversions.
Improving Quality Score through better user experience will benefit your ads in three ways:
Lower costs-per-click
Better ad positions
Eligibility for ad extensions and other ad formats
Search users click more frequently on higher ad positions so it's in your best interest to improve the post-click landing page experience for users to achieve one of the top-ranked ad results. Your ad will be more noticeable if it takes up more space with ad extensions. For example, of the two ads picture here, which one is more appealing?


Pardot's ad will presumably send search users to a marketing automation page, but it's only three lines whereas Autopilot's ad takes up seven. Plus, Autopilot offers more options in their ad extensions, which makes their entire ad more noticeable and clickable.
Improving post-click landing page experience will help your advertising efforts even beyond Quality Score.
How to improve your post-click landing page experience
A study from Yahoo! Labs in London found that improving post-click ad experience increased click-through rate by 18%, increased dwell time on the page by 30% and decreased bounce rate by 6.7%. It often takes multiple interactions with your website before an individual decides to complete a conversion action, so focusing on a quality post-click landing page experience makes visitors more likely to return.
Keep the following recommendations in mind as you optimize your AdWords ads.
Ensure keyword relevance
One of the simplest things you can do to improve post-click landing page experience is making sure that the keyword you're bidding on is present on your post-click landing page, preferably in a prominent place like the headline:

Then, include the user's search query as part of the headline or subheadline on the destination page, like Ancestry does here: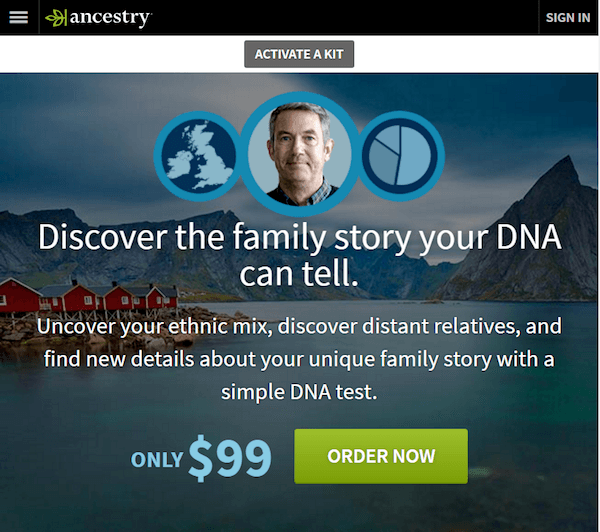 If you have a main post-click landing page with multiple keywords directing to it, then some of the keywords may suffer from low relevance. Instapage allows you to easily remedy this by creating a duplicate of your current post-click landing page and editing text fields on your new page to make it more relevant to selected keywords.
An Instapage example
About two years ago, early in the process of expanding search advertising at Instapage, the keywords "post-click landing page" and "squeeze page" directed clicks to the same page. After duplicating the main page, editing all the instances of "post-click landing page" to say "squeeze page" then publishing it to a relevant URL, Quality Score for "squeeze page" improved by two points in a single day. Repeating this process several times for different keywords saved a lot of money on clicks' costs since that change was made.
In addition to keyword inclusion, an AdWords post-click landing page should match the message of the AdWords ad that links to it. If you have trouble writing your post-click landing page content, you can look through your Search Terms report in AdWords for inspiration. Find queries that include your keywords but seem to ask different questions or demonstrate a variety of user intent. Craft your post-click landing page content to coherently address all of these questions and intents.
Improve page load speed
Research by Google shows that over half of mobile users will abandon a page if it takes more than three seconds to load. You lose a lot of revenue if your page takes more than three seconds to load and 53% of your potential customers never interact with your site.

Google provides an excellent tool in PageSpeed Insights to diagnose issues with page load time. You can find some great detail about capitalizing on PageSpeed Insights in a recent post here.
The biggest culprit for slow post-click landing page load time is large image file sizes. This should be the first element you check since images are usually the largest resource on post-click landing pages. The PageSpeed Insights tool will provide optimized resources that you can download and use on your page. You can also use a compression tool like TinyPNG for your images just make sure to check that the visual quality remains acceptable.
To demonstrate, below is a 14Kb image on the left and a post-compression 5Kb file on the right. The difference isn't noticeable to the naked eye but every Kb counts with page loading speed:

If you use some tracking tools like Google Analytics, Facebook Audience, Quantcast, or Mixpanel in the custom JavaScript fields, you may want to load these asynchronously so they do not block page render. JavaScript files may have large file sizes and often require connections to additional servers. Make sure JavaScript files do not prevent the visible content of your page from appearing quickly since above the fold content can persuade visitors to scroll below the fold and continue evaluating your offer.
Optimize for mobile
If you have a relationship with a Google AdWords Representative, then you've probably experienced their pitch to raise your mobile bids again, and again, and again. Google emphasizes a better mobile experience across the web and are taking steps to do that with things like mobile-first indexing, responsive ads, Accelerated Mobile Pages and mobile user research, among a plethora of other initiatives. Fortunately, every post-click landing page made with Instapage automatically generates a mobile version that you can easily edit using our mobile responsive features:
Now, instead of manually aligning each element: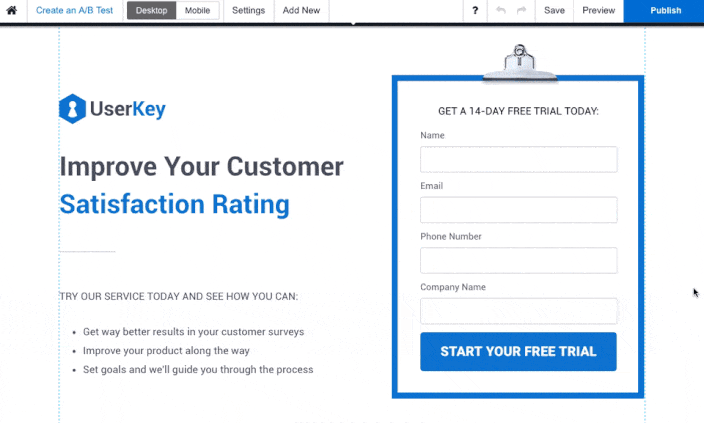 Instapage users can group, align, and generate a mobile-ready post-click landing page in seconds:
Consult the Google AdWords post-click landing page guidelines
After taking the initial technical steps to a decent post-click landing page experience, you can start expanding your content, promoting transparency, fostering trust, and making navigation easy. We have already covered many of the AdWords post-click landing page Best Practices, but the page provides a useful resource to periodically consult when you want to improve post-click landing page Quality Score.
Some of the additional tips include:
Be specific when a user wants a particular thing, but general when a user wants options
Explain your products or services before asking visitors to fill out forms
Make it easy for visitors to find your contact information
Make it quick and easy for people to order the product mentioned in your ad
One specific recommendation that Google has increasingly focused on is Don't annoy customers with pop-ups or other features that interfere with their navigation of your site. After January 10, 2017, Google started using this practice as a metric they may penalize pages for: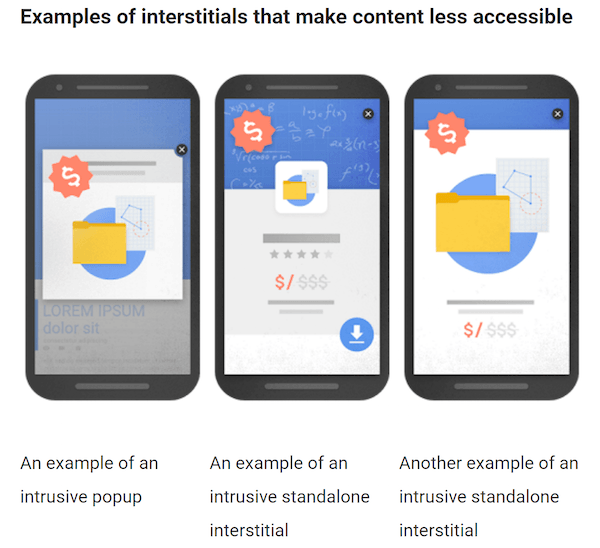 Optimize your page settings
Include at least one headline on your page. This puts an "<h1>" tag in the HTML structure of your post-click landing page. Try to include your keyword in the headline as well. If not for the benefit of site crawlers, a headline with relevant keywords provides an initial signal to visitors that the page and content are relevant to their search (see message matching earlier).
The alt-text attached to images on your page can be used to signal relevance to site crawlers as well. Within the Instapage builder you can enter your image library, click on your desired image, and then enter relevant text into the "alt text" field: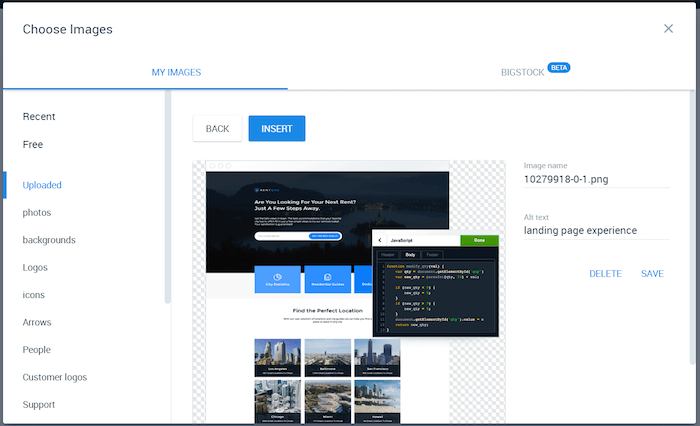 Within your Settings menu, you can find SEO and Social Info settings. Even if you're hiding your post-click landing page from organic search, it's still beneficial to add a page title in the SEO settings, an image, and description in the Social Info settings. If anyone ever shares your page on a social network or in a Slack channel, for example, then the context you provide in these settings will be displayed.
Closing thoughts on post-click landing page experience
As you optimize your post-click landing page experience, it's not about tricking the platform into earning a higher Quality Score number. It's more about orienting your goals around the user experience because the better experience prospects have, the chances you convert them are much higher. To do that, we recommend consulting our guide to optimizing the post-click landing page experience: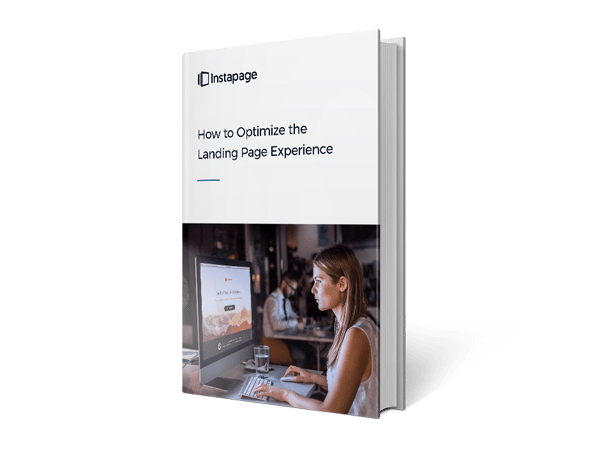 Always connect all your ads to personalized post-click landing pages to lower your cost per customer acquisition. Start creating your dedicated post-click pages by signing up for an Instapage Enterprise demo today.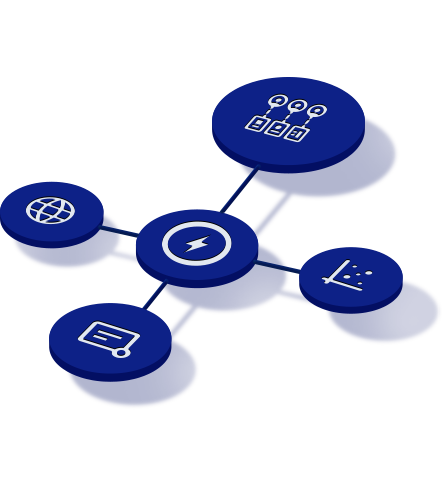 See the Instapage Enterprise Plan in Action.
Demo includes AdMap™, Personalization, AMP,
Global Blocks, heatmaps & more.