It is getting expensive to reach target audiences with paid ads. Facebook CPMs are up 122% year-over-year, business services keywords on Google Ads have an average CPC of $58.64, and LinkedIn's CPM and CPC are increasing each month.
That leaves digital advertisers with two choices: get more creative with your paid marketing strategy or be prepared to spend more each quarter for the same amount of leads.
Fortunately, there are many digital advertising opportunities that go unused because they require a bit of creative thinking and footwork to find.
This article introduces you to five of those opportunities to help you stay ahead of the competition, decrease the cost of leads, and find new audiences.
1. Not-so-obvious search terms
Search engine marketing puts your brand in front of target audiences who are actively looking for solutions like yours. They're great at grabbing intent-driven attention and are a staple channel for marketers looking to get immediate impact.
Running SEM campaigns can get expensive fast, especially if you're in a crowded industry. If you and 15 competitors are all bidding on the same keyword phrases, costs will naturally skyrocket over time as everyone battles it out for the top spot.
Simply bidding on searches featuring your brand, competitors, and business category can exhaust your campaign budgets fast.
If you want to move beyond ultra-competitive, high-cost auctions, bid on search terms that aren't painfully obvious. To find these, consider the following as they relate to social media management tools:
What problems or questions do people ask when they're trying to solve a problem related to my product? (Example: When is the best time of day to tweet?)
What features might people be looking for that don't exactly describe my product? (Example: How to find my top performing Instagram post)
How would people use search engines to find answers to their pain points? (Example: How to increase organic reach on Facebook)
Once you have a list of keywords and search terms that cover these questions, run them through Google's Keyword Planner to determine which ones have the most traffic and lowest competition. This data, combined with performance metrics, can also help you track which messages and features people are most interested in.
Sprout Social uses this strategy; a search for a broader term returns four ads at the top of the page: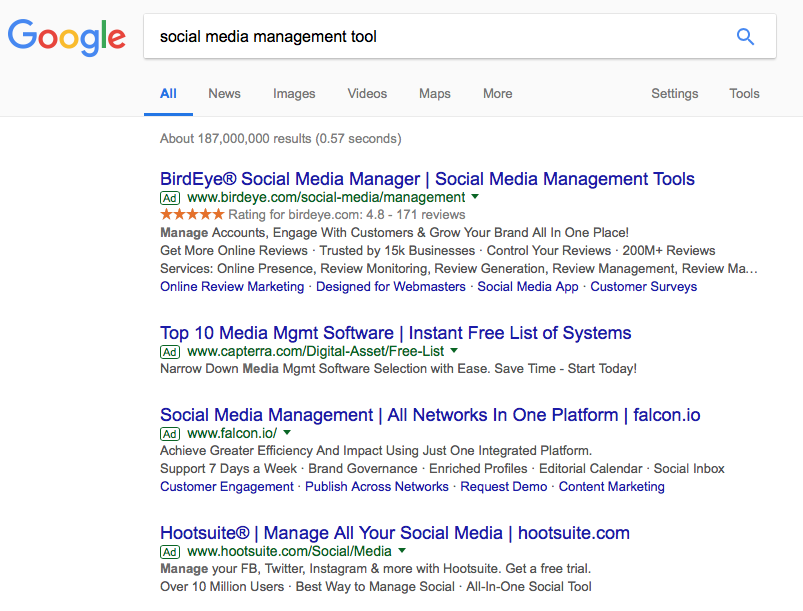 Yet, a search for a specific feature returns only one ad before showing organic results: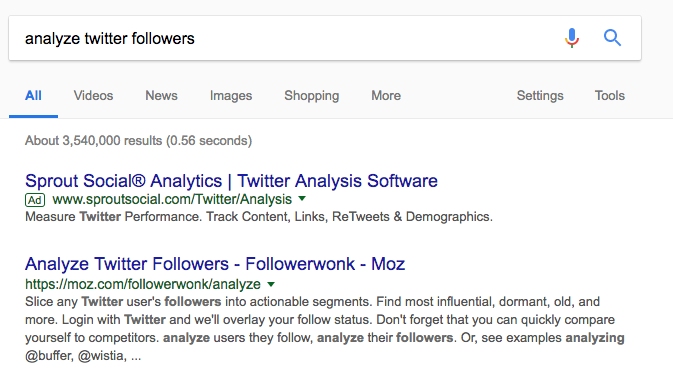 The phrase "analyze twitter followers" has 10-100 monthly searches and low competition in Google's Keyword Planner. Bidding on less obvious keywords like this helps Sprout Social in two ways. First, it stands out from the competition by appearing in less competitive and crowded results pages. Second, it helps people understand the product regarding the solution they need it to solve. In B2B demand generation, never underestimate the power of pushing pain points and explaining your product simply.
2. Super targeted publishers
Once search engine marketing is locked down, most marketers turn to prospecting to fill demand at the top of the funnel. Finding qualified leads at this stage saves time and money in the long run.
Most marketers go straight to Facebook, LinkedIn, and Twitter to find these leads… in fact, you probably have campaigns running on at least one of these platforms right now. They might have huge audiences that can be narrowed by lots of data points, but their popularity among marketers also means their costs go up every month.
This is where niche publishers come in. Every single audience has websites, newsletters, podcasts, and magazines that create content specifically for them.
Leveraging publisher advertising connects you with your target audience and puts your brand next to relevant content that they trust. Some examples of this include:
Need to reach tech-savvy folks or designers? Advertise through Offscreen, Carbon, or Digg.
Want to reach product managers? There are advertising opportunities on Product Manager HQ or Roadmap.com.
Is your target audience digital marketers? Sponsor a Creative Mornings meetup, run sponsored content on eMarketer, or place ads on Marketing Land.
Looking to connect with C-suite executives? The Information and Inside.com are great options.
To uncover these opportunities, think about where your audience naturally goes for news, information, and resources. Use tools like Facebook Audience Insights to find ideas, or work with vertical ad networks to partner with effective publishers without having to find them yourself.
Password manager Dashlane reached its target audience (tech folks) by sponsoring the daily Digg newsletter. The native ad showed up in users' inboxes, sidestepping any ad blocker concerns, and doesn't compete against other sponsors:

The ad sent people to the page below, which caters to people who have never heard of Dashlane. Its headline pushes a common pain point among tech-savvy people, and the company explains how the app works in simple terms: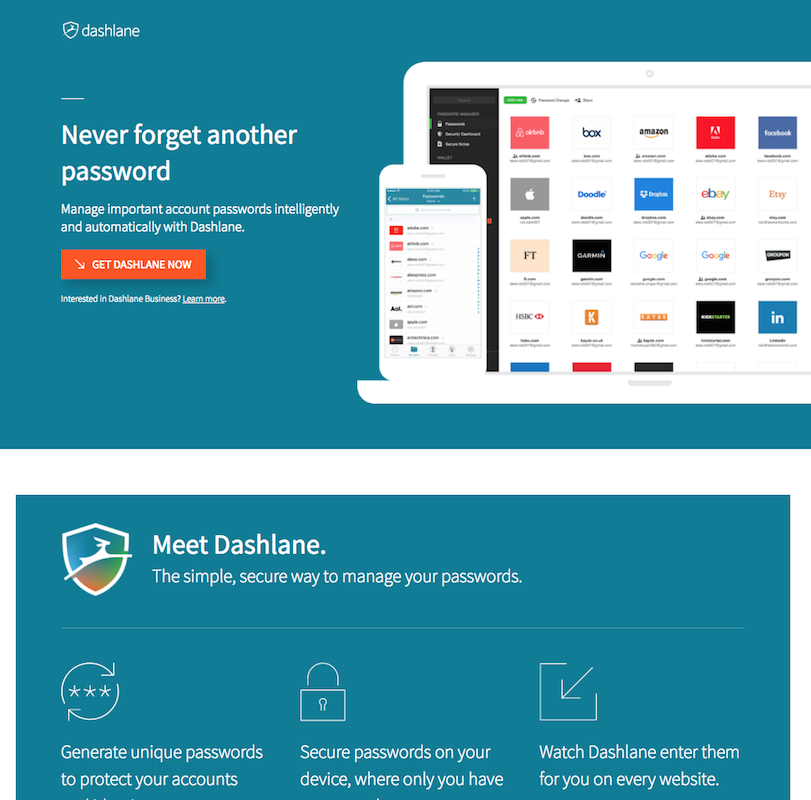 3. Event hashtags on Twitter
Conferences and events are similar to publisher advertising: they cater to super specific audiences and allow you reach people who may have never heard of your product or service.
Event and conference sponsorships can be hard to sell bosses on, though. They're usually costly and hard to tie back to performance goals, so many high-growth companies stick to performance marketing strategies that pay off in the short term.
You don't necessarily have to sponsor an after party to get positive brand association from the event. Instead, use Twitter ads to target users who are engaging with the conference or event hashtag. You can even layer location targeting to only reach people who are actually attending.
Through hashtag targeting, your ads can show up in search results for the hashtag or throughout the Twitter platform for people who are using and engaging with the hashtag.
We recently used this tactic to reach attendees at the SaaStr conference in San Francisco. Our ads spotlighted advertising campaign success stories from SaaS companies. Clicking the ad led to the relevant case study with a form to learn more about our advertising placements: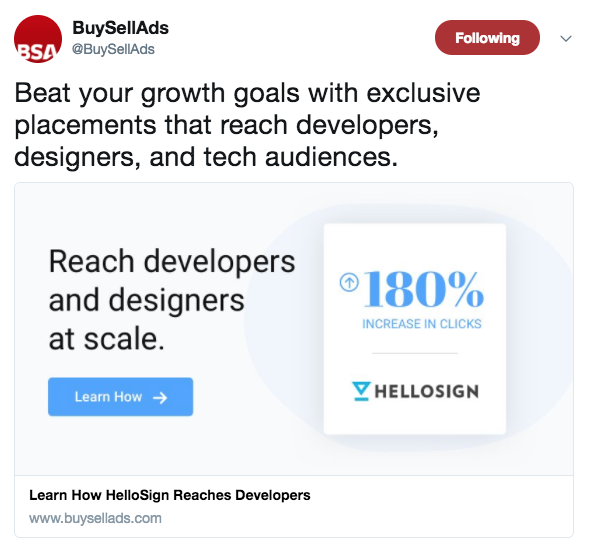 To maximize reach, set your budget to accelerated, so more of your target prospects see the ad. Then, add a remarketing pixel to the landing page so you can re-engage people once they're back at home after the busy event.
4. Relevant Quora topics
Quora posts have high Google ranking for a lot of specific search terms and questions. Quora ads let you piggyback off of this high-quality search intent by appearing beside all sorts of insightful answers catering to your target audience.
As an added bonus, they might even end up being less expensive than search engine advertising. Try running an experiment to see if Quora lets you undercut costs compared to the first strategy at the top of the article.
FullStory, a session replay tool, uses Quora ads on questions related to user experience and analytics. This makes sense, as it's where its target audience of UX designers and marketers would naturally spend time on the platform. Here, their ad appears above an answer from Mixpanel: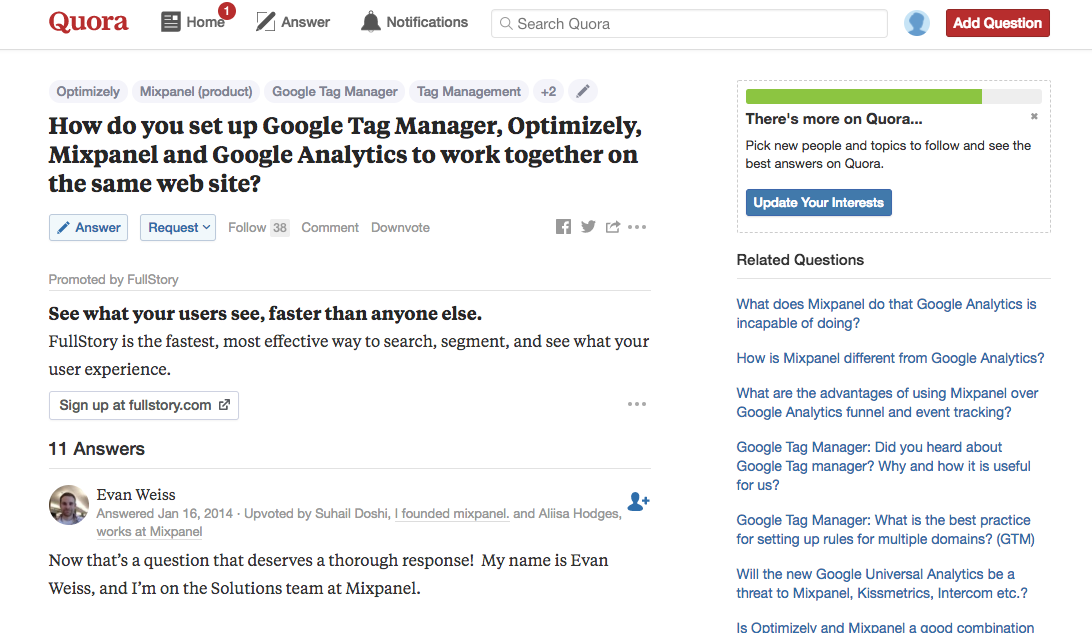 Fullstory's page breaks down its value in four simple steps (click-through to the page to see the steps), going the extra mile of answering FAQs that these audiences might have: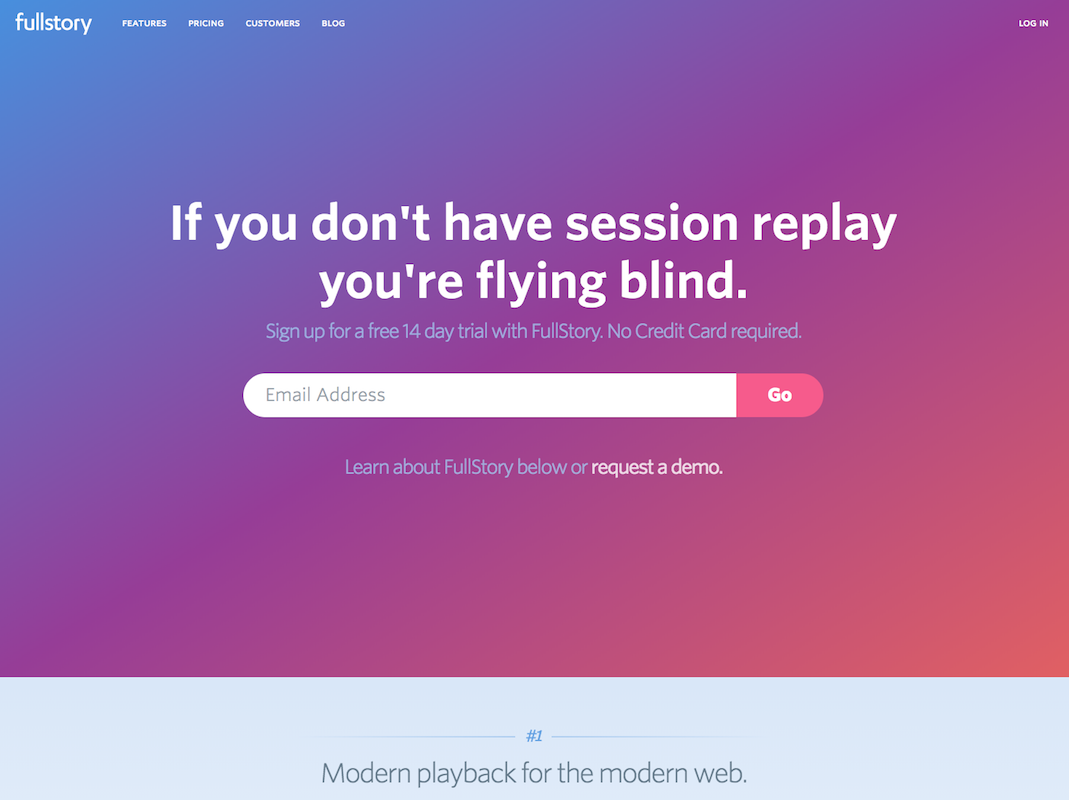 5) Campaigns targeting subreddits
Reddit is divided into subreddits, which cater to every single topic, interest, or joke on the internet. Fortunately for digital advertisers, the platform has stepped up its advertising game lately, which opens up some rich opportunities.
Reddit ads are native units that appear as promoted posts on the homepage, in users' feeds, and at the top of specific subreddits. The platform's self-serve builder lets you launch campaigns targeting people by location, interest, or subreddit. Interest-based ads can show up across a range of subreddits, giving you more reach but less context.
From my experience, costs on here tend to be much lower than other platforms. This is probably a result of Reddit's massive user base and not as many advertisers competing for attention.
To demonstrate, Wealthsimple, has a promoted post at the top of /r/personalfinance, a subreddit that helps people manage their money. Pretty smart when you consider they are a financial management company: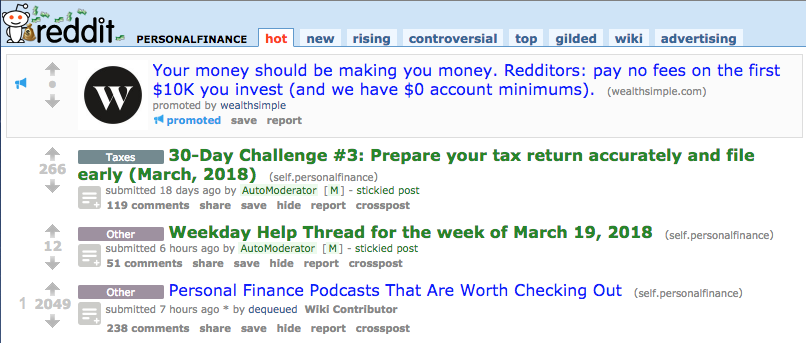 Then, Wealthsimple optimizes the landing page with a great landing page. This is a masterclass in message matching because it acknowledges which website users are coming from and mentions the $10,000 promo offer for Redditors: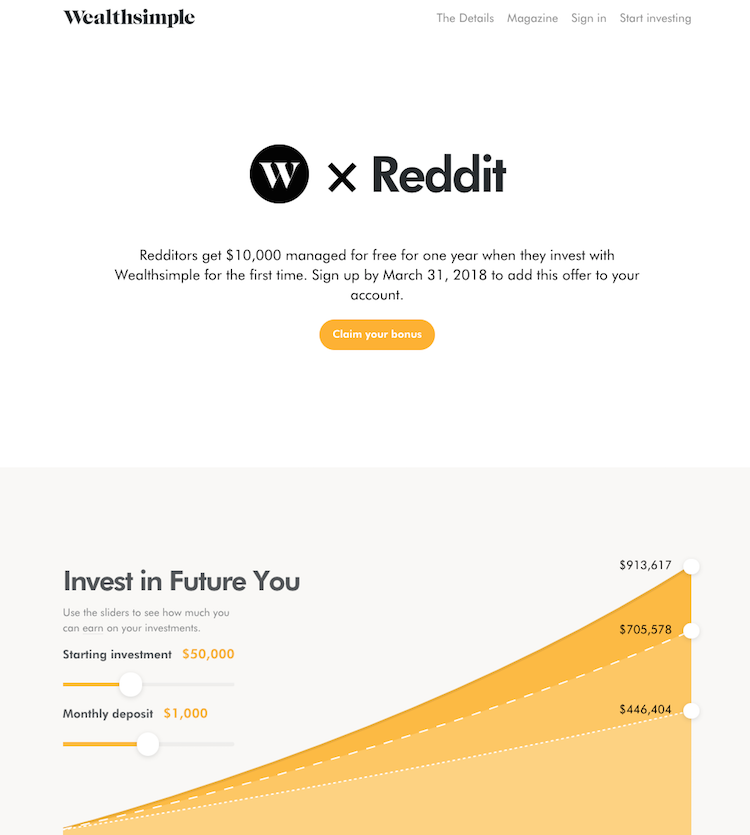 Get ahead of the competition
With many digital advertising channels available today, you must be proactive in testing new ideas. Although paid search ads via Google, Facebook, Bing, etc. are popular, to get more bang for your advertising dollars, look for untapped advertising opportunities like the tips above.
Keep your eyes peeled for new opportunities, don't be afraid to entertain channels that aren't traditionally used in your industry, and make sure your landing page matches the ad that brings people to your website. You will be surprised at the results.
Learn how to provide 1:1 ad personalization for every audience you have with an Instapage 14-day free trial today.
About the author
Joshua Schnell is the Marketing Manager at BuySellAds. He's also the founder and editor-in-chief of Macgasm.net, a blog focused on all things Apple Inc. And since all that doesn't give him enough content to wrangle, he's also a technology journalist with bylines at PCWorld, Macworld, TechHive, and HubSpot. Let him know what you think of this article on Twitter.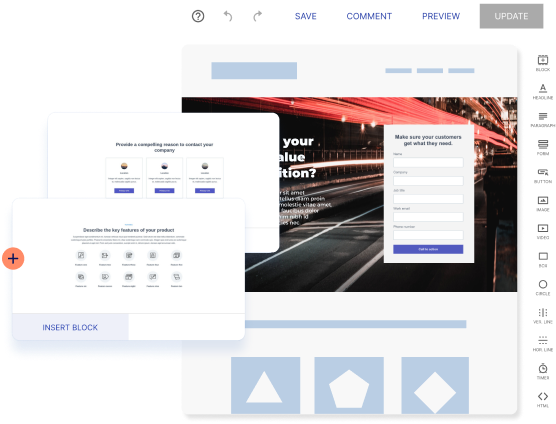 Try the world's most advanced landing page platform with a risk-free trial.