The convergence of rapidly evolving technologies and an expansive digital landscape has provided advertisers new abilities to better curate a message from design to distribution, and all points in between.
Advertisers are more frequently integrating sophisticated adtech stacks to leverage those evolving technologies and expansive digital landscape to craft their messages, target their audience, and employ the most efficient and effective distribution means to communicate with their audience.
When a streamlined, cohesive approach is needed to maximize the efficiency of campaigns across all points of the funnel, ad stacks provide end-to-end solutions for enterprises that need comprehensive tools in a concise platform.
Ad tech stack tools of the trade
Although agencies have a wide range of technological tools now at their disposal, it's the high-level tools that truly define the vast capabilities of the most effective ad tech stacks.
Now a leading provider of a full suite of digital marketing solutions, AdRoll has evolved significantly from their roots as a remarketing pioneer. Although remarketing is still certainly a part of its toolbox, the current AdRoll platform is a full-fledged advertising platform that uses advanced machine learning at the heart of its components.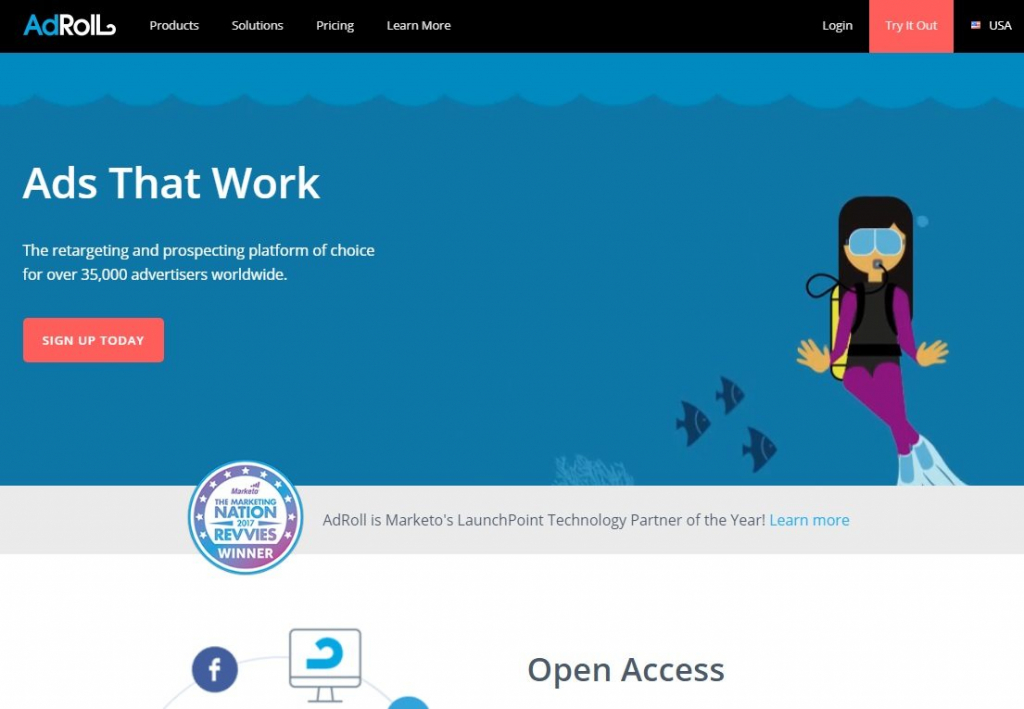 Prospecting
Given the ever-growing need for companies to expand their customer base, prospecting plays a pivotal role throughout all marketing endeavors. AdRoll utilizes an immense advertising data co-op to continually match customer behaviors with a company's particular products or services.
AdRoll can make it immeasurably easier for companies to find their target audience through Google Ads and similar platforms. Additionally, since it uses machine learning in the process, the system gets more refined and precise with continued use — so the more a company uses the AdRoll prospecting module to find potential customers, the better the system gets at finding them.
Retargeting
AdRoll is synonymous with the retargeting trend that has become such a focal point of marketing efforts over the last decade. Just as advertising has become more dynamic and complex, so have the lives of the customer companies are trying to reach.
Due to this, the typical consumer doesn't often have the opportunity to absorb messages from companies on a constant basis. Therefore, it is critical for marketers to rely on retargeting techniques so consumers can continue down their path through the sales funnel.
With AdRoll, companies can reach their customers across devices while utilizing the largest ad exchanges available. This gives advertisers the ability to reconnect and retarget a customer when the path within the sales funnel gets interrupted.
If a user is browsing an online electronics vendor's website but must stop the process before making a purchase, AdRoll's retargeting abilities can continue the conversation on that user's mobile device to keep them engaged with the company and product they were interested in.
Furthermore, AdRoll integrates machine learning into the bidding process to make sure the company's ads are being placed most efficiently and effectively as possible. This lends an agility, immediacy, and cost efficiency to ad bidding from the same centralized platform.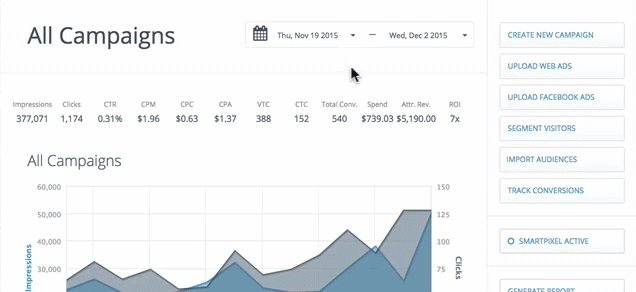 Email and onsite outreach
In a similar capacity, AdRoll takes the data from its digital consumer profiles as well as accrued browsing information to better target customers through email campaigns and onsite advertising such as personalized pop-ups and insightful calls-to-action.
For instance, if a user completes a form on a post-click landing page, AdRoll can collect that information and use it to fine-tune a targeted email or onsite campaign based on the information provided to that fill-in form.
Since advertising personalization is an absolute requirement to enhance the customer experience, AdRoll excels at all points along the sales funnel.
The advent of big data has created a proverbial gold mine for advertisers who can transform all of that data into insightful, actionable analysis.
By using AI-based, machine learning systems to gather, organize, and analyze consumer data, Quantcast has quickly become a market leader in the ad tech stack space as a provider of the data companies need to hone and steer their message to a customer base.
Quantcast has evolved considerably from its roots. In fact, Quantcast is now an innovative ad platform that helps brands and agencies identify a customer base and reach them in the most efficient manner possible.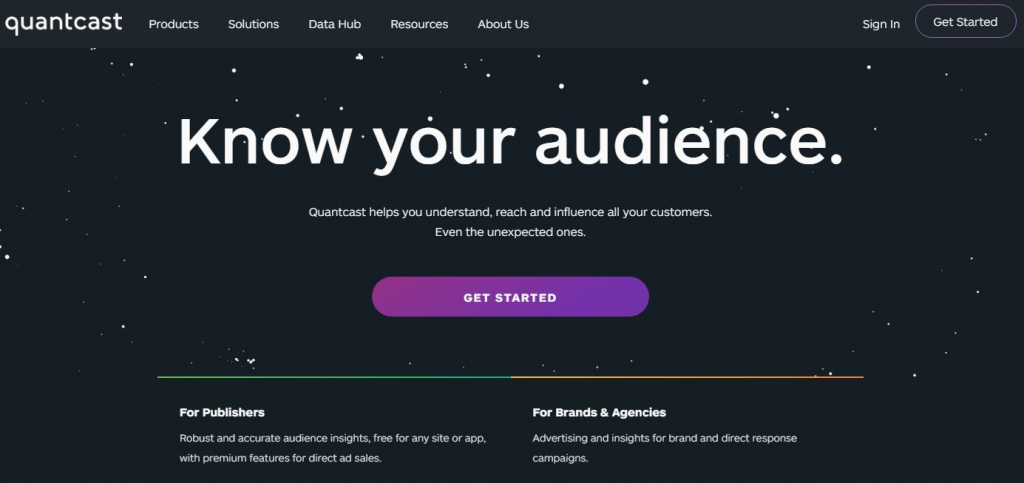 Leverage the power of big data
Quantcast is ad tech that specializes in gathering data based on consumer behavior and transactional information. Only the rapid advancement of processing power and algorithmic-based machine learning systems has made such abilities even possible.
While an individual browsing session might not be relevant to the overall consumer behavior of a specific customer, the aggregate of such data provides incredible insight and direction to companies as they form and foster brand identities and the messages needed to engage and retain consumers.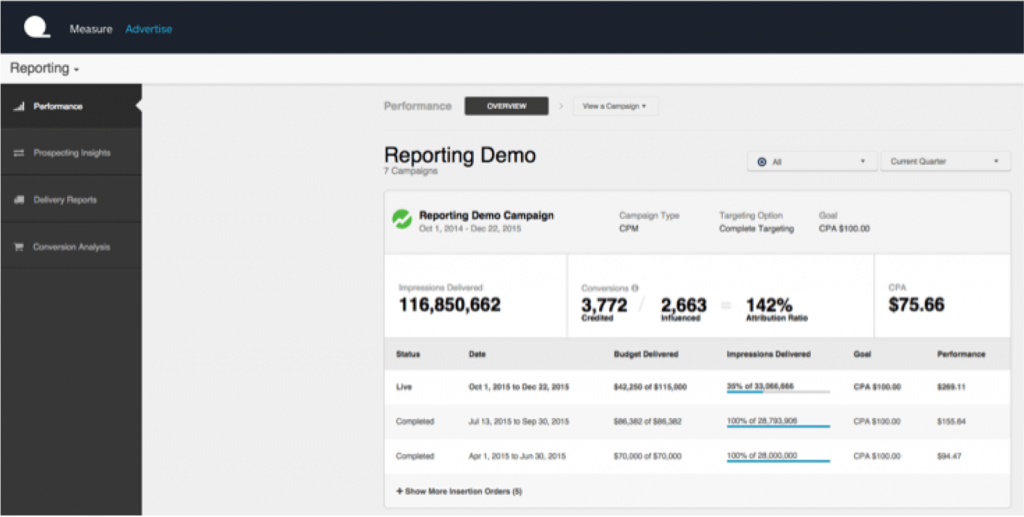 Measure Enterprise
The Measure Enterprise component of the Quantcast platform helps brands establish a series of metrics to organize and quantify the impact and effectiveness of their campaigns. This ultimately boosts profitability by dramatically improving costs of customer acquisition.
Measure Enterprise also allows companies to formulate and maintain an intricate set of metrics that collectively provide a quantifiable analysis of consumer trends and behaviors. These parameters are critical in developing and implementing campaigns tailored to reach a specific target base.
Since the data can be analyzed on a real-time basis, brands and agencies can alter story, tone, timing, or intent in similar real-time.
Marin Software
As much as the proliferation of digital channels has provided new means for advertisers to communicate with the customer base, it has also created additional strain on the time and effort needed to choose which channels.
Marin Software provides an ad tech stack solution for brands trying to maximize the impact of their social media marketing. Whether a company wants to concentrate on Google Ads, Facebook, Twitter, Instagram, etc., Marin's platform lends a streamlined sophistication to optimized advertising in a cross-channel campaign: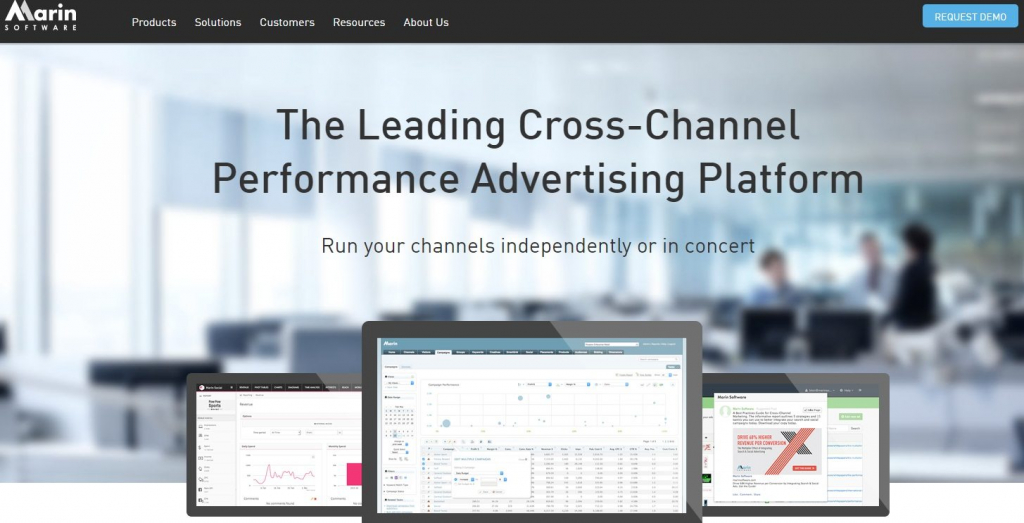 Social advertising
One of the primary benefits of Marin's social platform is its ability to automate the campaign across an individual or multiple channels. Since an effective sales funnel is dependent on timing and tone, this plays a critical role in maximizing impact, maintaining engagement, and telling the proper story at the proper time to convert simple impressions to impactful conversions.
Through the social component of its platform, Marin Software allows brands and agencies to automate these functions based on real-time data, all from a single UI. This ability saves companies countless hours of effort and infuses extremely high levels of efficiency throughout the process, thus saving both time and money for an advertiser.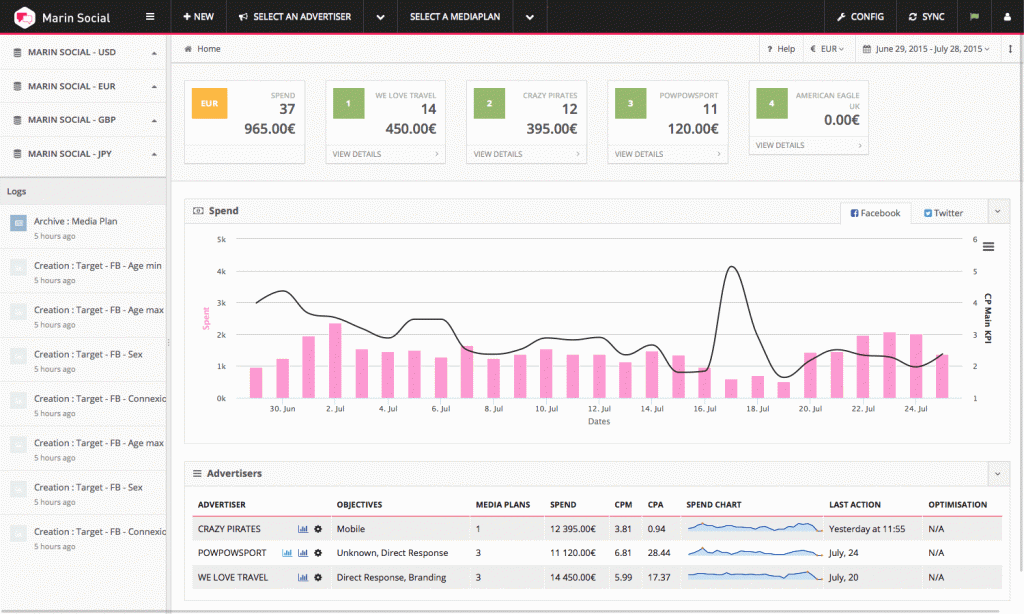 Search
One of the more distinctive characteristics of the Marin platform is its simple but powerful dashboard that integrates significant transparency and insight into a single interface. From the search component of the platform, marketers can manage workflows throughout multiple campaigns, identify new potential streams of revenue, and adjust bidding strategies in real-time.
Since integrating new digital assets and content is essential to keep a campaign fresh and engaging, the search features also allow advertisers to employ alternative assets as a campaign evolves and ages, thus preventing it from being engaging and impactful.
Similarly, companies can effortlessly clone or mimic entire campaigns or portions of them from one advertising platform to another. With all of these capabilities, Marin Software can be extremely beneficial to a company striving to maximize their advertising personalization without creating additional strains on time and budget.
CAKE
With three distinct components to its powerful SaaS platform, CAKE is another market leader in the ad stack space that provides incredible insights and abilities to marketers trying to optimize their digital campaigns. The CAKE platform uses transparency and clarity as the focal point of its platform, allowing organizations to analyze campaign metrics and produce reports in real-time to provide the immediacy required in an ever-changing marketplace.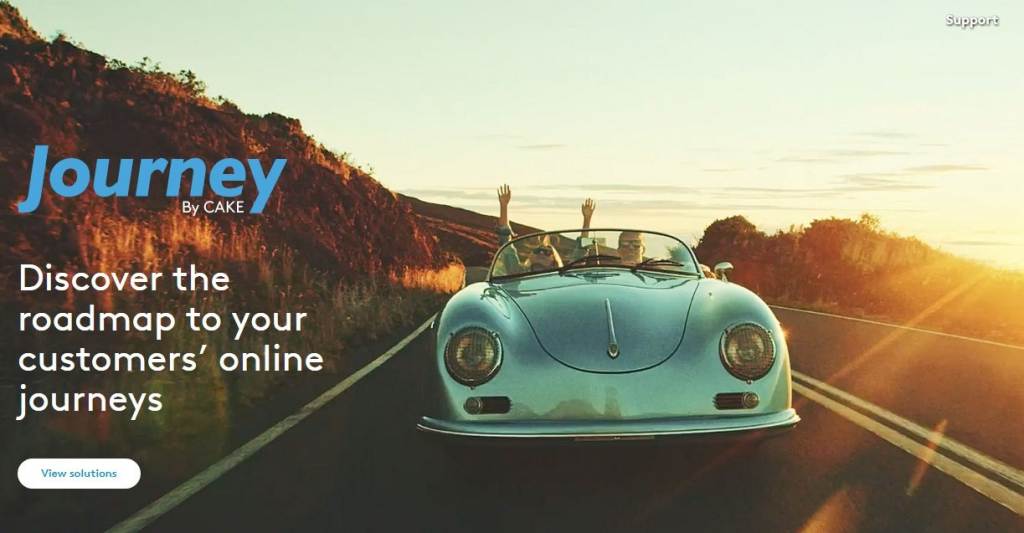 Journey
The Journey component of the CAKE platform concentrates on enhancing the customer journey through all points of the sales funnel. It strives to provide advertisers consumer-based data in a highly organized, intuitive interface that transforms the data into actionable insights.
It provides distinct guidance for a campaign trying to steer through the crowded waters of the digital landscape, removing the anonymity from anonymous browsing to help campaigns find the ideal combination of tone and channel.
Journey is another powerful tool that affords companies the ability to infuse advertisement personalization into their campaigns, providing a powerful voice that can cut through the background noise of the marketplace and engage individual consumers through the optimal channels.
Lead Distribution
Creating unique and engaging campaigns does an agency little good if it can't properly track impact and effects on ROI. Without such insight, companies are blindly following instincts without the quantitative data needed to guide them along the way.
With CAKE's Lead Distribution component, doubts regarding the efficacy of any given campaign are removed by providing the intelligence needed to properly track engagement and optimize ad spend. Furthermore, campaigns can be tracked across affiliates to see which are succeeding or failing and adjust their resources and attention appropriately.
Network Tracking
Expanding on CAKE's Lead Distribution features, the platform's Network Tracking component analyzes the granular data that can often distinguish the successful network affiliates, including Google Ads, from the rest. Companies can leverage a wide variety of data streams, from impressions to conversions and everything in between, to understand which campaigns are adding the most to their ROI.
Another example of big data being used to significant results, CAKE's Network platform organizes data that would otherwise be too cumbersome and time-consuming to create any meaningful insights.
Instead, from a concise and simple UI, companies are provided real-time tracking abilities to constantly monitor the effectiveness and efficiency of their campaigns across multiple affiliates.
DoubleClick
DoubleClick from Google is a comprehensive solution set from one of the largest, most innovative companies in the industry. Offering marketing solutions that range from content design to bidding, DoubleClick is a single platform that strives to afford advertisers the convenience of constructing and maintaining the entire breadth of a campaign from a single solution.

Digital Marketing
The premise behind DoubleClick's Digital Marketing suite revolves almost entirely around the concept of streamlined, comprehensive solutions for a highly splintered digital landscape. Furthermore, between desktops, laptops, smartphones, and tablets, targeting a particular customer base has grown increasingly difficult as technology spreads. DoubleClick lends an advertising campaign an efficiency for the entire scope of a brand's message.
From a design perspective, DoubleClick's Creative Solutions toolkit allows companies to construct creative that is simple, straightforward, and engaging across multiple formats and screens.
Utilizing a gallery of preset formats and features, digital assets can be quickly designed and customized according to different campaigns or points within the funnel. This includes images for static ads as well as videos that can seamlessly be integrated within a YouTube campaign.
The DoubleClick Campaign Manager is a companion piece to their Digital Marketing suite, allowing companies to monitor the effectiveness of their campaigns in real time actively. Content can easily be rotated throughout different ads to maximize impact on the audience. The transparent nature of the Campaign Manager dashboard allows teams to visualize ad performance, bulk edit multiple campaigns or ads, and quickly integrate them into the various components of Google Ads and the Google platform.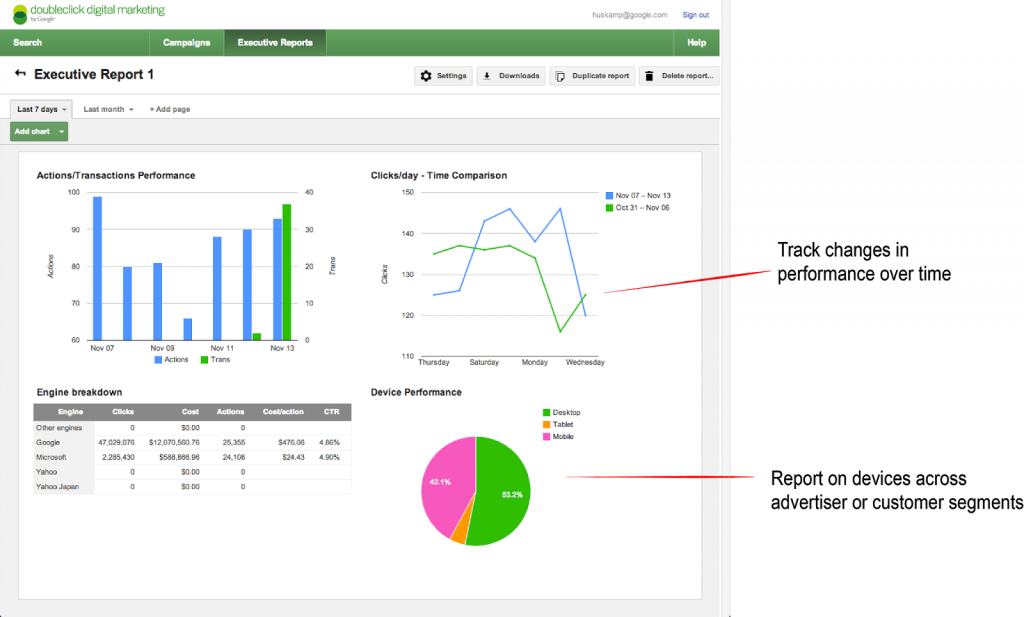 Revenue Management
The second component to DoubleClick's platform is designed to allow companies to foster growth and find efficiencies across multiple sales channels that otherwise would be extremely time and resource consuming. The Revenue Management system integrates flexible sales options that afford advertisers the ability to optimize strategies with nearly the entire universe of ad markets and partnerships.
Between the Digital Marketing and Revenue Management systems, DoubleClick is built to optimize ad spend most efficiently and effectively as possible. Savvy advertisers can enjoy a one-stop shop from one of the world's most innovative companies.
In the ever-changing and evolving world of advertising, especially within the digital landscape, particular companies have risen to the forefront in the ad stack space and become global leaders in comprehensive solutions. No other company demonstrates this point as well as Sizmek.
With a footprint that extends to nearly every continent on earth, Sizmek's innovative, well-rounded platform again relies on artificial intelligence to provide insights and efficiencies that otherwise would have been nearly impossible to achieve.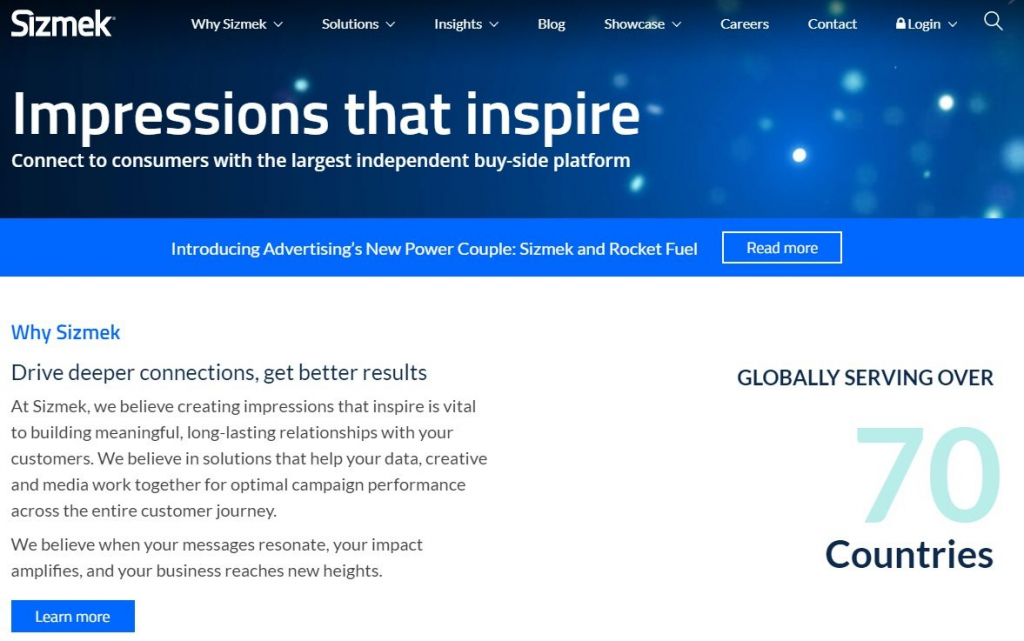 Data Enablement
Sizmek's platform is divided into three distinct components: data enablement, creative optimization, and media execution. The first of these, data enablement, is designed to provide advertisers a bird's eye view of their campaigns through the unique insight provided by consumer data. The AI-fueled platform concentrates on five key dimensions of predictive analytics for marketers: campaigns, consumers, context, creative, and cost.
Like many of the other ad stack solutions, Sizmek employs a highly visual dashboard to interpret the various metrics behind a campaign more intuitive and simpler to interpret. Sizmek uses its proprietary AI technologies to provide advertisers a comprehensive and unique perspective of an audience's specific interests, wants, and demands, all the way down to the individual level.
Such precision in targeting abilities can create an extremely powerful conduit between the consumer and message at any point within the funnel and thus provide the advertising personalization required in today's market.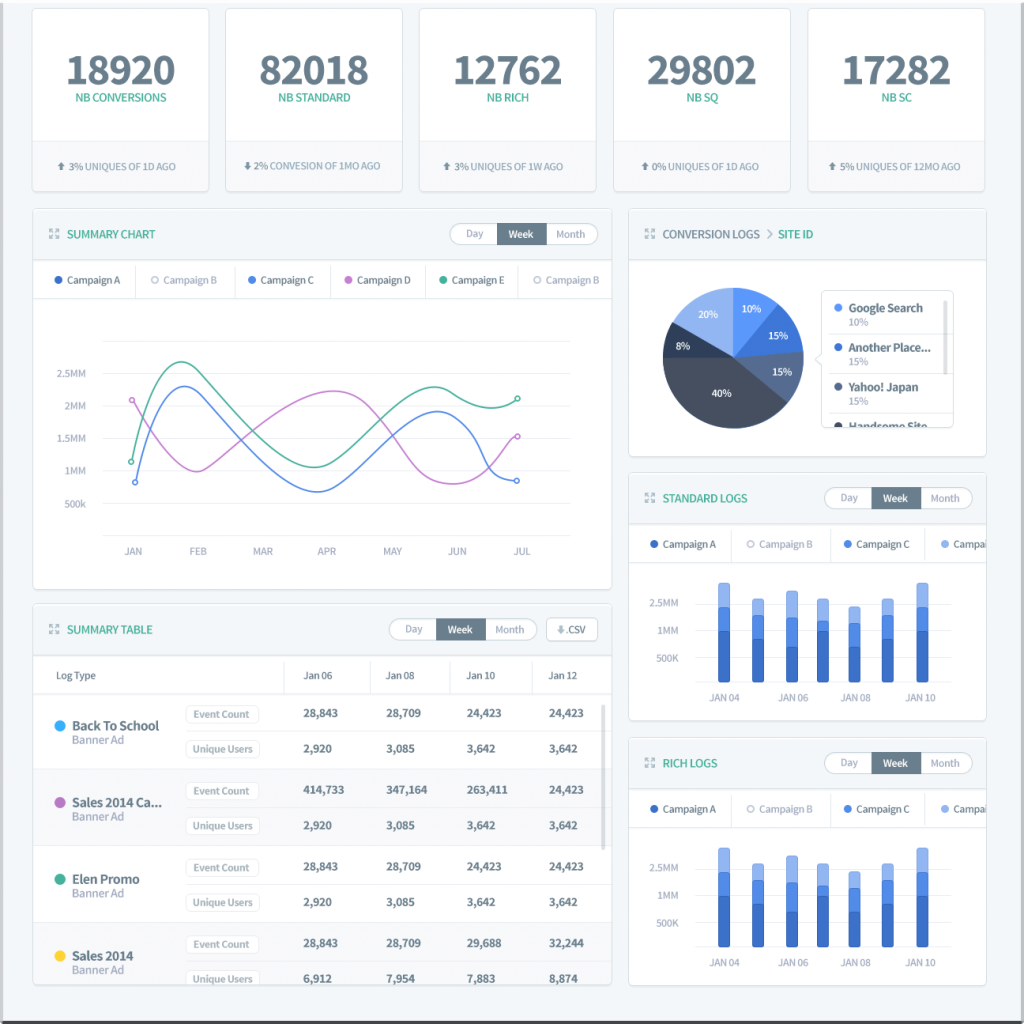 Creative Optimization
Finding the right combination of creative and channel is crucial in properly engaging a customer base. Again using AI to find the ideal mix of assets and content, Sizmek's Creative Optimization platform relies on countless iterations of algorithmic A/B testing to find the specific combinations that best marry consumer, timing, and tone to deepen brand identity and impact for the audience.
Furthermore, Sizmek tailors each ad to best highlight its attributes according to the specific device that it's being viewed on. Advertisers don't have to worry about altering ads or campaigns for desktops versus mobile devices since Sizmek automatically adjusts content to properly display on whatever platform an individual consumer might be using at the moment.
Media Execution
Distributing an ad campaign in the most cost-effective and impactful manner possible is a critical component of successful digital advertising. To that point, Sizmek's Media Execution platform integrates their DSP AI engine to give advertisers maximum transparency and effectiveness to properly manage their ads and campaigns.
Leveraging the sheer size and scope of Sizmek's influence and partnerships, the platform takes an agnostic approach to matching message and method, finding the best-suited venue for a brand to utilize, no matter the exchange.
With an automated system that monitors and conducts bidding in real time across the majority of the industry's ad networks, Sizmek's Media Execution dashboard empowers brands to take control of the distribution of their message while relying on the unparalleled insights provided by big data and instant communication.
Aside from the tremendous cost efficiencies, the platform is yet another example of infusing significant transparencies to maximize the impact and lasting effectiveness of any given ad or campaign.
BrightRoll
In another example of an ad tech stack solution from an industry giant, BrightRoll from Yahoo concentrates its efforts on maximizing efficiency throughout the campaign management and distribution functions. Although it lacks the creative design component of some of the other ad stacks, it makes up for it by integrating some unique features that can make it a valuable component to any advertiser's toolbox.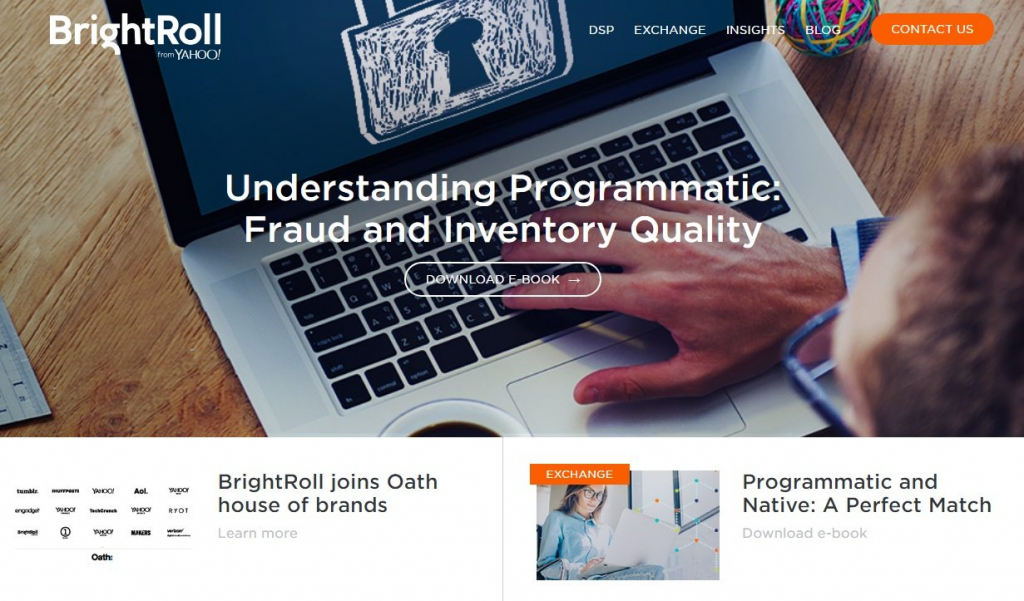 DSP
With over 165 billion activities performed every day across 2.1 billion different devices, BrightRoll's DSP platform takes full advantage of the extraordinary data available through Yahoo. The system leverages these vast amounts of data to isolate and analyze trends for advertisers trying to target individual consumers through their preferred devices.
BrightRoll organizes its consumer data into a platform that allows advertisers to actively monitor ad performance and engagement levels through insightful metrics that quantify the sometimes nebulous art of advertising.
What separates BrightRoll's DSP platform from most of the similar entries, however, is the instant access to proprietary data that only a platform designed by a company like Yahoo can afford.
This intertwined relationship between advertising and the data that drives it creates a synergy that brands can utilize to find cost efficiencies, optimize ad spend, and ultimately, lower customer acquisition costs in the future.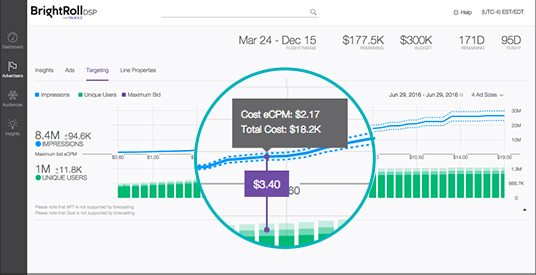 Exchange
The most effective digital advertising is extraordinarily reliant on speed and immediacy. The overall impact of impressions is often dependent on mere fractions of seconds as ads filter through the complex and dynamic exchanges crowding the marketplace. BrightRoll's Exchange platform emphasizes that needed speed and immediacy so advertisers can focus their attention on campaign design and management rather than constantly monitoring how effectively their ads reach the market.
With considerable attention paid to the reduction in redundancies, fraud prevention, and substantial native ad inventory, BrightRoll's Exchange platform is designed to maximize quality while minimizing risk.
Advertising customization for a dynamic marketplace
The most successful campaigns are those that enhance the customer experience and deploy a company's limited resources in the most efficient way possible. The convergence of technology and a digitized marketplace creates both the opportunity and need for businesses to personalize their advertising voice to enhance brand identity.
The combination of a sophisticated ad tech stack that speaks to a marketer's specific needs and goals, with a message-matching post-click landing page provides a powerful path to conversion across all points of the funnel.
Instapage is a market leader in post-click landing page design that specializes in providing its customers the advertising personalization needed to best engage the customer base in a crowded and dynamic marketplace. Sign up for an Instapage Enterprise demo today.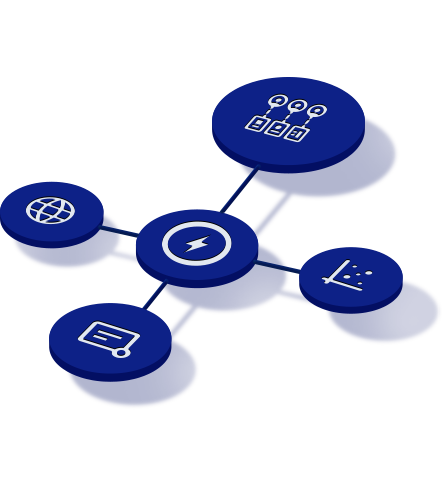 See the Instapage Enterprise Plan in Action.
Demo includes AdMap™, Personalization, AMP,
Global Blocks, heatmaps & more.