ABOUT NETRADYNE
Since their start in 2015, Netradyne has made it their mission to make the road a safer place for everyone. Netradyne is a software company that is transforming the transportation industry by creating best-in-class safety solutions for commercial trucking fleets.
Netradyne products combine AI-powered computer vision software with high-quality dash cams and intuitive training methodologies to improve driver safety and fleet performance.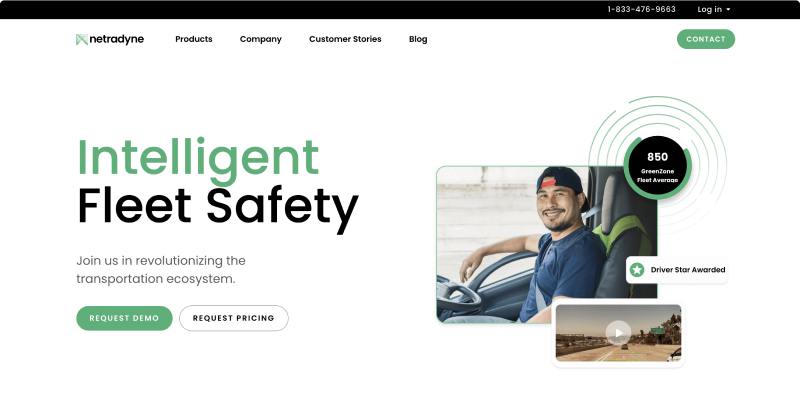 GETTING BEHIND THE WHEEL
Netradyne primarily markets to commercial trucking company owners and fleet managers, who have an immediate need for safety products like Netradyne's Driveri camera system. Dash cams offer commercial trucking fleets a degree of protection from unfair litigation. In most collision events involving commercial vehicles, commercial driving companies often end up paying for damages. Dash cams record events as they happen, providing companies with evidence that could protect them from legal liability.
According to Austin Schmidt, Director of Performance Marketing at Netradyne, the company has evolved its approach in recent years. Before working with Instapage, the company used a sales-based strategy, focusing their efforts on industry events and cold calls rather than digital marketing.
Schmidt was hired to update and improve their performance marketing efforts, bringing a wealth of digital marketing experience from his career as a marketing consultant to the table.
Schmidt quickly identified a need for enhanced landing page personalization based on precise audiences and use cases. He initially recommended Instapage due to the platform's advanced features and easy-to-use landing page builder and analytics.
"We chose Instapage because it's far and away the best landing page builder on the market," Schmidt said. "I've tried and used pretty much all of them and Instapage is easily the best from a usability and building pages yourself perspective. So we were able to get high-quality landing pages up relatively easily and without the assistance of a full web dev team."

"When we saw the financial analysis [for Instapage] in terms of lead volume and cost-per-lead, it became a financial no-brainer."
INSTAPAGE REVS UP PERSONALIZATION
Netradyne's products have multiple use cases, like improving fleet efficiency, and training drivers to follow safe driving practices, and securing legal exoneration. Instapage set to work building dedicated landing pages for each of Netradyne's use cases, leveraging their conversion expertise to improve on the pages Schmidt's team initially built with Instapage.
Schmidt immediately noticed that Instapage's managed service options freed up operational bandwidth for his team. "The biggest benefit to us is getting time back, being that we're a pretty lean team at this point. And the conversion rate lifts have been substantial," he said.
The Netradyne team also found that working with Instapage was substantially less expensive than hiring an in-house conversion rate expert. With more time on their hands, Austin and the Netradyne team could focus on what they do best—building software to help their customers make the road safer.
Throughout the set-up and initial testing, the Instapage team was in close communication with Netradyne to keep them informed and quickly address any feedback. By integrating with Instapage, Netradyne's lean and agile team accomplished greater results without expanding headcount.
RESULTS
Thanks to Instapage, Netradyne has seen a conversion rate lift of 38.2%. The increase in efficiency didn't stop at conversions—they've also experienced a 17.7% decrease in cost per lead. By lowering costs while increasing conversion rates, Instapage has helped Netradyne supercharge their return on ad spend.
"Things are going really well. We've dramatically increased our lead volume across all platforms. We really went from zero, this stuff didn't exist, to a pretty high-performing marketing machine all around. So things are going really well on that front."
NEXT STEPS
Netradyne hopes to continue their successful work with commercial trucking companies while expanding into new industries that rely on vehicle fleets for their business, such as last-mile trucking companies, and skilled trade companies like electricians and plumbers. With Instapage on their side, Netradyne can create personalized customer journeys for each of these industries that help bring their products and use cases to life for each audience.