ABOUT KHOROS
Khoros is an enterprise customer engagement platform that uses AI-powered workflows, call systems, and customer journey optimization to help clients provide outstanding customer service.
Khoros formed in 2019 as the result of a merger between two established software companies: Spredfast and Lithium. Both companies had been active players in the data analysis arena for decades. As Khoros, their combined teams and technology offer partners unparalleled quality of service. However, while Spredfast and Lithium were both well-known brands, their new presence as Khoros required a new brand identity and updated messaging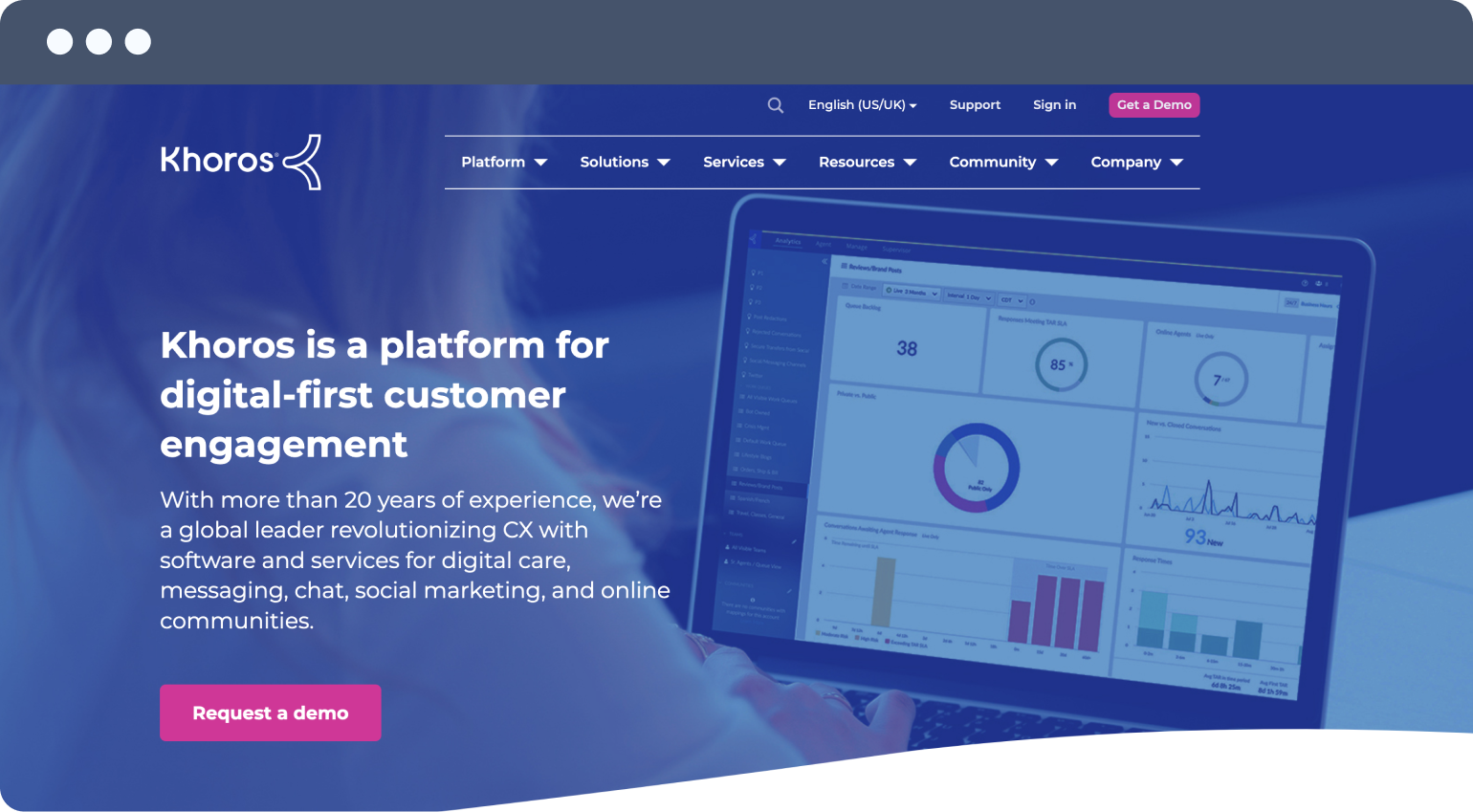 A LEGACY COMPANY WITH A FRESH BRAND
To overcome the awareness hurdle of rebranding as Khoros, the team needed to make a substantial investment in paid media. Before working with Instapage, Spredfast and Lithium created destination landing pages within their companies' CMS solutions. The Khoros team wanted to maximize the value of their investment and implement a greater degree of personalization than they were able to achieve with internally built, CMS-based landing pages.
Because Khoros' target market is primarily enterprise-level businesses, they knew that improving their audience targeting and building dedicated customer journeys around specific use cases were key to successfully converting customers. To accomplish these objectives, the Khoros team began researching landing page platforms.
Khoros settled on Instapage for several reasons.
The easy-to-use interface empowered their team to quickly and effectively build conversion-ready landing pages
The platform's personalization features enabled them to tap into keyword personalization and start targeting unique audiences with a greater degree of precision
With these goals in mind, the Khoros team partnered with Instapage on the Instapage Converting plan.

[Instapage] guided us through the whole project and they were very consistent. They deliver exactly what they said they would and on time.
DEDICATED SUPPORT
The Instapage team met with Khoros to review their goals and develop a custom plan for success. First, they reviewed an internally created Khoros webpage and provided a conversion analysis to outline improvements. As part of the Instapage Converting plan, the Customer Success team then created an initial landing page using conversion-focused design principles. This page served as a template that the Khoros team could replicate for future landing pages. With this template and the conversion analysis as a guide, the team quickly scaled their page creation.
With elevated landing page capabilities, Khoros can build data-driven customer journeys that smoothly carry customers through the funnel. According to Nathan Stull, Associate Director of Web Marketing at Khoros, "Another big win was being able to take the experience from the ad level all the way down to the landing page with consistent messaging, and track which of those messages are converting more. We want to be able to make the best user experience we can for them."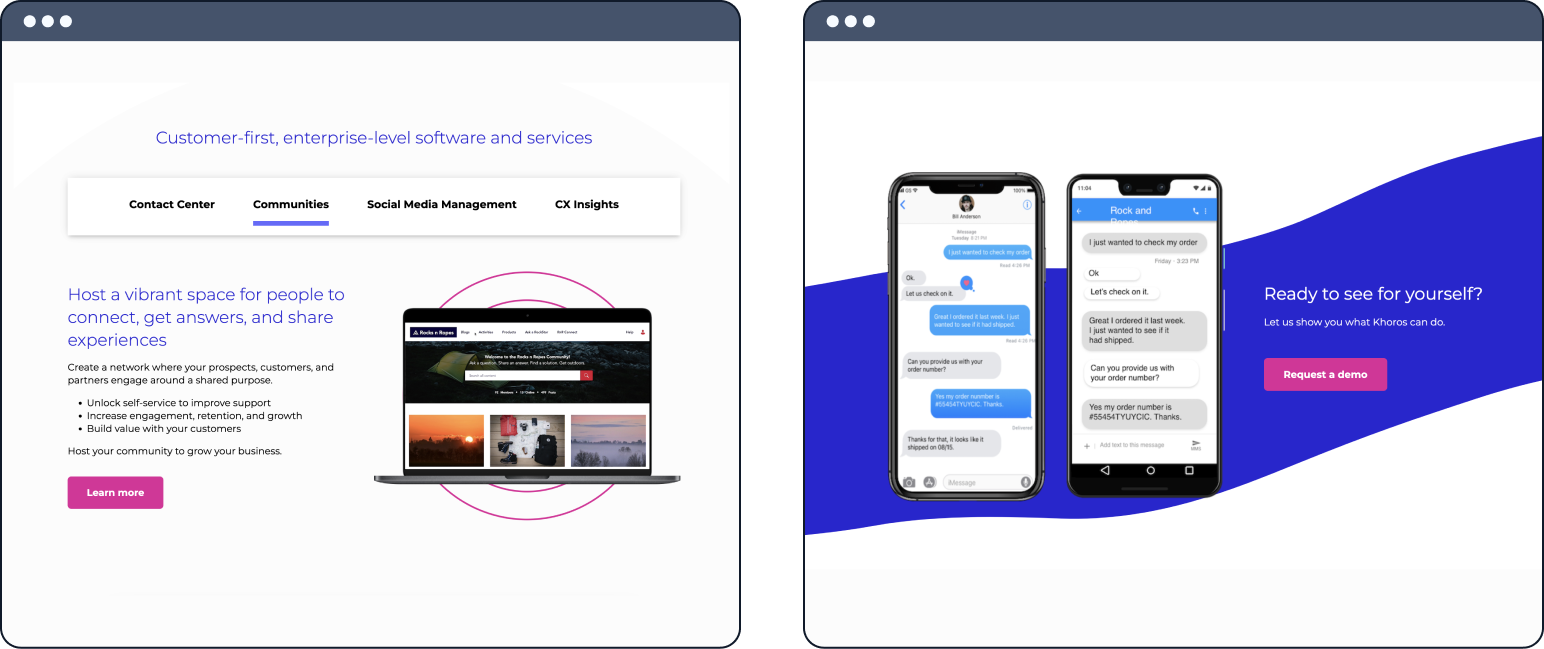 As the Khoros brand evolves, the team is able to make sitewide changes via Global Blocks. This means that updating boilerplate copy, customer logos, and other components across all their pages only has to be done once—instead of updating each landing page individually. "Being able to go into Instapage and create global components with all of our trust indicators and logos that we can then leverage on all our pages—the scalability of that makes it more convenient," said Stull.
As the Khoros brand developes and evolves, Instapage Customer Success provides support, makes recommendations, and enacts page optimizations for the Khoros team. With an on-call team on their side, Khoros can focus on their other business priorities without spending valuable time and effort developing landing page strategy.
Instapage enables Khoros to deploy fast-loading, mobile-optimized landing pages that customers can quickly read and comprehend—while significantly reducing the manual effort from their internal teams.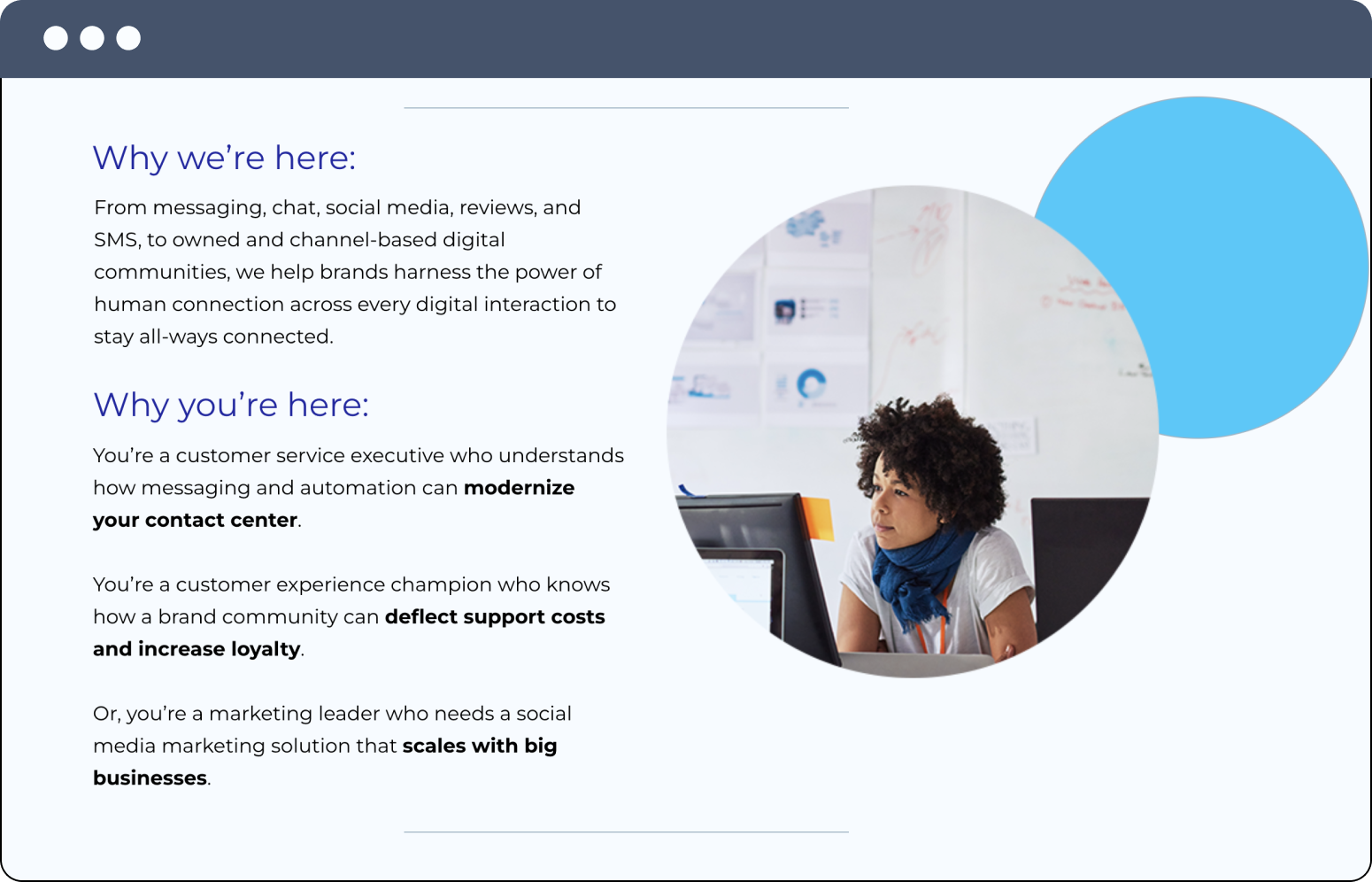 RESULTS
The Khoros team saw the impact of working with Instapage within a month of implementation. Overall, Khoros achieved a 150% increase in landing page conversions as a result of switching from internal CMS page creation to the Instapage platform. Working with Instapage enabled Khoros to unlock their brand's potential and demonstrate their industry expertise as they built their brand presence.
Overall, we had a 150% increase in landing page conversions, switching from our organic CMS over to Instapage. It enabled us to leverage our strengths there.
NEXT STEPS
Based on their success with Instapage to date, the Khoros team plans to revamp the rest of their landing pages. They're also planning to improve their audience targeting and account-based marketing efforts to give their landing pages more opportunities to shine. Moving forward, they expect to see consistent conversion success—thanks to their partnership with Instapage.