ABOUT EARGO
Eargo is a direct-to-consumer medical device company dedicated to improving the quality of life of people with hearing loss. Their innovative product and go-to-market approach address the major challenges of traditional hearing aid adoption, including social stigma, accessibility, and cost. They believe that Eargo hearing aids are the first and only virtually invisible, rechargeable, completely-in-canal, FDA regulated, Class I device for treating hearing loss. Their differentiated, consumer-first solution empowers consumers to take control of their hearing. Consumers can purchase online or over the phone and get personalized and convenient consultation and support from licensed hearing professionals via phone, text, email, or video chat.
The Eargo solution is available at approximately half the cost of competing hearing aids purchased through traditional channels in the United States.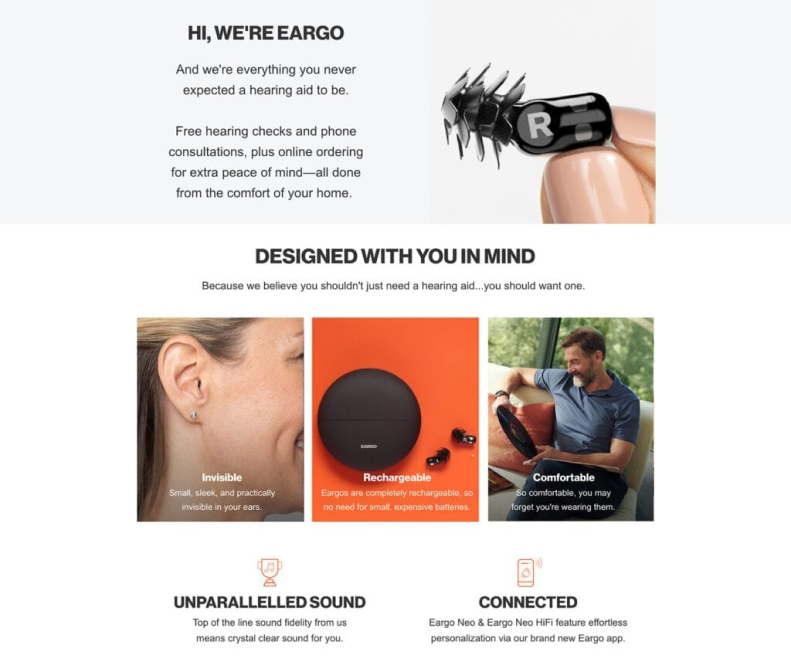 GOALS
According to James Noyes, Director of Growth Marketing at Eargo, the digital marketing team is laser-focused on driving revenue growth through acquiring new customers profitably at a target acquisition cost. They wanted to launch robust lead generation campaigns to better segment, qualify, and prioritize prospects. As part of their acquisition efforts, they aimed to create a shorter sales cycle and hyper-personalize their post-click experiences.
THE SITUATION AND BUSINESS CHALLENGES
Eargo's team traditionally used WordPress to design and deploy landing pages. It took their team weeks to create pages with the content management system, so quickly launching campaigns was not realistic. Moreover, it was incredibly time-consuming to collaborate, design, or make any new changes. A/B testing the pages on WordPress proved to be very difficult, too. The team wanted a solution that allowed them to automate the landing page creation and A/B testing process.
Additionally, Eargo needed a more targeted way to collect user data via lead capture forms while maintaining HIPAA compliance. They aimed to shorten the sales cycle by segmenting audiences based on form submissions and directing prospects to personalized post-click landing pages.
INSTAPAGE PROVIDED MORE AGILITY WITH LANDING PAGES AND A/B TESTING
Before partnering with Instapage, Eargo couldn't create and A/B test landing pages at scale. Relying on their internal development team to deploy pages manually became too overwhelming.
The Instapage Professional Services team helped Eargo accelerate and scale its testing with a streamlined workflow. Now, Noyes' team sees testing results faster than before on page designs, form locations, and graphics. "Instapage allows us to be really nimble with testing various designs. The team's expertise has also enabled us to experiment with new concepts and technologies."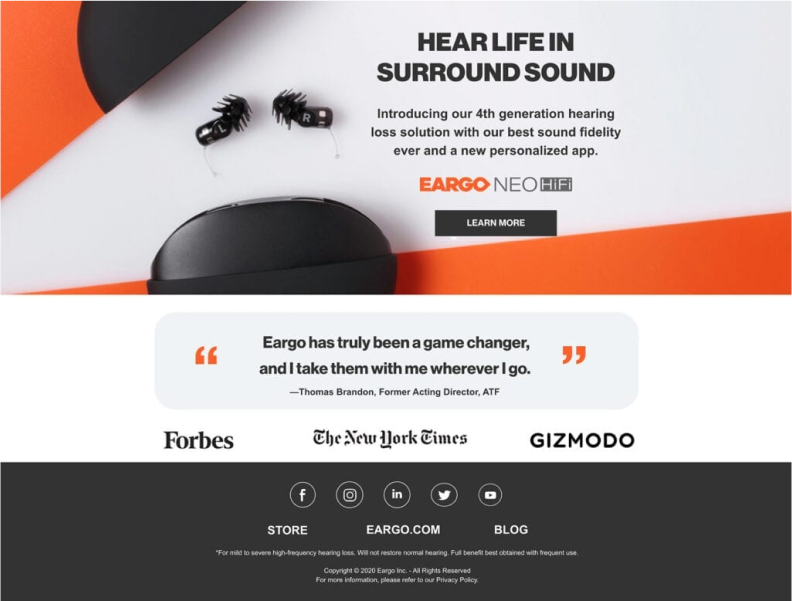 SEGMENTING USERS WITH HYPER-PERSONALIZED LANDING PAGES
Instapage technology allowed Eargo to collect more valuable information via lead generation forms and capture user agents on form submissions. These details included the user's device, operating system, and how motivated they were to convert—the information helped Noyes serve relevant landing page experiences for each unique audience segment and convert more leads.
"We've looked at a lot of form providers, and no one else offers the depth of information that can be captured with Instapage forms. In addition to the actual form values, Instapage has robust support for hidden fields that allow the capturing of important metadata with each submission, such as device information, campaign data, and landing page variations from A/B tests."
The Instapage team also provided additional form customization for even more advanced lead data capturing. "The Instapage Professional Services team helped us set up customized hidden fields that are not supported out of the box, allowing us to capture information that no other vendor on the market provides. This metadata allows us to better segment our users in the post-click stage."
Furthermore, Eargo needed an additional post-form submission step to hyper-personalize each user's experience. To facilitate this granular level of audience targeting, the Instapage Professional Services team implemented advanced conditional logic forms that connect to multiple landing page destinations. Based on the customer information collected upon form submission, Eargo segments and redirects visitors to a relevant and personalized landing page experience that persuades them to convert directly from the page, effectively making the sales cycle much shorter.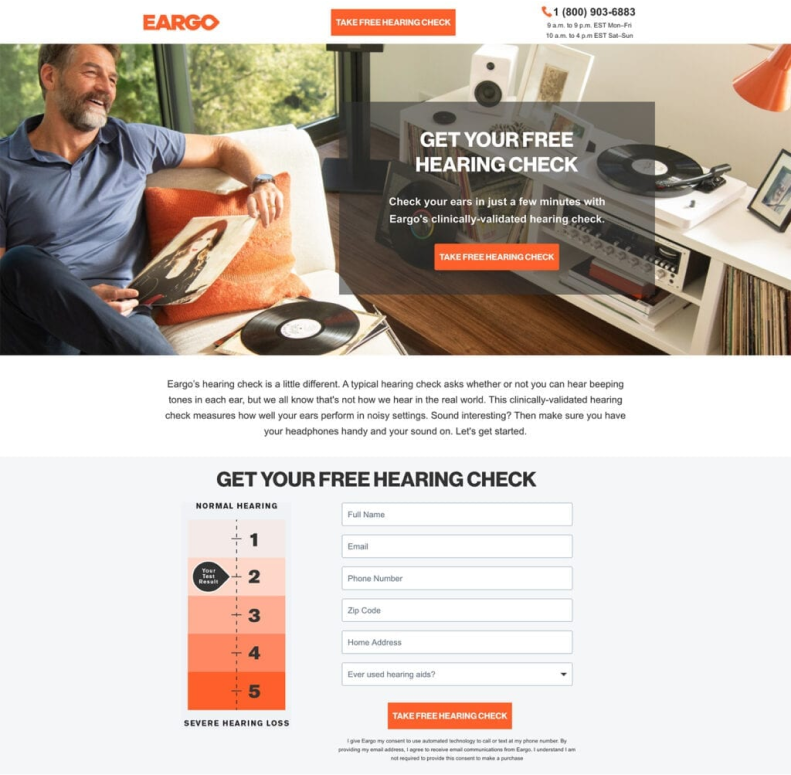 INSTAPAGE ENABLED EFFECTIVE LEAD PRIORITIZATION TO DRIVE MORE SALES
Due to the high-touch buying process for hearing aids, Eargo has a support team of personal hearing guides dedicated to lead outreach for product consultation and sales. By leveraging Instapage landing pages, Eargo created a lead qualification model using visitor data such as demographics, hearing journey stage, and purchase intent level. With an improved lead prioritization and segmentation process, they optimized the lead funnel and tailored conversations toward customer needs. As a result, Eargo achieved higher conversion rates.
SUCCESS METRICS AFTER PARTNERING WITH INSTAPAGE
Before Instapage, Eargo experienced lengthy development cycles that made launching and optimizing campaigns challenging. By working with the Instapage team, Eargo scaled hyper-personalized, custom lead generation initiatives with impressive results:
4x faster in deploying campaign landing pages
20% increase in 3-day customer acquisition rate
9% increase in overall lead-to-customer conversions
SUMMARY
Eargo's marketing team is more productive and agile after partnering with Instapage. Now, they can move at the speed of advertising due to the scalability, optimization, and personalization that Instapage provides. As a result, Eargo accelerated their lead acquisition process by quickly converting customers via advanced segmentation and personalization.
The Instapage Professional Services team has helped us with building new assets from scratch, allowing us the flexibility to either incorporate them to our site or remain as dedicated campaign landing pages. This allows us to have a lot more agility than if we were relying solely on an internal development team.