Location:
Berlin, Germany
ChartMogul is an analytics platform that helps subscription businesses grow faster by analyzing their revenue data. Companies can track their most important subscription KPIs — including MRR, ARPA, ASP, churn, and LTV — and manage their revenue reporting in an easy-to-use dashboard.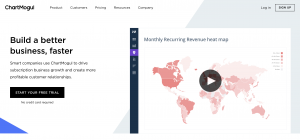 Business situation
Event post-click landing pages are a special breed. Details are often finalized at the last minute or change entirely as planning progresses, and any edits made after a page is published must be made fast to avoid confusing attendees. This was the case for ChartMogul, who needed to create post-click landing pages for a series of events it was hosting in San Francisco, New York City, London, and Berlin. To complicate matters more, ChartMogul's marketing, creative, and developer teams are situated around the world, making last-minute changes even tougher to implement. ChartMogul quickly determined that to successfully pull off its Mogul I/O event series, they'd need a post-click platform to speed up the design process.
Instapage relieves event-planning stress
It was imperative that the ChartMogul marketing team had the autonomy to create and continually edit their post-click landing pages to keep up with the fast-paced world of event marketing. With Instapage, ChartMogul could update and mobile optimize its post-click landing pages in a matter of 10–20 minutes, which allowed the team to focus more of their efforts on higher priority items. ChartMogul also utilized the Instapage integration to Eventbrite to seamlessly manage their signups.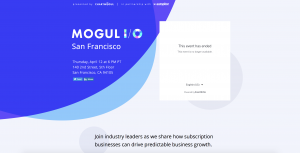 Collaboration solution connects marketing and design
ChartMogul relied on the Instapage Collaboration Solution to streamline its workflow and ensure that both the marketing and creative teams were satisfied with the post-click landing page designs. Both teams provided specific design feedback and real-time edits within the Instapage builder, which sped up production times and kept the teams organized. They no longer had to edit and approve designs using multiple, unconnected channels.
Results
ChartMogul has the confidence it needs to invest more in its event programming after seeing the success of its first-ever event series:
Cut production time in half
Estimated $200+ saved per post-click landing page
Generated a 30.3% conversion rate
Summation
The ChartMogul marketing team needed a post-click solution that would allow them to take full creative control of their Mogul I/O event series. With Instapage, ChartMogul could quickly build and edit attractive pages as well as make easily make real-time updates.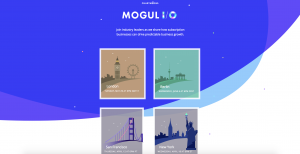 For a fast-moving company, it's important to have the right technology that allows you to move forward with ideas quickly. Instapage has made it possible for us to execute on our campaigns and eliminate bottlenecks.