ABOUT AUDIEN HEARING
Audien is a direct-to-consumer healthcare technology business that aims to make affordable and effective hearing aids available to anyone who needs them. Unlike the traditional (and expensive) process of working with audiologists and hearing centers to find high-quality hearing aids, Audien offers their customers the aids they need, delivered straight to their doors.
Rolling out new [landing page versions] and tuning everything on a more granular basis— mapping out things like traffic source A goes to content B—will add value.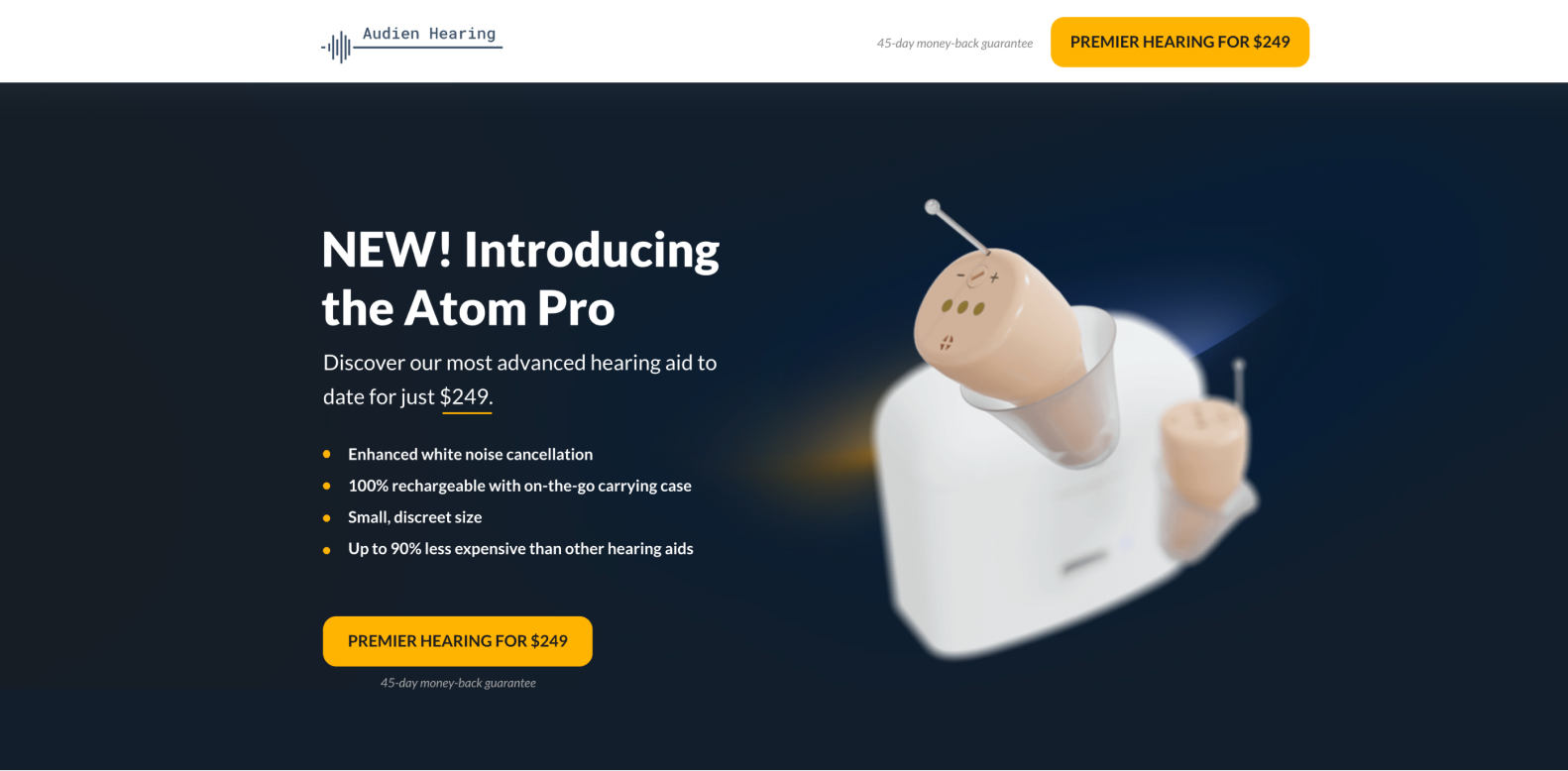 A LACK OF RESOURCES
Audien prides itself on being a scrappy team. As a newer company to this space, they understood the need to increase brand awareness and establish credibility. Because they couldn't rely on doctors to recommend their products, advertising directly to patients became a core part of their marketing strategies.
Their ability to function with a small team has given Audien flexibility and an agile approach, but it presented obstacles in their ability to optimize, experiment, and scale landing page creation. They sought to improve the quality of their landing pages to build credibility but didn't have access to a team of designers to lead this task. Due to this limitation, they unilaterally drove ad campaign traffic to their homepage. Audien saw Instapage as an opportunity to scale their personalization abilities and inject a much-needed level of CRO expertise in their post-click strategies.
Now that we have the different [landing pages] we can really get intense with our strategies, and be thinking about: 'what audience should we be using here?' Let's tie the messaging of the creative asset, the copy, the headline—all of that tying into the landing page.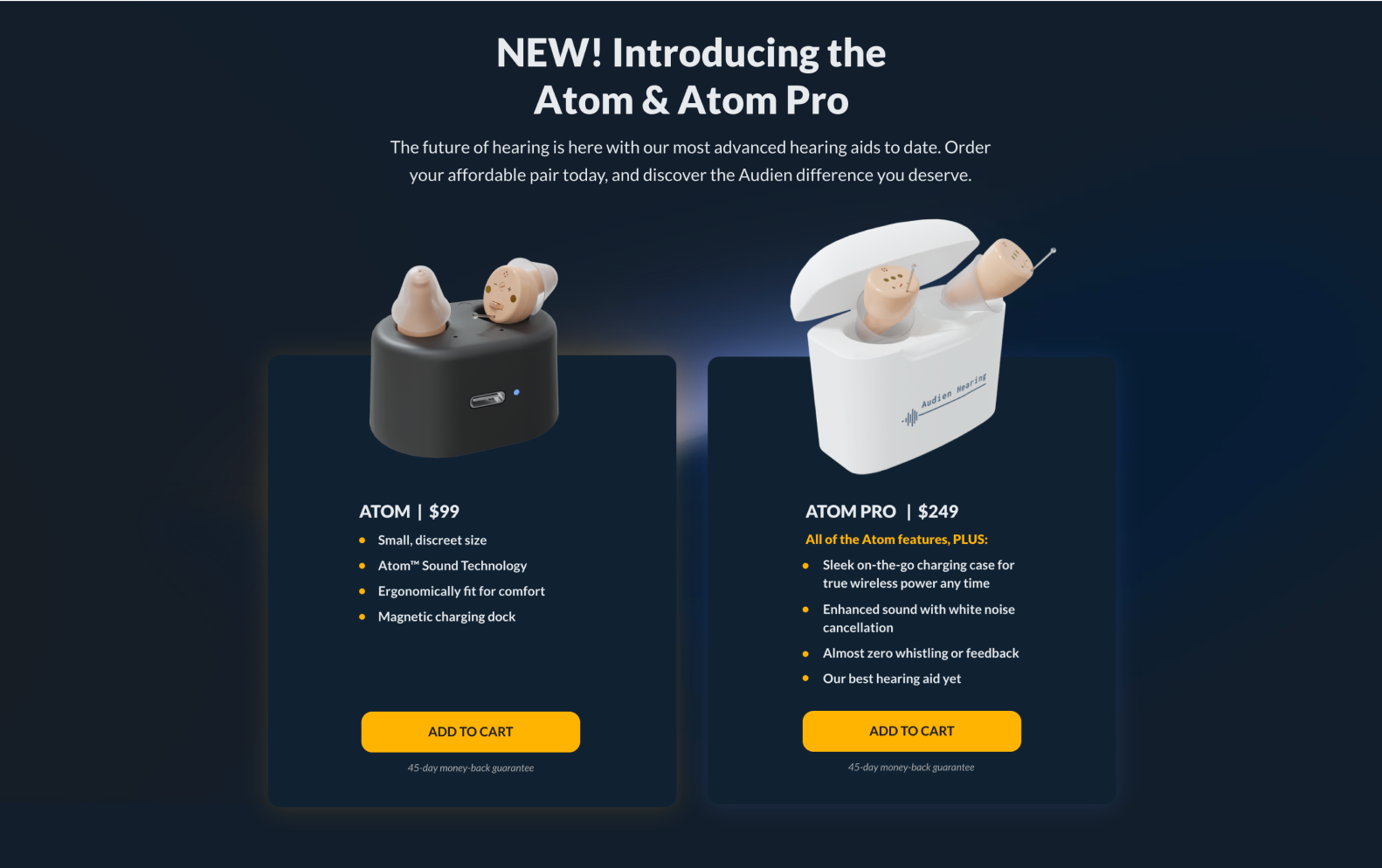 TAKING A MORE GRANULAR APPROACH
Chief Marketing Officer of Audien, Zack Hubbard, knew the company needed to seek external tools to overcome their lack of staffing. After receiving a referral from a colleague, Zack looked into Instapage and decided to vet the potential impact the platform could make on their campaign results. He was immediately interested in Instapage's promise to deliver increased conversion improvement.
The conversion experts at Instapage conducted a complimentary analysis of Audien's current campaigns to assess opportunities for improvement. The results identified an opportunity for a 10% lift in their conversion rate. Audien saw the value in Instapage's plan to create targeted landing pages for their paid traffic audiences. They were excited about Instapage's ability to help them craft more personalized conversion journeys.
Instapage's first initiative was to deploy a revamped landing page to run as a part of the company's current campaigns. The new page was a general-purpose landing page with the goal of improving on conversion-focused value propositions for their product. Audien saw an immediate jump in conversion. In only 14 days, this revamped page would outperform their homepage with a 14.94% lift in conversion.
After initial wins in experimentation, Audien trusted Instapage with expanded efforts in personalization and segmentation. Working with Audien to understand their consumer base, the Instapage team crafted unique landing pages focused on the needs of Audien's different audience segments. The first personalization variation centered on their products' affordability value proposition. Tested against their original homepage, the more personalized page produced a 15.04% difference in conversion rate.
The next personalized variation would aim at their products' emotional value to customers. With copy highlighting the ability to never miss a life moment with perfect hearing, the new variation outperformed the original landing page with a 175% difference in conversion success.
RESULTS
With each new experience, Instapage took Audien's experimentation to the next level. Instapage enabled the company to run split testing among all their new variations to dynamically target the highest-performing pages for each customer. 
In only 56 days, Instapage exceeded Audien's expectations of a 10% lift, instead achieving a 19.47% lift in CRV.
NEXT STEPS
After the proven results in their initial testing, Audien plans to invest deeper into their personalization goals. They see opportunities to take their learnings and insights from the personalized testing to revamp their existing landing pages. Deploying these new pages at scale will allow them to be more responsive to user behavior in the future. Audien continues to test Instapage's capabilities as they move forward with new product rollouts.