No matter what kind of business you're running, be it a marketing agency, SaaS business, marketing software, or a real estate empire — you're obsessed with one thing: maximizing growth.
This means you spend a good amount of your time tracking, measuring, and analyzing metrics. You worry about reducing churn rate, increasing MRR (monthly recurring revenue), lowering CPA (cost per acquisition) and increasing LTV (lifetime value) among countless other KPIs (key performance indicators).
What we sometimes underappreciate, even ignore, in this alphabet soup of measurements, is the most important of all business metrics — customer satisfaction.
Customer appreciation is 'the metric' you should focus on when measuring your business growth because once you do right by it, every other metric falls neatly into place and the growth graph points upward.
Recently we received some serious praise from our customers based on reviews on G2 Crowd, being listed number 11 out of the top 50 in this report:

Not only that, customers ranked us as Leaders in G2 Crowd's Conversion Optimization Software Grid alongside Google Analytics, Optimizely, and Kissmetrics: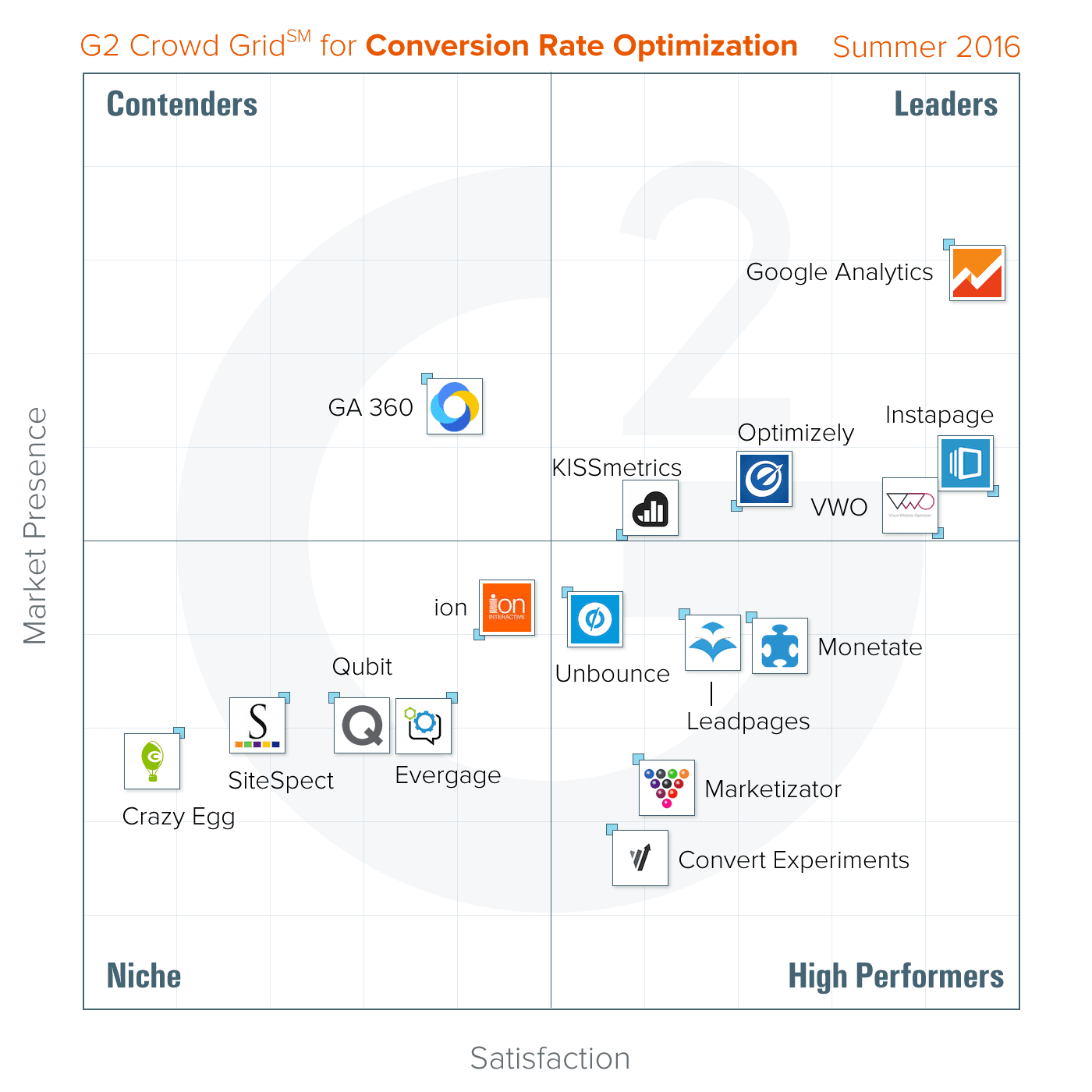 We couldn't help but notice Instapage earned one of the highest overall satisfaction scores. It should be mentioned that the G2 Crowd Grid was formulated using customer satisfaction data reported by authenticated users in addition to vendor market presence determined from social and public data.
And although official validation is always welcome, from the very beginning we have prioritized customer success.
At Instapage, we're all about the customer. Always have been.
Even before Instapage was officially launched, we made customer appreciation a priority. By placing emphasis on creating a positive experience and focusing on the customer, we've been able to…
1. Differentiate ourselves from numerous other SaaS companies.
These days there are often several products to choose from when you're looking for a particular business solution — be it automation, analytics, or even post-click landing page creation platforms. You can spend hours, days, maybe weeks, pouring over materials, blogs, and reviews and still not have made a confident choice.
That's why, early on, Instapage made the creation of a fast-to-respond, knowledgeable customer support team a priority. By doing this, we were able to quickly set ourselves apart from the competition. It took little time for the word to get out that, along with a powerful, end-to-end post-click landing page solutions, we offered our customers world-class customer support — something no one else was offering.
The excellent support our team has consistently provided has done a lot to keep customer satisfaction high.
2. Listen and foster innovation
Customer satisfaction is contingent on several points, perhaps none more important than making the customer feeling heard. But, listening can be a difficult, or time-consuming, especially for organizations rushing to maximize growth.
It's not unusual for companies to merely react to a customer's issue or comment rather than fix the problem. Not surprisingly, these companies generally do not rate favorably. Think of the much-maligned cable television providers who have, despite their best efforts, never been able to shake the reputation of being the worst when it comes to delivering even the sparest amounts of customer satisfaction.
At Instapage we adopted a listen-then-fix attitude, and the results have been amazing. Simply by listening we've developed the features our customers want and need.
Not long ago, a request for a Zapier integration came in and within a couple weeks it was available. Other recent innovations we've been able to deliver based on customer feedback include our new Inline Style Editor, a CSS editor module that allows for pixel-perfect post-click landing pages. And, most recently, a feature suite that the design community is raving about. These new alignment and grouping features enable you to select and move multiple page elements and resize them — while keeping their aspect ratio.
It's the right thing to do
When anyone signs up for an Instapage account, they enter into a partnership with us. If there's an issue, something breaks, or the people our product is meant to be helping isn't, we do everything you can to make it right.
As soon as we receive a new customer, they become our top priority. From user onboarding, responding to customer queries, and releasing new product features to meet their needs; the entire Instapage team is always ready to assist customers.
So, yes, we take customer appreciation seriously.
Being nice makes you cool; so do sunglasses
This is why we frequently receive customer love on our social media channels, like these from Facebook and Twitter in regards to our new grouping and alignment announcement:



How do we manage to keep our customers satisfied? We don't restrict customer satisfaction to the customer success department. Instead, every department works in unison to make the customer happy.
The Customer Success Team
Our customer success department has grown considerably over the years. By continually adding highly skilled members, one metric we've noticed improve dramatically is our average email ticket response time (first reply time is about 2.5 hours during weekdays). Plus, in October 2015 we began offering live chat support.
The customer success department also maintains an extensive knowledge base that guides users in the right direction, with a wide variety of support articles and videos.
Because every customer query is satisfied with the team's help, our extensive knowledge base, and support videos; the customer success team receives a ton of positive customer feedback every day. Like this one received through Twitter in response to our Inline Style Editor:

We also share feedback like this in an internal Slack channel (appropriately titled #Winning). Here's an example of one such message, this time an email response to one of our lead support agents:

We make it a point to respond to our customer questions no matter where they leave them and ensure that the customer is given the right direction and is satisfied with our service. The example below is from our blog comment section: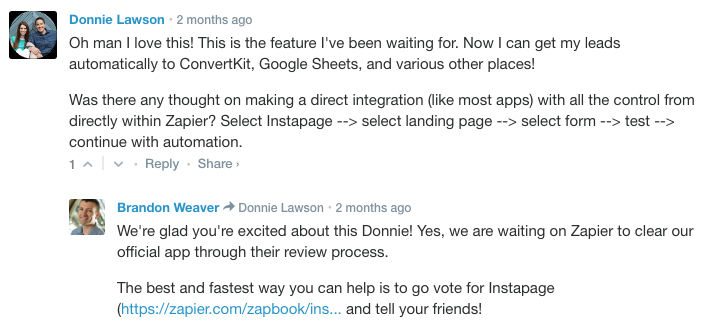 (And if you have a question about post-click landing pages and/or digital marketing, please feel free to contact our support team.)
The Engineering and Product Teams
Our engineering and product teams work tirelessly to continually release new product features that help our customers create highly customized post-click landing pages and lower the cost of their customer acquisition.
This next example is an email demonstrating a brand new user creating, optimizing, and publishing a page:

All feature updates are released based on customer need, feedback, and data. Our recent grouping and alignment functionality has made our customers ecstatic with all of the post-click landing page customization possibilities:

Furthermore, our design team creates new optimized templates to ensure that users can create high-converting post-click landing pages. We currently have over 100 mobile-responsive post-click landing page templates, with filters for Lead Generation, Click-Through, Webinar, Mobile App, and Thank You: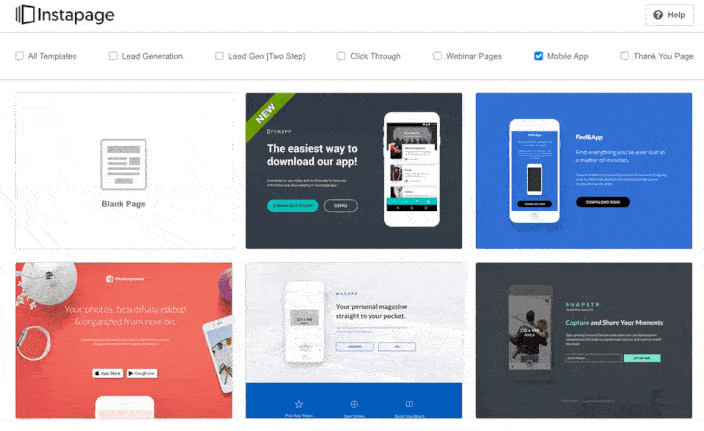 The Marketing Team's Role in Customer Appreciation
The marketing team makes it a point to educate customers on everything digital marketing. On average, we publish four blog posts each week in a variety of categories including Conversion Optimization, Marketing Agency Tips, Google Ads, and post-click landing page Examples.
The marketing and customer success teams regularly coordinate to write blog articles that answer questions while providing in-depth research regarding the topic at hand. In addition to keeping a finger on the pulse of the marketing world, we make it our mission to deliver the most updated information to our customers, like these articles on Google Accelerated Mobile Pages (AMP) and AMP ads.
Our video production team regularly releases marketing education videos that help our customers launch their marketing campaigns. To that point, the Instapage YouTube channel houses 47 videos that discuss a multitude of marketing concepts.
Furthermore, in June 2016, our team launched the Ultimate Marketing Dictionary, which contains a comprehensive list of terms and definitions that every digital marketer should know:

We've also published a number of educational courses on post-click landing pages and digital marketing concepts to keep customers in the loop. You can access all courses in our Marketing Resources section of our website footer: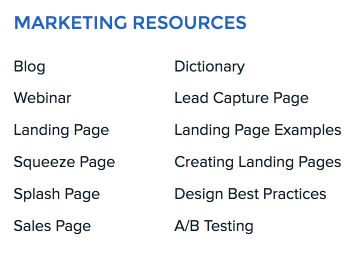 Along with the content, we host a webinar every other week that teaches customers the essentials of personalizing digital advertising campaigns as well as a weekly product demo how to "Master Instapage in 30 Minutes."
How Do You Keep Your Customer Appreciation High?
The need to help our customers achieve digital marketing success is the force that powers our team every day. Because we take care of the 'customer metric' our churn rate has decreased and our Customer Lifetime Value has increased. We've accomplished a lot in a short amount of time, but we have many more exciting updates coming shortly!
So, tell us — do you take care of the 'customer metric'? What new feature would you like to see added to the Instapage platform that keeps customer appreciation high?
Sign up for an Instapage Enterprise demo today.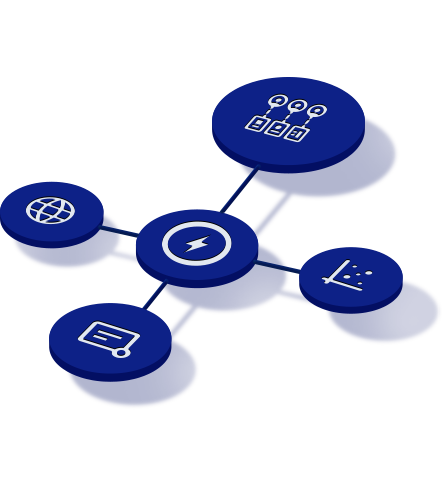 See the Instapage Enterprise Plan in Action.
Demo includes AdMap™, Personalization, AMP,
Global Blocks, heatmaps & more.