As marketers, you often think of a new campaign asking yourself, "What's next?" Especially in traditional marketing where you don't have digital analytics for key performance metrics.
This story isn't about traditional marketing, though. The example detailed below is how our team at Directive Consulting used conversion rate optimization to increase ebook downloads from key marketing decision makers by nearly 14% on LinkedIn.
There are three main ingredients to CRO — targeting, ad optimization, and the post-click landing page. These main components each played a part in getting an ebook promoted on LinkedIn from a 4.68% conversion rate up to a 17.86% conversion rate.
Ingredient #1: Targeting
Making sure that your offer is shown to the right people at the right time is essential. When you fail to do this well, your CTR and conversions will suffer.
Without any historical data, we launched our ebook campaign toward these relevant job titles: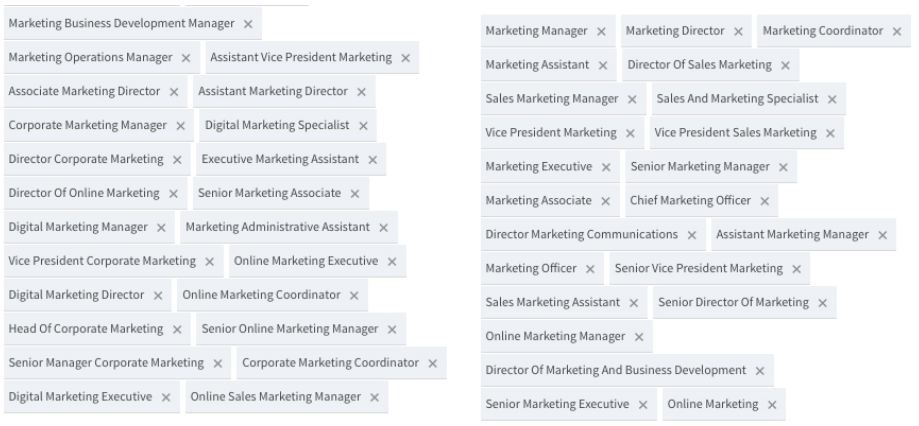 By no means was this a "set it and forget it" target audience. To optimize the targeting, we used the LinkedIn Insight Tag to measure performance at the job title level. This view allowed our team to understand the exact job titles that generated the most impressions, clicks, and conversions: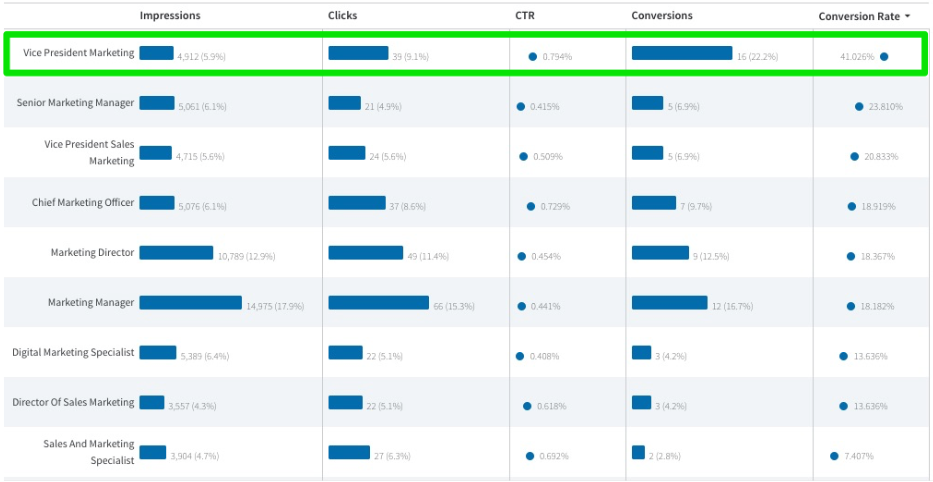 The test ran for one and a half months and received a total of 430 clicks. Out of all the various job titles, VP of Marketing was our best targeting option for a few reasons:
Most conversions (16)
Highest conversion rate (41%)
Lower CPA for VP, and VP-level tend to be the decision makers when purchasing marketing vendors
Knowing this, we kept the same targeting (company size, industry, etc.) and narrowed the job title down to marketing VPs. Supported by the performance data above, it was time to place a focus on ingredient number two.
Ingredient #2: Ad relevance
Even knowing that marketing VP was our highest-performing target audience, we had to push for even better results. The question then became, how?
Ad personalization.
Narrowing the audience to a single job title allowed us to personalize the ad copy and increase CTR. We did this by including the job title at the top of the image. In addition, we took advantage of the fact that VPs often have sizable teams and included "fear-based copy" in the headline.
Compare the two ads below. First, targeted towards a general audience, then highlighting marketing VPs: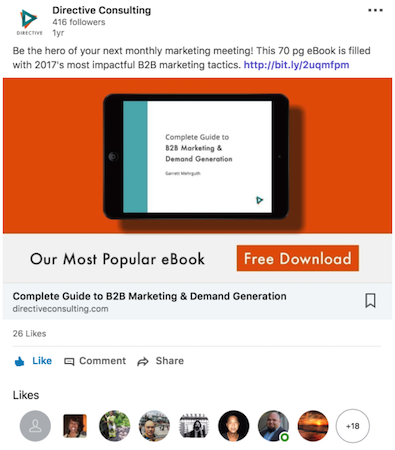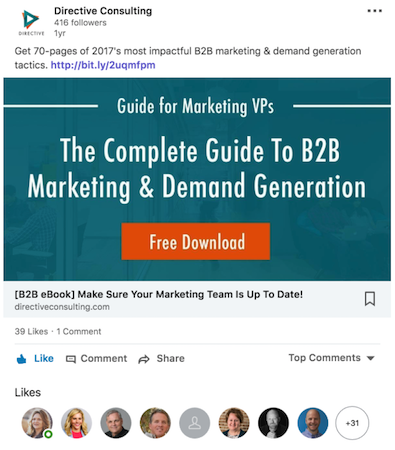 As you can see, ad personalization within the image text and headline were not the only areas changed over time.
Here are a few more areas of optimization:
With or without download button on the image
[B2B ebook] vs. [Free ebook] in the headline
Messaging in the intro description line
Image color, format, and text
BONUS TIP: Ask your coworkers to like your ad before you place budget behind it. This will give the ad social proof and increase engagement rates!

At this point, our targeting was nearly perfected and we even had unique ad copy to match. What else can we do to increase performance?
Bring in the final ingredient, post-click optimization.
Ingredient #3: A/B Testing with post-click landing pages
A lot of marketers are too confident in their product or service and assume that their targeted visitors will be interested and convert. In reality, there are many CRO theories you can test to increase your post-click landing page's performance.
The LinkedIn targeting is only one example of how we drove traffic to our ebook post-click landing page. We had everything from an in-market audience display campaign to a Facebook engagement campaign pointing to this offer. The ebook post-click landing page generated a lot of traffic, but the quality of visitors varied per channel. Even with this setup, the data was relative and we were able to increase overall performance by constantly A/B testing.
Below is a screenshot of the variant data for this ebook post-click landing page:

The first page only had a 4.68% conversion rate, then dipped down to as low as 3.21% on variant C. Since increasing the conversion rate was the goal, we stayed persistent with our testing and ended up at 17.86% on variant G.
(Note: Performance also increased due to both the targeting and ad changes going on in the background. However, each test was done side by side and drove traffic from the same targeting and ads.)
For simplicity sake, we will only compare variant A to variant G so that you can see how much the page evolved.
Variant A (4.68% conversion rate):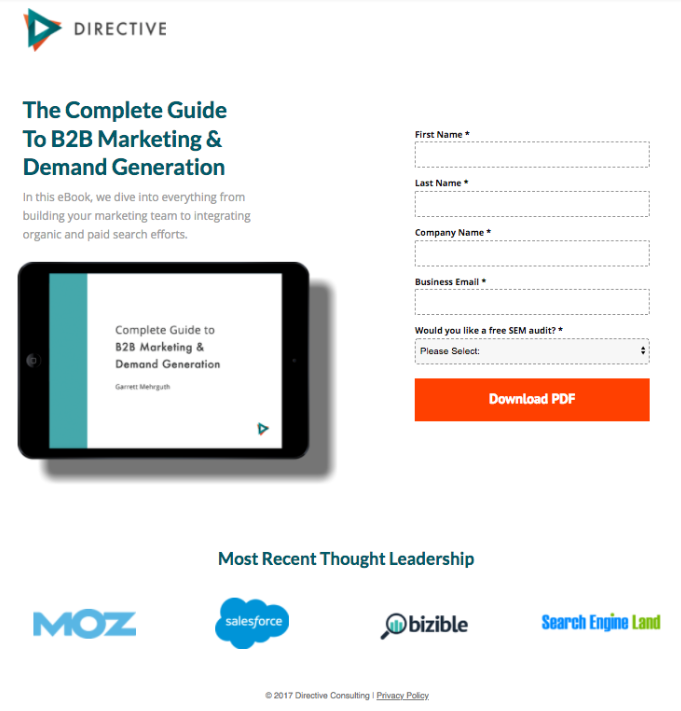 This page speaks directly to the first point about the assumption that most marketers have. For us, we assumed that our guide was great and anyone interested in B2B marketing and demand gen would want it. With that, we gave them a quick conversion experience and even included some reputable brand logos to demonstrate thought leadership that supports our knowledge.
Variant G (17.86%):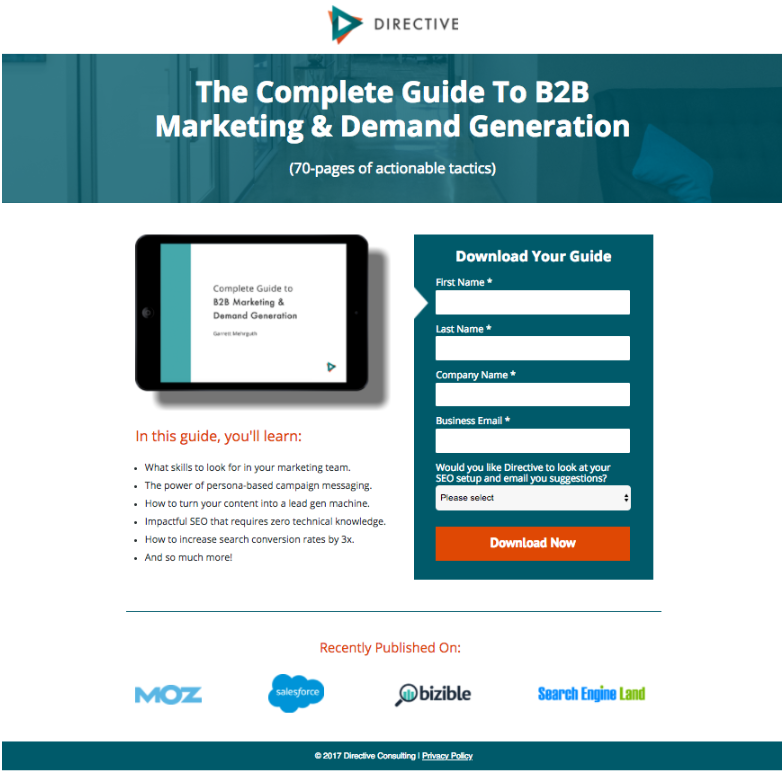 Outside of the thought leadership, logo, and title of the ebook, the page was revamped to provide a better experience. Each item you see above was tested within individual variants.
(Note: Although possible with multivariate testing, experimenting with too many changes at once makes it very hard to pinpoint exactly what shifted performance.)
Here is a list of the CRO tactics that won on a test by test basis and made it to variation G above:
Large, centered ebook title: This changed increased the focus on our ebook title and ensured that the viewer knew that they made it to the right page after clicking the ad.
Subheadline: We knew our ebook was longer than most (70 pages), so we tested how visitors would react.
Bullet points: These provide a quick overview of the gated asset so viewers can evaluate the offer in more detail. They were created in variant D, repositioned in variant F, and re-written in variant G.
Form design: We enclosed the form with a teal background and added an arrow visual cue that drove the visitor's eyes to the first form field.
Don't be satisfied with your conversion rate
Whether you advertise in search, social, ad buys, or all of the above, testing optimization theories and reacting to data is the only way to take your campaigns from good to great. For this one example, our focus on targeting, ad copy and post-click landing page A/B testing brought our conversion rate from a sad 4.68% to a strong 17.86%.
I hope the examples above have given you testing ideas for your campaigns to see where there is room for improvement. As any experienced digital marketer will tell you, don't settle for a low conversion rate, there is always room to improve. Sign up for an Instapage Enterprise demo today.
About the author
Brady Cramm is the Director of PPC at Directive Consulting, one of the fastest growing B2B PPC Agencies. By keeping a pulse on client competition and assisting his team in the art of no-brainer CTAs, Brady has been able to help grow over 100 B2B companies through SEM.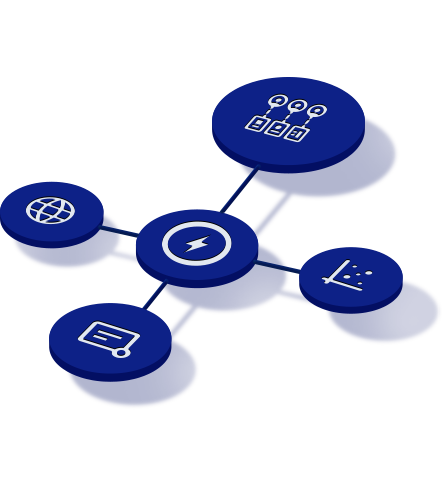 See the Instapage Enterprise Plan in Action.
Demo includes AdMap™, Personalization, AMP,
Global Blocks, heatmaps & more.