Imagine if computers didn't exist and all we had were typewriters. Or if mobile technology stopped at the flip phone and smartphones were never introduced. It's almost unimaginable, isn't it?
Products and services in all industries are constantly evolving for faster and better user experience, increased functionality, and ease of use. For post-click landing pages, and with all of that in mind, Instablocks™ was created for digital marketers and advertisers.
Before we get ahead of ourselves, let's see how post-click landing pages have evolved.
The evolution of post-click landing pages
Marketers sent all paid traffic to homepages
During the web's infancy, homepages were all marketers knew. Thankfully, today's homepages are much more user-friendly and easier on the eyes than those back in the 90s. Yet, they're still not the best option for marketers to generate conversions from paid ads. That's because it's impossible for a homepage to meet every visitors' expectations — decreasing the likelihood of conversion.
Many marketers then realized that directing all ad traffic to homepages wasn't ideal. Rather, a more "dedicated" page for each ad, email, social media post could result in more conversions.
The post-click landing page concept is introduced
post-click landing pages were introduced with the sole intent to provide a personalized experience and convert visitors on a specific offer.
Visitors could be on a homepage for any number of reasons. But when they end up on your post-click landing page from a promotional link, they're only there for one reason — to consider claiming your advertised offer. That's why your advertising post-click landing page should include only the information your visitor needs to determine whether your offer is worth claiming.
Unlike homepages, post-click landing pages are the most effective way to generate more leads.
Marketers rely on developers to build pages from scratch
Since their introduction, post-click landing pages have become indispensable to digital marketing campaigns. Even so, the traditional design process was too long and inefficient.
Designing beautiful pages was difficult and time-consuming to make any changes because everything required hand-coding from the ground up. With the extensive technical skills necessary, marketers relied on developers to build the pages for them. Then, if marketers A/B tested variations, any requested changes could take weeks for developers to complete — often causing tension between the two teams.
post-click landing page builders are created
Instapage and other software solutions were created, initially, to solve that workflow inefficiency. With a powerful drag-and-drop builder and WYSIWYG page editor, Instapage enabled marketers to begin creating their own post-click landing pages without requiring coding knowledge or developer help.
Even with this user-friendly software it wasn't a perfect solution. The personalized, robust post-click landing pages that sophisticated marketers need follow a proven framework. Each page must be created with a clear visual hierarchy to achieve the best results.
Templates are developed to speed up the creation process
To solve the issue of customized pages quickly, optimized templates were created for different purposes (lead gen, click-through, webinar, event, etc.) Templates served as a starting point for marketers but offered the flexibility to adjust the designs to meet specific circumstances and branding requirements.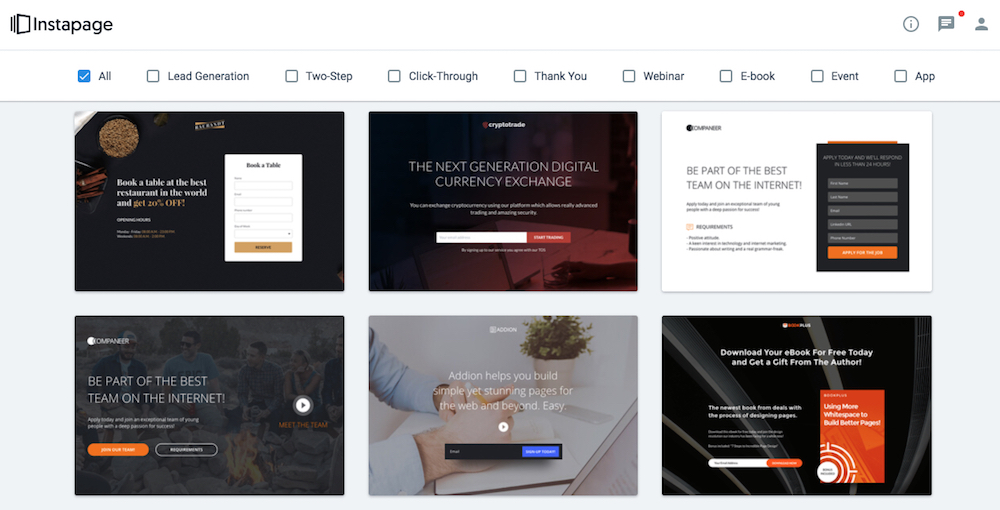 While templates helped reduce some workload and save some time, they still weren't enough. Advertisers and marketers still had to spend time selecting a template, deleting and adding elements, adjusting positioning, and changing formatting, colors, typeset, etc. And if they wanted to create similar post-click landing pages for various offers, a lot of duplicated work was done — recreating identical sections across multiple pages.
Templates helped, but the process needed to improve still, especially when every potential customer deserves a personalized post-click landing page. Without any improvement, it could prevent a company from scaling their post-click optimization processes.
Instapage introduces Instablocks™ & Global Blocks
The real game changer in speed and scalability came with the creation of Instablocks and Global Blocks.
Instablocks is the newest way to create post-click landing pages, designed to improve workflow, save time, and scale production. This feature is unique to Instapage because no other software is equipped with the power, convenience, and robust functionality. Before Instablocks, users could create, publish, and A/B test pages but any changes to duplications had to be done manually — and it wasn't fast.
With Instablocks, digital marketers and advertisers create page "blocks" (think building blocks) to eliminate duplicated creative work, and easily create a high volume of post-click landing pages: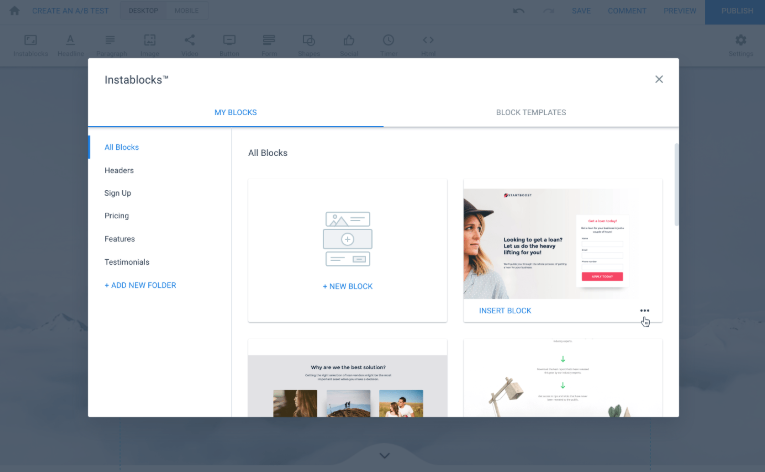 Instead of spending valuable time recreating the same content for multiple pages, users can focus on creating new content. Any existing content blocks, copy, testimonials, forms, etc. can now be saved, templatized, and reused on other pages: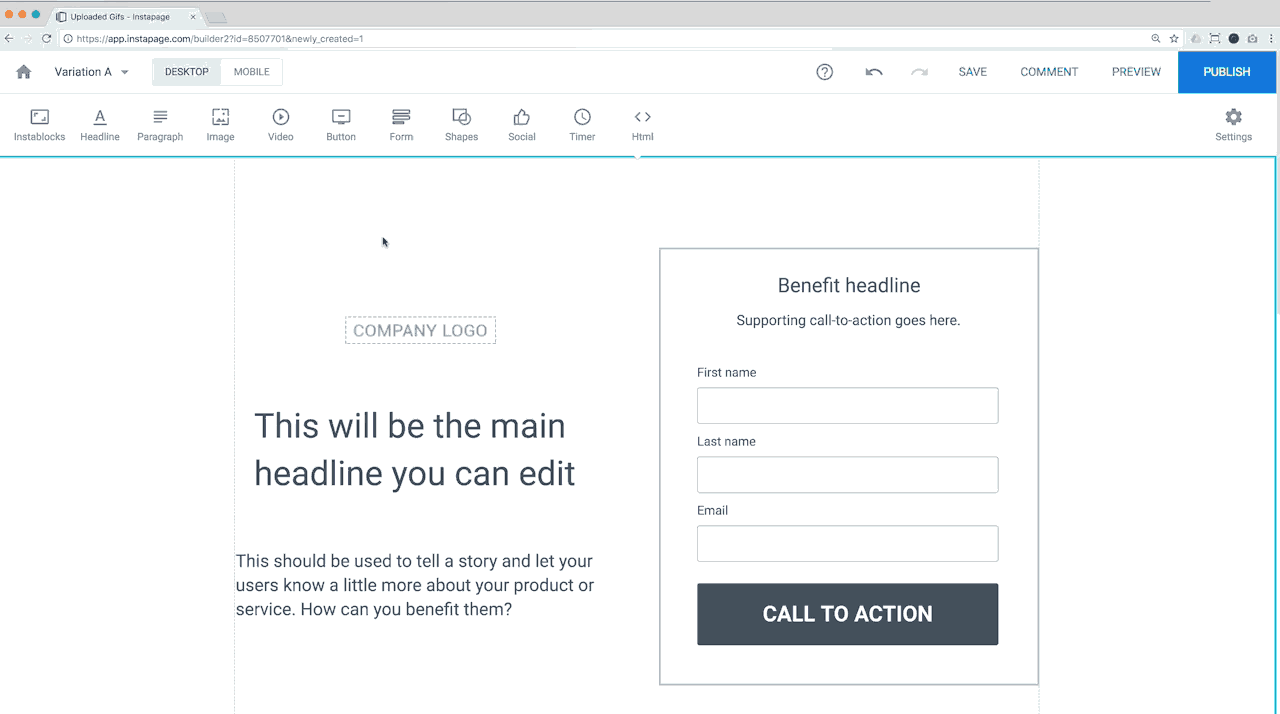 This is especially useful for designers who want to create pages with different templates, but similar content. Yet, when you have dozens or hundreds of pages to update with the same block, having to update them all individually is overwhelming.
Enter Global Blocks.
For the first time ever, users can create a custom block and insert it across all of their post-click landing pages in just one click. For more details, go here for 16 unique ways to use Global Blocks and watch this short video:
3 features inside Instablocks
Custom blocks: Save blocks you've created, and then share them with your team and reuse them across your post-click landing pages. (Note: Once blocks are saved to My Blocks they cannot be edited. They can be inserted into a page, modified, and saved as a new block in My Blocks.)
Block templates: Use unique templates to quickly build post-click landing pages with all types of blocks (header, pricing, testimonial, sign up, features, etc.)
Instablocks widget: Add, duplicate, save, or delete blocks to create post-click landing pages with building blocks, rather than all at once.
(Instapage is the only post-click landing page platform with this functionality built-in, same with the collaboration feature below.)
Combining Instablocks with the Instapage Collaboration Solution makes post-click landing page creation and publishing even faster: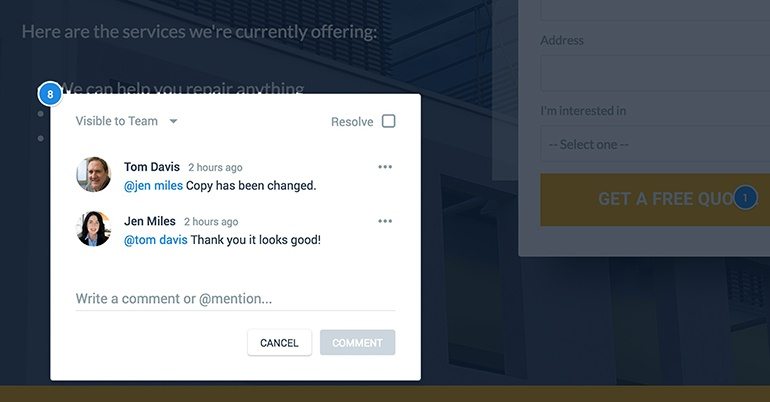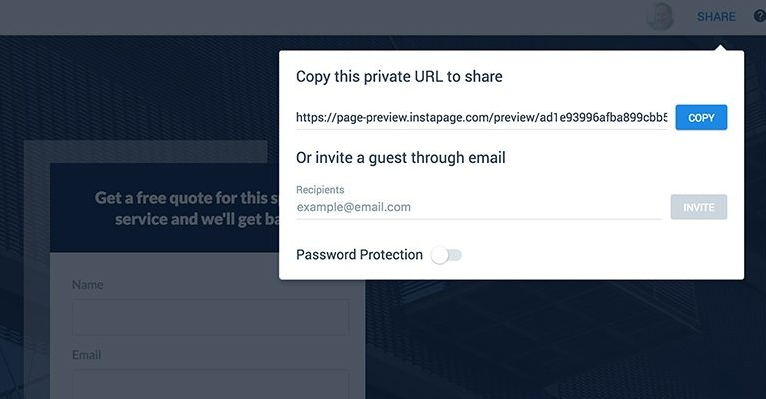 Entire teams can work on the same page in real-time, and together, these tools are far more powerful than they are apart.
Save time with Instablocks and Global Blocks
Instablocks empowers users to scale post-click landing page production more efficiently. Global Blocks takes time-consumption and workflow a step further when the same update is required on multiple post-click landing pages.
Manage multiple post-click landing pages faster and easier with Global Blocks and get a custom demo to see how just one click can make your workflow more efficient than you ever thought.