Whether it's encouraging visitors to make a purchase, subscribe to your newsletter, or download valuable resources, understanding the anatomy of a landing page is key to converting visitors into customers.
Today, we're going to break down what is a landing page and the components that make it successful. By understanding the fundamental elements and how they work together, you'll get to know what is a landing page and what to include on the page to get higher conversion rates and a strong return on ad spend.
In this post, we'll explore each element in detail, revealing their purpose and importance. By the end, you'll have the insights and tools necessary to design an effective landing page that drives conversions. You'll also learn the differences between homepages and landing pages.
Let's begin with what is a landing page.
What is a landing page?
At its simplest, a anding page is a standalone web page, disconnected from a website's navigation, created to convince a visitor to act (to sign up, buy, download, etc.).
As brands become more data-driven and focused on personalization, landing pages become more popular for their ability to deliver high ROAS.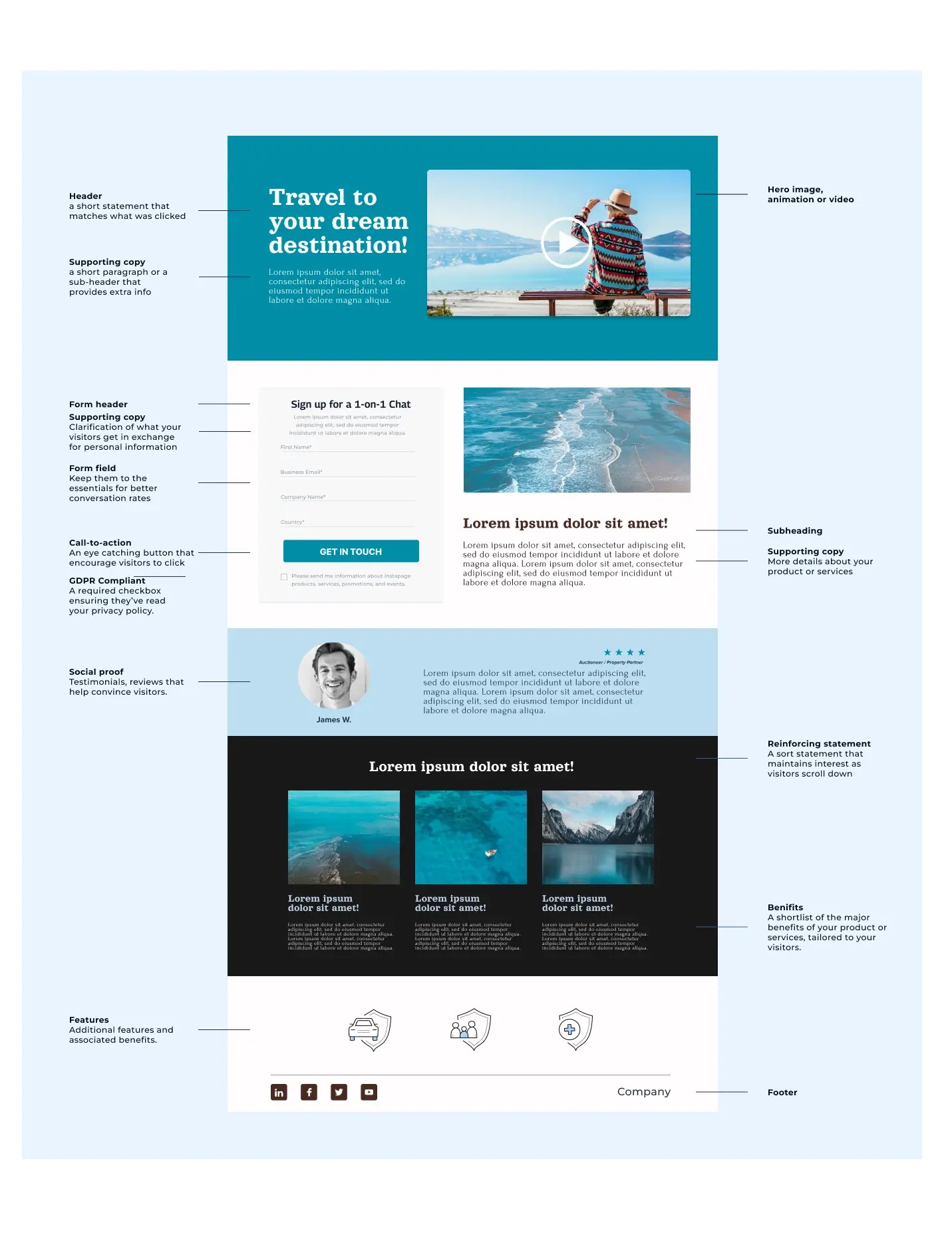 The following elements make up your landing page.
1. The Headline and Sub-headline
The headline is one of the most important part of your page. Without a compelling one, most people won't even bother to read the rest of your landing page.
The secret to writing a good headline is to make sure it conveys your unique value proposition (UVP)—the thing that sets your product or service apart from the others in your industry.
Can your launch sequences help customers generate leads faster than their current solution? Will you help them generate higher-quality leads? Does your product have more features than what's currently on the market? Communicate that in your headline or sub-headline.
Another thing you need to establish with your headline is message match. This refers to the process of matching the content of an ad to the content of a landing page so that the message is reinforced in the mind of the prospect, and that they know it's relevant.
For example, if you're running an ad for social media management software, make sure "social media management" is mentioned somewhere in the headline of your landing page. Otherwise, you risk leaving your visitors confused, wondering how they ended up on a page that has nothing to do with the ad they clicked.
Here's how to create a great benefit-oriented headline that matches well with its corresponding social media post, courtesy of Hootsuite:

2. Engaging Media
Humans are capable of processing visuals up to 60,000 times faster than text. Which means your visitors would much rather you show them how your product works than tell them in writing.
To make the right impact with media, use of a relevant "hero image" to give them a glimpse of how your product or service would change their lives for the better instead of adding irrelevant stock photos as placeholders, You can also add explainer videos explaining how your product works, with a focus on user benefits. You can also include real, satisfied customer reviews in your video or photo. That way, along with explaining your product or service, you'll also get the perks of the social proof effect. This is what Podium does on their landing page along with adding more CTAs.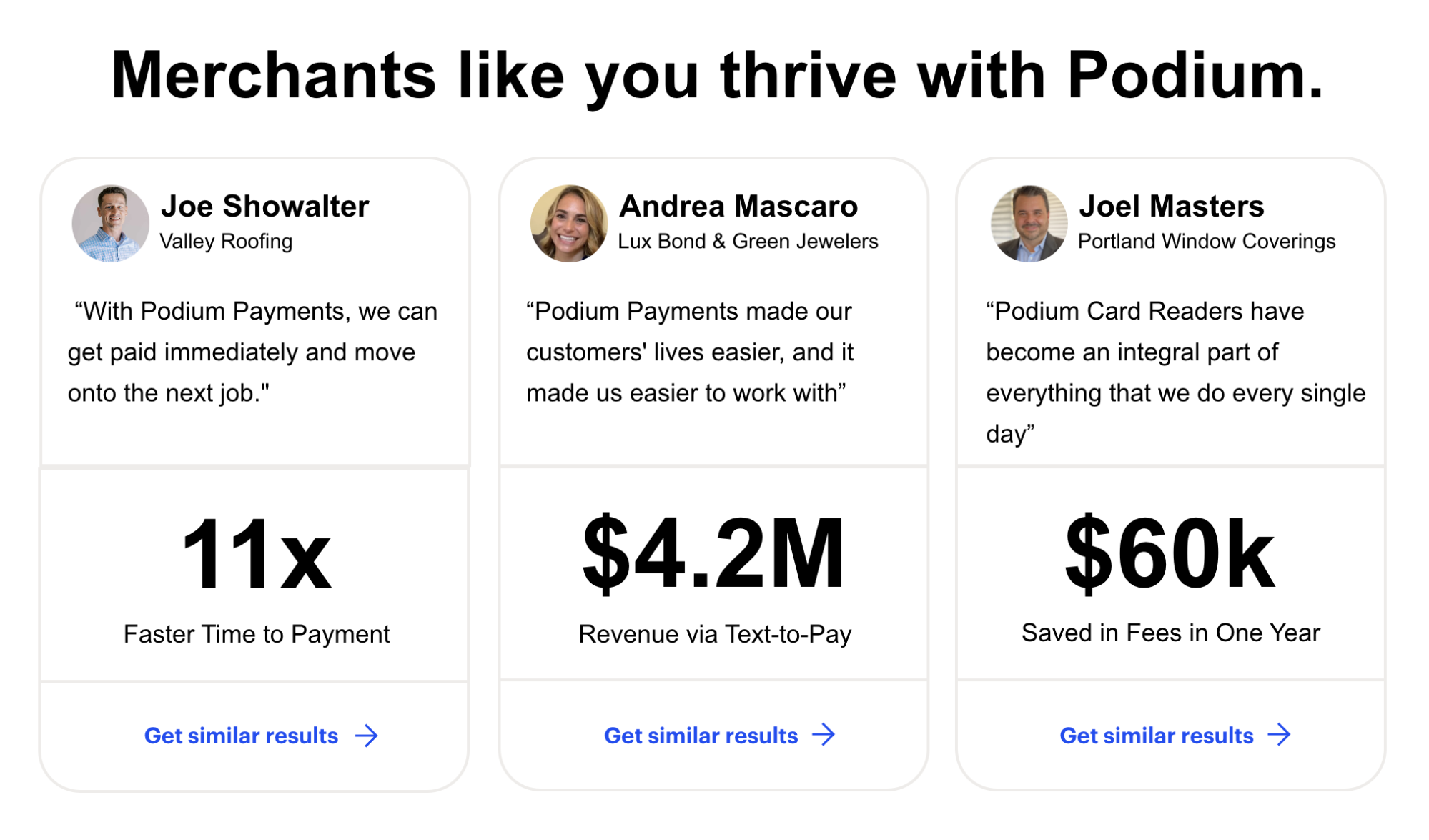 3. Concise, benefit-centered copy
On your landing page, you'll be tempted to tell your prospects about the high-powered, new, and improved feature that makes your product so great. And while highlighting product features is a good approach, it's important to highlight user benefits even more emphatically. By highlighting user benefits, you shift the focus from the product itself to what it can do for the customer.
This customer-centric approach resonates better with visitors and addresses their needs, desires, and pain points directly. Make sure that when you're making the case for why your prospects should convert, you do so by concisely conveying benefits over features.
Our attention spans have shrunk to less than 8 seconds, so when we read online, we skim. Employ the use of numbered lists and bullet points to separate your copy into easily digestible chunks. Don't make your prospect read more than two to three consecutive sentences of block text.
The Sweetkick landing page highlights user benefits in a concise and easily readable way.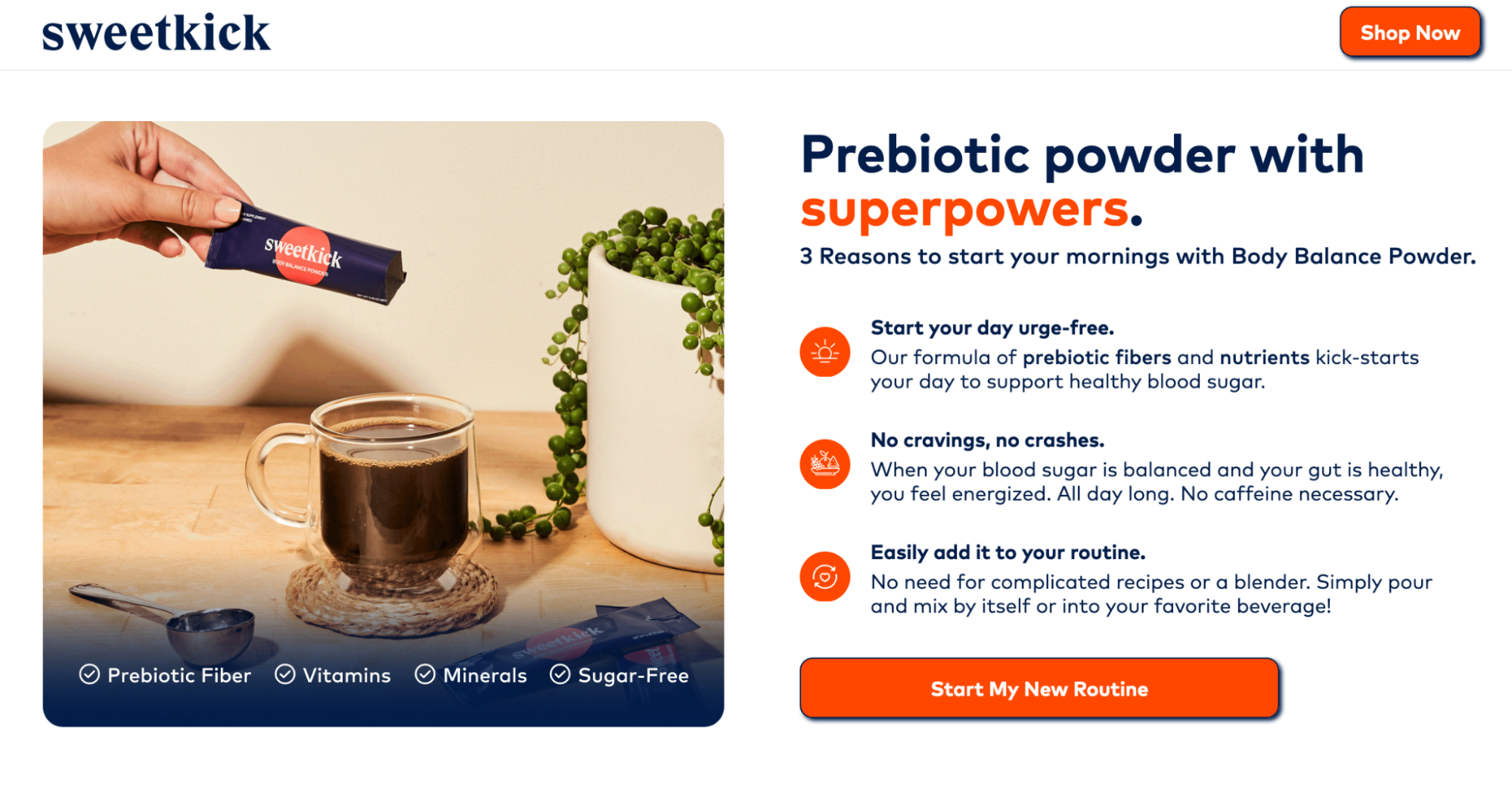 4. Social proof
If you're like most people, before you purchase a new product or subscribe to a service, you'll ask around your social circle for recommendations from people you trust. This holds true even online.
Research has shown that 92% of people value recommendations from a peer, and 70% of people will trust a recommendation from someone they don't even know.
So what does that mean for your landing page? It means you should leverage one of the most powerful ways to boost the odds that people click your CTA button: adding social proof.
Authority badges like awards from other websites, and logos of well-known companies you've worked with empower visitors to trust you.
Here's a great example from Lemonade of how to use authority badges to your advantage:

Lastly, and possibly the most powerful of all social proof, is the testimonial. When used right, there's nothing more powerful than a recommendation from a satisfied customer.
Get quotes from them — and don't settle for something generic like "They boosted our ROI." Get specific.
Get numbers. Get names, titles, and photos of the people who are speaking on behalf of your business. The more you can display about them, the more real they become to your visitors.
For example, what's more, convincing to you — this testimonial:

Or this one?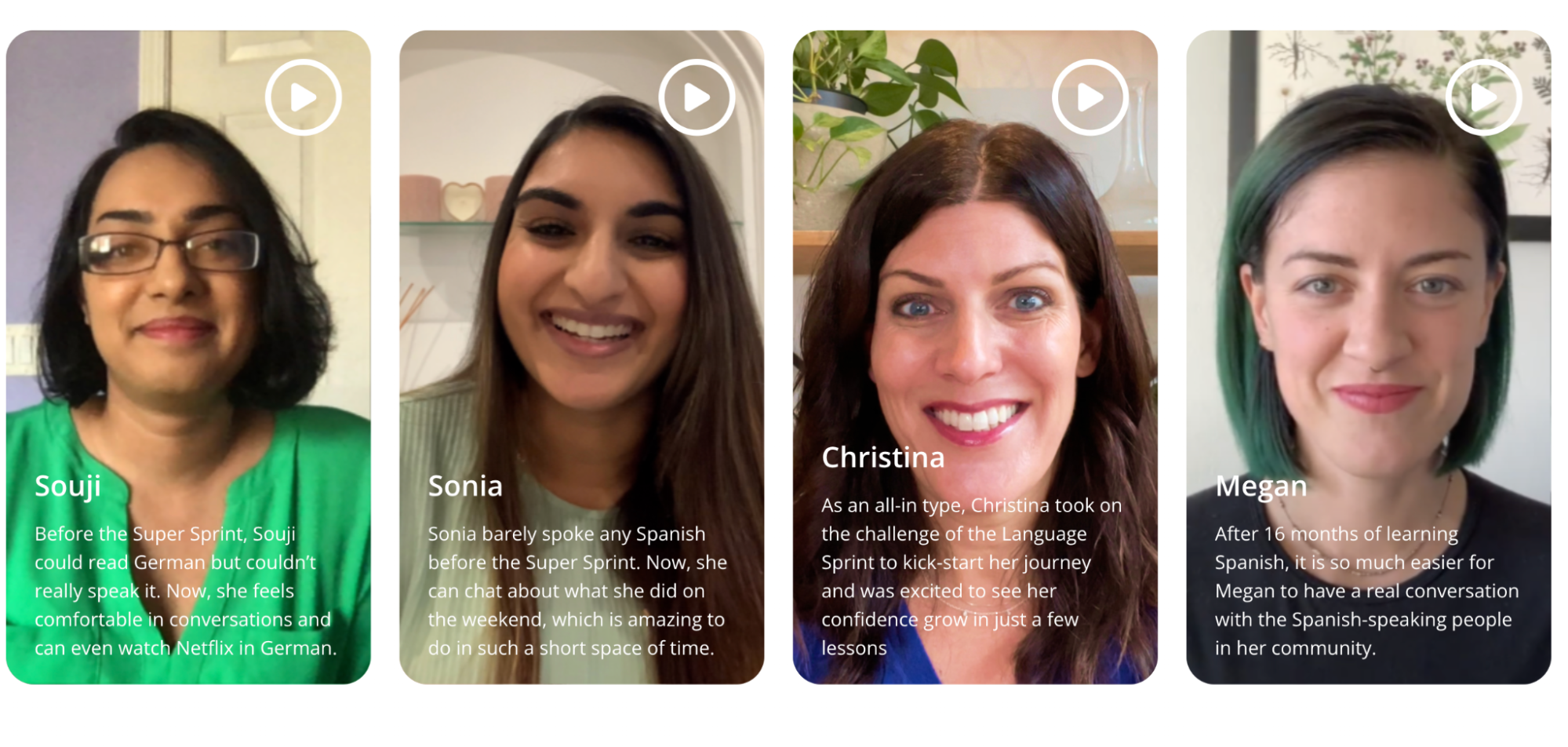 5. A strong call-to-action
This is the moment you've been waiting for. The searching for powerful synonyms to create compelling copy, all the headline testing, and customer interviews have been done for one reason: to get your visitors to click that call-to-action button.
This is the one element that jumps out at your visitors. When they reach your landing page, they should notice your CTA button immediately.
That doesn't mean you should use red or orange or bright yellow because those are the colors you think are attention-grabbing. It means you should use color theory to find a hue, tone, tint, or shade that stands out from the rest of your page.
As far as copy goes, don't settle for something boring and overused. Use your UVP to help you come up with something more compelling.
For example, if your email newsletter promises to make its subscribers better writers, then don't just use "Subscribe" or "Sign up" as your button copy. Use something like "Show me step by step," or "Teach me the secrets to better writing."
Here's a call-to action from Wanderlog that plays off its landing page headline well:

6. Minimalist footer
If your landing page has a footer, it shouldn't be like the one on the rest of your website. It shouldn't have a sitemap, related blog posts, or any links to your social media accounts.
Why?
Because with each link you add, you drill another hole in your landing page.
If you do choose to have a footer, use it to display nothing more than up-to-date copyright information, terms of service, and your privacy policy — like our landing page for 10 Landing page Best Practices for 2023 does:

7. No Exit Links
While other pages on your website are created for a browsing experience, landing pages are made to achieve a single goal: to convert visitors into customers. Think of the page as a virtual elevator pitch, delivering all the essential information your prospects need to know about your offer in a concise and compelling way.
So, navigation links, like a header and footer have no place on your page—anything that could distract visitors from the conversion goal.
For example, the Linenbundle page focuses on getting the visitor to shop the sheets and elevate their slumber. There are no navigation links on the page, and both CTAs point take visitors to the same conversion goal.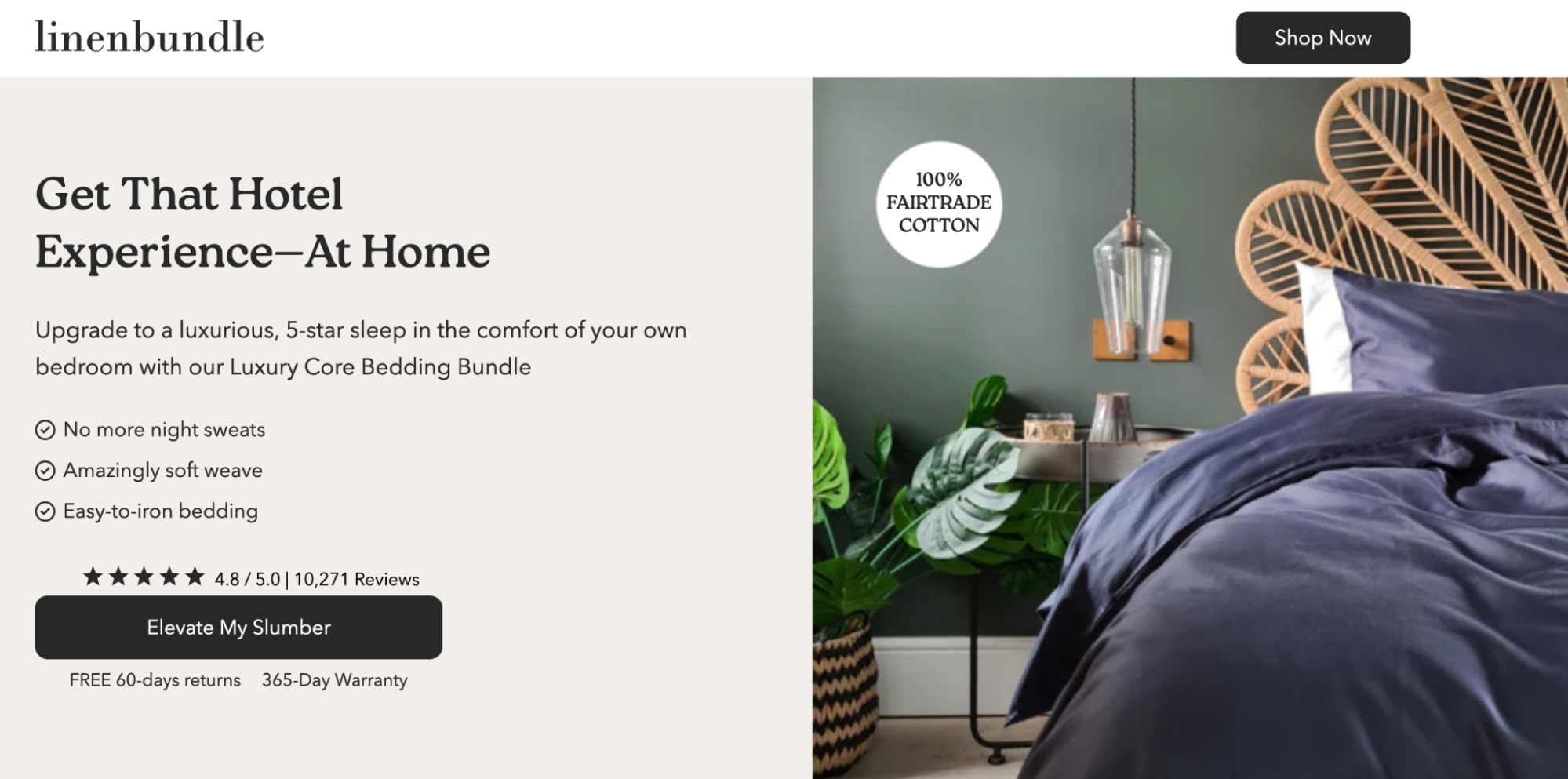 8. Contact information
Sometimes, especially if your offer is pricey or complicated, your landing page visitors are going to want to talk to a representative from your company.
Give them more than just a contact form to fill out. Add a phone number to your page where they can reach you if they have any questions.
Here's an example from Travelers, which gives visitors the option to either get their quote digitally or call a number.
Conclusion
Remember: this is just the basic anatomy of a high-converting landing page. Different combinations of the elements above will produce different results for individual businesses. You'll need to continually test and optimize to perfect yours.
Sign up for an Instapage 14-day free trial today and start building landing pages using our 500+ customizable layouts and see what works for your audience.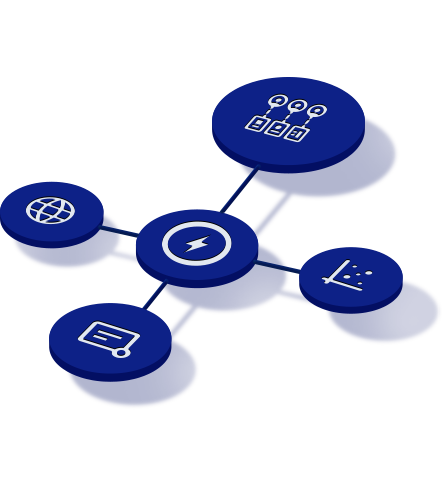 See the Instapage Enterprise Plan in Action.
Demo includes AdMap™, Personalization, AMP,
Global Blocks, heatmaps & more.