Why It's Important to Connect All Your AdWords Ads with Relevant Landing Pages
Last updated on April 5, 2018
Getting an ad click is exciting because you're one step closer to getting a conversion, however, it's important to remember that the optimization process doesn't end with the ad copy.
If you want your visitors to follow through with their ad click, and actually get what you're offering you should always connect your PPC ads with relevant landing pages.
What is a Landing Page?
A landing page is a standalone page created to fulfill a single purpose. The purpose of the page can vary because of campaign goals or where the visitor is in the marketing funnel. The pages can be used for a variety of campaigns from getting registrants for your webinar, downloading an ebook or white paper, to getting signups for your SaaS free trial.
When your ad is connected to a relevant landing page you ensure that the visitor finds the answer to their search question on a distraction-free page, making it easier for them to convert for the given offer.
While your website homepage has multiple objectives, as it deals with a multitude of company products and updates at one time, a landing page focuses on one singular offer or campaign.
Where homepages are diffused and cluttered, landing pages are very focused.
Your PPC ad copy is directed toward a single offer, this could be a specific feature you're promoting, a time-sensitive promotion or a free trial. When you connect your ad to a dedicated landing page you ensure that the visitor only sees the offer that you talked about in your ad copy, thus establishing relevancy and improving your chances of conversions.
When you connect PPC ads with relevant landing pages you get higher quality scores because you get an above-average status in the landing page experience category which helps increase your ad rank.
To ensure that your landing page is relevant to your ad, ensure that the page has message match and a conversion ratio of 1:1.
What is Message Match?
Message match refers to the consistency two pieces of a PPC campaign have, for example an ad and a landing page. The term is defined as, 'Message match refers to the process of matching the content of an ad to the content of a landing page so that the message is reinforced in the mind of the prospect, and that they know it's relevant.'
The consistency in message matching can come in several forms from matching copy and headlines to emphasizing ad copy with landing page copy and even using matching images (if you're running a digital ad campaign).
The VWO search ad and corresponding landing page have message match. Here's the search ad:

The ad copy highlights that the service offers heat maps for websites that track user activity, it also talks about a free trial.
Here's the VWO landing page connected with the ad: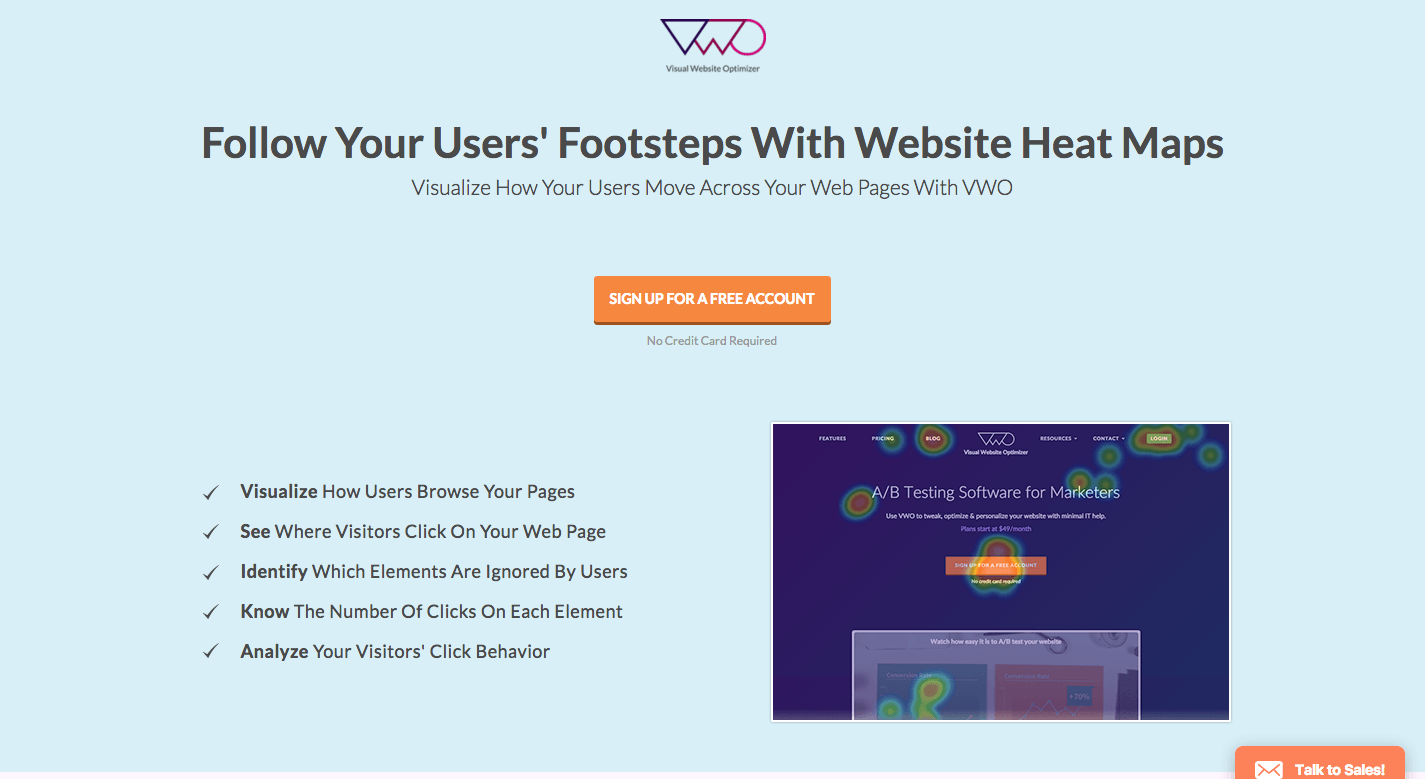 The landing page headline also talks about heat maps for websites and the CTA button confirms the free trial, putting the visitor at ease that they have found what they were looking for.
The same is true for Domo's display ad and landing page: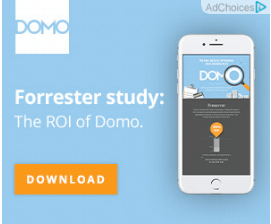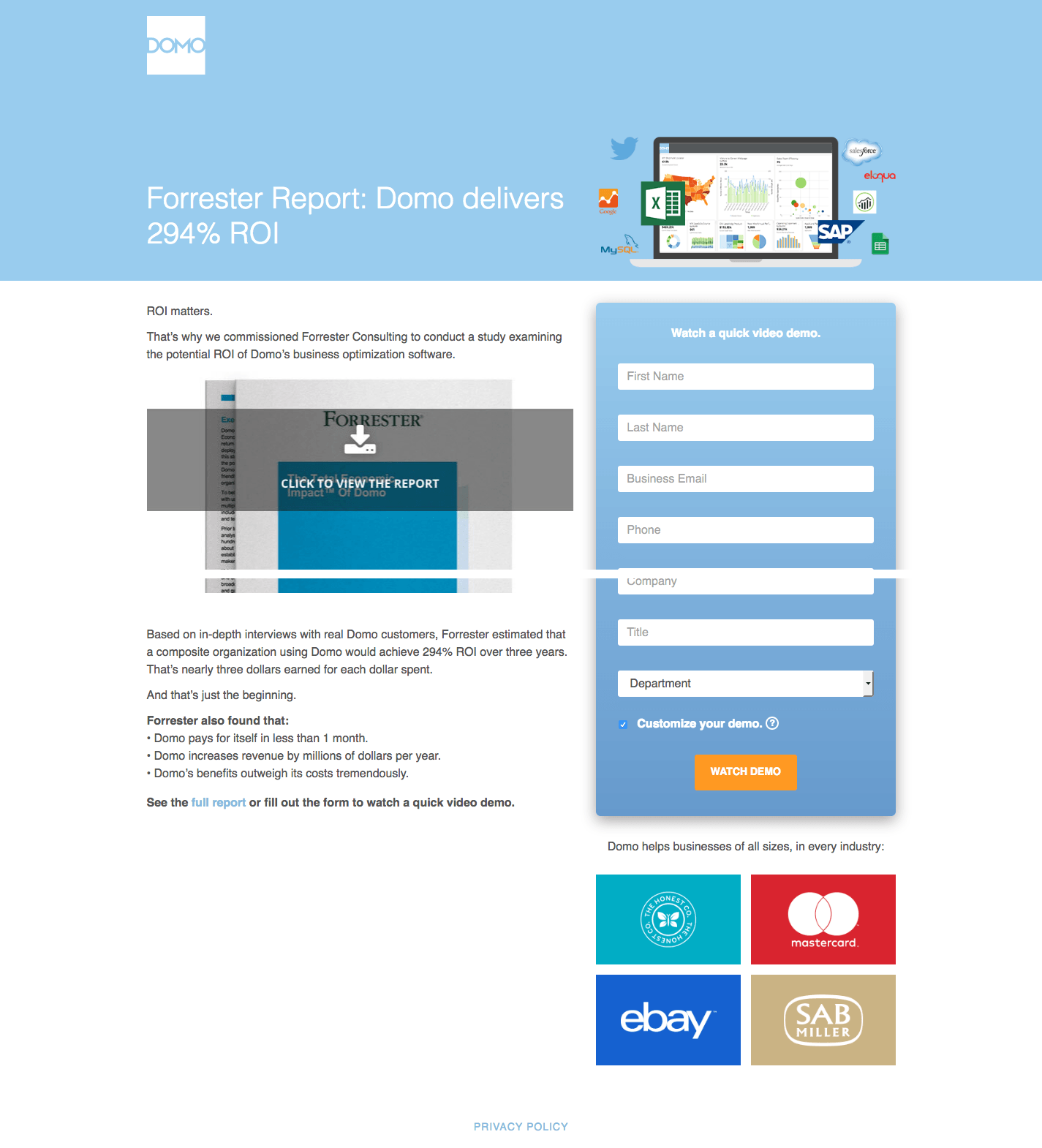 1:1 Conversion Ratio
Conversion ratio on a landing page can be defined as to the number of places to click compared to the number of conversion goals. Ideally, the ratio is 1:1, meaning there's only one place to click on your landing page: the link that accomplishes your conversion goal.
On the majority of landing pages, that link is a call-to-action button.
You're paying for every visitor that comes on your landing page, don't let them navigate away from your page before you convince them to convert. Encourage them to stay and fulfill the page conversion goal by keeping this 1:1 ratio intact.
Let's look at an example of an ad and its corresponding landing page that doesn't have a 1:1 conversion ratio.
Pictured below is Hotjar's PPC ad:

This is the landing page connected with the ad: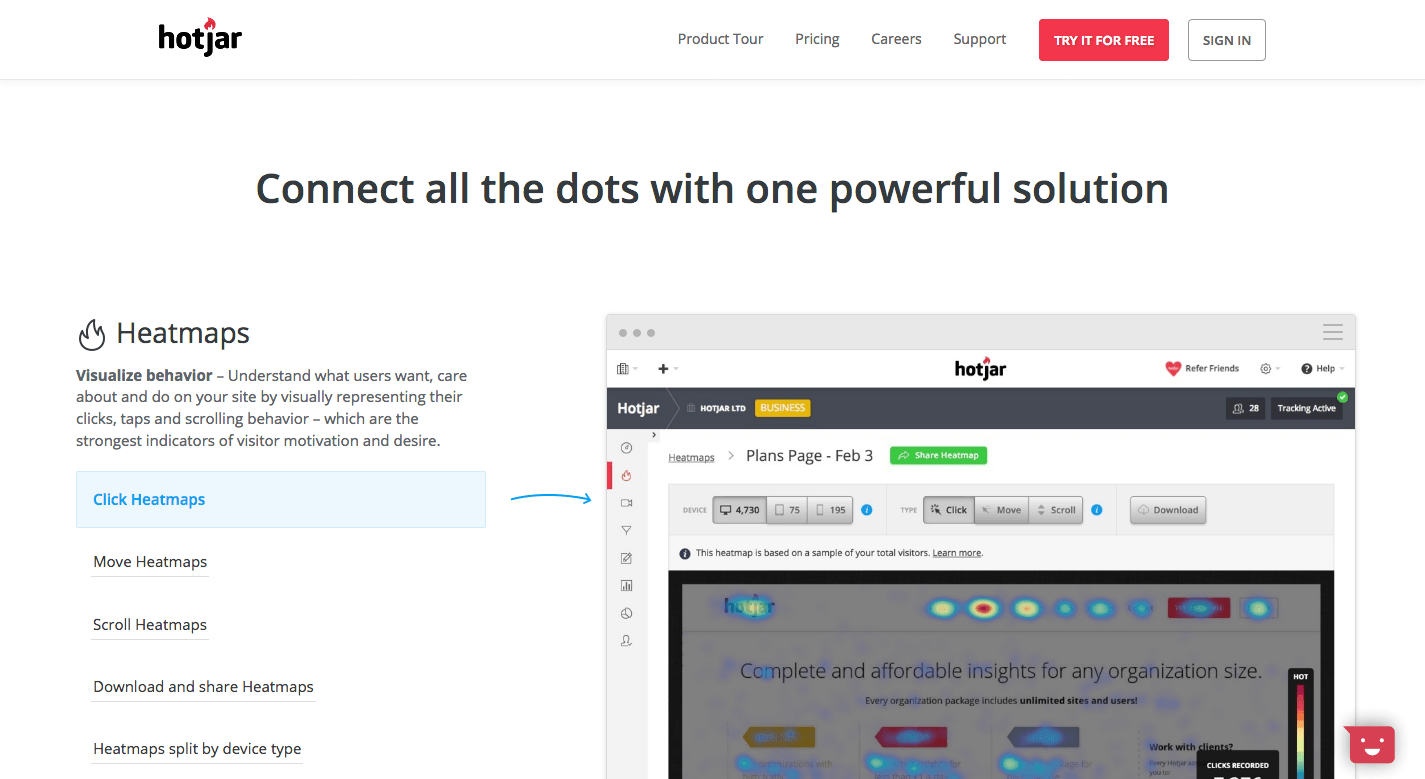 Instead of a dedicated page that only promotes a free trial, the landing page has numerous navigation links on it that distract visitors from fulfilling the conversion goal and signing up for the service.
The Qualtric landing page on the other hand has a conversion ratio of 1:1 because it doesn't distract visitors with unnecessary links, the only action the page offers visitors to perform is clicking the CTA button: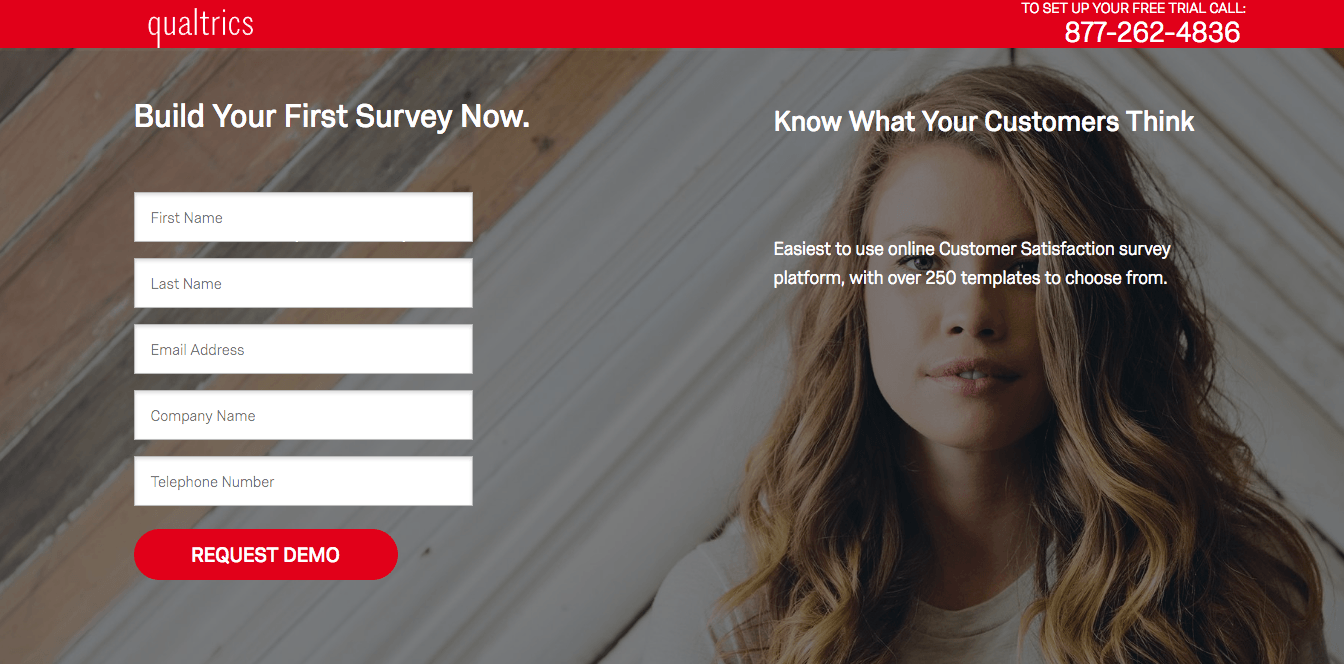 In addition to having message match and a 1:1 conversion ratio, the landing page connected with your PPC ads should also have the following elements:
1. Primary Headline: Headlines are important: They are the first thing that any visitor sees. Make sure your headline clearly explains your offer and intrigues the visitor to read further.
2. Secondary Headline: You can make use of secondary headlines, to elaborate on the points you left out from your primary headline. It should describe more value for visitors.
3. Copy (What's your UVP?): Mentioned in the copy of your landing page should be your unique value proposition. Why should your competitors choose you over the competition.
4. Trust Indicators: Trust indicators make visitors feel at ease when they're investing in a product as they see people have had positive experiences while using it. Some trust indicators you can use on your landing pages include customer testimonials, statistical evidence, press snippets, and links to your Privacy Policy or Terms of Use pages.
5. Call-To-Action Button: The CTA button is where the action on your landing page takes place. The CTA button should stand out from other elements on the page, and it should have actionable and personalized copy on it.
6. Media: The types of media you can use on your landing page include images, videos and gifs. Choose the media type that suits your offer and explains what your service does to your visitors so it's easy for them to take the action.
7. Lead Capture Form: Your contact or lead capture form should ask your visitors to enter their personal information in exchange for the offer. Lead capture forms should be labelled properly and they should not ask for information that's not relevant to the offer.
8. No Navigation Links: Navigation links provide visitors the option to leave your landing page. Navigation links are for your homepage, not your landing page.
Having a relevant and dedicated landing page connected to your PPC ads ensures that your visitors don't stop by clicking on the landing page but follow through and convert for your specific offer.