Impressive job advertisements are just as important as impressive job candidates, and they should make potential employees think highly of not only the job but also the company itself. A job posting with hardly any information isn't likely to do either one.
To provide valuable information about both the job and company, recruitment landing pages are essential. They are the best solution for giving potential employees an excellent first impression of your company and providing the necessary details to convince them to work for you.
Today's article details a real recruiting landing page case study and then critiques several other examples. But first, a quick reminder.
What is a landing page?
A landing page is a standalone web page that uses persuasive elements such as an attention-grabbing headline, engaging media, valuable social proof, etc. to convince visitors to take action on an offer. That action could be to signup for a free trial, download a report, register for an event, schedule a demo, set up an account, and more.
A recruitment landing page is designed with one very specific conversion goal: to find the right talent for your business and increase job applicants.
How to use landing pages for recruiting: A case study
The problem
Recently, the trucking industry experienced one of the largest driver shortages in history. In 2017, the driver turnover rate at major carriers reached an incredible 90%. And as the largest independent truckload carrier in the country, U.S. Xpress dealt with about 7,000 empty driver's seats.
The solution
As attempts to improve recruiting creative and media failed to generate substantial hiring gains, the U.S. Xpress recruiting team took a different approach. They theorized that smarter and faster technology might be the answer, and rightfully assumed that AMP could make a significant difference in conversion rates and cost-per-application.
Their agency, The Johnson Group, ran a 20-day test on one of U.S. Xpress' key recruiting websites. A $10,641 spend during testing generated a total of 35,470 clicks and 33,032 landing page visits — equally split between an AMP landing page and an identical, but non-AMP landing page.
The results
The AMP page loaded 5X faster than the non-AMP page, which led to a substantial increase in completed applications.
The AMP landing page converted 3.41% of visits into completed job applications, whereas the non-AMP page converted only 2.118%.
Most importantly, U.S. Xpress received 62% more applications from the AMP page.
5 great recruitment landing pages
All of the job recruiting landing page examples below come from Google search results. That's because 79% of job seekers conduct their own job search, without the help of a recruiter — and 73% of job seekers start their search on Google.
(For shorter recruiting landing pages, we've shown the entire page. However, for longer pages, we only displayed above the fold. You may need to click through to each page to see some of the points we discuss. Also, keep in mind that some brands may be A/B testing their page with an alternate version than is displayed below.)
The first two examples in the list come from a search for "Uber driver app:"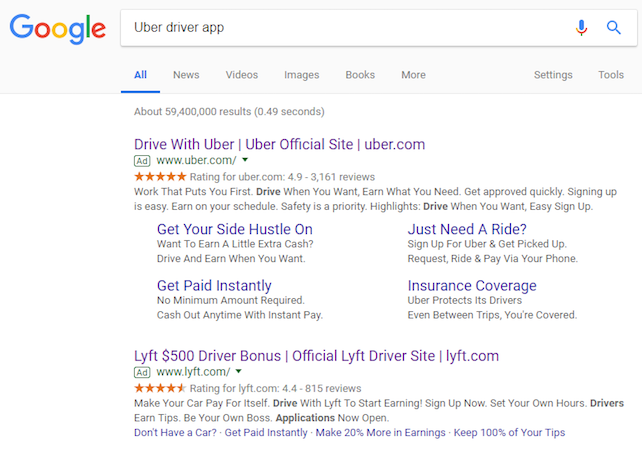 The first ad takes searchers to an Uber recruitment landing page where people can sign up to become an Uber driver (providing rides or food delivery service):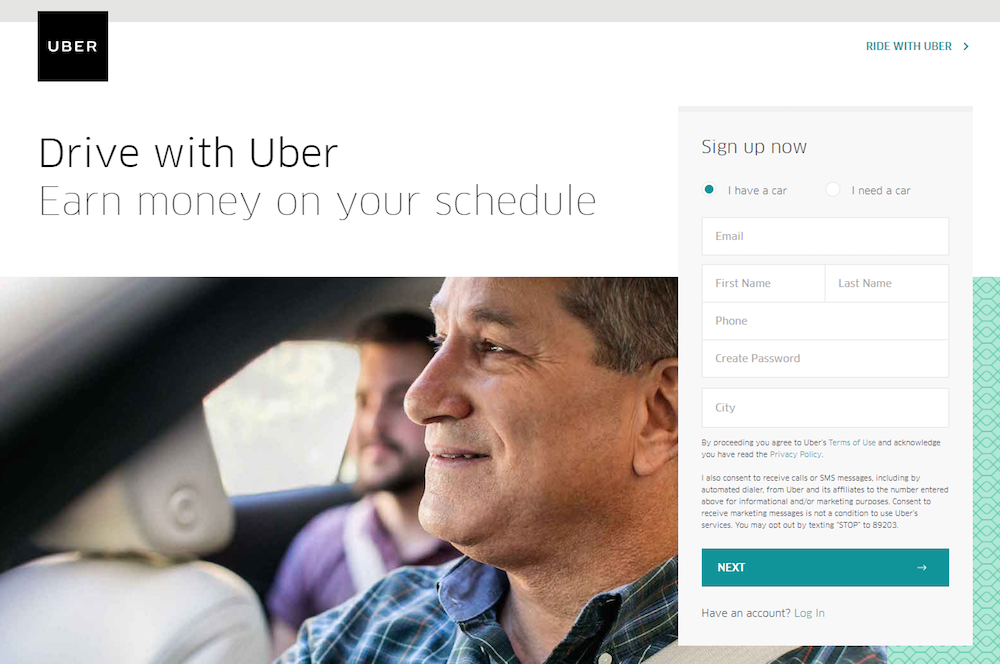 What the post-click landing page does well:
The unlinked Uber logo shows visitors whose page they're on, without taking them away from the page.
The headline and subheadline are a perfect complementary combination of telling prospects what and why.
The form stands out because it's above the fold and uses color contrast.
The have/need a car option at the top of the form immediately lets prospects know that they don't have to have their own car to drive with Uber.
Iconography, font variations, short text blocks, lists, etc. below the fold deliver valuable content without overwhelming prospects with copy.
What could be changed and A/B tested:
The "Ride with Uber" link should be removed, and it should be a separate landing page, disconnected from this one.
Improving the CTA button copy would likely generate more clicks. "Next" implies that this is a multi-step form, but many visitors want to know how many more steps until the process is complete.
The greenish-blue CTA button doesn't stand out as much as it could to draw attention.
Adding social proof, like employee testimonials, would encourage more applications.
The second ad in the search result above sends prospects to a Lyft job recruitment landing page where they can apply to become a Lyft driver: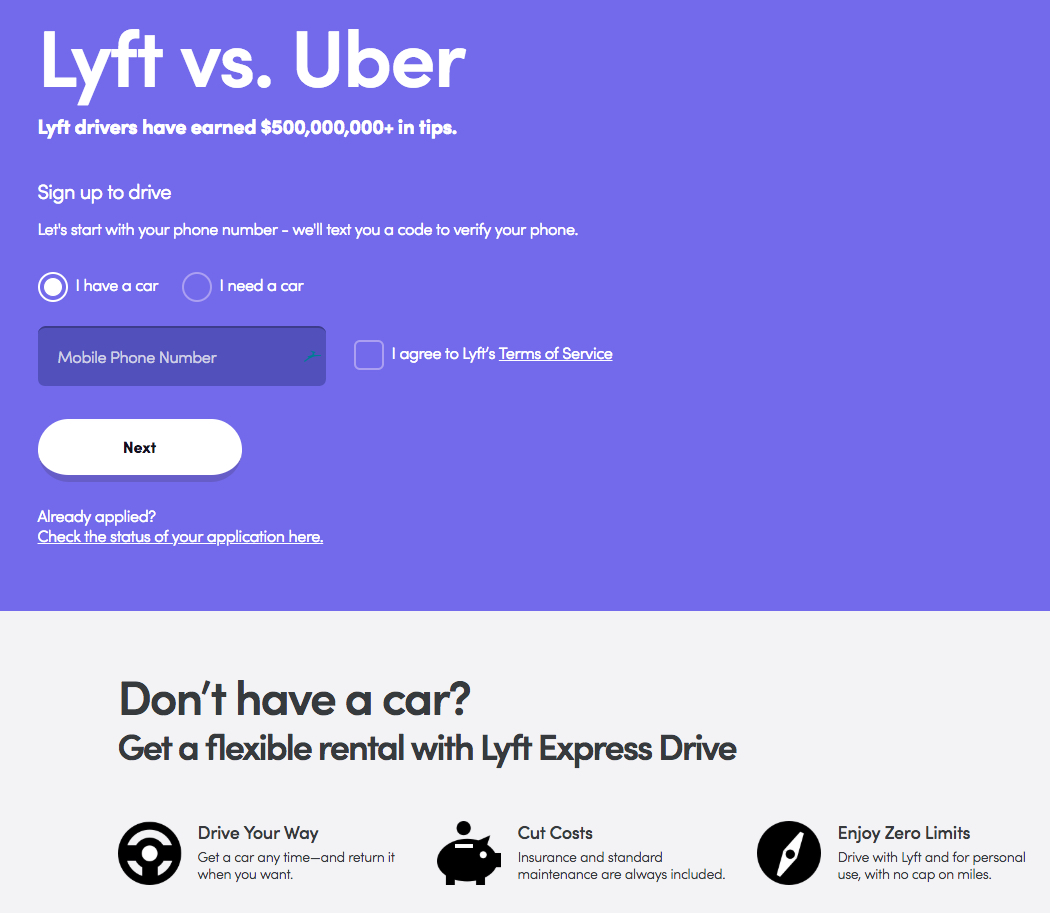 What the landing page does well:
The subheadline is compelling because it shows potential drivers that they could earn a great money in tips.
The option to rent a car lets prospects know that they don't need to own car to be a Lyft driver.
Multiple anchor-linked CTA buttons (one in the sticky bar and one at the bottom of the page) allow visitors to quickly get back to the form.
Ample white space makes the page more navigable, readable, and comprehensible.
"What," "Why," and "How" sections are easy to read with short blocks of text, iconography, bold copy, etc.
The phone in the "How" section demonstrates how Lyft works, broken down into simple steps with corresponding visuals on the phone.
What could be changed and A/B tested:
The hyperlinked Lyft logo is an exit link and lets people leave too easy without completing the form.
The headline tries to use a major competitor as an advantage, but then doesn't mention Uber anywhere else throughout the page.
Changing the CTA button color to anything other than white would likely draw more attention and generate more signups. Orange or green would be better.
Multiple exit links toward the bottom of the page could distract visitors and lead them away from the page.
DoorDash is another driving service, but rather than providing rides to passengers, drivers deliver food to customers:


What the post-click landing page does well:
The headline is a play on words, using humor to capture visitors' attention.
Encapsulating the form is a visual cue that makes it "pop."
Only 3 fields makes the form quick and easy to complete.
Employee testimonials, complete with names and images, let prospects know why they should sign up to deliver with DoorDash.
A second lead capture form at the bottom of the page gives visitors another chance to sign up after they've read through all of the information.
The numbered list to the left of the second form shows the complete signup process.
What could be changed and A/B tested:
The hyperlinked company logo serves as an exit link, providing visitors an immediate way off the page.
Changing the CTA button copy to something more enticing like "Start making money" would likely compel more prospects to sign up.
Testing the button in another color might also attract more attention and lead to more clicks.
Removing the entire page footer would likely keep prospects on the page longer and increase conversion rates.
A Google search for "remote editing jobs" showed these paid search ads: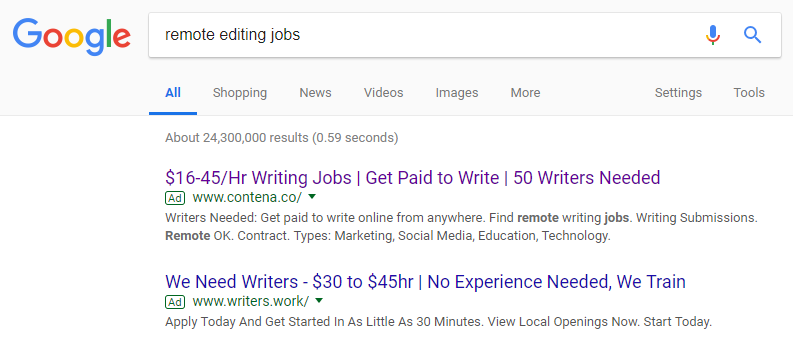 Clicking on the second ad brings job searchers to a Writers Work recruiting landing page: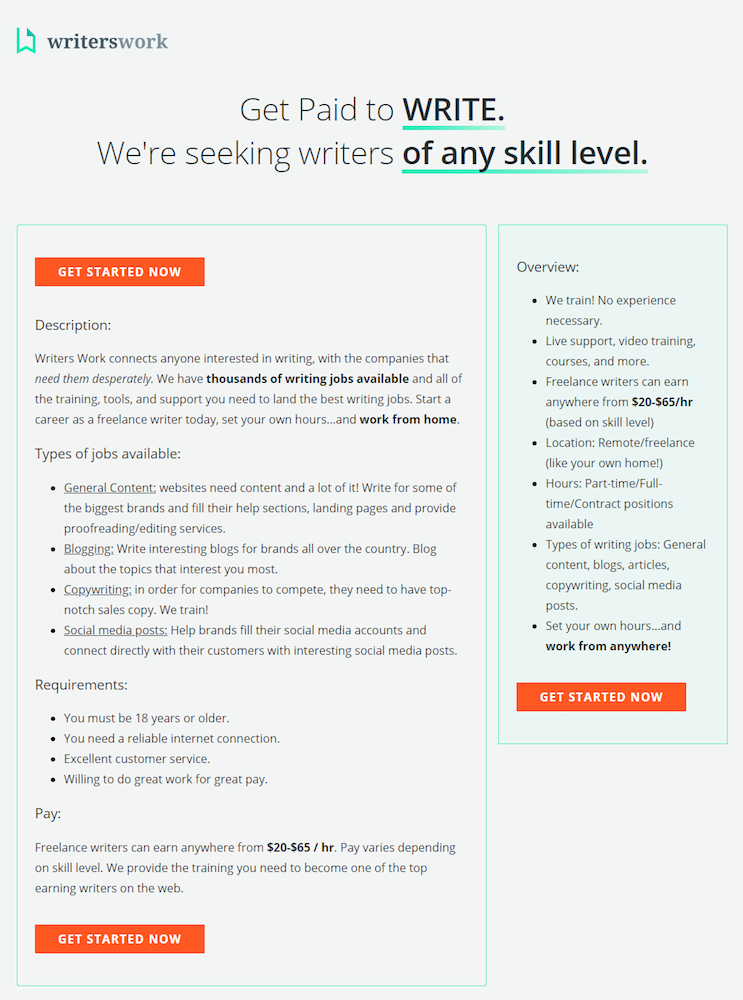 What the landing page does well:
A "recently signed up" pop-up in the bottom left corner shows signups as they occur, which serves as great social proof for prospects.
Multiple cooperative CTA buttons provide several chances for visitors to convert, and the orange color makes them stand out against the rest of the page.
A 2-step opt-in form allows visitors to learn about the offer without feeling intimidated by a form.
Bulleted lists and various text formatting draw attention to key information; however, the amount of copy could still be overwhelming for visitors.
The images at the bottom of the page help prospects visualize what the software looks like.
What could be changed and A/B tested:
The Writers Work logo could remove visitors from the page before they have a chance to learn about the offer.
Footer links are distracting and act as additional escape routes from the landing page.
Adding white space or more imagery would help break up the copy and make the page more navigable and aesthetically pleasing.
Rather than for collecting job applications, ISSA uses this search ad and recruitment landing page to find leads interested in earning their personal trainer certification: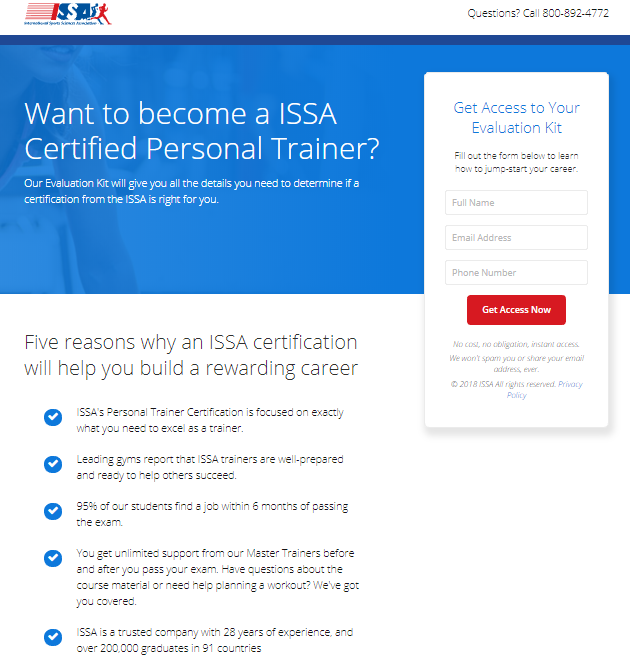 What the landing page does well:
A click-to-call phone number provides a convenient way for visitors to contact the support team with any questions or concerns.
The sticky form allows prospects to sign up at any time during their visit, without having to scroll to find it again.
3 basic form fields is likely appealing to prospects, as they don't have to provide too much information.
The red CTA button contrasts well with the rest of the blue and white page.
The checklist and numbered list make the content skimmable.
The DEAC logo serves as trust signal, letting visitors know that ISSA is accredited by a federally recognized agency.
Testimonials, complete with full names and headshots, provide social proof and encouragement for prospects thinking about signing up.
The live chat feature allows ISSA to connect with visitors faster and in real-time for better conversion chances.
What could be changed and A/B tested:
The hyperlinked company logo sends visitors away from this page to the homepage instead.
Improper grammar in the headline ("a ISSA") provides a bad first impression of the company.
Adding personalization and specification to the CTA button (something like "Get my evaluation kit now!") would make it more persuasive.
Get more applicants with a recruiting landing page
During the hiring process, your goal is to convert prospective candidates into leads and applicants. However, linking your paid promotions to a general job listings page likely won't do the truck. Instead, link them to a personalized recruitment landing page for a better chance at people taking action.
With Instapage, you can build professional, personalized landing pages to generate interest in your brand and leave a strong first impression with prospective candidates. Start building your best recruiting landing pages with Instapage, sign up for an Instapage 14-day free trial today.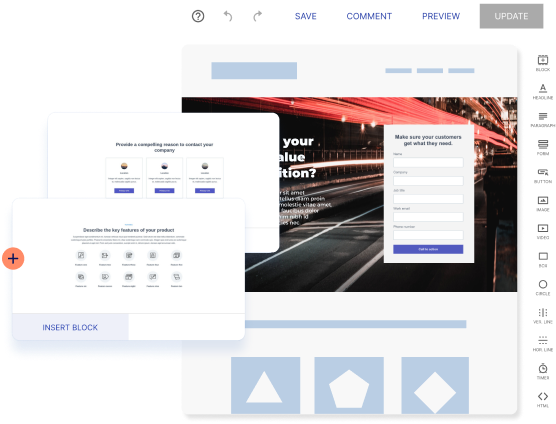 Try the world's most advanced landing page platform with a risk-free trial.