More and more, customers today expect highly personalized shopping experiences. According to one survey by Evergage, 88% of them.
Fortunately, for marketers, those experiences are becoming easier to provide. With the marketing technology boom, there's no shortage of tech stack combinations that bring together the best of data and its implementation.
However, as is the case whenever options are plenty, distractions are myriad as well. Bells and whistles ring and shout, and the temptation to run before you can crawl is hard to resist.
While 98% of marketers agree that personalization advances the customer relationship, according to research, fewer than ever are confident in their ability to achieve personalization. Only 12% say they're extremely satisfied with their personalization success, followed by only 38% who are "moderately satisfied."
Among marketers' greatest obstacles to personalization is tracking throughout the customer journey with an overwhelming amount of available data. When faced with it, often the result is an impersonal post-click landing page.
Matching online experiences post-click
When it comes to online experiences, for users, there are two main types: the pre-click experience and the post click landing page.
The pre-click experience describes an internet user's experience before the click. That includes: the targeting of an advertisement, its branding, colors, media, copy, the platform its run on, and myriad other elements that contribute to getting them to click.
The post-click landing page describes an internet user's experience after the click. That includes: post-click landing page personalization, message match, branding, colors, form length, media, 'thank you' page, and more.
Thus far, the pre-click experience has received a majority of attention from marketers. Email and banner ads are often the most personalized elements of a campaign, while post-click landing pages are only personalized by a measly 37% of marketers: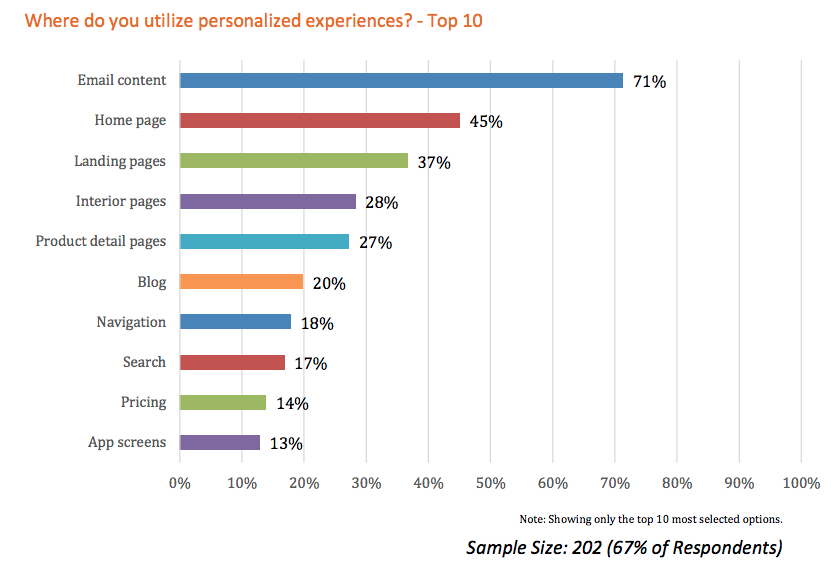 This illustrates a major gap in personalization. While many marketers focus on driving click-throughs to post-click landing pages, the personalization ends there. For the user, though, it doesn't.
When the prospect sees an ad that calls to them with personalized content, and they click, they expect to see personalized content on the following page. This is known as message match. A post-click landing page with good message match will mirror the personalization of its referrer.
For example, if an ad features a particular headline, the post-click landing page will feature the same one. If an ad features a specific offer, the post-click landing page will also feature that offer.
Without this message match, matching online experiences is impossible from the pre-click stage to the post-click stage. When you don't match online experiences, the expectation of the visitor goes unmet, which lowers the chance of conversion greatly.
What 67% of marketers seem to neglect, or perhaps forget, is that conversions happen in the post-click stage. While pre-click elements contribute to the success of the campaign, ultimately, the conversion happens after the click.
Mismatched online experience vs. message match
When an online experience misses the mark, it can poison an entire campaign. When a marketer gets it right, though, the results can be seen in an above average conversion rate. Here are a few examples of what to avoid and what to shoot for.
Kentico
Type the query "lead generation platform" into Google, and you may see this PPC ad from Kentico:

Initially, it does a great job of matching the user's query. Right in the headline, you'll see, word for word, "lead generation platform."
You also learn that Kentico is GDPR friendly, and it comes with an email builder, it's affordable, and it boasts great customer service. Assuming it's relevant to your search, you click through to the post-click landing page and see this above the fold: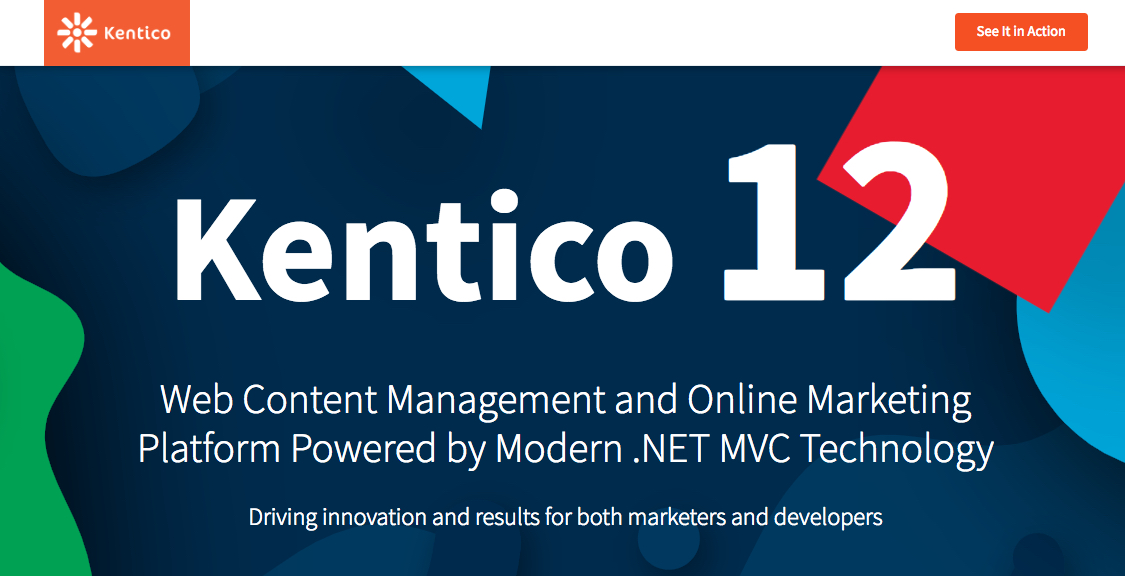 Immediately, you know you're on a Kentico page, however, it may seem like the wrong one. Where is the mention of lead generation? The ad, boldly and brazenly, declared Kentico a lead generation platform. Here in the headline, however, this page declares it a "Web Content Management and Online Marketing Platform."
This kind of experience can deter a visitor from evaluating the rest of your post-click landing page. It's quite likely they simply hit the back button and find a better, clearer offer.
Salesforce
Perusing Facebook, you may encounter this ad for a Salesforce resource, titled "7 Inspiring Email Templates:"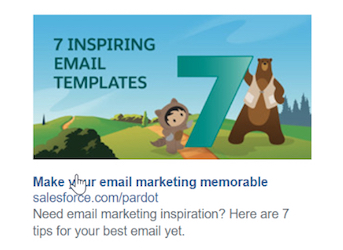 The headline promises to help the visitor make email marketing memorable, and the URL below identifies it as a Salesforce resource. When you click through to the post-click landing page, this is what you'll see: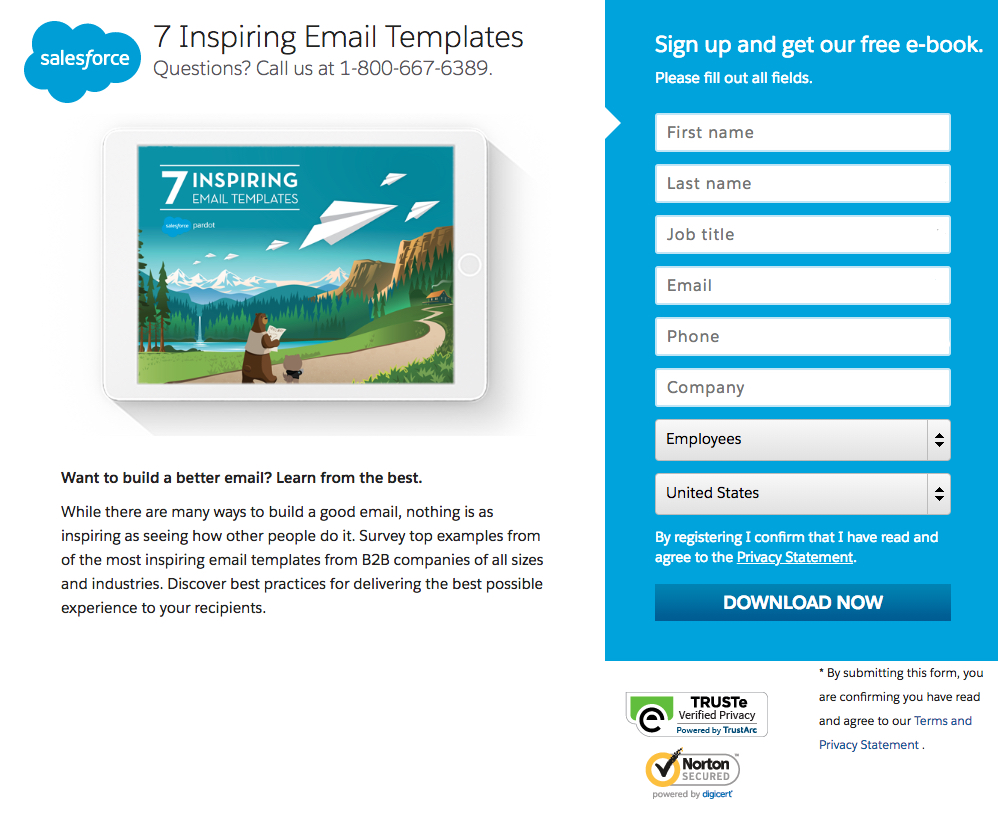 Very quickly, it's easy to identify this page as the one you're supposed to be on. Clearly, it belongs to Salesforce, as the logo in the corner of the page indicates. Also, the image on the page mirrors the one in the ad, and the headline boldly announces the resource in exactly the same way: 7 Inspiring Email Templates. This is an example of matching online experiences. The prospect's expectation is met with message match that fulfills the promise made by the ad pre-click.
Still, message match is only the most basic level of post-click personalization. Name, location, even personal details can be inserted into the content of a post-click landing page. So why don't they?
Why is there still a disconnect?
Despite the evolution of digital advertising, marketers continue to optimize campaigns the old way. The reasons may be as follows:
Marketers don't know about the post-click landing page.
This is a position many teams are in, and it's understandable. Advertising has evolved drastically in the last few decades from a discipline that, for a hundred years, was mostly driven by traditional campaigns. In them, the ad itself did the selling. There was no click, no post-click landing page. When the prospect wanted to learn more about a product or service, they simply called the number on the ad or mailed a check.
This gave the sales team much better access to potential customer that they no longer have. Now, users navigate the buyer's journey largely on their own, which means that post-click landing pages that match the ad, and elaborate on the product or service in an appealing way, are necessary. More and more, businesses are realizing this, but many are still far behind.
Campaigns are created in silos.
What do you get when you separate your marketing teams? A separated customer experience.
When you have advertisers working on ads and designers working on post-click landing pages, you get two different approaches to selling the same thing. When the two departments don't cooperate, there's no way to create a seamless transition between the pre- and post-click. Conversely, the best way to combat a siloed creation of the pre- and post-click landing page is with collaboration. Get your creative teams together to build end-to-end campaigns, ad to post-click landing page to thank you page. The more consistent language and branding and overall message are, the more likely your campaign is to succeed.
Teams don't realize the post-click landing page can be personalized.
Here's another common misconception creating mismatched online experiences. Even with the abundance of marketing technology available, teams still don't realize just how personalized they can make the post-click landing page. post-click landing pages created based on geography, product, time of day, can be created to match an ad set of the same capability. Not only that, but dynamic text insertion allows visitors to input URL parameters into a post-click landing page, like name and location. Then, A/B testing tools help marketers create even more targeted versions of their pages that perfect the approach to converting each audience segment.
Marketers don't have the tools to optimize the post-click landing page.
Without the right tools, personalizing the post-click landing page is nearly impossible. More than the change in the way advertising is done, the change in technology has been the major driver post-click personalization.
Before, matching online experiences meant creating each page from scratch, for each audience segment. That was unfortunately impossible for businesses without giant budgets and extensive resources. Today, that's not the case. Marketing automation has allowed the post-click to become easily personalized by small teams and individuals. With the right tools and technology stack, businesses of all sizes can create a page for every promotion.
Start matching online experiences
The pre-click stage can succeed without the post-click stage, but the campaign can't. Every click that doesn't end in a conversion is simply a waste of advertising budget.
Generating conversions consistently comes down to matching online experiences, seamlessly, to deliver in the post-click stage what was promised in the pre-click stage. With Instapage, users can cut their post-click landing page creation time to a fraction of itself.
With conversion-proven templates and a designer-friendly builder (complete with a collaboration tool to fight siloed creation), create persuasive pages in a snap. Then, A/B test to personalize your page to each audience segment, and use Global Blocks to make improvements to groups of pages at once. And when that still isn't personalized enough, rely on dynamic insertion to impress individuals like never before in the post-click stage. Begin matching online experiences today with Instapage.
Get a Personalization Demo
See how easy it is to create unique experiences for any audience you target.