Are you frustrated with your Facebook ad campaign? Do you feel like you aren't getting as many conversions as you thought you were going to?
Well, you're certainly not alone. Many marketers like you have tried using Facebook ads and haven't been thrilled with how they performed. But does this mean that Facebook ads just won't work for your brand?
Not necessarily.
Facebook ads do work under the right conditions. In fact, with over 1.39 billion active users, Facebook gives you the opportunity to potentially market your business to exactly the right person at exactly the right time.
Sound more like what you're looking for?
John Loomer is living proof of the power of Facebook advertising done right. In one study he ran, he generated $10,510.50 in revenue by spending $297.96 on a Facebook campaign.
The great thing is that Loomer's success isn't unique.
Facebook ads work, but they only get you conversions if you get both halves of the puzzle right.
Optimizing both halves of the Facebook ad campaign puzzle
Just creating a Facebook ad is not enough. You need to connect your targeted Facebook ad with an optimized post-click landing page. If your ad doesn't direct your visitor to a dedicated post-click landing page, and instead takes them to your cluttered Facebook wall or your homepage… Well, then you can kiss your conversions goodbye.
The percentage of businesses that consider Facebook to be critical has increased by 75% for a reason. One in five page views in the United States occurs on Facebook, so that's a huge opportunity for reach. And if you've been around Instapage long, you know every ad should point directly to a targeted post-click landing page.
But even if you know that your Facebook ad should take your visitor to a post-click landing page, and we'll talk more about how to do this in a minute, it's important that you know how Facebook advertisements work so you can amplify your marketing efforts with them.
How do Facebook ads work?
With Facebook ads, you can target your users based on their location, age, gender, and interests. This means that when setting up your ad, you have the choice of selecting the people who will get to see your ad. This is a great feature, because it means you are only targeting your ads to people who are likely potential customers.
Here's how you target your Facebook ads.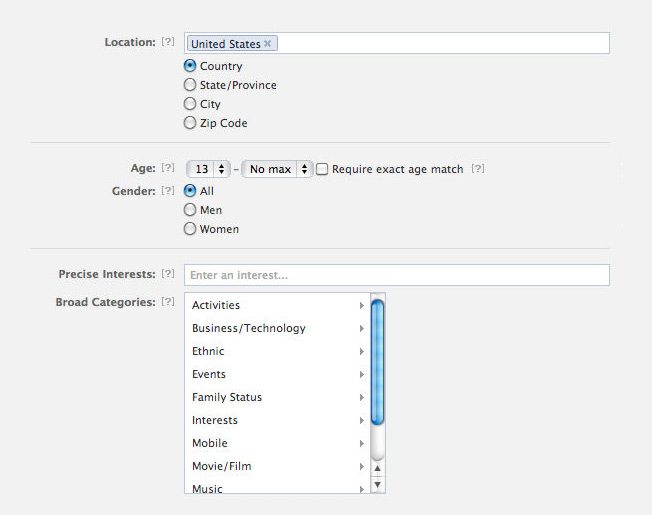 You start by choosing the budget of your ads. Facebook uses an ads auction system where you let them know how much you're willing to bid to have your ad shown to the audience of your choice. These bids are based on the cost per click (CPC) on your ad or the cost per impression (CPI) of your ad.
Facebook gives you the choice of pausing your ad campaign at any time.
Your ads appear in front of your audience on both their mobile and desktop interfaces. You can display your ads in their newsfeed or on the right-hand ads column. As far as the placement of the ad goes, Facebook gives you a lot of options.

After you've targeted your ads and have decided on a budget, you can then begin to create your actual ad.
Your Facebook ad needs to have a short and catchy headline, because there's a limit to how many characters you can use. Your ad should also have an image that gets your visitor to feel something. When in doubt, always go for an image that is a close up. Use smiling people or happy animals, and your visitors will want to click on your ad.
Pro Tip: Try to use multiple photos in your ads. Facebook will display different versions of your ad for different people, and you'll be able to ascertain which photo gets you the highest CTR. Think of this as Facebook A/B testing.
You also have the option of placing a call to action button on your Facebook ad. This isn't something most marketers do, but I think they should at least consider it. With a clear call to action button, your visitors can be sure about what they're supposed to do next.
Here's how you choose which CTA button copy to put on your Facebook ad.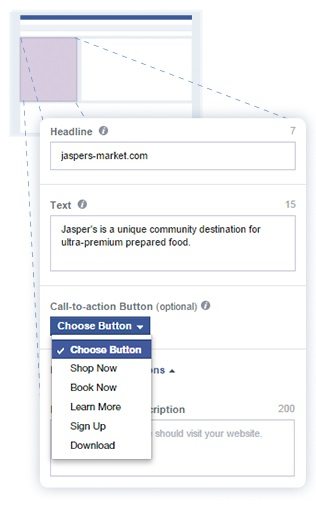 Pro Tip: Facebook gives you the option of creating a lookalike audience. This helps you advertise to more people on Facebook who share traits – such as location, age, gender, and interests – with your customers, so your ads reach more people who'll care about your business.
You have three audience options when targeting your Facebook ads: Custom Audiences, Lookalike Audiences, and Saved Audiences.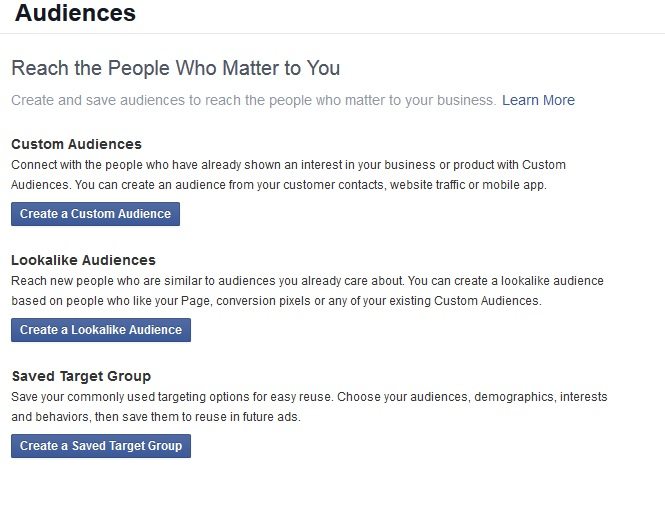 You get analytics reports for your Facebook ads
Page insights show you how many people like your page and how many people have seen your page and your posts.
Adverts reporting tools tell you how many people have seen your ad and have clicked on it. The tool also tells you how to edit your ad to improve its performance.
Pro Tip: Facebook approves all the ads it runs. You must make sure your ad is in accordance with the social network's ad policies. Once you submit your ad for review, you usually get an answer within 15 minutes, but it can also take Facebook up to 24 hours to respond. Make sure you allow enough time for your ad to be approved.
Creating a clickworthy Facebook ad is half the battle. You need to align your ad with a targeted post-click landing page to get the conversions you want. The post-click landing page you send your visitors to must have message match and a conversion ratio of 1:1.
Examples of Facebook ads and their post-click landing pages
Let's take a look at some Facebook ads and their post-click landing pages on message match and conversion ratio.
Moz
Here's Moz's Facebook ad.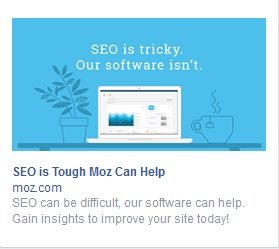 The ad has a catchy headline, "SEO is Tough. Moz Can Help." People working with SEO know it's tough, so they are bound to click on this ad to see how it can be made easy.
Here's a screenshot of the post-click landing page you arrive on when you click the ad.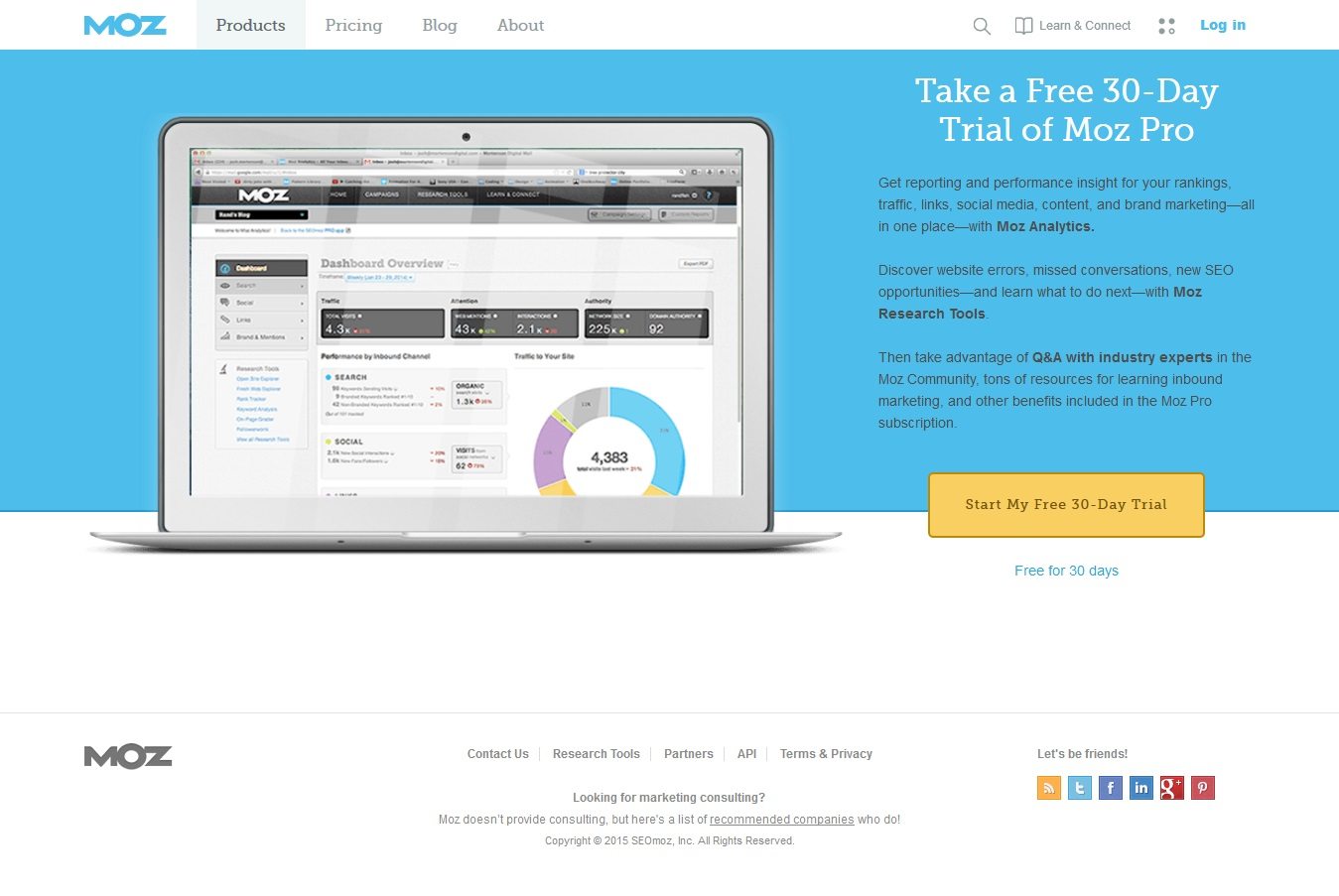 The headline on the post-click landing page reads, "Take a Free 30 Day Trial of Moz Pro" – which is fine, but it doesn't really match the headline of the ad. If you're going to ask your visitors to sign up for a free trial, you should let them know on the ad.
As far as the conversion ratio goes, there are lots of navigation links on the page. 11 to be exact. Which makes the ratio 11:1, and it's safe to say this is not helping their conversion rates.
Shopify
Here's the Facebook ad.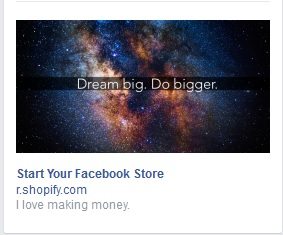 There's a caption on the image, "Dream big. Do bigger."
It's a great attention grabbing headline. The headline is simple, "Start your Facebook store," and there's just one line of copy on the ad.
This is the post-click landing page that you land on when you click the ad.

The headline has message match. The ad talks about starting your Facebook store, and the post-click landing page headline reads, "Sell your products directly through Facebook." The conversion ratio, however, is way off, 60:1.
Pro Tip: To make sure your customers stay on point and on Facebook, Instapage gives you the option of publishing your post-click landing pages to Facebook. So, your customers get to stay put, and you get your conversion.
Want to get more clickthroughs on your Facebook ads, align them with targeted and optimized post-click landing pages and watch your CTR skyrocket. Sign up for an Instapage Enterprise demo today.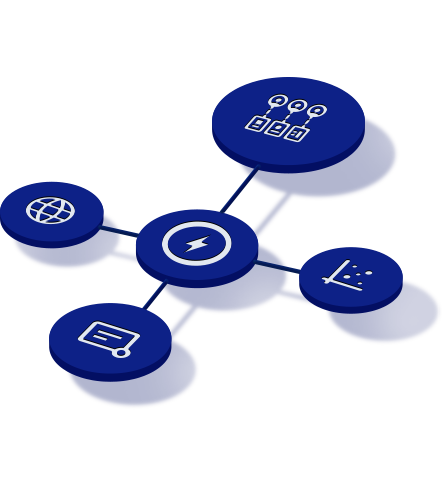 See the Instapage Enterprise Plan in Action.
Demo includes AdMap™, Personalization, AMP,
Global Blocks, heatmaps & more.