Recently I was targeted with ads for a 3D Pancake Printer.
First, they pretty much nailed their interest targeting because I begged my wife to buy it (since I didn't). It's about time we put our 3D printing technology to something practical, like food: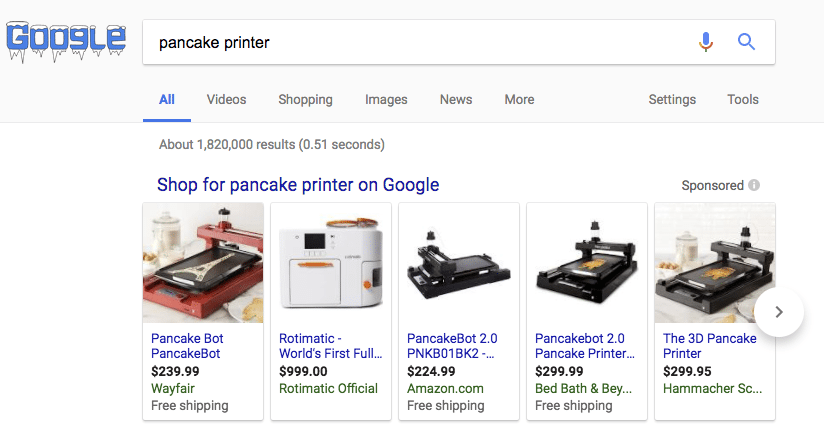 Second, what a great example of a product with a particular demographic base. It's certainly not cheap, it's impractical, and will primarily only attract people with a certain level of income to burn.
Imagine a world in which you, a paid search marketer, could use demographic targeting to position your 3D pancake printer primarily to those with higher income levels and the cash to burn?
Fortunately, AdWords income level targeting exists!
In today's post, we'll discuss how to activate it, ideas for using it well, and some concerns to be aware of as you implement it in your campaigns.
What is AdWords income targeting?
AdWords income targeting is an option within demographic targeting and gives savvy advertisers the ability to adjust bid levels based on people they identify as living within a certain geographical area grouped by income.
It's important to note that Google separates the tiers by percentage of income levels. So don't think of this in terms of hard dollar amounts. Instead, think of it in terms of where someone in the general population falls based on the general population.
You can see what I mean below; there are seven categories (including "Unknown") that can be targeted and bid on. That is the limit of what you can do with these targets at this point: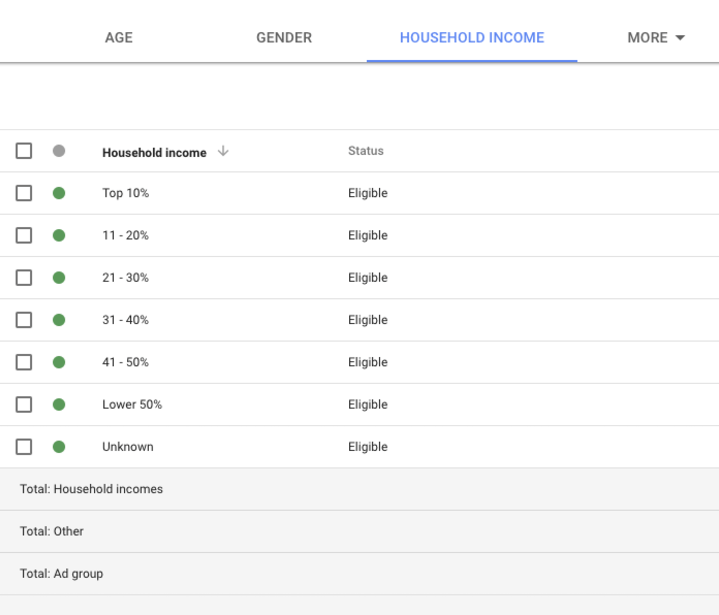 How AdWords determines household income
It's also important to be aware that Google doesn't have access to crazy-accurate individual data. They're not checking out everybody's bank accounts and 401Ks and updating your campaigns accordingly. Rather, Google is using basic geographic data available and it's critical to understand the inaccuracy potentials there!
As one tiny example, I'm reading through a fascinating book, The Millionaire Next Door, which notes that contrary to popular opinion, a large number of millionaires in the United States do not live in mansions in the "rich part" of town. Meaning, wealthy people could be (and do) live next to lesser income people… and that itself doesn't necessarily prescribe specific buying behavior. Neighborhood (and especially zip code) targeting doesn't help us too much on an individual level, and it's essential to keep that in mind.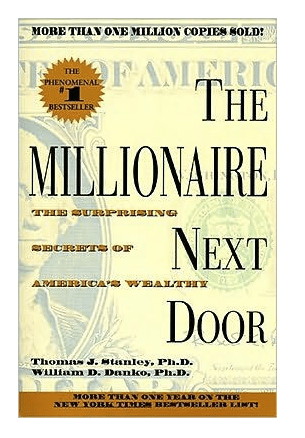 On the other hand, audience targeting isn't necessarily beneficial because it nails the individual every time. Where it is useful, it groups certain people together around a common demographic, and then shows us data regarding their purchasing decisions. In other words, if one audience converts better than another, I'm not really concerned about exactly who fit in there… I'm adjusting bids according to how they're actually purchasing!
In that regard, a key suggestion I have at the beginning of experimenting with household income targeting is, to begin with no bid modifiers and simply collect data. You will always be surprised by doing this and it will help you adjust bids in the future based on data — not an assumption of who is in those different income levels.
How do you set up household income level targeting in AdWords?
AdWords recently changed where this was housed. In the old UI, income level targeting was housed in the locations settings of campaigns. Not anymore because in the new AdWords UI, start in Demographics and select Household Income: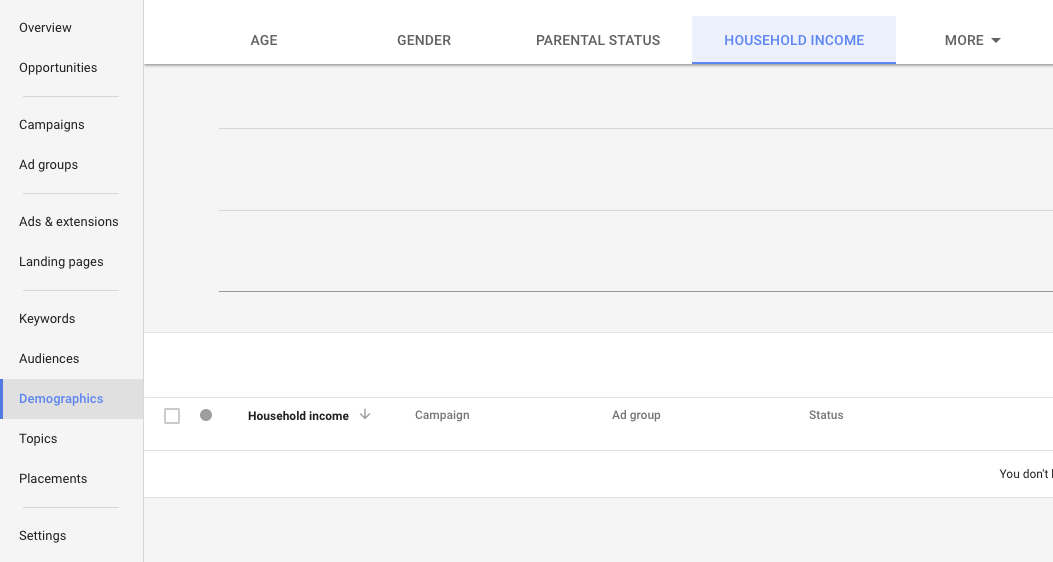 To actually target household income targets, you must enter through the new UI and navigate to the "Household Income" tab as shown above. Then, you will see those targets automatically populated, simply click the Edit button in the blue bar and select the option you want: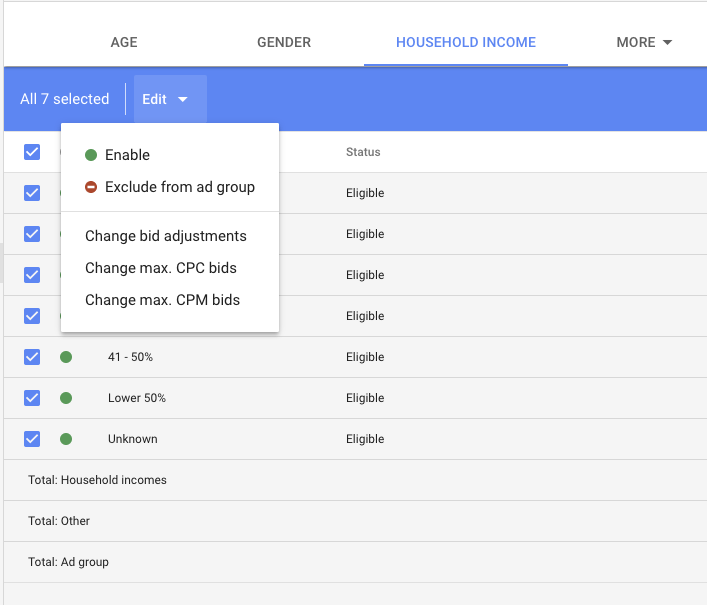 Please note that you can Enable them, Exclude them, or adjust bids at the ad group level.
Setting up income level targeting is nothing too difficult since AdWords moved them out of the location settings! Now it's easy peasy and you're on your way to target by income level.
Who should use AdWords household income targeting?
In my opinion, demographic targeting by income isn't applicable to every account (there are even concerns you need to be aware of, as noted later). However, there are a few account types I think it makes sense to give it a try, with one example below.
Household income targeting makes the most sense paired with consumer products or services that will require some sort of specialty focus.
An example
At my PPC agency ZATO, we have a client in the home improvement industry who saw distinct purchasing differences based on income level tier. We were able to set bid adjustments by analyzing Average Order Value, total revenue, conversion rates, and cost per sale based on the income level targeted.
For example, we identified that people coming from the Top 10% income level were spending 44% more per sale than those coming in from the Lower 50% income level! Data like this gave us hard evidence to adjust bid modifiers intelligently so we were investing our spend where it was going to bring the biggest return.
Why am I not giving you a magic formula for what account you should run this in? Because I'm a PPC advertiser, and there is no magic formula aside from testing!
Add these to your account, set them to a 0% bid modifier, and over time consider setting bid adjustments based on the data you receive.
Accounts for which income targeting may not be beneficial
First, I haven't found it overly helpful for B2B clients. Admittedly, I'm not looking at hundreds of accounts and data here, so I reached out to my friend, Melissa Mackey, who works exclusively with B2B clients to get her opinion. She said:
We rarely use it. We focus more on job title and employer targeting. The only time we've used income level successfully is if we're trying to reach senior/C-level and are struggling to do that with other targeting. Or, we'll use income as an exclusion — to exclude lower incomes.
What Melissa says mirrors my own findings. That is, overall, individual household incomes aren't going to matter as much for someone shopping for something for their company. What if a personal assistant is searching from her apartment? What if it's an executive running additional investigation based on what her CMO presented to her earlier that day?
2 Things to be aware of when targeting income level
Before you go all-out targeting income levels, you should be aware of two specific concerns.
Concern 1: Targeting vs. optimizations
First, if your household income targeting was migrated from the old UI, then AdWords has the Flexible Reach set to "Targeting" by default, rather than "Observations."
I think this is a significant error, since Targeting means that only people who are identified by AdWords as falling into these income tiers, will be targeted (and fail to show for others). Our agency had a client whose impressions were severely limited until we pulled the household income targets and identified this default Flexible Reach as the problem when their account was migrated.
Fortunately, it's easy to fix this. Simply access the AdWords Editor and set your Campaigns & Ad Group level Flexible Reach for household income targets to "Observations" and you should be good:

Personally, my request to AdWords would be to make Observations the default option for Demographics to prevent accidental impression limitations. But until that is (hopefully) changed, follow the screenshot above.
Concern 2: Bid modifier inflation
This has been noted by many digital advertisers before! That is, whenever you have multiple bid modifiers applied in your campaigns, you run the risk of artificially inflating (or deflating… insert outdated Tom Brady joke here) your bids far beyond what you originally intended to pay.
For example, let's say you had a day-parting bid of +25%, then a geo bid for CA of +25%, then a tablet bid of +25%, and then added a Top 10% Income bid of +50%. While your keyword bid might be set at $1.50… you could end up spending far, far more than that! It adds up quickly and can become problematic if you have too many things going on.
The best way to combat Bid Modifier Inflation is to identify the most important segments and build them into separate campaigns or ad groups. So for instance, if you know that devices convert substantially different than each other, and you have enough traffic for statistical significance, then pull that top campaign into three separate campaigns (one for each device). Then, you can treat those device bids individually and you have eliminated a significant bid modifier from your mix.
Bid modifiers aren't pure evil, but you do have to watch out for them!
How will you use household income targets?
When implementing income level targeting, you can accomplish two aspects of filtering in your PPC campaigns. First, you can identify and bid more aggressively on users who are more likely to be your target audience, thus increasing exposure to just the right people. Second, you can identify and reduce bids on the audience who will not be a great fit for your account, thus increasing the amount of budget you have to re-invest in the account in better performing areas.
So, get to work implementing income level targeting in your accounts, and may the auctions be ever in your favor!
Learn how to provide 1:1 ad personalization for every audience you have with an Instapage Enterprise demo today.
About the author
Kirk is the owner of ZATO, his Social Ads & Search Marketing agency, and has been working in Paid Search since 2010. In 2017, he was named the #4 Most Influential PPCer by PPC Hero and has written articles for many industry publications. He is also an avid conference speaker, having traveled across the US and UK to talk about Paid Search. Kirk currently resides in Billings, MT with his wife, four children, and little sleep.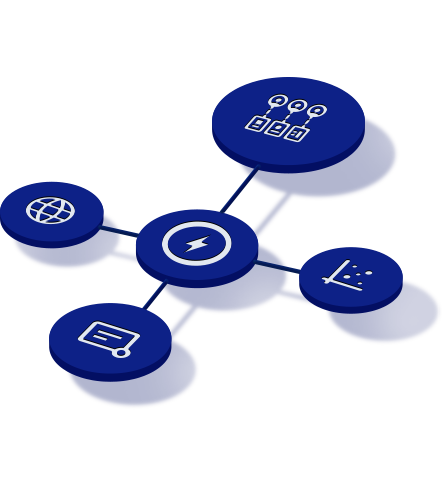 See the Instapage Enterprise Plan in Action.
Demo includes AdMap™, Personalization, AMP,
Global Blocks, heatmaps & more.