It's that time of year, and it seems like we say it with each annual roundup post… but 2019 was all sorts of new and Instapage's biggest year to date. From a brand refresh, moving offices, introducing a new product category, announcing Personalization, AdMap™ & SOC 2 compliance, adding the Facebook Ads integration, enhanced UX, new product features, and more.
Missed any updates? Get them all in today's post.
The Instapage brand refresh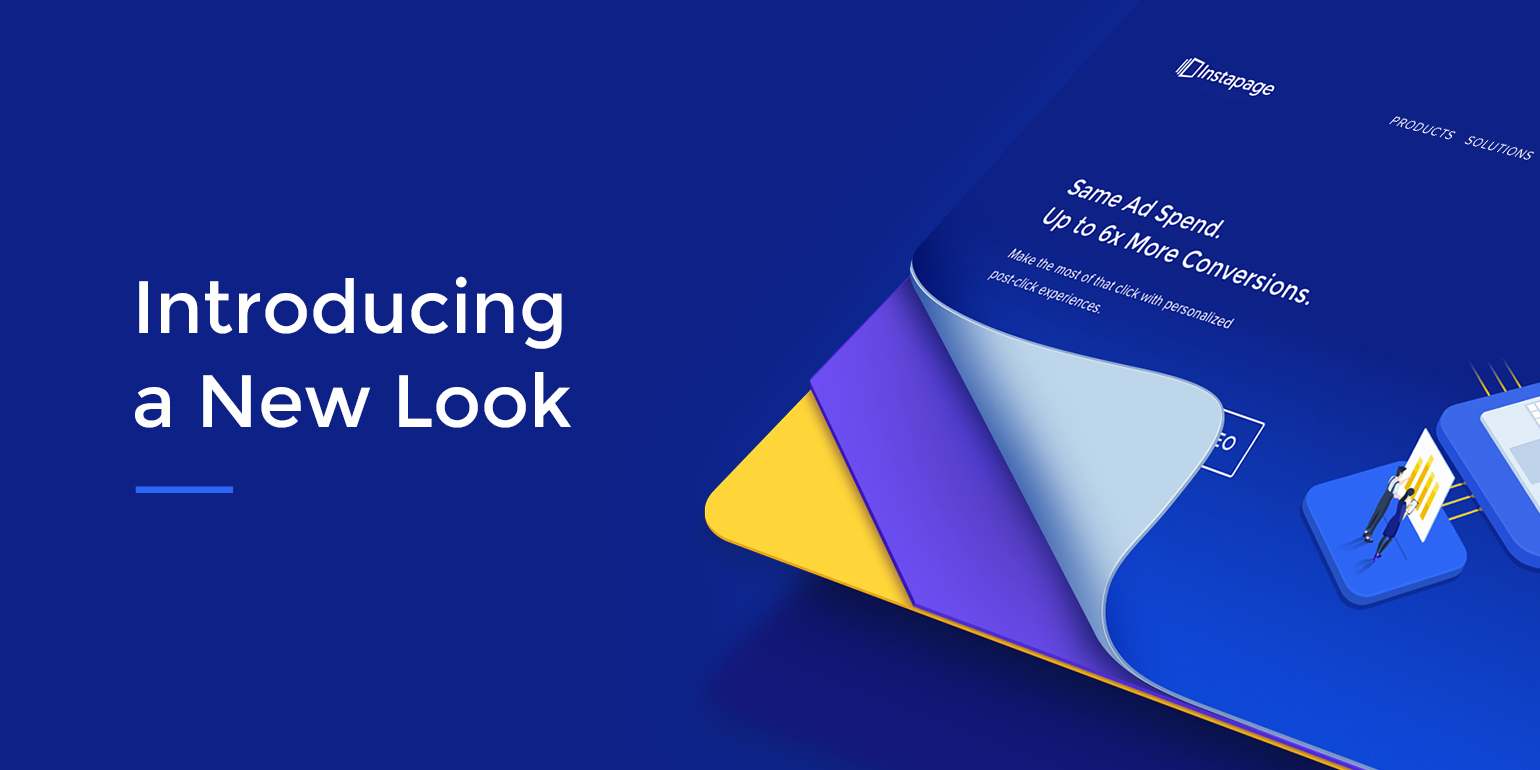 In April, Instapage got a brand refresh, complete with new colors and new messaging; the refresh set the tone for the next phase of the company's evolution:
We made these changes because our team is now entirely focused on the value we're delivering. Instapage needed a new way of communicating our value, both visually and verbally.

After years of investing in new value creation, we realized that we've been presenting our product as a tool and not as a solution to big marketing and advertising problems. Instapage is not a "builder," it is an "Advertising Conversion Cloud™" that helps you turn more ad-clicks into conversions through highly personalized post-click landing pages.

This refresh helps us better tell that story.
Introduced the Post-Click Automation (PCA) software category
There is no shortage of pre-click advertising strategies brands focus their efforts and neglect what happens after the click. But once a user clicks on ads, and for brands to maximize conversions, users deserve a matching post-click landing page that continues the personalized journey.
1:1 ad-to-page personalization is the only way to maximize conversions and advertisers like you must have a way to create post-click landing pages as easily as they create ads. Enter Post-Click Automation, which encompasses four pillars: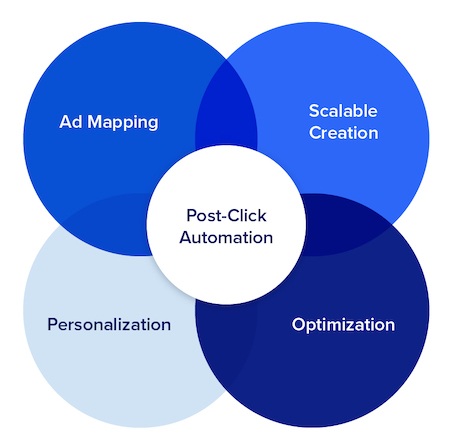 Until now, no brand has combined all four pillars into a single platform. Here's how PCA technology closes the last remaining and most significant gap in the customer acquisition funnel and is the next evolution in marketing personalization:

Brands that implement PCA with Instapage see 4x the average industry CVR: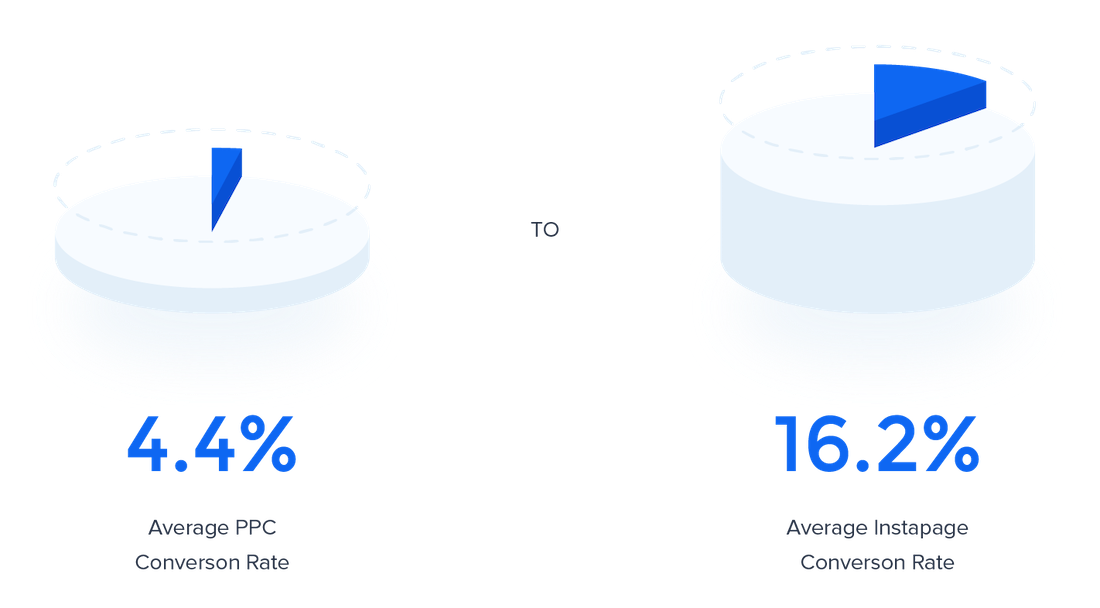 (Bonus: To see how advanced digital advertisers scale their landing page creation, download the free ebook here.)
The product vision heading into 2020
By the end of 2019, over $330 billion will be spent globally on digital advertising: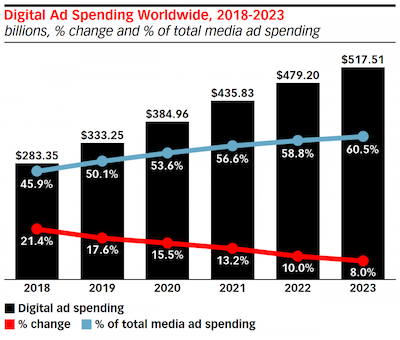 And from this, less than 5% turns into value (see 4.4% average CVR above).
Why such a low conversion rate? The answer is simple: digital advertisers spend all of their time/money crafting new ads, adjusting bids, and setting up new audiences to target. What advertisers often fail to do is send potential customers to a relevant post-click landing page that aligns with the expectations they had when they made that click.
But imagine a world where we prioritized these post-click landing pages. At Instapage, we've had enough! We're tired of seeing hundreds of billions of hard-earned dollars going to waste and, more than anything, we're fed up with the lack of ad-to-page relevancy.
Providing post-click personalization at scale requires several technologies in place, so our team set out to build the world's first Post-Click Automation solution. Above all, to increase the ad-to-page relevancy, you need personalized experiences for each audience you target.
1:1 Ad-to-page personalization
Personalization may seem like the latest buzzword for digital advertisers to insert into their campaigns. Still, it's certainly nothing to roll your eyes at — the stats prove it's worth investing in.
The Instapage Personalization solution enables 1:1 ad-to-page personalization, so you can personalize the post-click landing page for every potential customer. It's based on UTM parameters, where you can add unique experiences for new audiences to an existing page. Identify the new sub-segment with a new set of UTM parameters, create a new experience, and attach it to the audience. Visitors in that segment will then start seeing the experience in real-time. Your other experiences will remain untouched: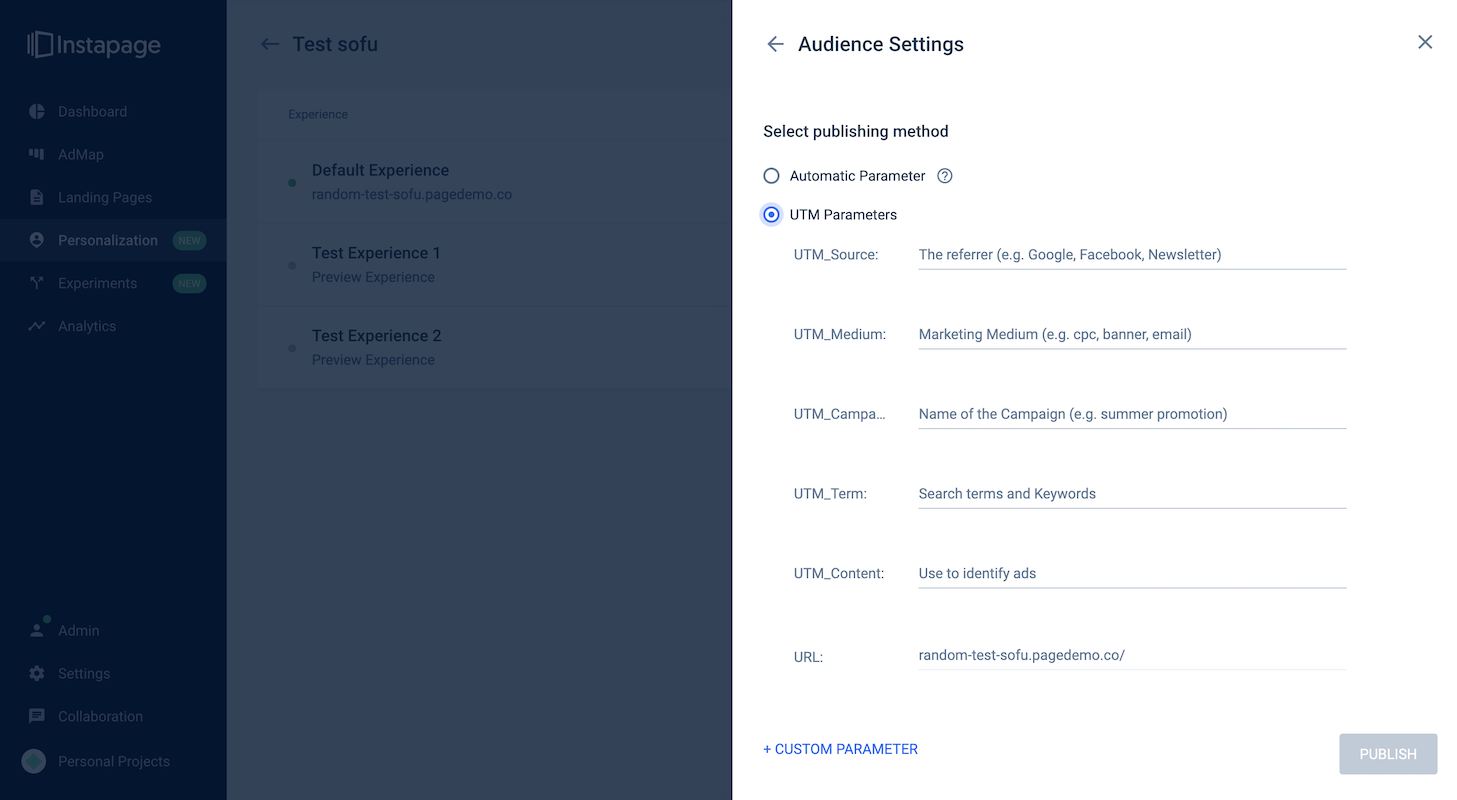 If you prefer not to identify the parameters yourself, the automatic parameter will create and append routing parameters to custom audience experience URLs for publishing, with the option to switch to the manual parameter input method. Automatic Parameters will increase accuracy and efficiency by eliminating the need for users to log in to their ad platform or refer to a tracking spreadsheet, find UTM or custom parameters linked to a specific audience segment, and manually copy each field into Instapage for publishing: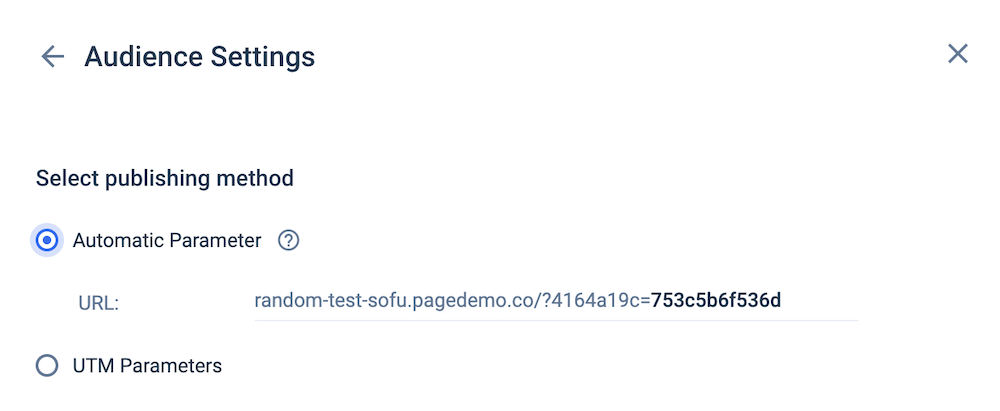 Version 2.0 of Instapage Personalization (available January 2020) is an even better workflow, shown here:
Personalized post-click landing pages are different than A/B testing, in fact, both are better together. Some of you reading may think this is similar to Optimizely's personalization functionality. It's not, and we prove that here. For the most frequently answered questions, go here and read Instapage Director of Product Management Yon Xiao give more insight into the product.
For additional information, download the Instapage Personalization ebook.
AdMap™ & Postclick Score™
AdMap™ fulfills the ad mapping pillar within PCA and effectively allows PPC advertisers to visualize their campaigns:
Before AdMap, advertisers typically used spreadsheets to track and update their ads to landing pages — no doubt a tedious and inefficient process.
The new offering enables you to:
Import your full account structure from the advertising platform to generate your Postclick Score and evaluate your advertising funnel for ad-to-page relevancy
Visualize a list of your campaigns, ad groups, and ads in Instapage to determine where personalized pages are needed
Effortlessly create new pages within the AdMap flow, and connect each ad to a matching post-click landing page using an intuitive point-and-click interface
Quickly edit and update connected post-click page experiences to match your ad iterations
Automatically two-way sync ad mapping updates between the advertising network and Instapage
Serve the correct personalized experience in real-time to the right audience for each ad
That was just version 1.0. Version 1.5 is even better, and I demonstrate that here:
In conjunction with AdMap's release also came the Postclick Score™. This score is the percentage of unique experiences you have compared to the quantity of Ad Groups + Ads you have: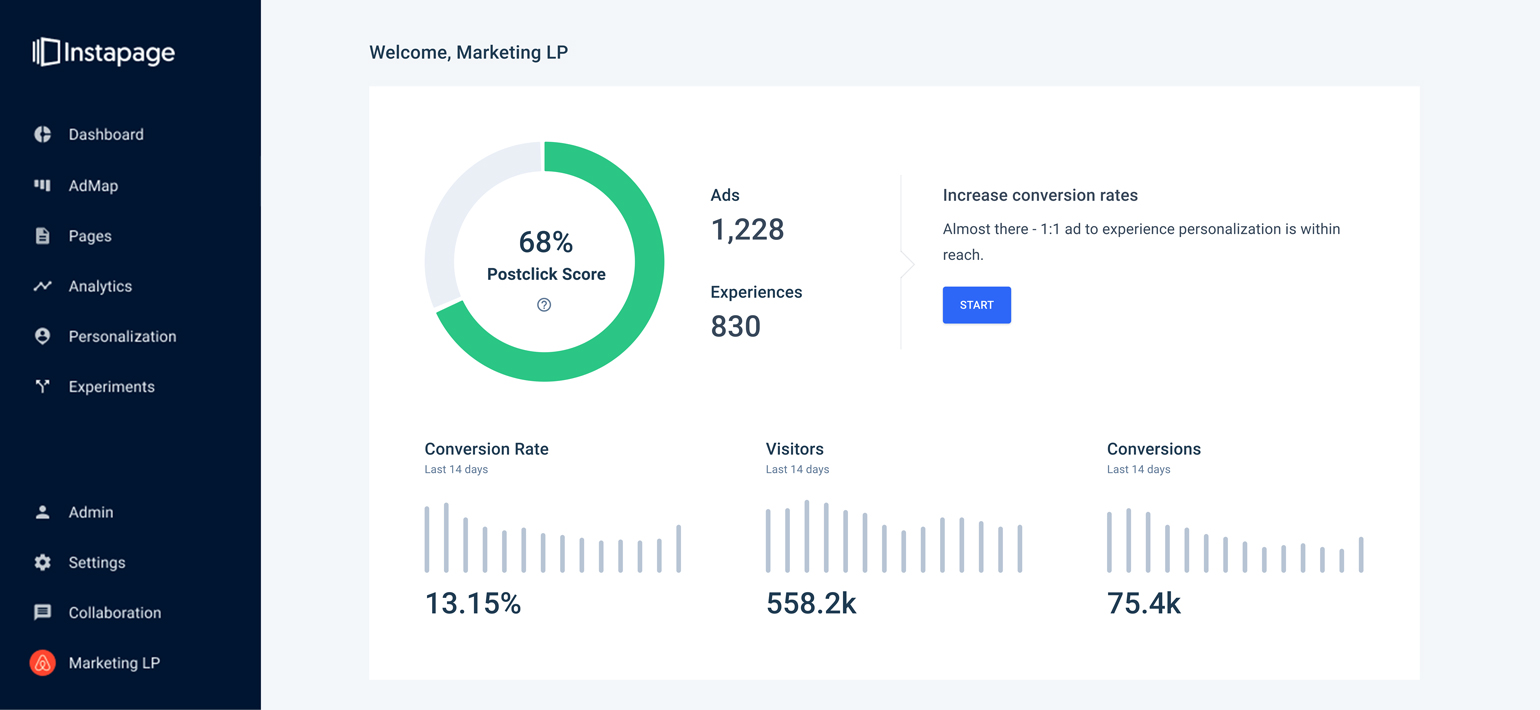 Revamped A/B testing is now Experimentation
A/B testing has always been a foundational feature within the Instapage editor. However, we've found that not only is this confusing to customers who often mistake it for page versions rather than a conversion optimization technology but finding and managing experiments is confusing without a dedicated workflow.
Because of this and because we are expanding our Experimentation technology significantly while migrating our A/B split testing, and Heatmap features into dedicated product workflows based on a "job to be done." You'll be able to deploy new experiments easier than ever before and then manage them from a dedicated dashboard, separate from the landing page creation process.
Watch this short video to learn more:
Responsive page experiences everywhere
People have a plethora of options to browse online — devices and browser types — and getting your landing pages to respond exactly as you want them to is challenging. With this unique Instapage feature, you can launch fully responsive post-click landing pages to optimize experiences across different desktop and mobile devices. Our platform automatically scales page content and elements to match the screen size on which page experiences are viewed.
Now, your visitors will have consistent experiences that are optimized for their device and screen size without having to pan, zoom, or scroll.
The fastest page loads with the Thor Render Engine™
Too much money is riding on your digital ad campaigns to miss out on people bouncing from your pages to ignore page load speed any longer. In 2018
, Instapage announced AMP landing page functionality for marketers to build AMP compliant post-click landing pages. That helped set the stage for what came next in the evolution of Instapage and page speed.
In March 2019, we announced the Thor Render Engine™ to ensure that all Instapage post-click landing pages load near-instantaneously. This meant a full rewrite of the post-click landing pages in every aspect — changing the HTML structure, JavaScript and CSS Refactoring, and CSS Responsiveness to ensure everything in the backend of your pages allowed them to load instantly (you don't need to do anything because the Thor Render Engine™ works silently behind the scenes to make your pages lightning fast.)
To prove it, we ran a test comparing the old page rendering system compared with the Thor Render Engine, and the results were impressive: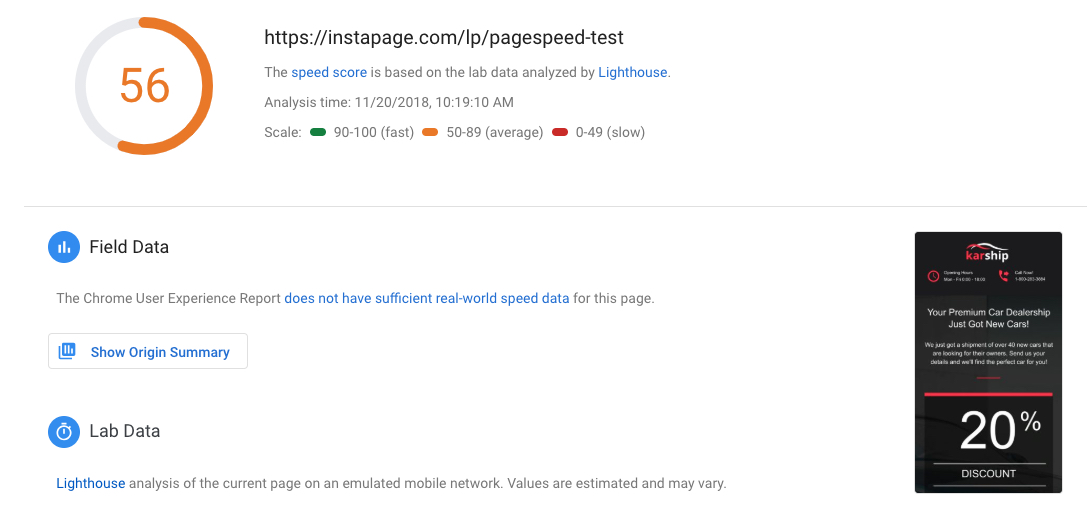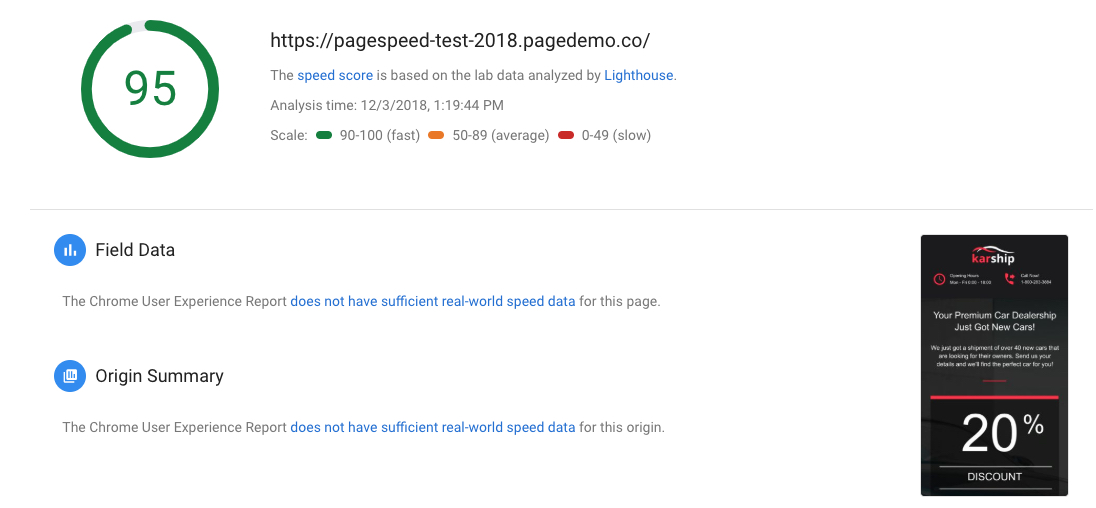 Direct lead bypass & SOC 2 compliance
By default, Instapage servers store all lead information. With direct lead bypass, Enterprise customers can store their lead data with the destination endpoint of their choice (the location where the lead information will rest) without storing the information in Instapage servers. Instead, this information is transferred to a destination of the client's choosing (usually through a native CRM integration or the customer's own database by setting up a webhook).
By implementing direct lead bypass, Enterprise customers make sure that they and nobody else only receives their lead information.
(Note: Not all Enterprise customers need to implement direct lead bypass. It merely provides businesses that handle PII (medical, legal, or financial industries) the flexibility to decide where their lead and user information is stored when regulations are involved.)
Service Organization Control 2 (SOC2) is a component of the American Institute of CPAs (AICPA)'s Service Organization Control reporting platform. SOC 2 is a technical auditing process and certification that measures security and availability and serves as an assurance to customers that their data is being managed in a controlled and audited environment. We're happy to announce that Instapage is SOC 2 compliant!
When a business is SOC 2 compliant, it signifies they implement proper security systems to ensure security, availability, processing integrity, confidentiality, and privacy of customer data: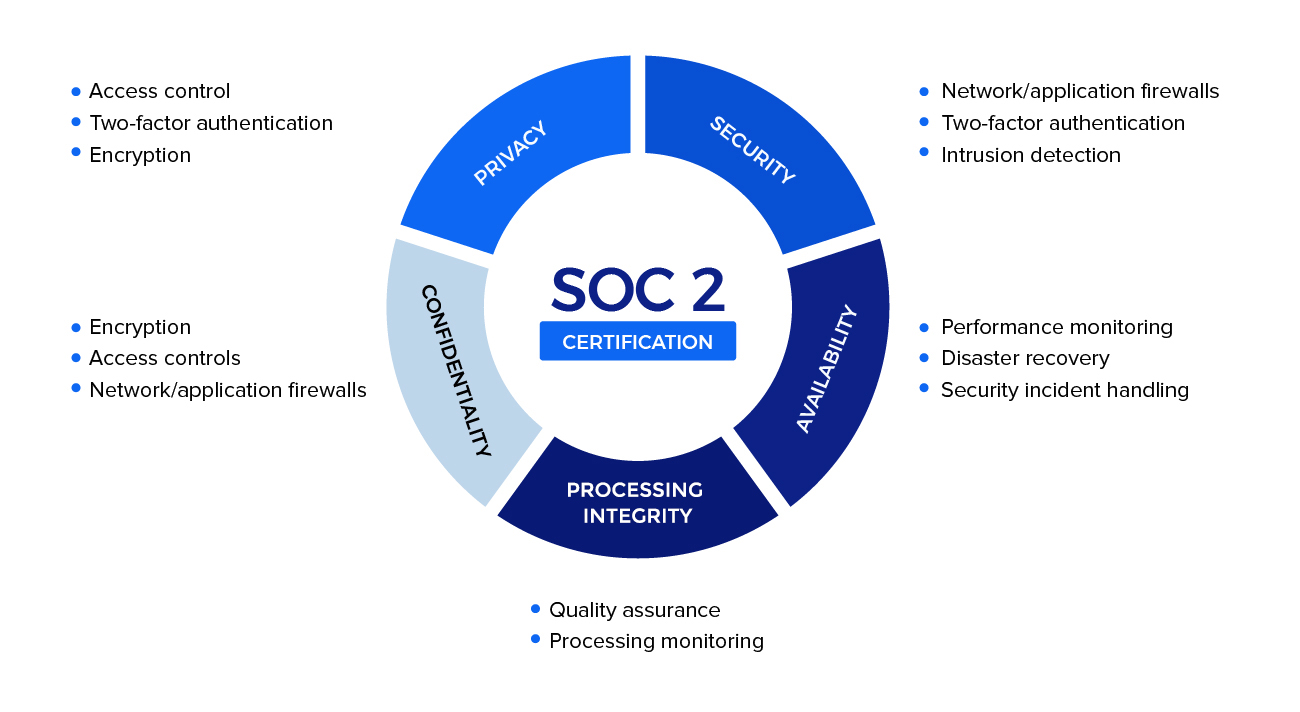 This level of compliance is essential for technology-based service organizations that store customer data in the cloud. This makes it applicable to most SaaS businesses, and any business that relies on the cloud to store its customers' information.
Enhanced UX, builder enhancements, AMP custom code & more
In the image below, you will notice that the Admin, Account, and Notifications menus have moved to the lower left sidebar. As part of the streamlined, user-friendly design, you can now access Integrations, Domains, and Team Members from the Settings menu as well: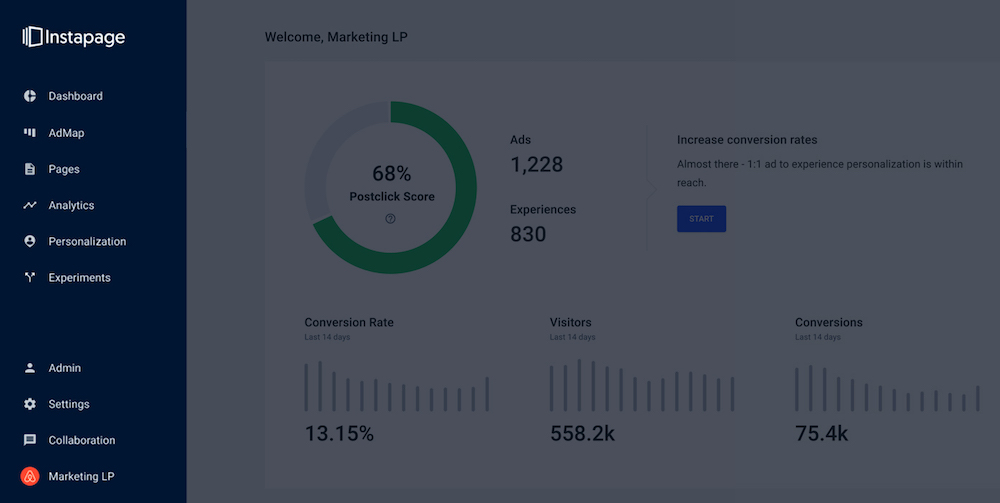 Once inside the page editor, you'll see it has undergone a facelift, too. The editor has been a foundational piece since Instapage came to market, and it's been updated over the years with increased functionality and enhanced user experience in mind.
In June, we moved the tools and settings menus to align with other design-centric applications, like Adobe Creative Cloud, that follow similar workflow layouts. Instead of spending unnecessary time learning a new workflow, landing page creators prefer to work in an interface that they're already familiar with, so they can quickly locate tools and functionalities.
The enhanced design is formatted with tools and settings placed along the sides of the screen. The horizontal Page Elements Toolbar is now repositioned vertically to the left side of the builder and the Page Settings Menu is statically displayed in the expanded state on the right side: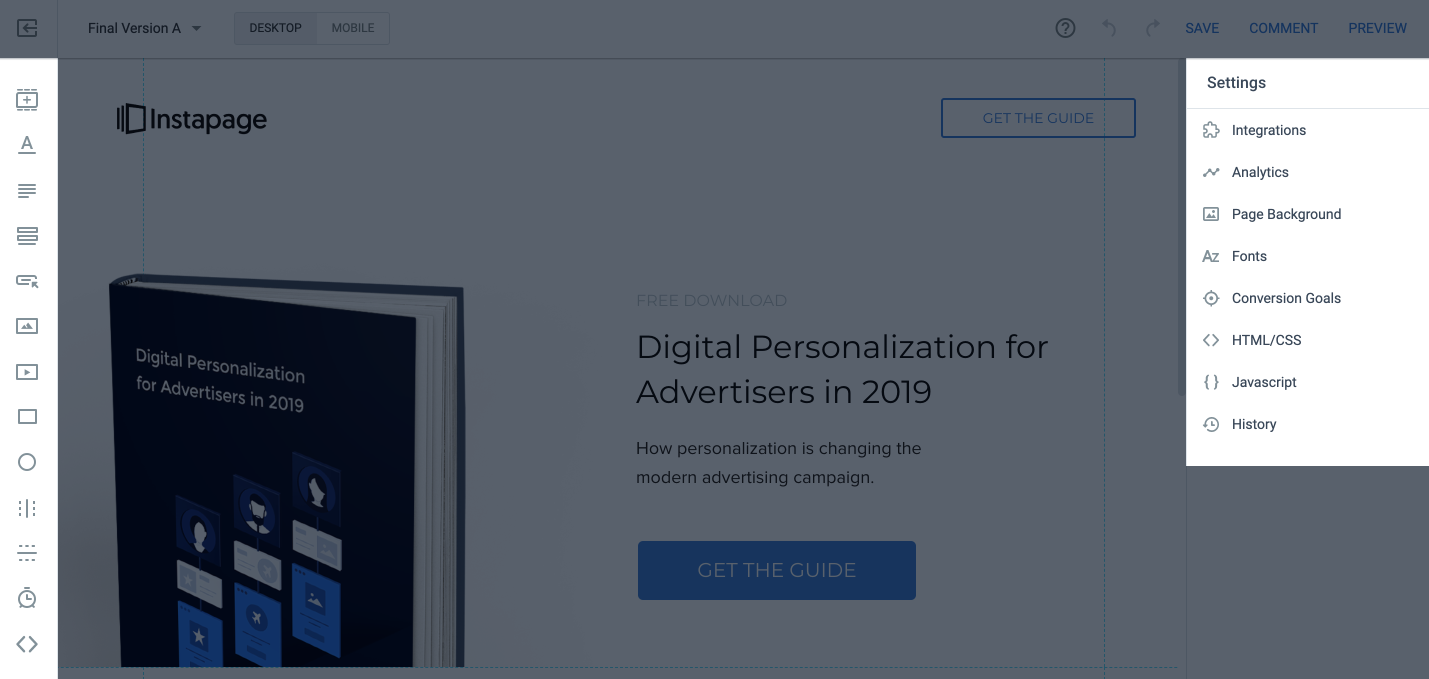 Launching AMP pages was only the beginning, and starting in February 2019, Enterprise customers could customize their AMP page experiences with elements that are accepted within the AMP framework. Use the Custom Code feature (HTML/CSS) inside the Instapage AMP builder to implement AMP-approved elements such as optimized layout design, media, analytics, and more.
AMP updates didn't stop there, though.
With the built-in AMP validator, you can check that your custom code is compliant with the framework and we'll let you know if things don't pass prior to publishing: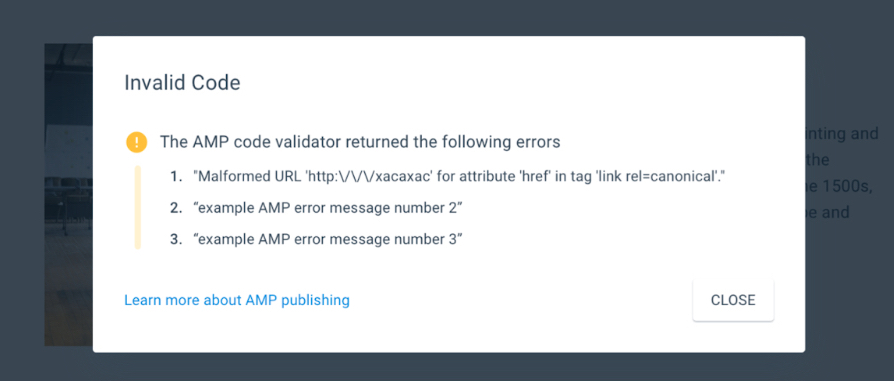 Next with the builder update is Overwrite Protection, which takes Instapage Collaboration to the next level because only one active user within an account or workspace can edit a page at a time. Multiple users cannot edit and save changes to the same page simultaneously. This prevents contributors from accidentally overwriting each other's work, thus preventing wasted efforts and providing a seamless workflow: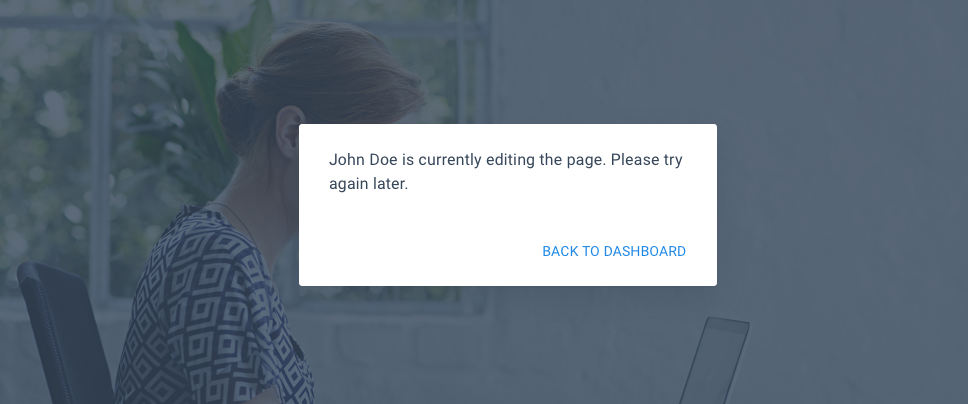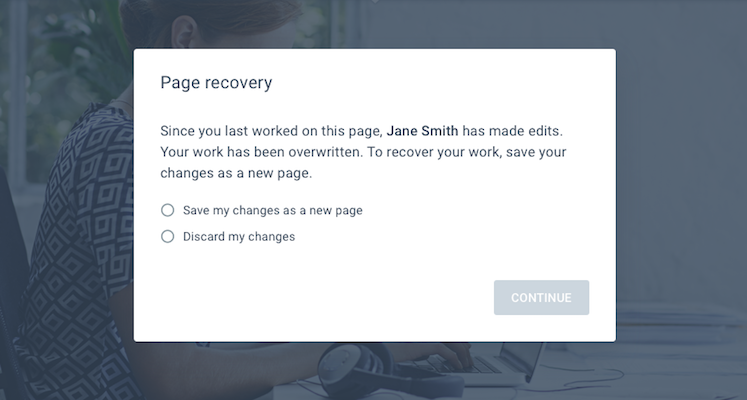 Meanwhile, our improved domain setup provides a detailed, instructional flow helping users complete the domain setup process and publish pages faster. The step-by-step guide handholds you through each stage of the domain connection process, from start to finish.
Now, when you click on "Connect Domain" in the Domains page, an instructional pop-up window will appear and prompt you to complete five steps: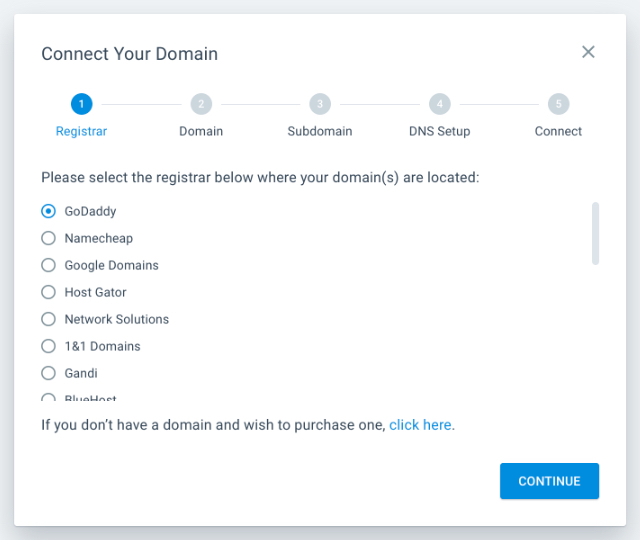 Google Analytics variation tracking now available
Not only has Instapage integrated with Google Analytics for years, but now we are the only platform to pass post-click landing page variation data to Google Analytics: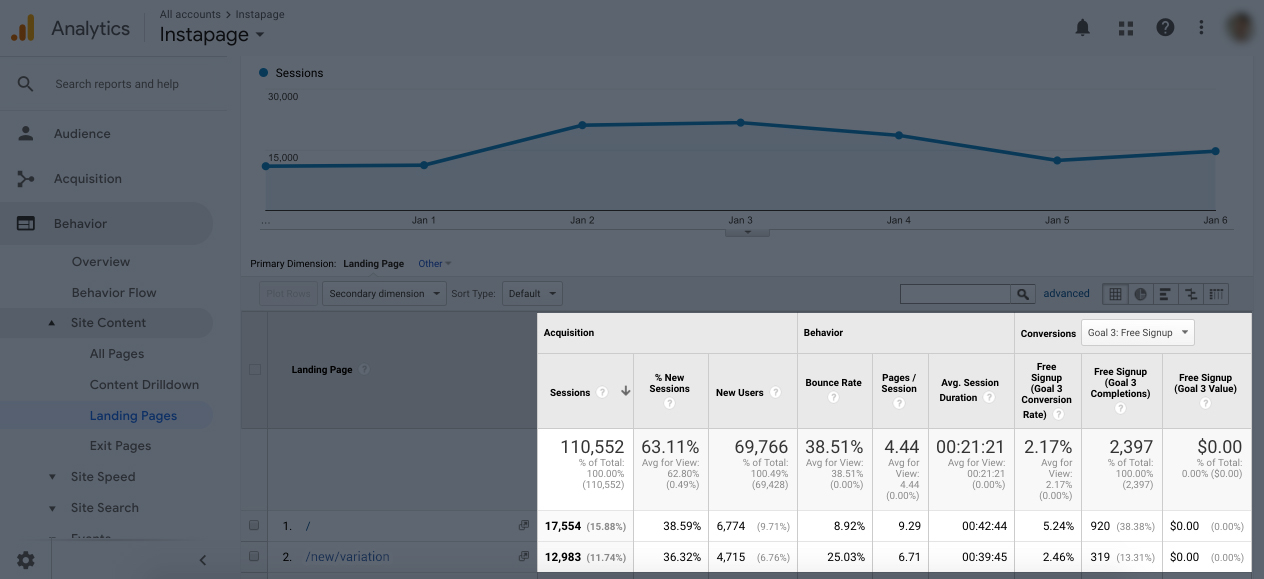 This means Instapage can pass data to Google Analytics for each specific post-click landing page variation you create in the builder. Now, you can attribute performance to the correct variation and make more accurate conclusions from the GA data. Go to this article for the step-by-step process of setting up this tracking.
Facebook Ads conversion, cost & attribution analytics
For years, there hasn't been an easy way for advertisers to measure the ROI of their Facebook ad campaigns through the post-click landing page. Advertisers deserve a unified and accurate view of both their ads and their corresponding post-click landing pages performance to evaluate their ads' effectiveness.
The new Instapage Facebook Ads integration lets you see detailed insights into advertising traffic and conversion costs across the entire marketing and sales funnel. Now you can connect Facebook Ads Manager to your Instapage account and view cost attribution metrics in your Analytics dashboard in real-time, including cost-per-visitor and cost-per-lead for Facebook ad campaigns:

Plus, you can send ad campaign and cost-per-visitor information to your marketing automation and CRM tools to accurately attribute revenue and pipeline to PPC spend and campaign performance.
Customer story highlights
We're proud to work with some of the biggest brands in the world. Two customers in particular, HelloFresh and Eurosport, came to us looking to increase their ad-to-page personalization and maximize conversions. The results have been fantastic:
HelloFresh increased their CVR 30% while reducing their post-click landing page production time by 33%
Eurosport generated 30% uplift from personalization while reducing their post-click landing page production time by 90%


Go here to see some of our other customer stories from a variety of industries including Verizon, ChartMogul, Lattice, and more.
Instapage fun, events, etc.
San Francisco
Our headquarters in the bay area grew from 55 to 60 team members and 2019 was Instapage's busiest year to date attending conferences and presenting breakout sessions. In particular, at Personalization19, I spoke to a packed house on Why Your Personalization Journey Needs to Start with Post-Click Automation: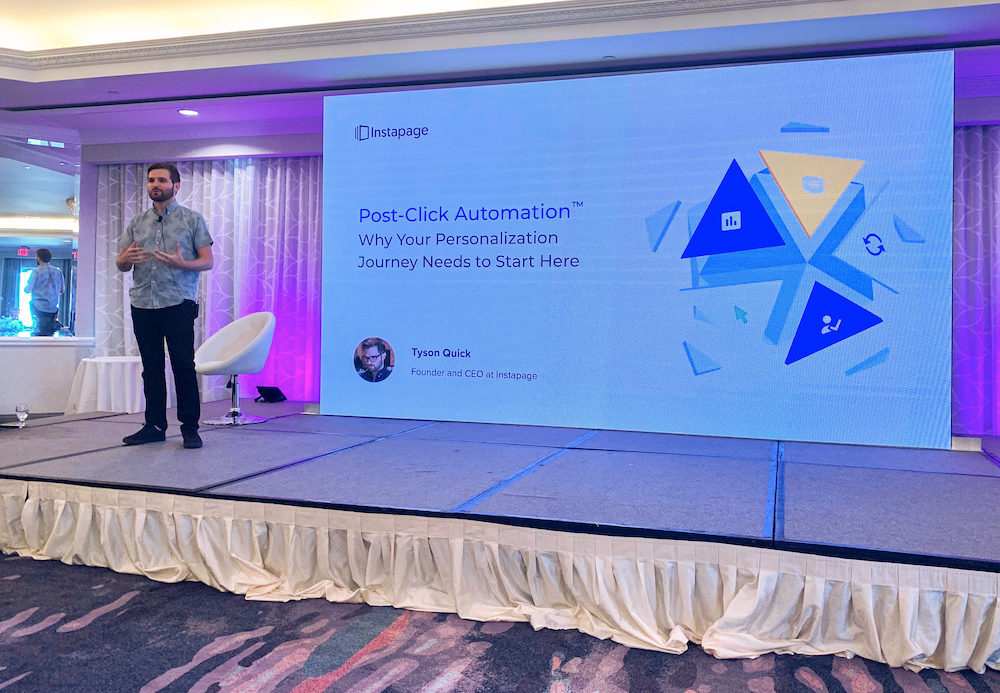 And at Growth Marketing Conference, I presented why growth strategies require post-click automation to maximize ad campaign results: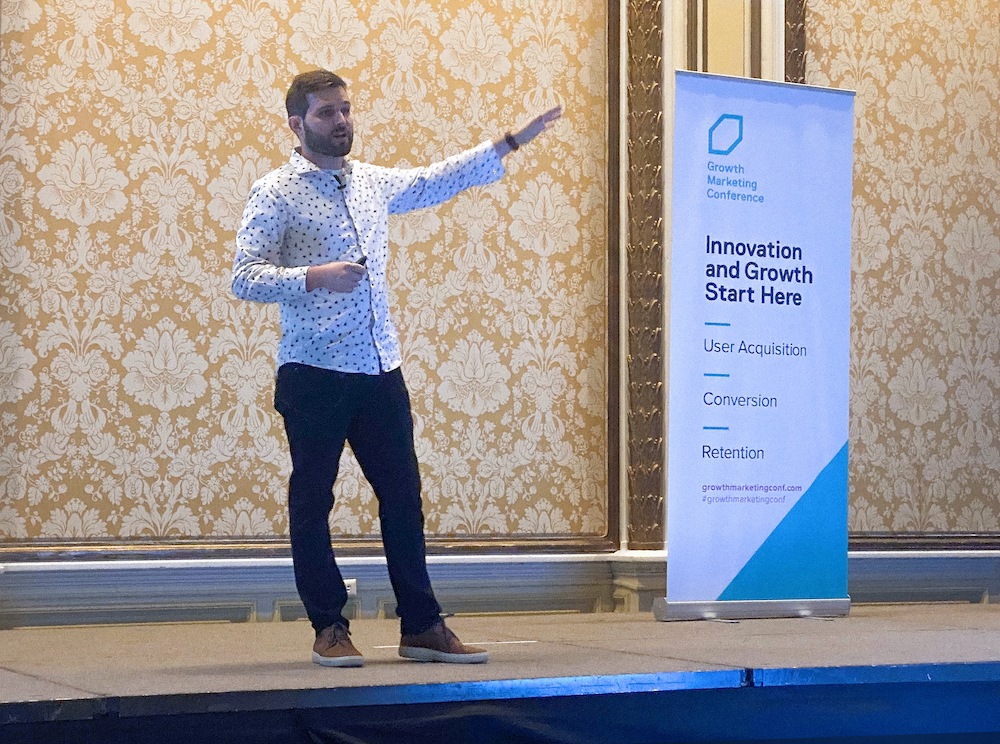 For Halloween, the team dressed up as a cast of characters. Here is a portion of the sales team dressed up as construction workers to mimic the construction crew building out our new office: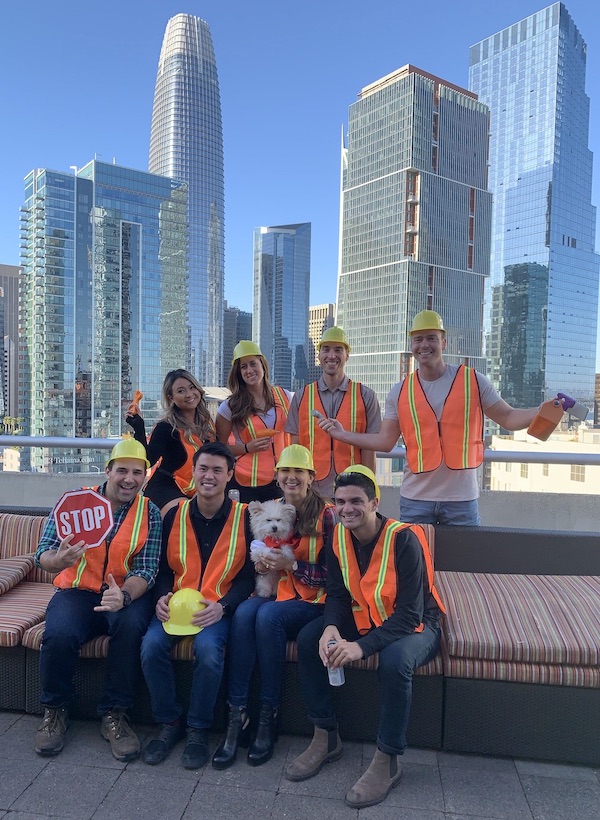 Poland
Białystok and Warsaw host a variety of team members including engineering, design, and HR and this year, collectively, grew from 75 members to 98. 2019 proved to be the busiest year for our Polish friends as they were busier than ever because we moved offices in Warsaw and went to Japan for AMP Conf 2019 in April: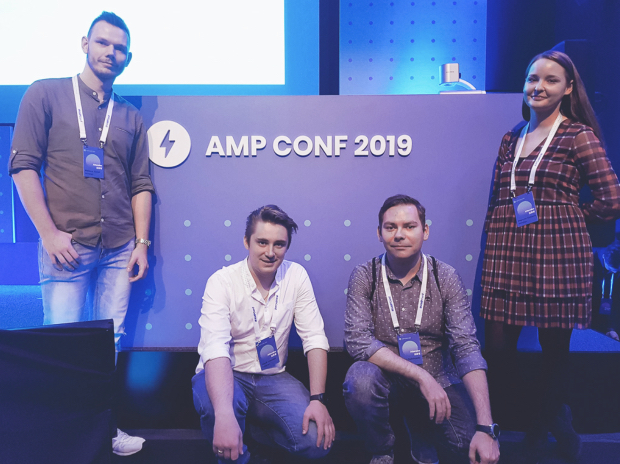 Warsaw organized seven new meetups called Ship.it to packed houses for mid and expert developers. Not only that, they were invited to speak at a Dev.js meetup, Białystok hosted a casino night, and of course, both offices participated in Halloween: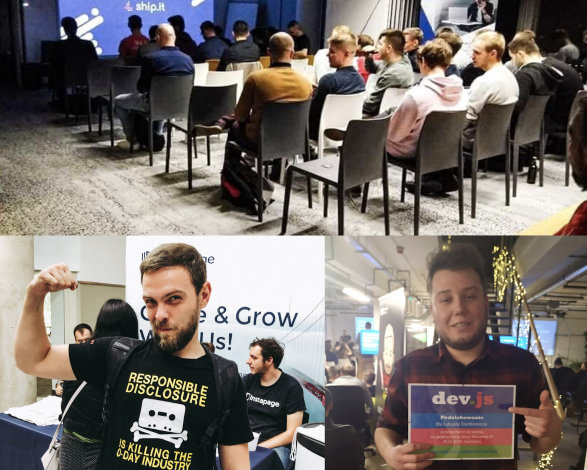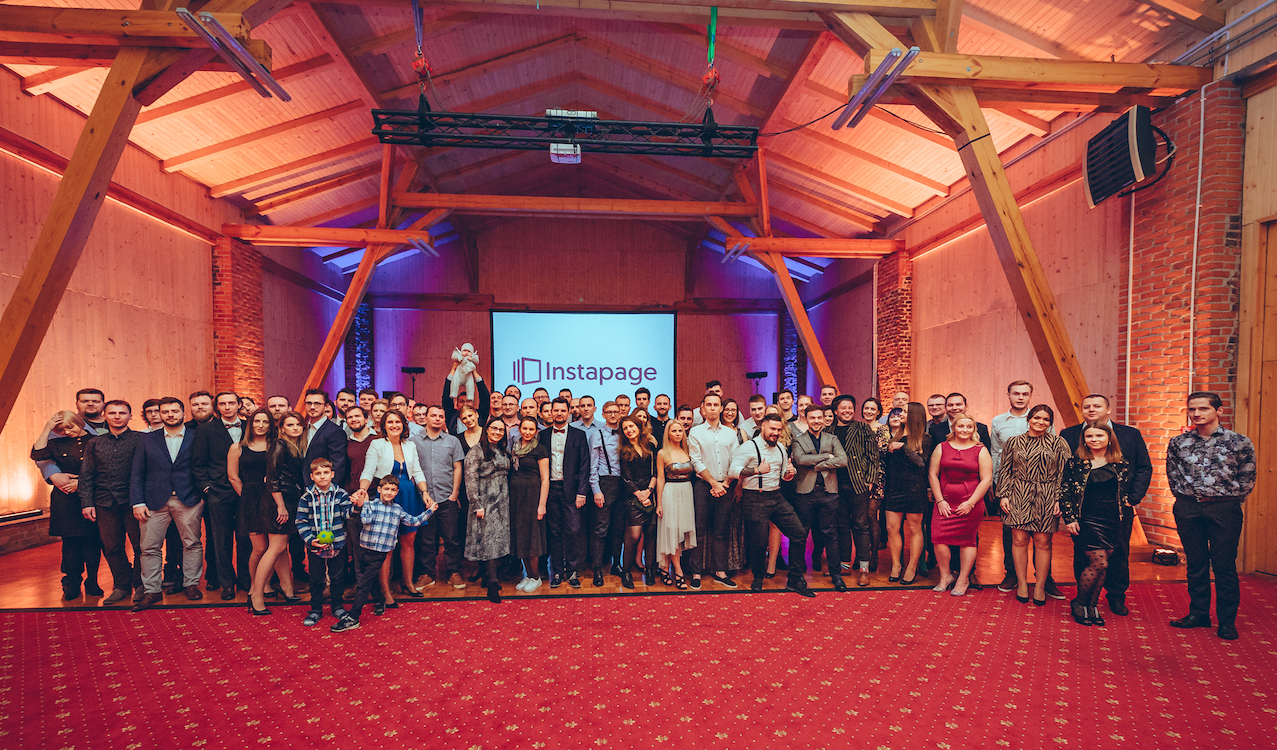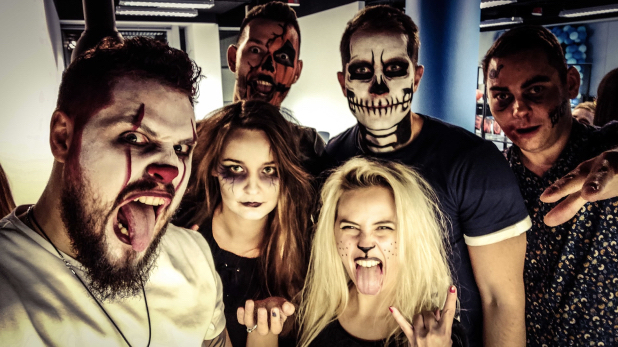 Romania
Timișoara, Romania is the home to our customer support, customer success, HR, and a portion of the design team. The team continues to grow each year and in 2019, grew from 38 to 50.
Throughout the year, the team does an exemplary job balancing their demanding workload and having fun. From a pushup challenge, baseball game team outing, hiking in the mountains, numerous other team-building exercises, and (of course crushing their Halloween costumes), the group is fantastic to be around and work alongside: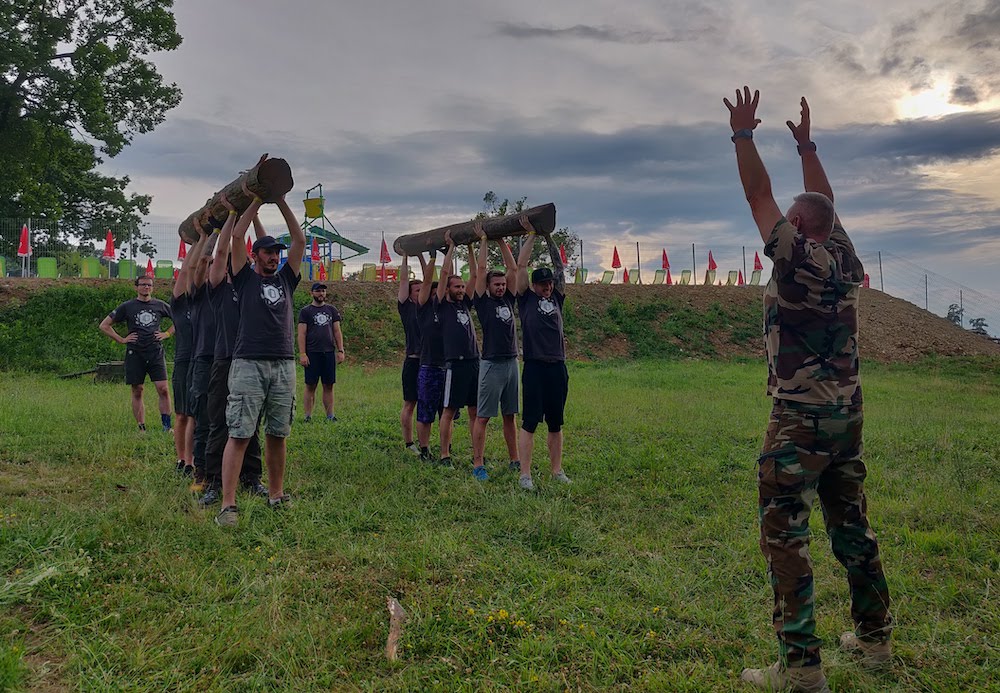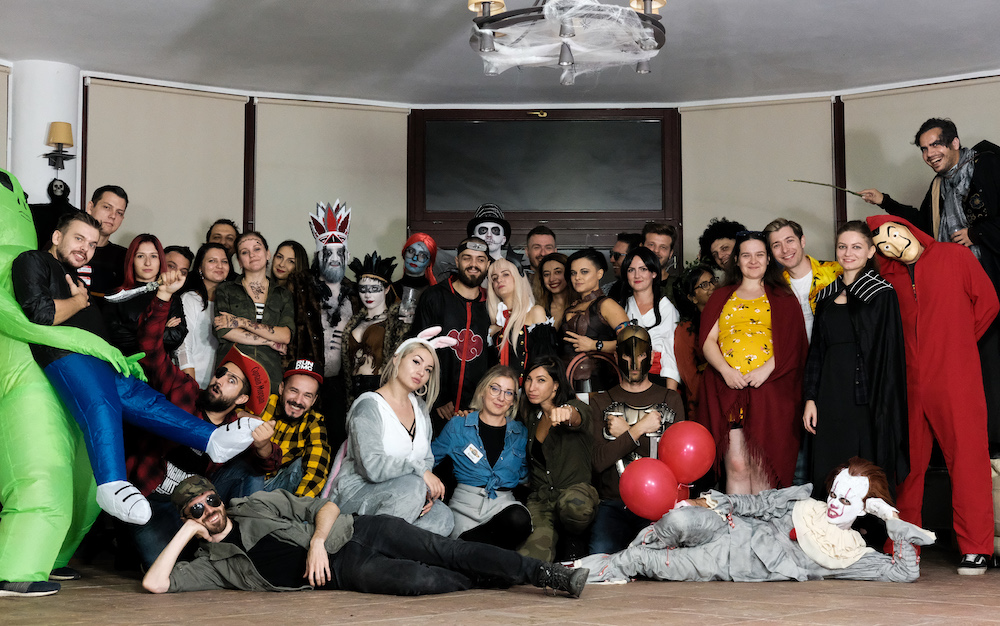 Thank you 2019, here we come 2020!
Stay tuned for the official release of Personalization 2.0 and much more coming in the new year. From everyone at Instapage, happy holidays and see you in 2020!
Tyson Quick,
Instapage Founder & CEO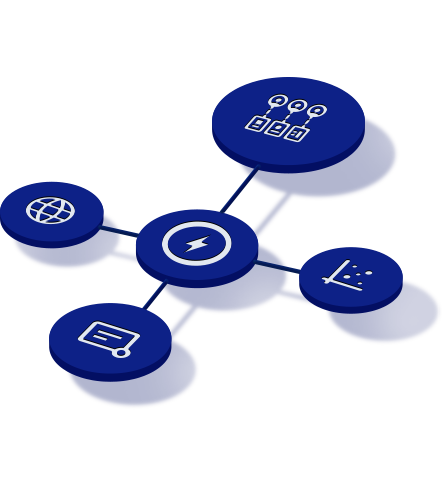 See the Instapage Enterprise Plan in Action.
Demo includes AdMap™, Personalization, AMP,
Global Blocks, heatmaps & more.