How to Optimize Remarketing Ads and Landing Pages
Last updated on September 29, 2017
Everything we've discussed until now has mostly been focused on the behind-the-scenes stuff — things that your visitors don't really care about.
Which platform you choose to run remarketing campaigns holds no importance for your audience; they are not bothered by your frequency cap or the number of segmented lists you have created. What they see in front of them are ads and corresponding post-click landing pages. These are things they care about.
It won't matter if you run all six types of Google AdWords remarketing campaigns, if you haven't created optimized ads and connected them to relevant post-click landing pages, each campaign will have a tough time delivering positive results.
How to Create Optimized Remarketing Ads
Remarketing campaigns essentially consist of display ads that use images, video, and rich media types to engage audiences.
To create effective display ads, make sure that the image and copy are relevant to the product feature or offer you're trying to catch the visitor's attention with. Creating different display ads for each remarketing audience segment will help you craft laser-targeted ads that appeal to the visitor you're trying to target.
Visitors click ads because they're looking for a solution to a problem and it's your ad's job to make it clear that your offer is worth investigating. To achieve this, you should think like your customer and craft ad copy that includes phrases that your audience are likely to pay attention to.
Another thing to review in display ads is branding. Make sure that your branding is on point so when people click through to the post-click landing page they know they're in the right place.
The anatomy of an optimized remarketing ad consists of:
An engaging headline The ad headline should be relevant to the visitors' experience on your website and it should be crafted in a way that they pay attention to it.
Relevant, visually appealing media: Whether you choose to include an animation or a static image on your display ad it should be relevant to the offer presented in your ad copy.
A click-worthy CTA button: For your ad CTA button to get clicks it should be designed in a contrasting color and have actionable, personalized copy.
Actionable Copy: Display ads have limited characters to explain your offer so be careful not to write too much. Ad copy that gets to the point immediately and offers visitors an incentive to click will likely produce higher click-throughs.
Freshdesk's remarketing display ad checks all the optimization boxes:

The headline immediately lets the visitor know what the service has to offer.
The image conveys that Freshdesk's customer support is linked to multiple platforms including email, phone, Facebook, Twitter, and live chat.
The CTA button stands out from the other ad elements and gives visitors an incentive to click with the copy "Free 30-DAY TRIAL."
Alliant's remarketing ad on the other hand is not optimized for visitors: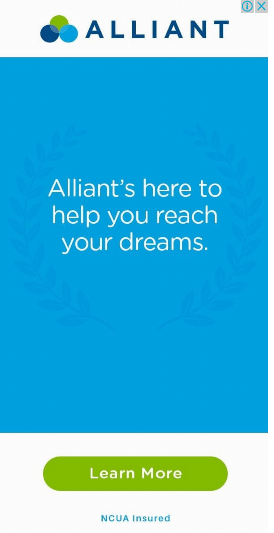 The headline is very vague, doesn't tell anything about the service or what the visitor will get if they click the ad.
No compelling imagery to convey the benefits of Alliant's services.
The CTA button is contrasting, however, the copy is not actionable, "Learn More" — about what, though? The ad doesn't specify anything.
Another thing that's absolutely vital is connecting each ad to a dedicated post-click landing page instead of your homepage.
Why You Should Connect All Remarketing Ads to post-click landing pages
post-click landing pages are dedicated standalone pages that promote a single offer without any distractions. All your remarketing ads should be connected to post-click landing pages instead of your homepage because post-click landing pages are more focused and inherently have a better conversion ratio than a homepage.
A homepage, on the other hand, is not dedicated to promote one offer (your remarketing offer in this case), and when visitors click through to it after looking for that offer they can easily get lost. When they don't see what they expected to find on the page, they'll simply leave again.
Let's demonstrate this concept with two examples to evaluate the experience from both sides. One ad will take you to a post-click landing page while the other will take you to a homepage.
This is Pond5's remarketing display ad: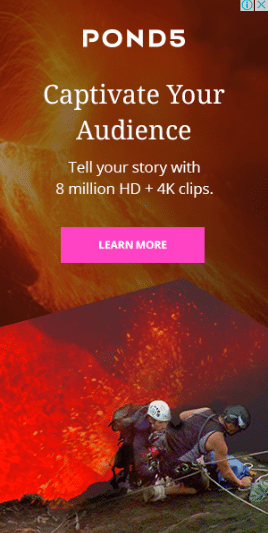 The ad copy talks about captivating your audience with HD videos and clips. This is the homepage you're directed to when you click the ad: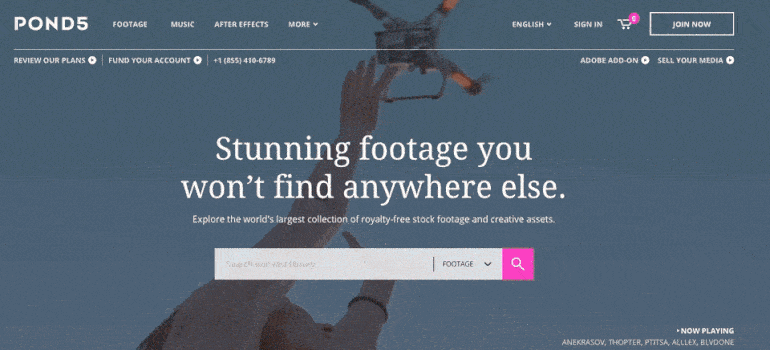 The page headline doesn't really talk about captivating audiences. Sure, it talks about videos but it doesn't match the ad headline.
The background video is a little distracting and makes it hard for the visitor to understand what's written on the page.
The page has too many links that navigate visitors away from the page, and distract them from joining the service.
Now, let's look at Aha!'s display ad:

The headline talks about roadmaps.
The image depicts a product roadmap.
The CTA button offers a free trial
Once clicked, this is the post-click landing page visitors are directed to: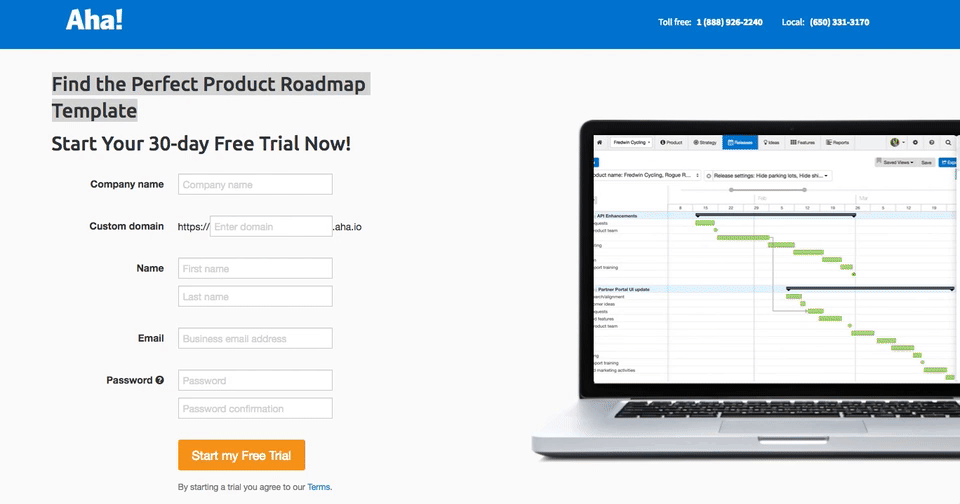 The page headline talks about creating roadmaps, which is what the ad copy promised- this leads to message match that assures the visitor they've arrived on the right page.
The gif on the page showcases the service's dashboard and how you can start creating your roadmaps from templates.
The form fields are arranged properly making it easy to fill out.
Below the page fold benefits of the service are mentioned in readable paragraphs.
Customer badges improve Aha!'s credibility.
No external navigation links that disrupt the conversion ratio and distract the visitor from completing the conversion goal.
Remarketing ads are created for segmented audiences; not everyone is interested in every single product feature you offer. So why would you risk directing your visitors to your homepage that talks about your entire brand and company and doesn't promote anything specifically.
Dedicated post-click landing pages give you the unique opportunity to attract audiences with the same message that convinced them to click the ad. This helps them see what they wanted without any distractions and increases the possibility of them converting through the CTA button.
An optimized remarketing post-click landing page should have the following elements:
The headline must be clear, convincing, empathetic and have a clear connection with your ad.
All page media should be relevant and eye catching.
The CTA button must be designed in a contrasting color and be specific to the offer.
The form should have labeled fields and shouldn't ask for unnecessary information.
Trust indicators (testimonials, customer badges and statistical evidence) should be present on the page.
The page should not include off-page navigation links.
The copy must mention your UVP, and reinforce any claim that your ad makes.
Another important aspect of post-click landing page optimization is A/B testing.
A/B testing is a method of gathering insight to aid in optimization. It involves testing an original design (A) against an alternate version of that design (B) to see which performs better. That original design is also known as "the control" and the alternate version is known as a "variation."
By performing A/B tests and collecting data on your post-click landing page, you can gauge which combination of page elements results in the most conversions.
Remarketing gives you another chance of reaching out to your potential audience. Don't waste it by directing visitors to a page that's not designed for conversions — like a cluttered homepage. Create optimized remarketing ads and connect them to laser-focused post-click landing pages to get the best out of your remarketing campaigns.
Proceed to chapter 6 to learn how to measure the success of your remarketing campaigns.