Components of LPO
Last updated on July 16, 2018
Regardless of the offer you're promoting, before you create a landing page it's important that you get to know the people you're creating the landing page for – your audience.
Knowing your audience doesn't merely involve knowing the basic demographics such as age and gender, you need to dig deeper. Find out their problems, their motivations to buy and the reasons why your offer is the best to solve their problems.
Only when you find out the answers to these questions will you be able to create detailed buyer personas and craft landing pages that your particular buyer persona responds positively to.
The more insights you have about your audience the better your chances of creating landing pages that are meaningful for them. Use tools such as Facebook's Audience Insights and Quantcast to know your audience better and create relevant landing pages for them.
Once you've gathered all the information you can about your audience it's time to create your landing page, and we recommend you start with an MVP (minimum viable page).
What is a Minimum Viable Page?
A minimum viable page is the least you need to start converting leads into customers. It's the page that starts your relationship with your customer, it helps you create, iterate and perfect your promotion channels, your brand language, and product positioning.
With an MVP you have the opportunity to perfect message match with your audience as you have the option to match your page at three different levels (A/B testing your page at every level is the key to getting the best out of your MVP):
1. Simple Message Match: At this level you create the most basic page, the copy on the page can be compared to an elevator pitch you might give about your offer to someone who you've just met. This is the starting point, the information you get from this page should be used to better your page for the next level.
2. Deep Message Match: With deep message matching you create a page that understands your user's lifecycle and is relevant to them where they currently stand in that lifecycle.
3. Experience Match: By now you should have enough data to create a page that your audience will respond well to. An experience match MVP has page elements that reflect your visitor's specific experience and so are well equipped at converting your visitors into leads.
An MVP gives you a better chance to know your audience, and once you do that you're all set to take the insights you've learned about your audience and create optimized landing pages that your visitors can't resist converting on.
Components of Landing Page Optimization
To fully grasp what landing page optimization is it's important we know all the components that combine to create an optimized landing page. Landing pages that have the right mix of persuasion, UX and UI principles have the following components:
No Off-page Navigation Links
Navigation links that take visitors off your landing page serve as distractions for your visitor. They dilute your conversion goal by giving visitors a chance to exit the page and forget about the offer that the landing page was promoting. An optimized landing page doesn't have navigation links, even a hyperlinked logo shouldn't be welcome on your page.
The only navigation links that can be used on landing pages are links that help with the credibility of your page such as a Terms of Use link or a Privacy Policy link.
The Tracx landing page has no navigation links: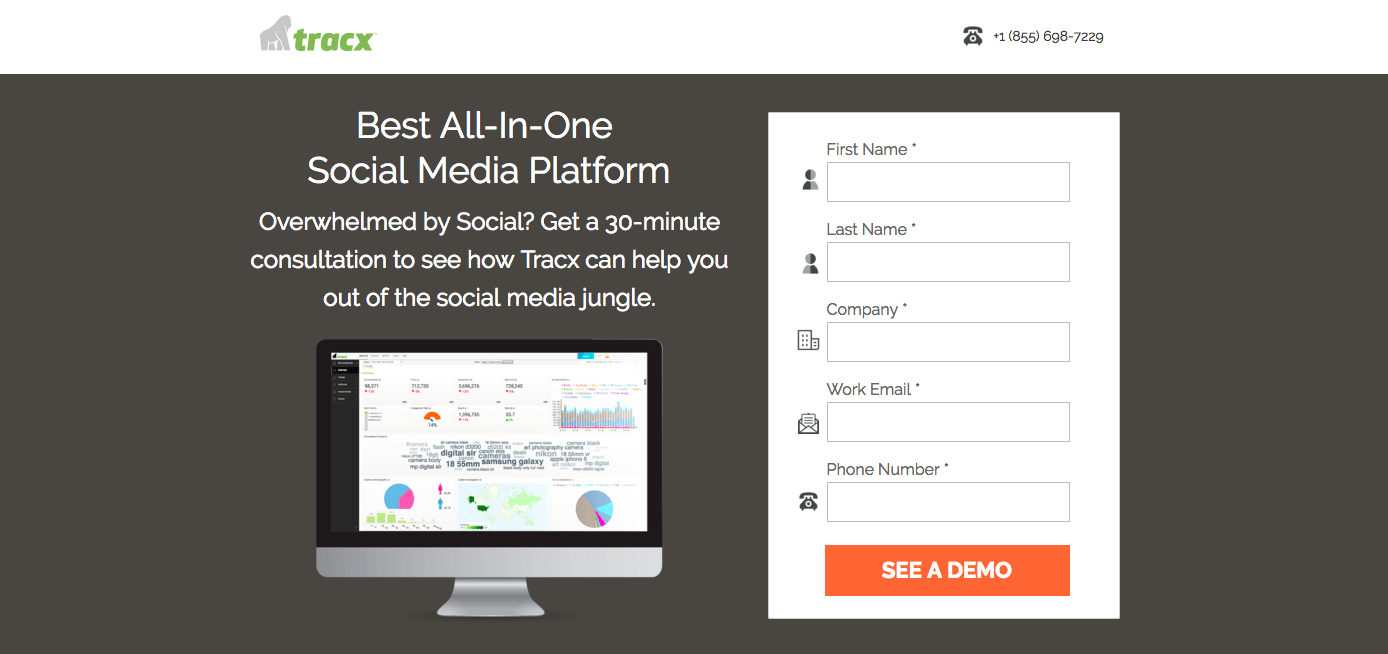 Primary and secondary headline
The primary headline is the first thing your visitors sees as soon as they land on the page, so the headline should be crafted in a way that it commands attention. There are different types of headlines you can create for your landing page, from statistical headlines, to question headlines.
The headline should explain what you do to your audience. Whether you mention that in a statement headline or use curiosity to get them to stay on the page to find out more.
The Marketo landing page has a statement headline: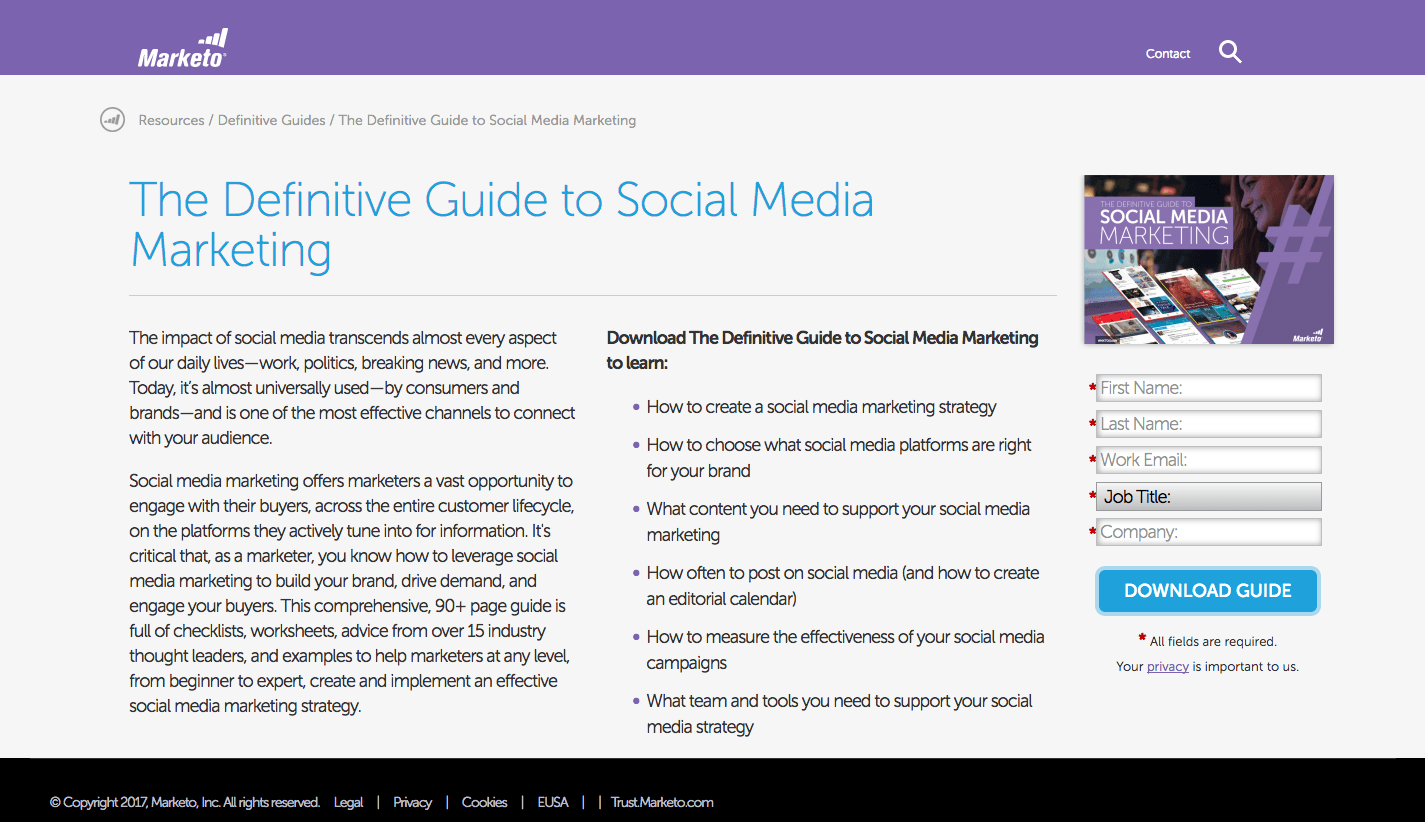 The secondary headline should complement your primary headline. Not every landing page has a secondary headline, in fact, this landing page element should only be used if your primary headline is running too long.
The headline can also be used to achieve something your primary headline couldn't achieve, for example, if your primary headline didn't have a statistic on it, you could use your secondary headline to mention a statistic.
Media
You can add images, videos or gifs on your landing page. The media you include on your landing page should add visual appeal to the page and be relevant to the offer. You can also add human appeal to your page with the help of a human image.
Use images to showcase product features – give a sneak peek of your dashboard to the visitors with the help of an image. Gifs can also be used to showcase products, the same is true for video.
No matter what type of media you are using on your landing page, just make sure that it is relevant to the offer you're promoting and it is of high quality.
CTA Button
The call to action button is where the conversions take place on a landing page, so, create a button that draws the visitor in. The button should be contrasting in color and have personalized copy on it.
Personalized CTA button copy is tailored to the specific landing page offer, instead of using a generic 'submit' or 'download' button, use copy that is individual to your offer. Button copy that reads, 'submit your information for more' or 'download the marketing ebook' has more chances of appealing to your audience.
Another way to create personalized button copy is with the use of personal pronouns, make a habit of addressing the visitor with the call to action button, using 'you', 'your' and 'me' on your landing page.
Lead Capture Form
The purpose of the lead capture form is to collect information about leads on landing pages, such as the email address, contact number, brand name etc. The length of your form depends on where your offer lies in the marketing funnel. As a rule, the higher up you are in the marketing funnel the shorter the form should be and as you progress down the funnel the form should be longer as at that point visitors already know about you and so aren't hesitant to share their information with you.
Your landing page lead capture form should be arranged properly in easily discernable fields so that visitors find it easy to fill. The form fields should be clearly labeled.
Trust Indicators
Getting visitors to click the CTA button isn't an easy task, this task becomes increasingly difficult if they have trust issues with your landing page. For your landing page to appear trustworthy there are a few elements you can use, namely:
1. Customer testimonials: The testimonials show your future visitors that your brand has the capacity to do what you promise to do, as they get to hear about your product directly from your customers.
2. Customer badges: They let the visitor know about all the companies you've already worked with.
3. Trust Seals: For landing pages that ask for their visitors' credit card information, these seals ensure that their information is safe and they won't be scammed by anyone.
4. Privacy Policy link: Assures the visitors giving their email address that they won't be spammed with useless information.
When you combine these optimized elements on a landing page what you have in front of yourself is an optimized landing page that has the capacity to convince visitors to click the CTA button. The way you design your page is also extremely important, the next chapter is going to discuss the UX principles that go into creating and optimized landing page.