How to Create a Content Marketing Distribution Strategy
Last updated on August 8, 2018
Distributing relevant content you've created to the right people at the right time is an integral part of content marketing.
With an effective distribution strategy in place you are able to build and strengthen relationships with your target audience and eventually lead them to take the desired action – which could range from signing up for a newsletter to downloading an ebook.
The first step to creating a content marketing distribution strategy is understanding the goal of your content marketing campaign. You also need to have an insight into your target audience's behavior – you need to know which content distribution channel they prefer and what type of content they are looking for at what time. If you've created a content marketing plan as discussed in chapter 2 you will already have your goals in place and will have the right information about your audience.
It's time to move onto the types of distribution channels you can use in your content marketing distribution strategy.
There are three main types of content distribution channels:
1. Owned Content Distribution (owned media): It includes your company's owned media channels such as your blog, website, email newsletter. Owned media channels also include your business' branded properties, for example your social media pages and your post-click landing pages.
2. Paid Content Distribution (paid media): When you explicitly pay to get your content distributed, such as running Google Ads campaigns and social media ads for your content.
3. Earned Content Distribution (earned media): This involves the distribution of your content by third parties such as guest blog posts, retweets, shares and PR pieces.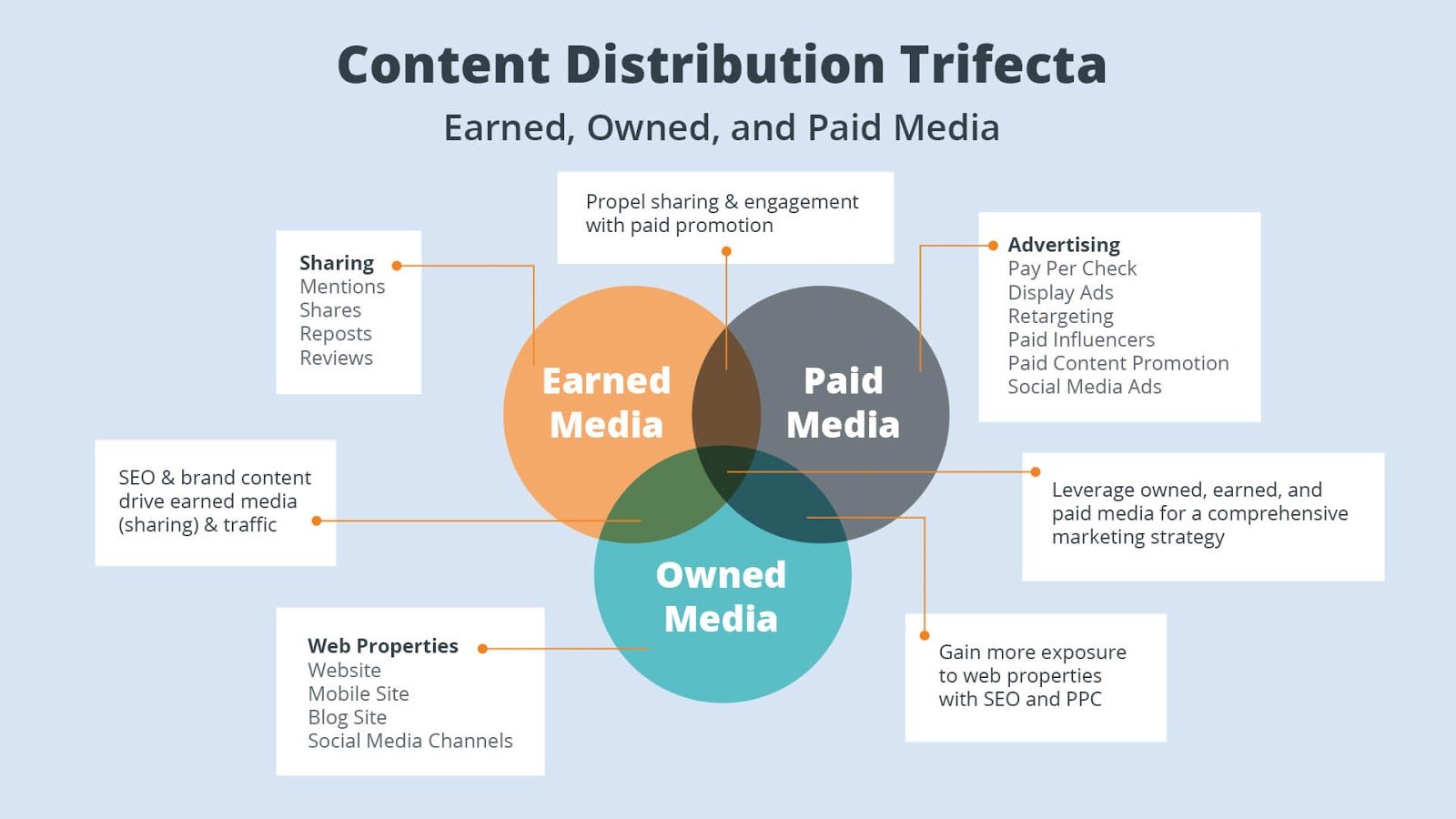 An effective content marketing distribution strategy utilizes all three media types, depending on where the visitor is in the marketing funnel. The upcoming sections of the chapter are going to discuss each distribution channel individually, covering what strategies you should be using for which channel and the platforms that come under them.
Owned Distribution Channel
With owned media channels marketers have the impulse to distribute their content out to as many people as possible, which means they rush to finish more blog posts, more newsletters, more ebooks etc.
While there's no harm in distributing valuable content via multiple consumer touch points, there should be a strategic way of doing so because not everything will work on every platform.
It's best to do some testing.
Dig into your analytics and ask customers valid questions to find out where the greatest potential for your distribution strategy lies. Every platform is different, what works on your blog may not work on your Facebook page, so it's best to find out how your audience likes to view content on different platforms so you can distribute to them exactly what they want.
For example, Facebook allows you to segment your Facebook posts – you can choose to share different content with different audience segments to increase the chances of engagement.
Keep testing the content you distribute on your social media profiles and with time you'll see a trend of what your audience prefers and then you can deliver them exactly that.
The same goes for the content you publish on your blog, website, newsletter and other owned media. Test different content formats, different design elements and different delivery times to find out what your audience wants.
Gaining an insight into your audience's content preferences helps you deliver what they want and when they get what they want they are more likely to perform the required action.
Let's look at how you can use your owned media platforms for better content distribution.
Blog
The content on your blog needs to have consistency – both in tone of voice and publishing schedules. Consistency helps users trust your brand as they know exactly when they can read something new, and whether or not it's going to be valuable.
Write about topics that will have value for your audience, experiment with different content formats to find out which one works best for your audience.
Placing lead magnets at the end of blog posts helps you earn leads and gauge whether or not you were successful at engaging your audience.
post-click landing pages
post-click landing pages are dedicated standalone pages that allow you to generate conversions for your campaigns. post-click landing pages allow you to promote your offer without any distractions to a targeted audience resulting in better conversions.
post-click landing page optimization makes sure that your post-click landing page has the right balance of design, relevance and functionality to persuade visitors to convert.
An optimized post-click landing page makes it easy for visitors to understand the offer presented on the page and click the call to action button. An optimized post-click landing page has the power to convince visitors to perform the page goal.
Social Media Networks
Depending on your industry and audience, your business can have branded pages on multiple social media channels. Social networks such as Twitter, Facebook and LinkedIn help you build brand awareness, do market research, generate leads and build relationship with customers by having conversations with them.
Be consistent across your social media networks, and upload high quality banner images to set the right tone for the content to come: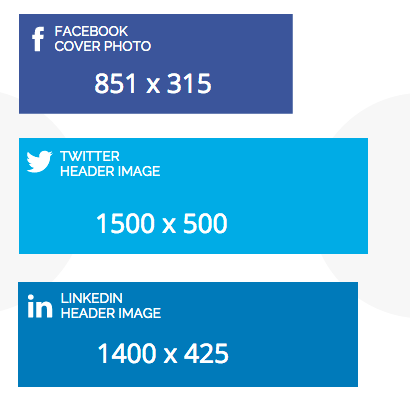 The pages you create on social media channels should abide by your brand guidelines, have good quality posts and should interact with users in your brand voice.
Media Sharing Networks
Media sharing networks such as Instagram, Snapchat, YouTube and Pinterest are primarily used to share photos and videos. Unlike social media networks, media sharing networks aren't very content heavy, engagement done on these networks is mainly done through images, videos and hashtags.
Quality is extremely important on media sharing networks, don't blindly jump into a sharing network because you know it's popular with your target audience segment. Look at your available resources, analyze the media assets you can produce and come up with a proper channel strategy.
Can't produce high quality videos? There's no point in having a YouTube channel then. Develop your presence on media sharing networks when your resources and digital assets allow it.
Discussion Forums
Discussion Forums include platforms such as Reddit and Quora, these platforms allow you to discuss and share information and opinions about topics related to your brand and the products and services you offer.
Discussions held on these platforms give you an insight into how your audience thinks and what their expectations are from your brand, they serve as excellent resources for market research. Users come to these platforms to ask questions and hold discussions, giving you the opportunity to engage with them, answer their queries and build better relationships.
Owned media content assets should be consistent, and strictly abide by your brand voice and guidelines in order to effectively engage with your audience.
Paid Distribution Channel
With paid distribution you pay to get your content in front of your audience through different paid promotion channels, such as pay-per-click, social media ads and native advertising.
Paid content has the most potential for optimization because you're able to control each aspect of your distribution in detail, such as audience demographics details, segmentation and measuring audience engagement.
Search Engine Marketing
Search engine marketing involves using search engines such as Google and Bing to promote your ads to audiences looking to find solutions to their problems. SEM operates on a Pay–per-click (PPC) advertising model, where advertisers pay every time a user clicks on their ad. Google Ads and Bing Ads are both PPC platforms where you can set up your paid advertising campaigns – run ads and promote post-click landing pages to get your visitors to sign up for your service or buy your products.
Here's what a typical Google ad looks like:

This is what a typical Bing ad looks like:

Both Google Ads and Bing Ads give marketers the opportunity to promote their ads to a wide variety of audiences based on keywords that you choose. Both the networks essentially work on the same principles:
Select appropriate keywords for your ad campaigns
Set a budget
Create ads based on those keywords for your target audience
Connect ads to relevant post-click landing pages that give visitors consistent information about your product and services
Search engine marketing is an effective paid distribution channel as it allows you to reach a wider audience that's already looking to find solutions. Optimize your Google Ads campaigns and your Bing ads correctly to get the most out of this channel.
Social Media Ads
Social media networks such as Facebook, Twitter and LinkedIn also give you the opportunity to advertise your offers to your target audience via paid ads.
According to eMarketer, Facebook produces the best ROI in social media platforms: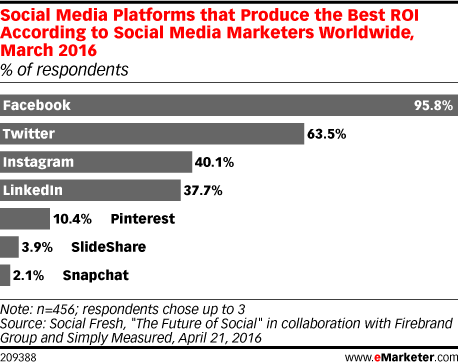 Social media ads are effective at paid promotion because they present you with excellent targeting opportunities based on demographics, interest and behaviors. You also have the option of rotating your ads, collecting useful data and testing different ad copy and images.
To optimize your social media ads you should connect them to relevant and engaging post-click landing pages instead of your homepage. Create Instagram post-click landing pages, Pinterest post-click landing pages and connect them to respective ads to get the best out of your social media ads.
Native Advertising
Smart Insights defines native advertising as:
Online content that it is created for paid promotion of a brand on a media site which doesn't use a traditional ad format such as a banner ad, but includes editorial content such as a blog post or infographic
Essentially, native ads don't look like ads at all i.e. they are non-disruptive to the user's experience on a webpage.
Native ads appear as following on different platforms: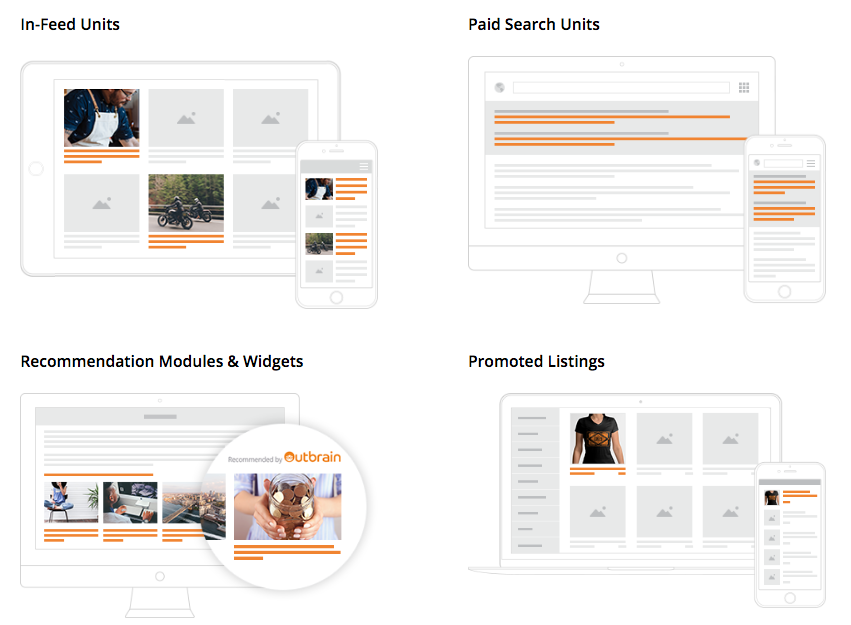 Benefits of native advertising include:
Better brand recall: The average brand recall with native ads is two times higher than traditional banner ads.
Increased engagement: Reading a native ad headline yields 308 times more consumer attention than processing a banner ad image./li
Retargeting opportunities: Once a user engages with your native ad you can retarget them with display ads to increase your chances of engagement.
You can use publishing networks such as Outbrain and Taboola to run your native ads.
Earned Media Channel
Earned media is arguably the hardest distribution channel to achieve and optimize as it largely depends on other's interests and guidelines.
The key to getting other people to write about you, or for you to write on other people's platforms it is important you produce content worth sharing.
Reach out to influential people in your industry and try to establish relationships with them so you can leverage them to better engage with a wider audience. Swapping guest blog posts with notable brands is also an earned media distribution strategy that not only results in good quality backlinks but also better user engagement as you are able to reach out to a wider audience.
Keep a lookout on social media conversations involving your brand, respond to questions and start conversations so users don't hesitate to give you a shout out.
The Content Distribution Matrix by Smart Insights helps marketers review the effectiveness of their distribution channels to see which channel is working out best for them: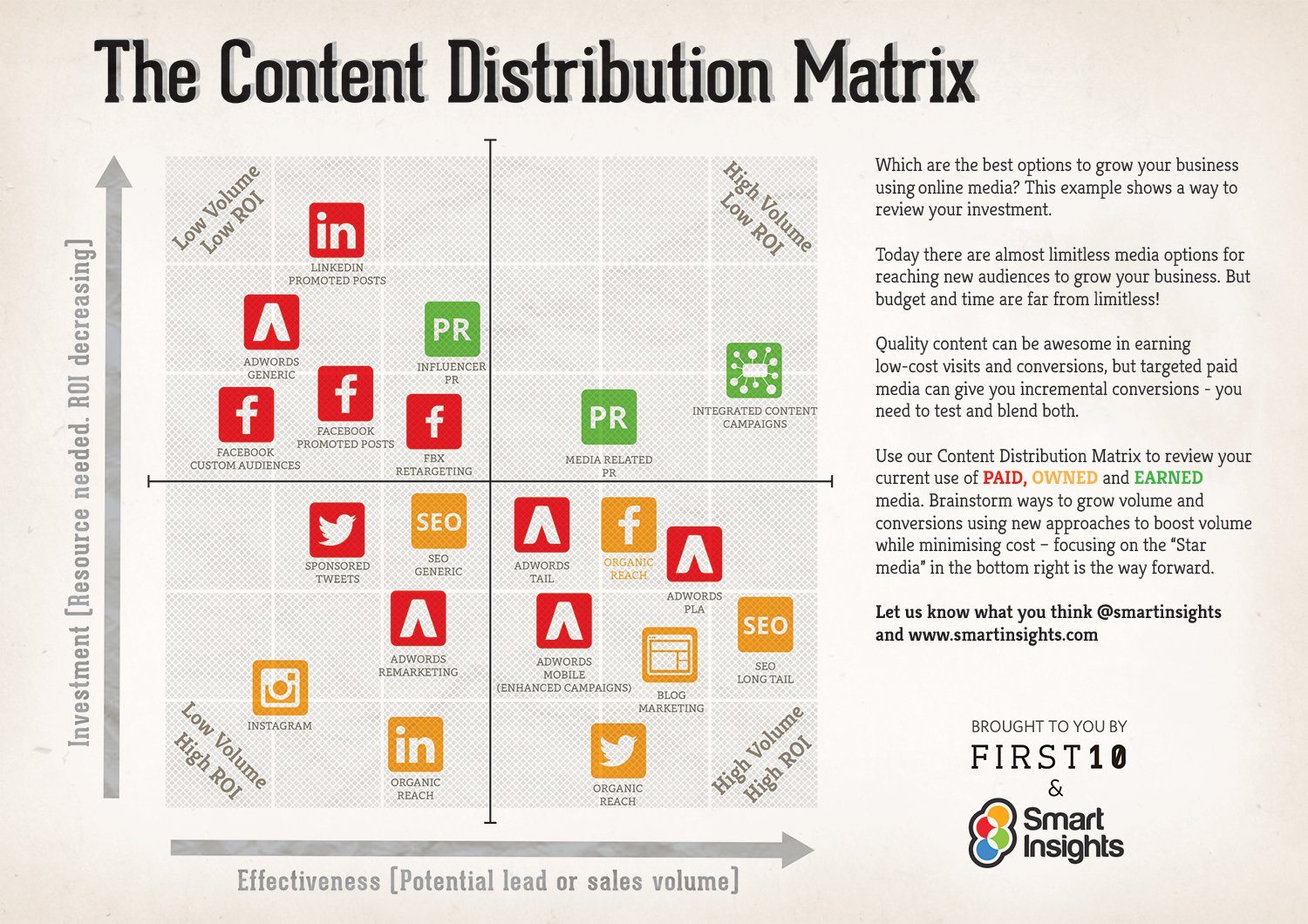 The success of your content marketing campaigns relies on how effectively you're able to distribute the content assets you create, choose distribution channels that work for your brand and audience.