What is Content Marketing?
Content marketing is a strategic way of creating and distributing content that engages your target audience and persuades them to take an action.
For your content marketing campaigns you can produce various content assets such as blog posts, ebooks, white papers, webinars, videos, podcasts and landing pages to engage your target audience. Content helps you build your brand value and create a sense of loyalty among your audience, so when you finally ask them to perform an action they are willing to do so.
A Brief History of Content Marketing
Contrary to what you may believe, content marketing is not a new concept, in fact it was alive and thriving in the year 1895. John Deere used its customer magazine 'The Furrow' to solve problems farmers at the time were facing and to encourage them to use latest farming technologies through the power of content.
Content marketing in 1985 was performing the same function it is today i.e. engaging users with useful and relevant information and persuading them to take an action which leads to an increase in business growth.
The one thing that's changed now is content consumption. The way we consume content has transformed with the invention of the internet, the barriers to entry have disappeared. Now, you don't need platforms such as The Wall Street Journal to reach your audience. You can create personalized content for your target audience and distribute it to them on channels they prefer.
You can make use of artificial intelligence to simplify data and create better customer experiences, and you can even use chatbots to engage potential customers in meaningful and helpful conversations.
Why is Content Important?
In online marketing, content is used as a powerful tool to communicate with prospects. Content separates a brand and defines its distinct value among its readers. High-quality content brings search and social media traffic and compels its readers to share it on different social media outlets.
Brands use content to enhance the current and future value of their product or service, so they need content for consistent communication. With content, they attract more potential customers and increase their brand credibility.
The goal of producing high quality content is not just limited to acquiring new customers but also increasing the lifetime value of your current customers and retaining them.
People prefer to associate themselves with high-value brands. And even if they do not buy instantly, they like to see what that particular brand is coming up with. For example, most people cannot afford to buy a new Mercedes Benz, but, their Facebook page has more than 20 million followers. All of those 20 million people are not Mercedes customers, but they keep up with the brand because they find their updates engaging.
Users love to associate themselves with a brand that provides them with reliable and high-value stories; hence they provide their email address and help increase the subscription base.
Content Marketing Mediums
Content marketing is a strategic way of telling your story, how you decide to tell your story is up to you and the audience you want to engage. You can use different mediums or content assets in your content marketing campaigns, such as blog posts, videos, webinars, podcasts and landing pages.
Different content assets work differently for different brands, you need to let your audience decide what works for them, do some research and dig into your analytics to find the answer to the questions you are looking for.
Basic content assets or mediums you can use for your content marketing include:
Email Marketing
The key to succeed with online marketing is to have someone's email address, because this allows you to connect with them. Email marketing is the primary way you communicate with your audience, and when used properly it has proven to have a high return on investment.
According to research, 93% of B2B marketers reported using email to distribute content.
Email marketing is an essential ingredient of your online marketing strategy as marketers and agencies can use it at every step of their content marketing funnel. The primary purpose of every email marketing campaign is to retain, nurture and finally convert leads into sales.
Your overall content marketing strategy should include a proper email marketing strategy which means, sending a generic monthly or a weekly newsletter is not enough. You need a strategic way to segment your emails which cater to each buyer persona.
By dividing your audience into segments you'll be able to send highly personalized emails to your audience. For example, you can ask new subscribers the following questions to segment them properly:
Whether they like, daily, weekly or monthly emails?
Which type of content do they like? Blog posts, infographic or videos?
What is their primary role in the organization?
What are they trying to achieve?
Showcased below you is CoSchedule's landing page sign-up form, all the fields are generic form fields: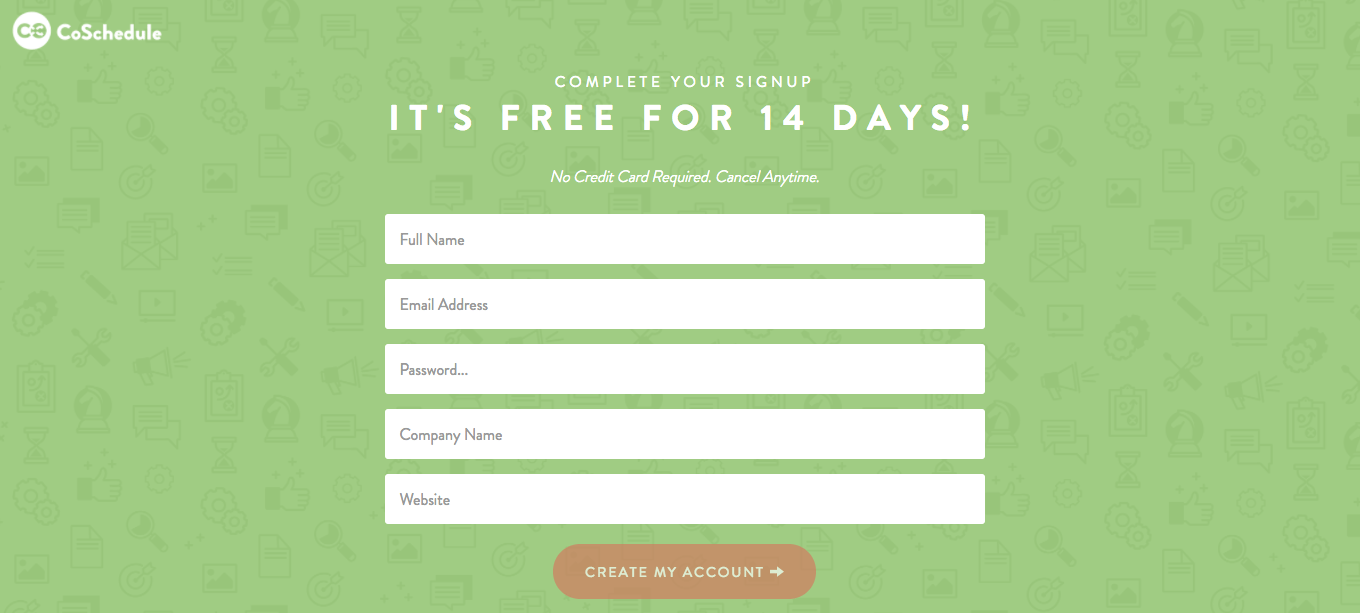 However, as soon as you fill in these general fields, another form pops open which collects information about your job nature, your department and the goal you are trying to achieve with this tool:
The purpose of this form is you accommodate you in a particular segment. Now they can send you emails which will be targeted particularly to you and will help solve your individual problems.
All those emails will likely be automated emails, but they'll be personalized because of the information CoSchedule has already collected.
Email marketing automation is a behavioural targeting email sequence which triggers when your contacts interact with your product or services on different channels like your website, social media or emails.
According to Marketo:
63% of companies successful in Marketing Automation plan to increase their Marketing Automation budget.
To increase your chances of customer engagement email marketing should be used in combination with marketing automation.
Blogs
As the importance of content marketing is rising – blogging has taken the center position. Blogs play a significant role in your content marketing strategy. They can become a huge source of education, induce loyalty, and can shorten your sales cycle by providing your target audience with consistent, relevant and useful information.
Not just that but blogging also has certain SEO advantages – each blog post you produce helps increase your number of web pages. According to HubSpot "Businesses with websites of 401-1000 pages get 6x more leads than those with 51-100 pages".
Focusing on writing better quality content helps you attract lots of search traffic to your site.
It is nearly impossible for new companies to target head keywords as the competition and bid for these keywords is always very high. However, you can target long tail keywords, which usually contain more than four words, and if you target niche specific long tail keywords, then you can have better results.
One of the bonuses of blogging is that your evergreen content never stops delivering, and it keeps sending traffic to your site without any extra effort from your part.
Blogging has the power of lowering your customer acquisition cost. As every blog post you write gives you a chance to attract more search traffic to your site – leading to the possibility of converting readers into customers.
Sending your email newsletter to your leads not only educates your potential customers but also keeps them loyal to your brand and pushes them further down your sales funnel.
Defining your blog strategy is essential. Although blogs are not specifically used for conversion purposes, they can be used as conversion catalysts – so, the main goal of blogging is to increase your brand's subscription base.
Different brands use several techniques to convert their blog visitors.
For example, HubSpot uses a complementary sticky lead magnet at the end of each blog post to increase the probability of conversion. So, on a blog post titled, '10 Examples of Successful Co-Branding Partnerships (And Why They're So Great)' they have the following lead magnet:

At Instapage we use a signup form on our blog to increase our subscription base: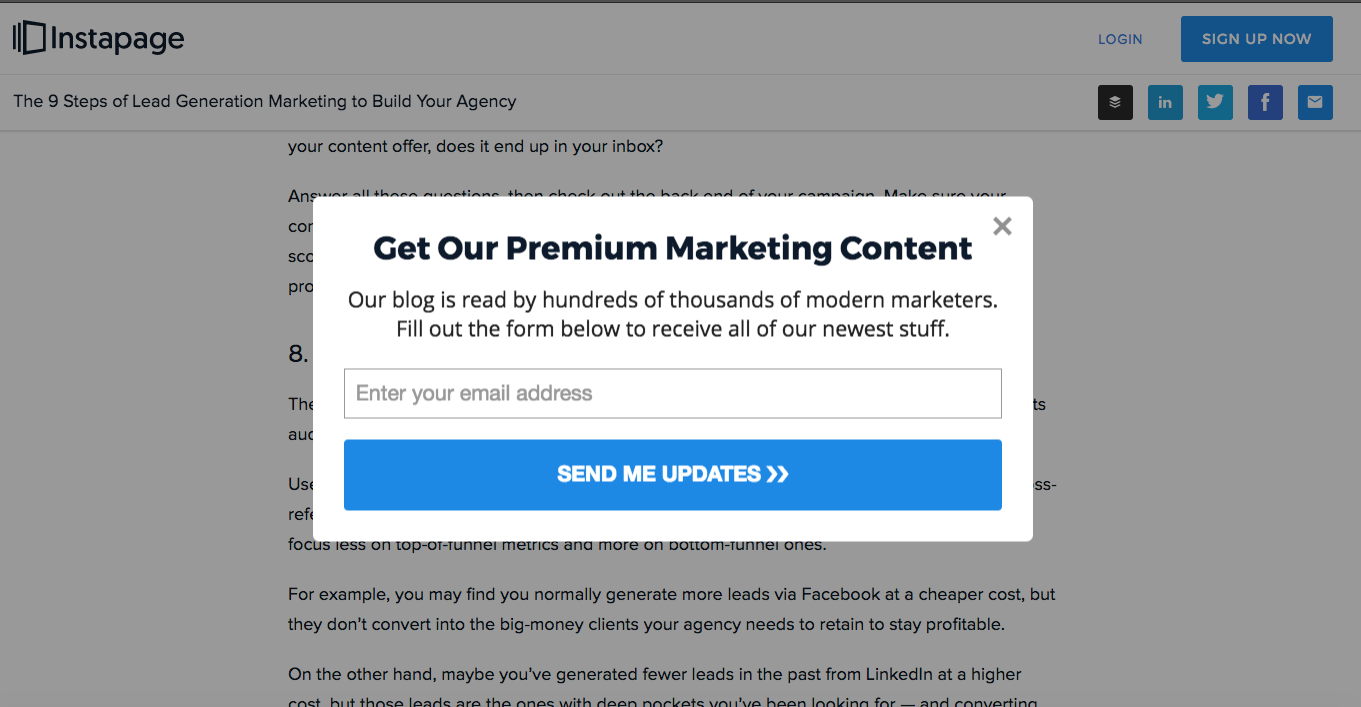 Influencer Marketing
Influencer marketing rose to popularity in 2016, this particular method of marketing involves using influencers (people your target audience looks up to) to promote and sell your products and services via social media and other media platforms such as YouTube.
There are three tiers of influencers you can use in your influencer marketing campaigns:
Micro-influencers: These influencers have a limited reach of influence i.e. they have an influence over their immediate circle of friends, family and colleagues.
Power/middle influencers: People who have organic social media followers between 10,000 and 25,000 come in this tier. Middle influencers have the highest level of impact on their audience because they trust their reviews and opinions which makes them more likely to listen and engage with what they are saying.
Top tier influencers/celebrities: Celebrities have the highest audience reach of all the influencer tiers as they have millions of social media followers. However, they charge alot for their endorsements and have a lesser probability of getting their visitors to buy something compared to power influencers.
This Instagram post features a middle influencer promoting a green tea ice cream to their audience:
To measure the success of influencer marketing, it's important that you keep an eye on metrics such as impressions, views, reach, cost per view (CPV) and cost per engagement (CPE).
The unique characteristic that makes influencer marketing a success is that it involves getting real people to produce content for you that they know your audience will respond to. It helps you stay on trend and strengthen brand identity, with the help of influencers whom your audience already find credible which makes your brand more credible.
Landing Pages
A landing page is a standalone web page created to get that visitor to take action – this action can range from signing up for a free trial, registering for a webinar to downloading a whitepaper.
Landing pages contain persuasive elements such as compelling headlines, no off-page navigation a short form, social proof, explanatory videos, and a strong call-to-action that convinces visitors to convert.
You can use landing pages in your content marketing arsenal regardless of your business industry and niche. Landing pages are created to fulfil one goal, this is what makes them unique because they guide the visitor to the relevant information that they want to see.
Smartsheet uses the following landing page to promote their free trial to visitors:
Landing pages are essential pieces to every marketing campaign puzzle, as they help optimize the visitors' journey from the ad to your page.
Before you decide which content assets you would like to invest in for your content marketing campaigns, it's essential that you define your buyer personas so you know what your audience prefers.
Buyer Personas
Connecting with relevant customers is an important step of any marketing strategy,
a buyer persona is a simple way to narrow down your potential customers. Creating buyer personas helps you answers the question of how and why people buy.
By identifying your target buyer personas you can determine what they like and what they don't, you can find out if they are facing any challenges and what resources do they have to solve those problems?
Detailed buyer personas help you gain valuable and relevant information about your ideal customers.
How to create your buyer personas?
Your buyer persona should not include more than 2 or 3 large profiles. As, a different chunk of buyers responds to different marketing techniques, having 10 or 12 buyer persona segments can create problems for you. Remember that each profile segment needs a lot of attention. Multiple profiles will create more confusion – they can affect your budget and force you to spread a thin layer of attention on all your segments.
Interviewing your customers is the best way to collect information about your potential buyers as with this technique you can collect top notch qualitative data such as what motivated them to buy your product or service. Especially, people who have recently purchased your product will give you better insights about their buying experience.
As interviews are a part of qualitative research, they give you an opportunity to ask direct and in-depth questions – so asking your customers 'what motivated them to act in a certain way?' Can reveal several pain points of your potential customers.
Asking your customers their final decision-making process of buying your product can help you refine your value proposition.
Understand your Customer Journey
Mapping out your customer journey gives you an algorithm of how your potential customers become aware of your company or brand, how they interact with it and when they enter into different buying cycles.
And if they are not buying then it can also tell you the reasons and help you identify the room for improvement.
Autopilot is a marketing automation tool that helps you automate customer journeys. You can use Autopilot or similar tools to collect audience data as well. The data collected will be helpful in predicting your customers' actions as customer behaviour data can help you understand why your customers are performing certain actions while interacting with your content.
Here, the main goal of your content is to educate your potential customers at different stages of their customer journey. Remember, customers at different levels of their journey need different types of content.
So, customer journey mapping will help you answer when do they need short blog posts, when they need how-to-videos, when they need detailed guides, and when they need coupons and special offers.
You can map out different types of content which you show to your customers at different stages of their journey.
Content Marketing Frameworks
Understanding content marketing models helps you answer the question why you need content in the first place and how content marketing works. It tells you the reasons behind the calculated techniques which you adopt when working on your campaigns.
Andrew Davis introduced the content quadrant model. The model answers the fundamental question of why we need content. It dictates that a brand or a product needs content to highlight the problems of their target audience and how they can solve them.
In other words; content is the key to building trust among your target audience for a particular product or service. So, it can produce subscriptions.
Brand Awareness + Unique Value = Subscriptions
The long-term goal of your content is to enhance the future value of your brand or product. So that your target audience makes more purchases, and existing customers shift to higher paid plans. Refer your product to other people and make them your customers too.
A consistent flow of high-quality content reminds your customers that they are a part of a credible brand. It creates a sense of loyalty and increases the lifetime value of your customers and raises retention.
Andrew Davis discusses three major goals of content production in his model:
a. The first goal is to produce owned media or traffic which is unique to your brand, and you can control. The heart of any content marketing campaign is to enhance your subscription base. All your social media channels, your blog, and newsletter subscribers are your owned media.
For example; imagine the reach of a brand that has 1 million followers on its Twitter account as compared to a brand that has only 1 thousand followers.

b. The second goal of producing content is to win more by using your content on different social media and search engines. There are many brands out there which run native advertising campaigns on different social media channels.
The purpose of these campaigns is to attract more followers and broaden the subscription base. Remember different advertising campaigns run at different funnel levels and target different audiences.

c. The third goal of content marketing is to grow your customer experience or earned media. Your goal is to create evergreen pieces of content in such a strategic way that they gain organic ranking in different search engines listings. These search engine results will introduce your brand to a multitude of potential customers.
Once your brand will be able to effectively distribute its unique value among its audience, people will become your referrals through word of mouth. Your loyal customers will share, give reviews on different community forums, recommend and give a shout out to your product or brand on social media.
Content Marketing Framework by CMI
The content marketing framework was developed by Joe Pulizzi and Robert Rose of Content Marketing Institute in 2013. They updated the framework in 2017 after a series of experimentations and insights collected by observing which part of their framework performed well while working with well over 100 brands:
Purpose & Goals
A content marketing mission statement will help you prioritize your goals. It will help you define which tactic, channels and techniques help you achieve your goals.
According to the model, content marketing essentially helps you achieve three different goals:
The holistic purpose of content marketing is to engage audiences. So, whatever content-based campaign you are running to achieve your short-term goals, your sole purpose is not to create campaign-based content (because campaigns are short-term and run dry as they end) but your purpose is to create content around your main value proposition that drives your content marketing mission statement.
This purpose driven statement will ultimately help you create your brand story and provide unique value to your target audience.
A content marketing mission statement will help you prioritize your goals. It will help you define which tactic, channels and techniques help you achieve your goals.
According to the model, content marketing essentially helps you achieve three different goals:
Campaign goals: Value-driven content marketing can accelerate your sales related goals. Content can make the sales process more efficient as your target audience, who are already your subscribers have consumed some or a lot of your content. So, they will smoothly travel through your sales funnel.
Cost saving goals: Data collected from your audience will help you locate your target audience in the sales funnel. Those who have consumed more content have travelled down your sales funnel and are likely to convert easily. So, your paid advertising campaigns work efficiently to target those prospects.
Business-growth goals: Once you have streamlined one asset you can develop other areas and attract more audiences. For example, once the Instapage blog gained a lot of traction, we ventured into creating marketing guides, podcasts, marketing videos and a marketing dictionary.
Audience
Audience plays an integral role in content marketing because they help you gather data – they allow you to gauge the success or failure of your campaigns.
How would you know if the blog post you just wrote has successfully completed its conversion goal if you don't have any data i.e. you don't know the post if the post engaged or didn't engage your audience to take an action.
An engaged audience provides you with data. This is why subscribers have an important role in content marketing, because they allow you to measure current content assets and then create streamlined content assets for the future.
Moving from top to bottom of your marketing funnel, you can collect data at 3 levels of subscriber framework.
An engage subscription is measured by looking at who read your content and clicked through to other pages. You can look at the metric of new and returning visitors and also measure which content page got more traction by looking at your Google Analytics. Your RSS subscription is also a great way to measure your content reach.
An inspire subscription is measured by collecting in-depth insights from returning visitors through polls and surveys.
A reach subscription is the audience which is willing to subscribe in exchange for their contact information. You can bring them in your subscription circle by offering them valuable content. For example you can offer them an ebook, white paper or personal case study in exchange for their information.
Story
Marketers are in the habit of telling their audience what their value proposition is, and how their product or service can solve the audience's problem. What they aren't in the habit of telling are good stories that have the power to engage their audience.
Good stories don't simply inform your audience about your product, they inspire them. When brands are able to create a good narrative they motivate their audiences to stay connected with the brand and persuades visitors to take action.
TOMS' narrative of 'One for One' pulls at people's heartstrings – who wouldn't want to 'improve lives' when it doesn't even cost them anything extra: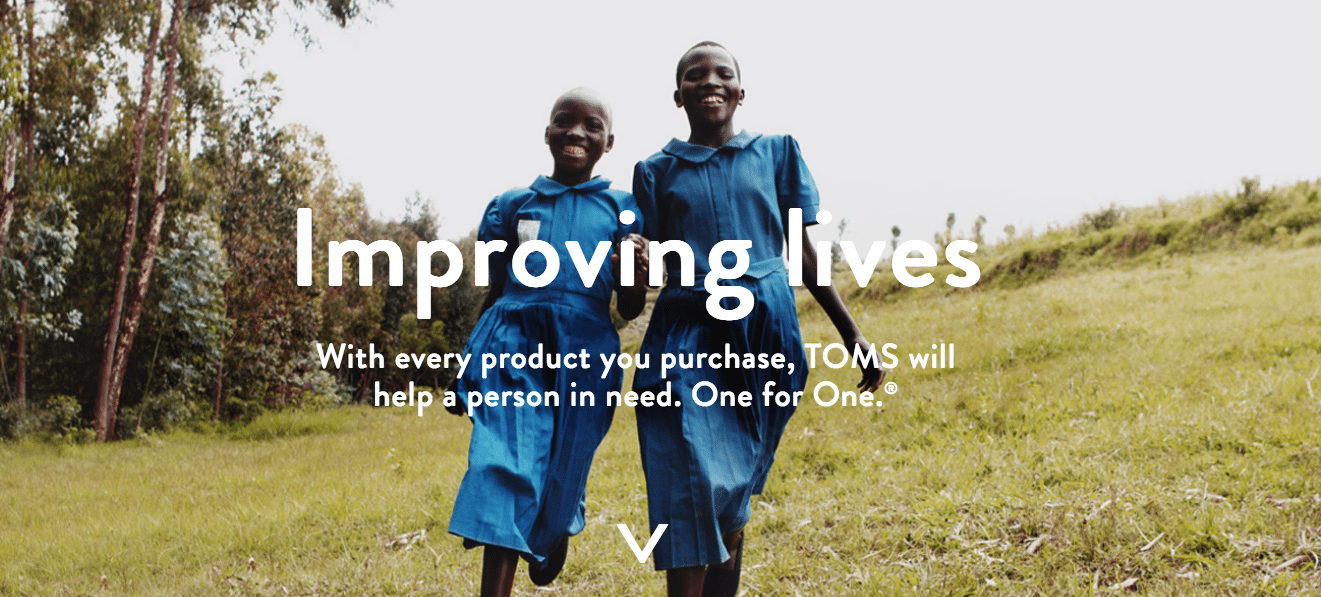 Process
Process is the plan of action- it explains everyone's roles. For example, if initially you want to focus on your blog, here are some questions you need to answer:
Who will right the first draft?
Who will edit the draft?
At what time is it going to publish?
Which media channels should be used?
Which tools are going to help gain more productivity?
It is important that your content marketing plan should have an overall purpose, it shouldn't have an end date on it. Your content marketing should focus on iterating and improving your existing campaigns to pave the way for more focused and improved campaigns.
Measurement
Measuring your business' success is important but you need to define your goals first.
Setting up your goals will determine what you want to measure, and will help inform your future content marketing campaigns.
These content marketing models can come in handy when creating your content marketing plan as they give you a blueprint of what you need to do and what you can expect your content to achieve.
Content marketing has the potential to positively impact your business growth by engaging your audience with the right content asset on the right channel. The success of your content marketing campaigns lie in creating an effective content marketing strategy, which is what the next chapter of the guide discusses.