Startups and midsize companies have timers on them. The venture capital model requires a liquidity event within about ten years. Today's technology-enabled companies cannot afford to wait; they must act swiftly. They must grow their user base and revenue, and they have to do it fast.
Growth marketing is an aptly named modern marketing discipline that is underpinned by one thing — growth at all cost. Facebook, Lyft, Pinterest, and Slack are recent venture-backed successes that have embodied this mindset. They've used customer learnings, clever growth hacks and a maniacal focus on optimization to acquire and convert customers into paid users.
In 2015, I became the first marketer at real estate crowdfunding startup, RealtyShares. RealtyShares is now a Series B stage company with over 100 employees.
When I first arrived at RealtyShares, we used expensive A/B testing software and made inflexible post-click landing pages using WordPress. Neither of those Landing page software alternatives were particularly fast or scalable. I was introduced to Instapage in 2015 and started using the platform at RealtyShares with seriously impressive results.
We've created 100+ post-click landing pages that we use for all sorts of informational and lead capture purposes. One of our most important signup flows saw a 40% improvement in conversion rate after we replaced it with Instapage.
Since being introduced, I have since used Instapage in five consulting jobs. The speed, custom design capabilities, optimization metrics, and integrations make it incredibly powerful for both me and my clients.
To fully maximize your results when using post-click landing pages, take it from me and use these four Instapage features:
1. Lead notifications
Instapage doesn't just come with an intuitive builder, advanced analytics, and a collaboration tool all in one. The platform is an excellent way to enable sales teams, too.
When earning or losing a sale can often depend on your sales team's response time, you need marketing tools that capture leads and immediately passes the lead to a sales rep for follow up. Without such a tool, the lost time of qualifying every single lead before passing it to sales can be costly to your company's bottom line.
At RealtyShares, we've found that calling fresh leads is a recipe for success (no surprise). Therefore, it's crucial that our sales teams react in real time. Turn on Instapage's Lead Notifications feature to trigger emails to your sales team in real time. This way, they're able to see when a lead comes in the door instantly. And if you're an agency or consultant like myself, branded email notifications allow you to take full credit for lead gen without having clients wonder why they're receiving emails from "Instapage" and not you.
This is what lead notifications look like when they come through to your inbox. Notifications give our sales team the crucial information that we capture in forms so that they have the context they need to close deals: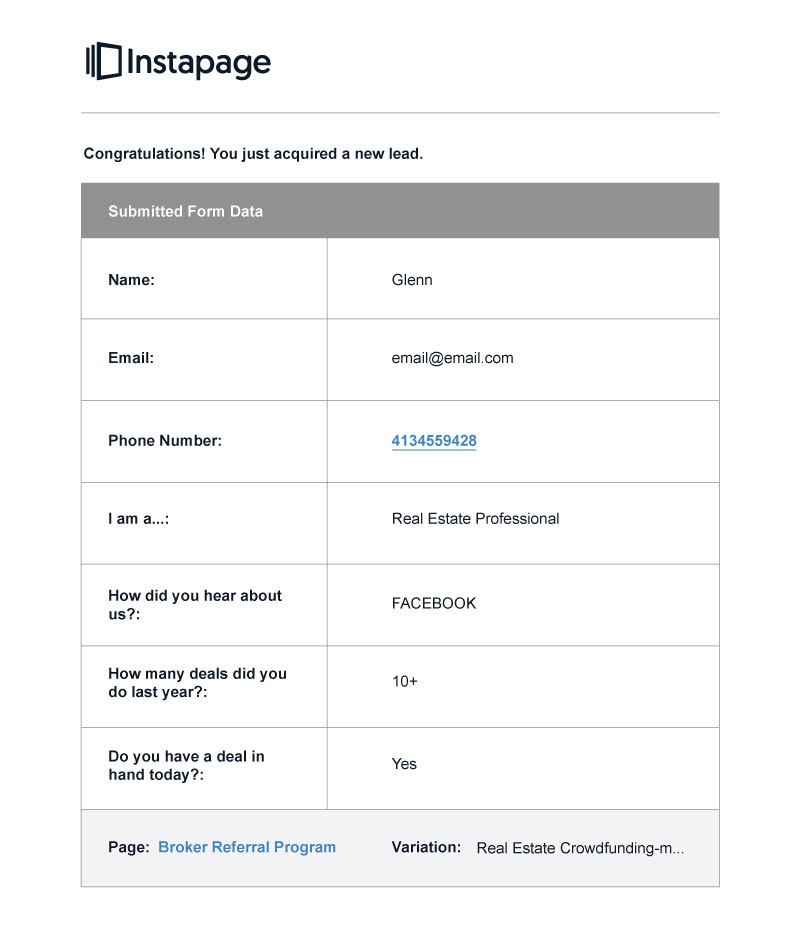 2. Custom code
The Instapage platform comes equipped with more than 200 post-click landing page templates, but once you get into the builder, you'll notice it is highly customizable for just about anything you want to do. Because of how easy it is to drag and drop features and create customized post-click landing pages fast, I assumed Instapage's functions were rigid.
However, I've been pleasantly surprised with how easy it is to place custom code onto any of my post-click landing pages. Many digital marketing tools require a line of code to function properly. For instance, Facebook must be able to "see" conversions.
To install all the tools you want, navigate to "Settings" and click on HTML/CSS or "JavaScript." Frequently it will say something like "include the code in the head of your website's code." Executing this is as simple as copying and pasting into the "HTML/CSS" tool: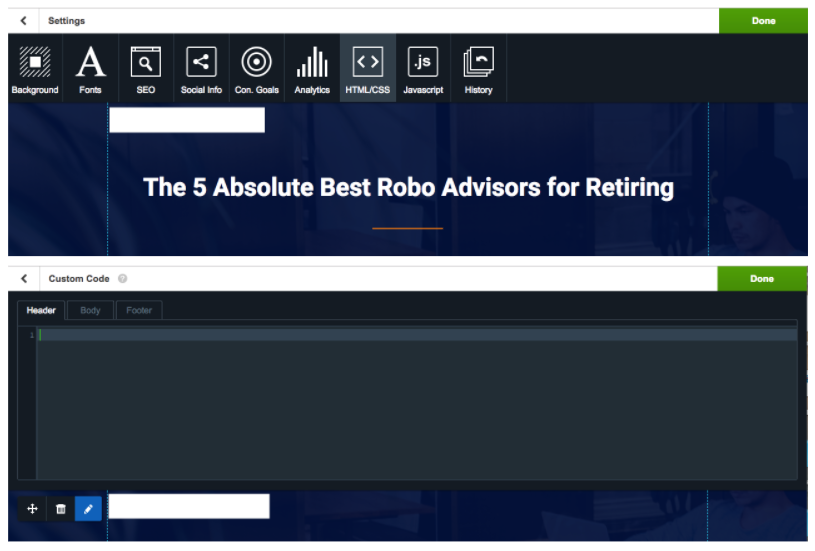 I've used the "JavaScript" tool to push UTM codes to lead notifications (more on that below) or to our CRM (Salesforce). This allows our sales team to make more informed sales pitches and allows the marketing team to react in real time to our ever-changing traffic mix.
3. Integrating forms with MailChimp
The modern marketer relies on automated tools to save time and simplify tasks that traditionally would be time-consuming. Routing leads from post-click landing pages to an email marketing tool, for example, used to be a highly-complex process (albeit important). Now, though, that process is reduced to a few clicks.
To that point, I rely on Instapage's out-of-the-box integration with MailChimp, so that leads I capture on post-click landing pages are immediately routed to lists I've set up in MailChimp. There, I trigger email nurture streams based on the prospect's form responses.
At RealtyShares, I often create fast and custom automation, in ways that I might not be able to if I were forced to rely on engineers to make changes on our true website user interface.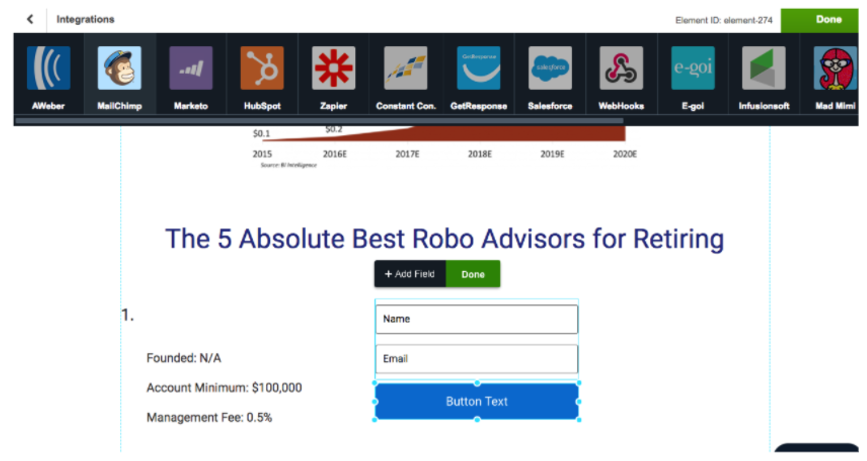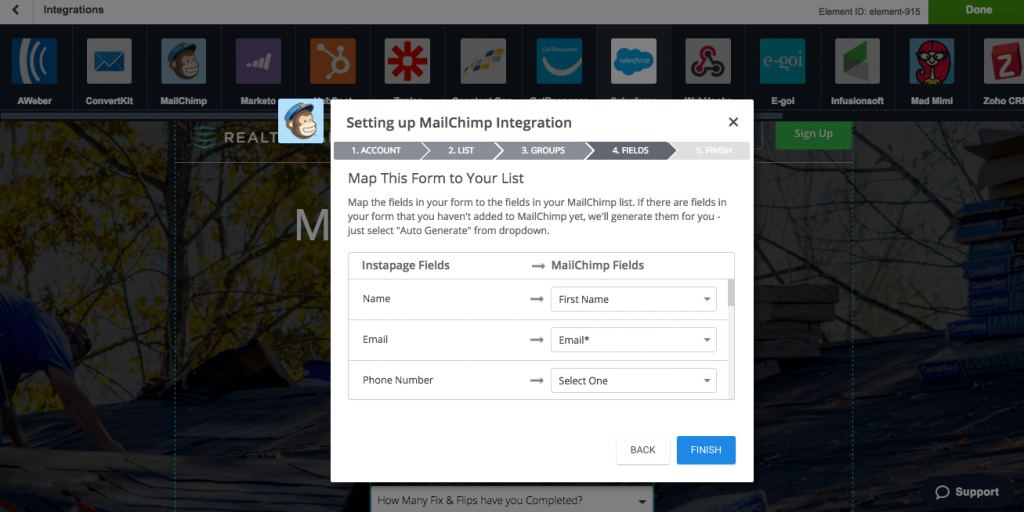 I've also been very successful using the Zapier and Salesforce integrations to send leads to Google Sheets and my CRM for consulting clients. Fortunately, Instapage makes it easy to map form fields so the process is quick and there is no loss of data integrity along the way.
Clients are impressed with how quickly I can spin up post-click landing pages and augment them with rich, full life cycle campaigns to serve and nurture their leads.
4. Unhide from search engines
Even though Instapage was not explicitly built for search engine optimization, there's no reason it can't be used for it. Improving your Google organic search rank is an important strategy that can work at scale, particularly when there's massive and specific search intent.
There are literally millions of permutations of search terms related to locales — "San Francisco dentist," "New York lawyer," etc.
At RealtyShares, we wanted to test an SEO strategy aimed at ranking highly for "hard money" search terms in certain geographies. We were particularly interested in ranking for hard money searches in California — "California hard money," "San Diego hard money," etc.
I knew there was massive search volume I could capture, but I didn't just want leads. Equally important was understanding the quality of those leads to decide if the strategy was worth devoting a lot of resources to.
Since our blog was not optimized for lead capture at the time, I built my California Hard Money Guide post-click landing page using Instapage. That way, I could encourage user registration within the content using big green buttons and lead capture forms.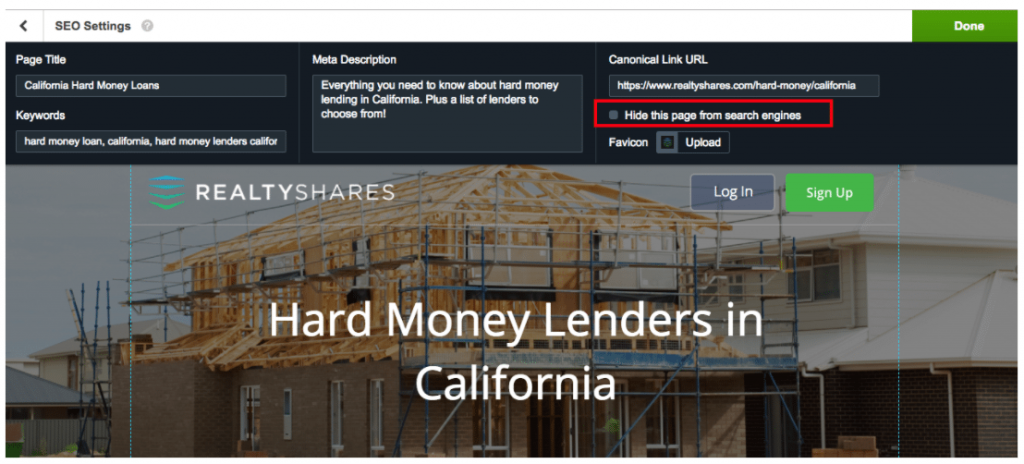 By default, Instapage hides your pages from search engines, but with one checkbox, you can undo this. I did this for the post-click landing page above and have seen organic search impressions grow 35% per month since implementing the change in April 2017.
To do this, navigate to the SEO tool and uncheck "hide this page from search engines." This will allow your pages to rank in Google searches, rendering Instapage nearly as strong as WordPress or any other publishing platform for search engine optimization:
Of course, it's important to note that simply enabling this feature won't make your post-click landing pages rank in Google. Instapage simply allows your pages the option to be visible to Google. To climb the organic ranks, you need indexable pages coupled with great content while implementing other SEO best practices.
Maximize ROI by using post-click landing pages
Remember to optimize your pages and A/B test each post-click landing page variation. While the fancy bells and whistles are amazing, Instapage's core functionality — creating high-converting post-click landing pages — is still its calling card. But when you're ready to take things to the next level, with advanced design techniques, Instapage has those features too.
Instapage has been a real game changer in all of my work, and I recommend their platform to any marketer looking to iterate quickly in the name of growth. For more on features and to see why they're the best in class for post-click landing pages, read this guide: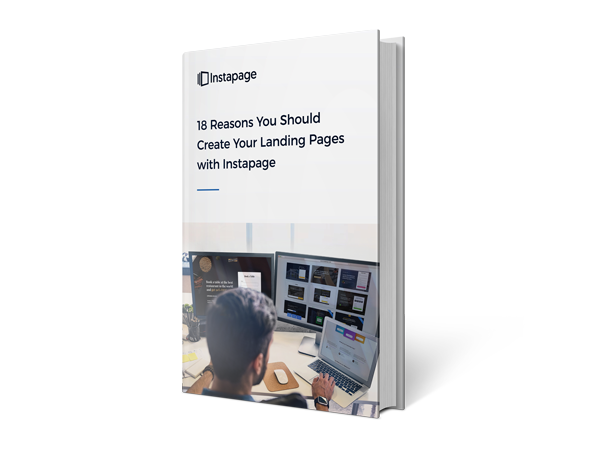 About the author
Mark Spera is a startup guy. He started an ecommerce company and ran it for five years, generating millions in online revenue. After exit, he became the first marketer at real estate crowdfunding marketplace, RealtyShares. He writes about all of his experiences and growth hacks at growthmarketingpro.com.