Growth marketing is more than just a buzzword – it's a strategy that can truly transform your business. Whether you're just getting started or a seasoned marketer, growth marketing can help you unlock new opportunities, reach more customers, and drive sustainable growth. In this post, we'll guide you through the key principles and tactics of growth marketing, and show you how to apply them in your own business.
If you're ready to supercharge your marketing and drive your business forward, let's dive into the power of growth marketing!
How is Growth Marketing Different from Traditional Types of Marketing?
Traditionally, marketing has focused on customer acquisition and brand awareness – without focusing much on what happens after a customer is on board. With a growth marketing strategy, you focus on the whole funnel.
Growth Marketing Defined
Growth marketing is the concept of guiding a potential customer through every funnel phase with content that makes the learning process run smoothly. Instead of focusing only on acquiring new customers, growth marketing also includes strategies dedicated to retaining customers. The goal is to increase revenue, attract and keep customers, and expand brand awareness–all within a limited advertising budget.
The Four Stages of Growth Marketing
Traditional marketing focuses on awareness, engagement, and customer acquisition as a linear progression. However, growth marketing adopts a cyclical progression that focuses on attracting, engaging, retaining, and referring customers.
To walk through these stages, we'll be sharing examples from one of our Instapage customers, Swytch Bike.
Stage 1 – Attract: Attract focuses on the awareness stage. It is the very top of the funnel where visitors are just starting to learn about your brand/product/service.
At Swytch, the team puts significant resources into the Attract stage and produces all their content in-house to take full control of the creative process. In testing their landing pages, they've found that the closer you can get people to think about how they'd use the product and get utility from it, the more effective it will be. In the example below, the Swytch marketing team replaced a product-focused image with this sunset lifestyle image, resulting in a 5% CVR lift.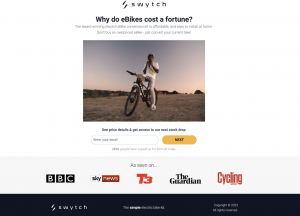 Stage 2 – Engage: In this stage, customers are in the process of purchasing your product or service.
At this stage, Swytch ensures they are creating narratives that punch through. For example, they know that many people think eBike kits are expensive. So, the team turns that assumption on its head with the headline: "Why do eBikes cost a fortune?".
The Swytch team takes this engagement one step further by ensuring their pages are optimized for mobile, since a large portion of their traffic comes from mobile.
Finally, to earn the conversion, they don't use a typical "Buy Now" CTA. Instead, they use "Next" as a CTA as they have found it less intimidating for people to click. They also leverage and create FOMO near the CTA by having a live sign-up count pulling through on the page.

Stage 3 – Retain: Here you focus on re-engaging with your existing customer base. For products, this can mean nurturing your customers at the right time (when they will need a replacement). For services, this can involve investing in improvements from customer feedback and properly engaging the customer to make sure they are using every available tool to their benefit.
Swytch uses a variety of retaining activities to ensure their customers always have a reason to check-in. Some of those tactics include:
A Swytch Bike Upgrade Kit

Investing in a strong customer support team

Leveraging their mailing list for new product releases

Implementing customer feedback for improvements

Sharing special offers, exclusive to previous purchasers

Using VIP lists

Testing new engagement routes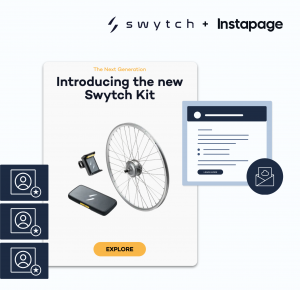 Stage 4 – Referral: This step focuses on turning your existing customers into advocates for your brand. This involves collecting reviews, encouraging them to post about their experience, and sometimes even incentivizing them for bringing in solid leads or purchases.
For many businesses, referrals can be the toughest stage to crack, particularly in the high-tech physical product space that Swytch is in. Luckily, Swytch has a few ways that they maximize referrals of all kinds.
Reviews are a big focus at Swytch, as they get a lot of press attention. They also have hundreds of customer reviews which come in that they utilize as social proof in their ad-to-page journeys.
They also have adopted an influencer strategy to help keep Swytch at the front of people's minds. One of the newest initiatives that the Swytch team has is around test rides. They work to partner with cycle shops around the world and turn them into affiliates. How? Swytch offers these cycle shops a cut of the sale. As they test this affiliate program at a retail level, they're also thinking ahead about how they can share with cycling influencers and even individual users. With over 70,000 people around the world that own a Swytch Bike and are enthusiastic about the brand, these efforts could be incredibly lucrative.
It's important to remember–after these four stages have been completed you cycle back to Attract. At this stage, you have increased your brand reach by continuing with your existing marketing and expanding it even more with your network of advocates.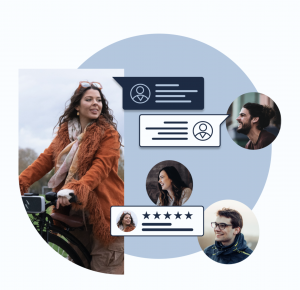 3 Growth Marketing Best Practices
1. Keep an eye on data
To get actionable results that drive revenue, guesswork simply won't cut it. Every experiment, every campaign, and every customer interaction should be leveraged to make the next one even better. This requires a never-ending cycle of insight and implementation. Data analysis allows for rapid shifts, so you can pivot to / away from channels, ads, and landing pages that aren't working (e.g. Twitter) and place spend where it counts (and makes the most impact).
2. Partner with other teams in your organization
Growth marketing isn't the sole responsibility of the marketing department–and it can't be. Every department in your organization can play a role in growth marketing, from sales to product to customer support.
Everyone consumes ads–we're all the target of marketing campaigns and we're all humans. If you boil it down, our job in marketing is to create experiences that produce a reaction in people to ultimately take action and convert. Taking ideas and feedback from across the business is key to maximizing impact and ensuring your team is creating clear, actionable landing pages.
3. Personalize every ad campaign to a unique audience
One message won't speak to the masses. In order to connect with your audiences, you'll need to speak their language. Your customers have endless options–but they'll return to experiences that anticipate their needs and can resonate with their values. The only way to "know" what resonates with your different audiences, is to test it (and then use those data-driven test results to keep optimizing)!
Growth marketing is a comprehensive and dynamic approach to marketing that emphasizes customer engagement, retention, and referrals in addition to customer acquisition and brand awareness. By breaking down the marketing funnel into attract, engage, retain, and refer stages, businesses can develop a targeted strategy that guides customers through each phase of the customer journey. The success of Swytch Bike illustrates how growth marketing can be applied to real-world situations. By following these best practices, businesses can drive sustainable growth and unlock new opportunities in their market.
Now that you know the importance of growth marketing to your 2023 marketing strategy, you need to create, personalize, track, and optimize every ad-to-page journey. Instapage makes it easy to create personalized, relevant landing pages for every ad group and audience with hundreds of templates and easy in-app testing. Sign up for a 14-day trial and start seeing the benefits of a growth marketing strategy today!