Selecting marketing vendors is an essential part of the overall marketing campaign strategy because few companies have the resources to complete every project in-house. That's why purchasing an all-in-one marketing software isn't a good idea — because when vendors try to specialize in all areas, they're sure to fall short in at least some of them.
Comparing and selecting marketing vendors can be a daunting task, though, since there are now over 6,829 marketing technology solutions from 6,242 unique software vendors: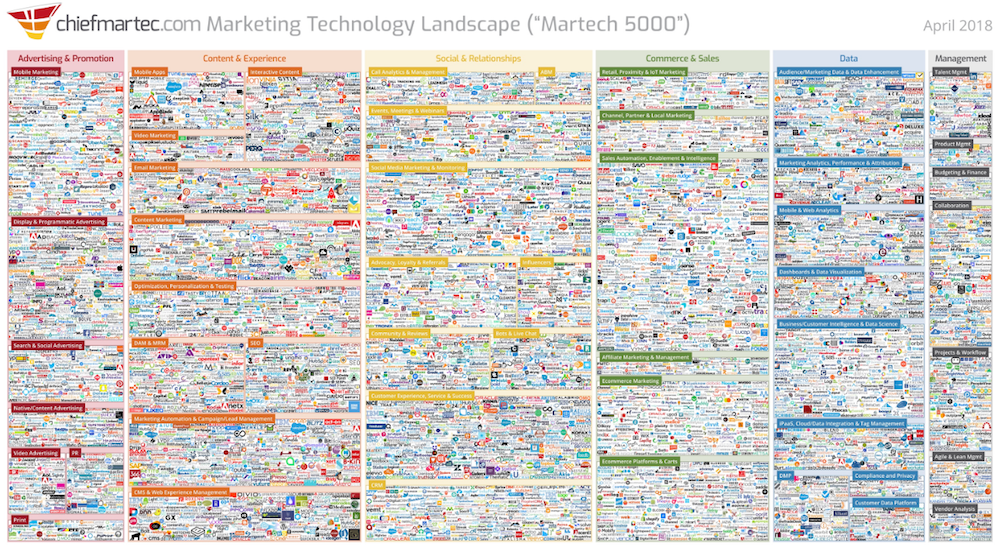 Although having a variety of useful features, countless satisfied customers, and great reviews are all things to look for when choosing a digital marketing vendor, marketers really need to consider their own individual needs when identifying "the best" one.
How to find great marketing vendors
If you don't have a list of potential vendors yet, these ideas can help you create a list to get started on your search:
Ask for referrals: Contact information and meaningful endorsements from colleagues, friends, customers, and even other vendors
Check industry websites and publications: Including trade organizations, associations, guilds, regulatory boards, certification agencies, message boards, forums, and email newsletters
Google it: Use a variety of specific phrases, try adding your geographical location, and pay close attention to any paid ads that appear
Call local associations or the BBB: Most cities have an economic development organization or professional resource center that will offer vendor listings with background information, historical data, previous complaints or grievances, etc.
From your vendor list, identify which ones are right for you
Finding vendors that will provide your business with measurable, desired results can be done using the following tips:
Identify what you need
This should be completed before you even start your qualification process. Set an initial budget, develop a search timeline with specific deadlines, and pinpoint your key success criteria.
Create pre-qualifying questions
The answers to these questions should inform you of the vendor's experience and ability to handle your project:
What is their specialty?
Who are some of their current clients?
What size businesses do they typically work with?
How is this type of project normally handled?
Do they have any special expertise or unique features that may help with the project?
Verify industry expertise
Results don't mean much if they're not achievable in your specific industry. A marketing vendor may receive great performance results in one industry, and horrible results in another. Confirm that the vendor you're considering has an impressive track record in your niche.
Read reviews
A great pitch is one thing, but actually delivering on promises is something entirely different. When vetting a vendor, keep an eye out for reviews regarding:
Deceptive sales tactics
Issues meeting deadlines
Poor customer service
Meeting or exceeding expectations
Sincerity and ethicality
Enthusiasm, responsiveness, and adaptability
Ask for a client list
With so many false testimonials and paid references online, asking vendors for a client list (including the names of specific people they work with) is a better alternative. You can reach out to the people on that list to ask about their personal experiences. Consider asking about their experiences with digital marketing agencies in general, rather than mentioning specific vendors by name, as this improves the chances of them including both good and bad information.
The best marketing vendors available today
Marketing automation vendors
Marketing automation vendors provide users with tools for planning, coordinating, and measuring various marketing activities, streamlining and organizing workflows. Vendors in this category typically offer features to help with email campaigns, social media campaigns, lead management, and more. A key component of these vendors is the ability to measure campaign results across multiple channels.
Most importantly, marketing automation vendors eliminate the need for users to carry out repetitive tasks, so they can focus on the creativity and quality of their marketing efforts.
1. Oracle Eloqua
Oracle Eloqua allows marketers to plan, create, and implement multi-channel marketing campaigns at scale. The software offers various tools to segment and target specific audiences, analyze customer behavior through website analytics, create and schedule relevant content based on individual customer data (engagement stage, persona, etc.), and test and refine content based on campaign analytics: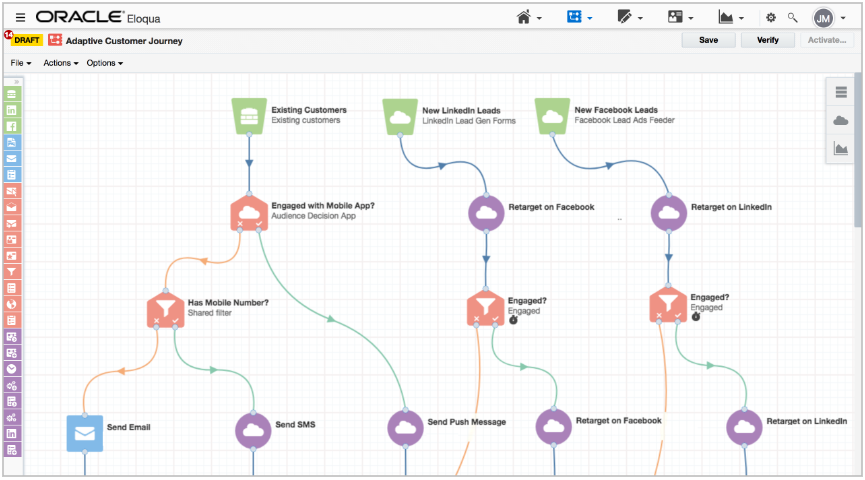 Eloqua is also a top choice among marketers because of its rich dataset, marketer-friendly UI, broad 3rd-party data enrichment, extensibility and integrations, and enterprise-scale performance and security.
2. Marketo
Marketo provides easy-to-use, powerful automation software for businesses of all sizes, facilitating the creation and deployment of automated cross-channel campaigns. Marketo's software makes it possible for users to streamline their marketing process, deliver more campaigns, generate more SQL, and improve sales performance with less manual effort: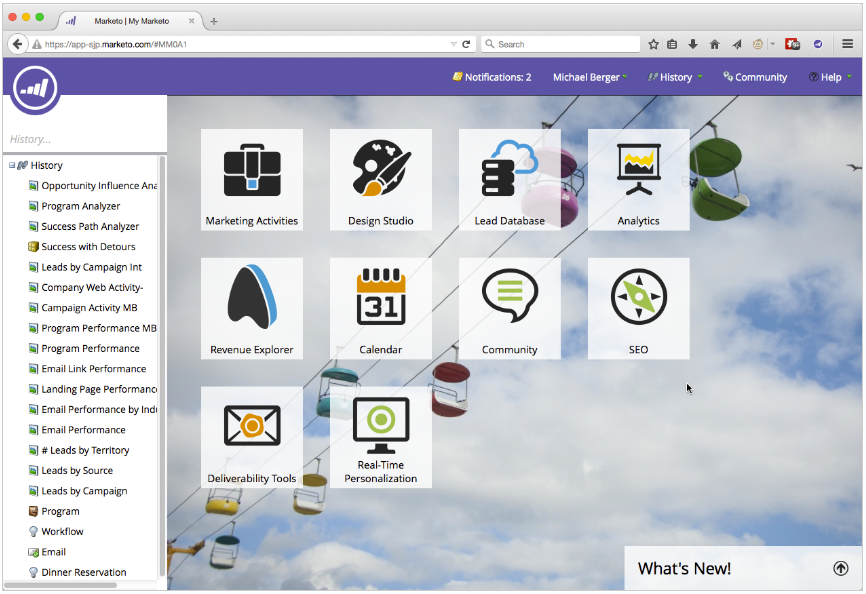 Users can create targeted, personalized emails from scratch, or by customizing templates included with the software. Marketo's email marketing campaigns can then be automated and tracked using tools such as event triggers, A/B testing, member updates, performance reports, personalized in-app mobile messages, location tracking, visitor behavior tracking, and more.
3. Pardot
Pardot is a B2B marketing automation suite that offers CRM integration, email marketing, social media marketing, lead nurturing and scoring, and ROI reporting — all to help generate more SQL and shorten the sales cycle. Marketing and sales teams can work together using Pardot to track all prospect interactions, score them based on set parameters, and then measure the true ROI of marketing efforts with micro-level web analytics, such as closed-loop reporting: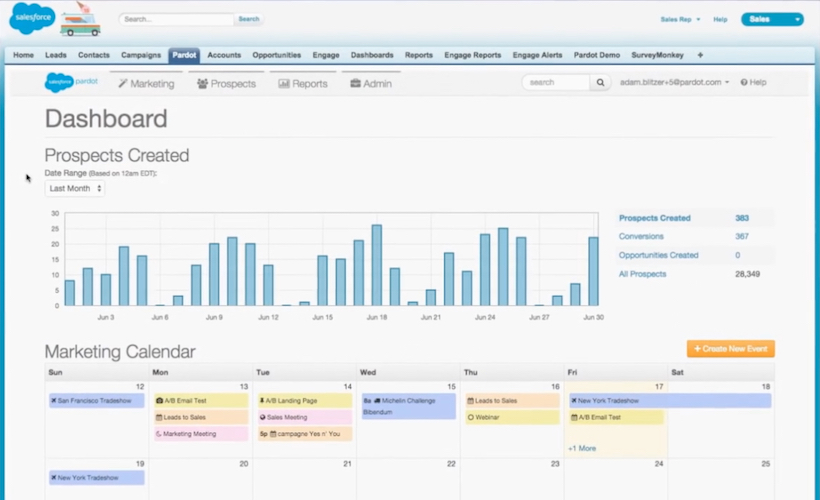 Another unique feature of Pardot is users' access to expert support, as they are each assigned an implementation specialist during onboarding, and then given access to a client advocate for ongoing strategizing. Unlimited technical support is also available via email, in-app chat, and phone.
Account-based marketing vendors
ABM vendors take basic branding and lead gen strategies to a whole new level by identifying quality target accounts, prior to implementing a tailored marketing strategy. This reduces the potentially long process of identifying prospects, and allows marketing and sales teams to dedicate the right resources to the most promising accounts. Some ABM vendors even integrate with third-party applications, such as marketing automation and CRM platforms.
4. Demandbase
Demandbase offers a variety of marketing tools in 4 different categories — measurement, advertising, personalization, and conversion. Among those included are tools for ABA, personalized retargeting, audience segmentation, content creation, live chat, web analytics, user behavior reporting, lead capturing, lead scoring, and campaign performance monitoring: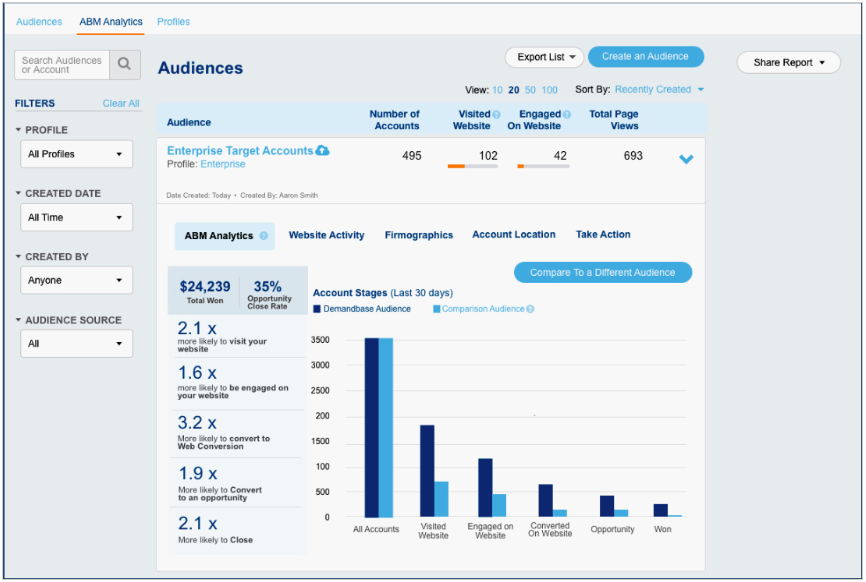 Actionable insights provided by the Demandbase Performance Manager (such as the activity of specific groups) can be used to create targeted, personalized advertising messages to publish in real-time across third-party publisher sites. The software also measures your target customer activity on your own site and connects it to ad spend and revenue.
5. Terminus
Terminus specializes in campaign personalization, customer segmentation, engagement monitoring, and target account identification. Key benefits include:
Delivering personalized content and messaging to each persona at target accounts
Unlimited adding, changing, and testing of ad creative
Receiving metrics such as reach, impressions, clicks, and media spend by account
Tracking account-level website engagement and sharing actionable insights with sales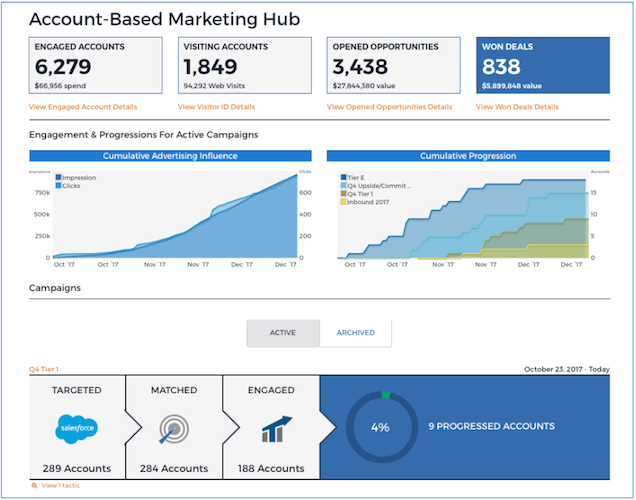 No contact data is required when using Terminus because it integrates with Salesforce to create dynamic audiences based on criteria from your CRM. This account based marketing vendor does the work to find the right people in your target accounts, and serves them ads across web, mobile, video, and social channels.
Email marketing vendors
Email marketing vendors enable marketers to send messages to groups of people via email. These vendors help design and build customized emails, create and manage segmented email lists, and manage unsubscribes or subscriber responses. Many email marketing vendors even integrate with CRM products for enhanced segmentation capabilities.
6. MailChimp
MailChimp allows users to create, send, and analyze email campaigns, either with custom designs or any of the pre-made templates available. You can generate custom reports and rely on complete transparency with each of your campaigns' analytics including open rates, click-through rates, and subscribe and unsubscribe rates: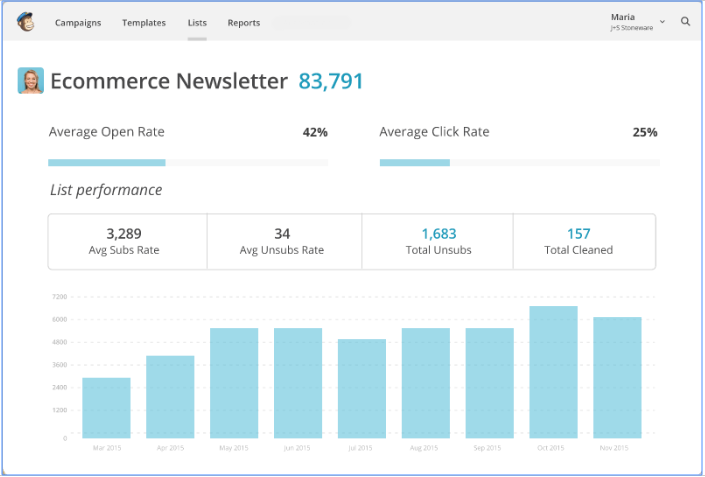 MailChimp allows you to choose from numerous integrations to streamline your workflow, sync customer data, generate more revenue, and grow your business. Connect to your own store, for example, to sync order information, create targeted campaigns, automate follow-ups, and send personalized order notifications. Detailed reports are available for you to see how much money you're generating and how many customers you're earning with each campaign.
7. Constant Contact
Constant Contact enables the creation of professional email campaigns with no technical skills required. With this email marketing vendor, you get:
Hundreds of professional-looking, customizable, mobile-friendly templates
A one-click editing experience, easy for anyone to use
Advanced email marketing tools, such as A/B testing, automation, and segmentation
High deliverability with an anti-spam checker (98% deliverability rate, compared to 77% with regular email)
Social media integration to promote your emails and add new subscribers on social networks, including Facebook, Twitter, LinkedIn, and Pinterest
Hundreds of other integrations, including WordPress, Salesforce, and QuickBooks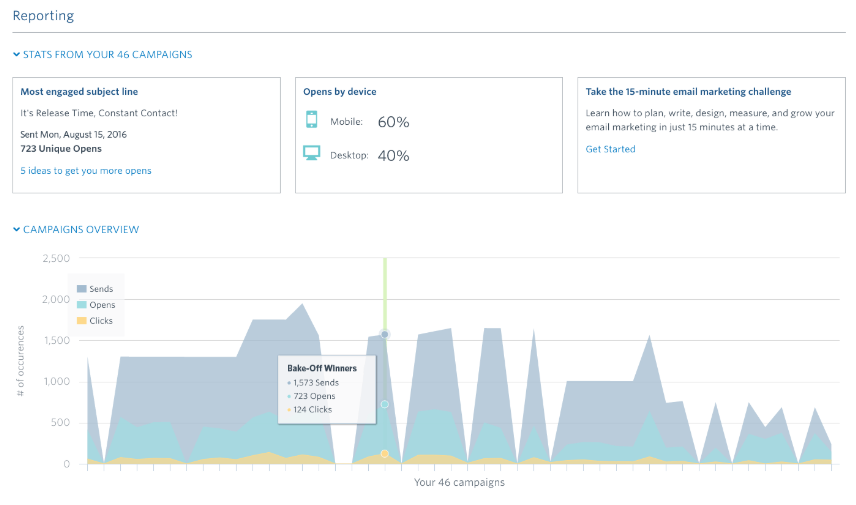 Customers trust the platform's easy-to-use email marketing tools, designed to increase customer engagement and sales. All Constant Contact customers receive access to an online learning center, free personal coaching, and award-winning customer support via phone, email, chat, and in-person.
8. Campaign Monitor
Campaign Monitor offers a robust, easy-to-use email builder that makes it easy to create, send, and measure the impact of branded, personalized email marketing campaigns on every device. The platform provides a variety of templates, drag-and-drop tools, automation workflows, list management tools, and engagement-based segmentation to create pixel-perfect email designs and deliver targeted content to large lists of subscribers: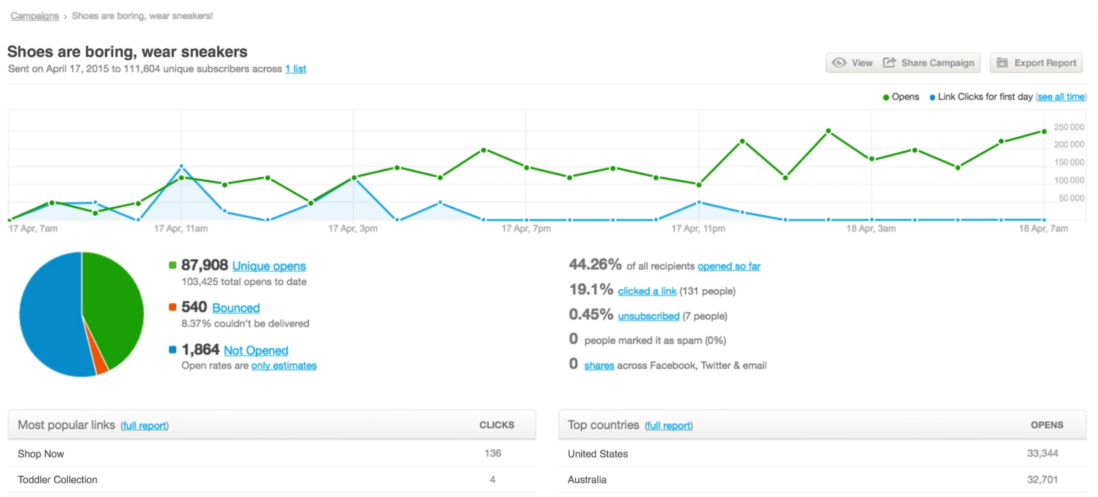 Over 2 million marketing professionals at more than 150,000 companies worldwide — including Coca-Cola and Disney — rely on Campaign Monitor to run their email marketing campaigns.
9. GetResponse
GetResponse helps businesses build targeted subscriber lists and send high-impact newsletters, video emails, and follow-up campaigns. It offers autoresponders, hundreds of pre-made email and newsletter templates (mobile-responsive included), advanced segmentation, statistical analysis tools, and more. Use GetResponse's Email Intelligence tool to track and analyze email campaigns, compare follow-ups, measure site conversions, segment subscribers with one click, and view hourly fluctuations: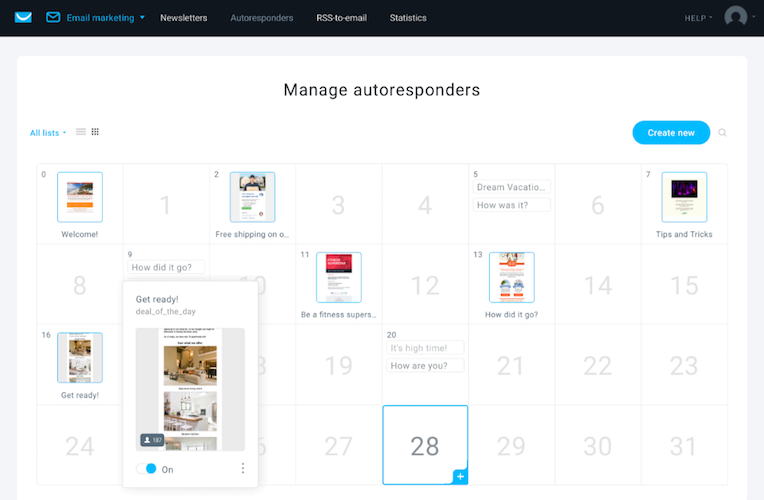 GetResponse helps more than 350,000 active users from 182 countries boost customer engagement, maximize conversion ratios, and increase profitability, with an average deliverability rate of 99.3%.
Affiliate marketing vendors
Affiliate marketing allows marketers ("affiliates") to earn "passive income" for those who endorse products because affiliates aren't always actively selling to make money. Rather, they simply put their strategies into motion, and any sales that are made via their site drive income.
10. Post Affiliate Pro
Post Affiliate Pro can manage your entire affiliate program from top to bottom, aside from processing financial transactions (however, most payment processors and CMS systems can be fully integrated with Post Affiliate Pro). Users get access to a merchant panel, and affiliates get access to an affiliate panel to see their stats and manage promotion materials: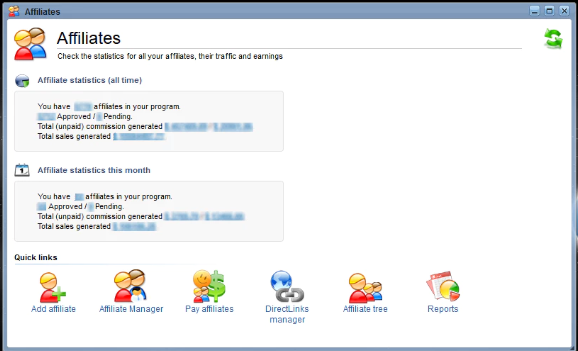 The software can automate your entire affiliate program, from recruiting and managing affiliates, to tracking every affiliate's referrals, commissions, record payouts, and more. To run your own affiliate campaign, you'll need to reward your affiliates for referred sales, leads, and clicks.
11. Ambassador
Ambassador automates enrolling, tracking, rewarding, and managing customers, affiliates, influencers, partners, and other advocates. This enables companies to rapidly implement, scale, and optimize their affiliate and referral marketing programs: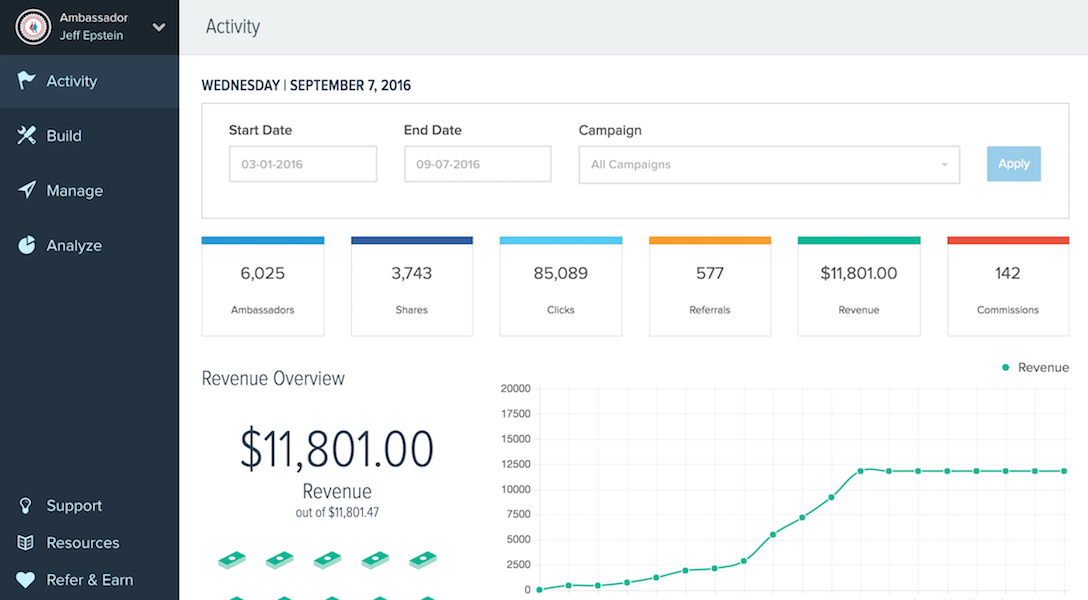 Ambassador is one of America's fastest growing private affiliate marketing vendors, used by hundreds of companies including Hewlett-Packard, SAP, NutriBullet, and the American Marketing Association.
12. LinkTrust
LinkTrust allows advertisers to easily manage and track the performance of many different marketing campaigns, including referral marketing, affiliate marketing, influencer marketing, partner marketing, and lead generation:
On top of all that, LinkTrust is widely recognized as an industry leader with outstanding customer support and best-in-class attribution accuracy.
Social media marketing vendors
Social media marketing vendors provide the ability to administer social accounts, schedule posts, suggest content, and boost posts. Products offered by social media marketing vendors often feature tools like user access control, content libraries, timelines, schedules, archives, and analytics — all aimed at maximizing inbound traffic, customer satisfaction, and conversions.
13. Sprout Social
Sprout Social emphasizes the 4 main components of social media effectiveness: monitoring, engagement, measurement, and growth. It has an Engagement Report that provides insight on team interactions, trends in social engagement, and comparisons against other profiles with similar message volume. It also features a task viewer, a message monitoring tool, a content calendar, scheduling and publishing tools, and analytics: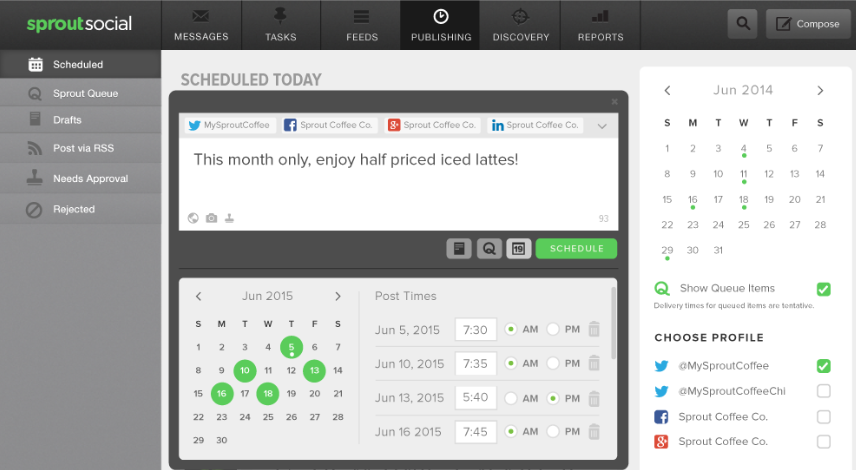 Sprout Social offers social media solutions for leading agencies and brands including Hyatt, GrubHub, Zipcar, and Evernote. Sprout Social supports Facebook, Twitter, Instagram, LinkedIn, and Google+, and is available via web browser, iOS, and Android.
14. Hootsuite
With Hootsuite's unique social media dashboard, marketing teams can:
Identify and grow audiences
Launch social campaigns
Manage social media profiles
Engage with customers
Schedule updates
Integrate their existing marketing tools
Track campaign results and industry trends, and adjust tactics accordingly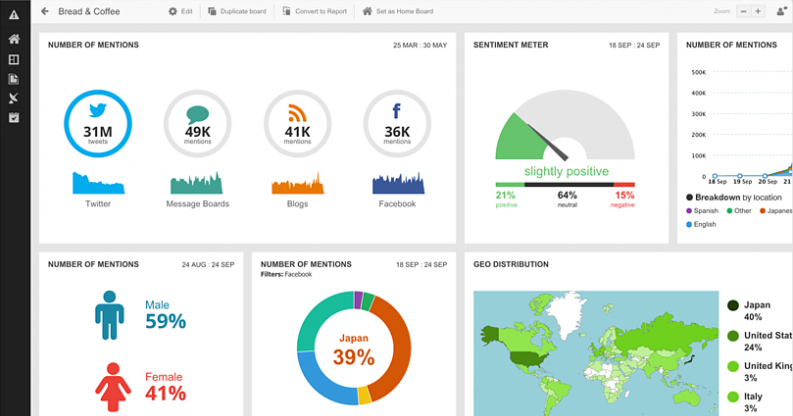 According to G2 Crowd, Hootsuite is the world's most widely used social media marketing vendor, largely because of its scaleable content management features. This marketing vendor serves across multiple social media networks, including Facebook, Instagram, Twitter, Linkedin, Pinterest, and YouTube.
15. Buffer
Buffer is a streamlined social media management platform used to help many marketers drive meaningful engagement and results. Its users can manage multiple social media profiles, plan and schedule posts in advance, collaborate with multiple team members, and analyze social media performance: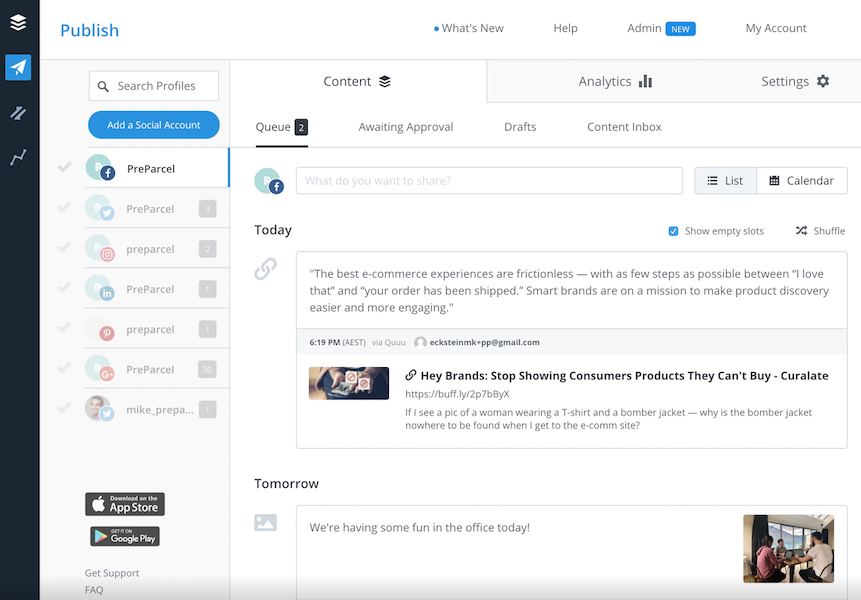 Buffer created iOS and Android mobile apps to allow users the flexibility to schedule content on the go. Other noteworthy features include a social media calendar and RSS feed, social analytics, a video and GIF uploader, and Pablo image creator.
16. Falcon.io
Falcon.io offers social media monitoring, engagement, publishing, analytics, and customer experience management. One of its signature tools is an all-in-one campaign calendar which displays scheduled posts for multiple campaigns. Content can be previewed and published across multiple social media channels simultaneously, and approval workflows can be setup to ensure content is ready and approved before publishing. Once published, performance can be monitored with visual reports on metrics such as engagement, ROI, performance comparison against competitors, and more: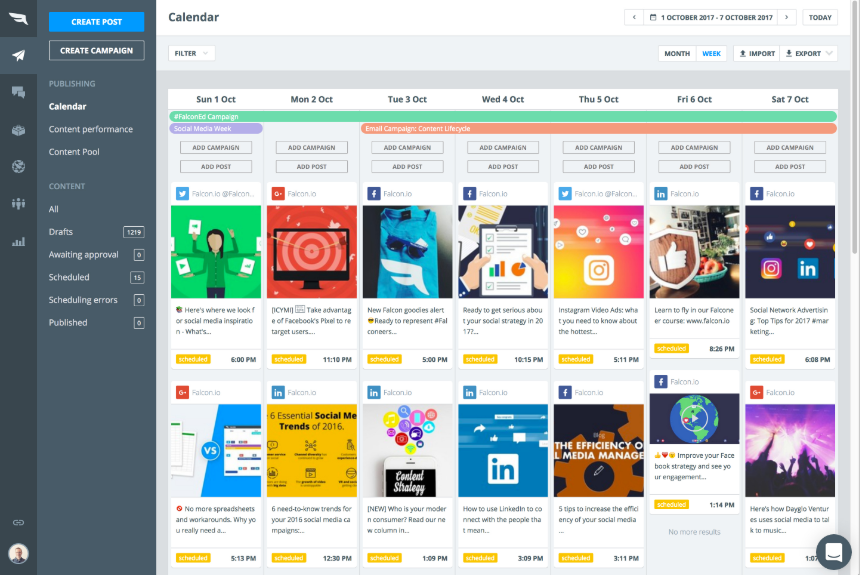 Furthermore, Falcon.io offers a unique social media listening tool to draw insights from millions of online sources, analytics on trending industry topics, brand perception data, word combinations and exclusions, and much more. By monitoring these online conversations, brands can easily address and react to relevant topics and comments.
Content marketing vendors
Content marketing vendors allow marketers to optimize and manage the creation, curation, distribution, monitoring, sharing, and sourcing of content. Content pieces include written content, images, infographics, and videos. These vendors can help businesses address common content marketing challenges, such as creating different types of content for each communication channel, or managing who has access to content.
17. Contently
Contently is used for creating and promoting content at scale, allowing advertisers to organize their entire editorial process with calendars, customized approval processes, and a variety of other editorial assets. All original content can be published directly from Contently, and engagement metrics can be measured daily to see how audiences are interacting with content: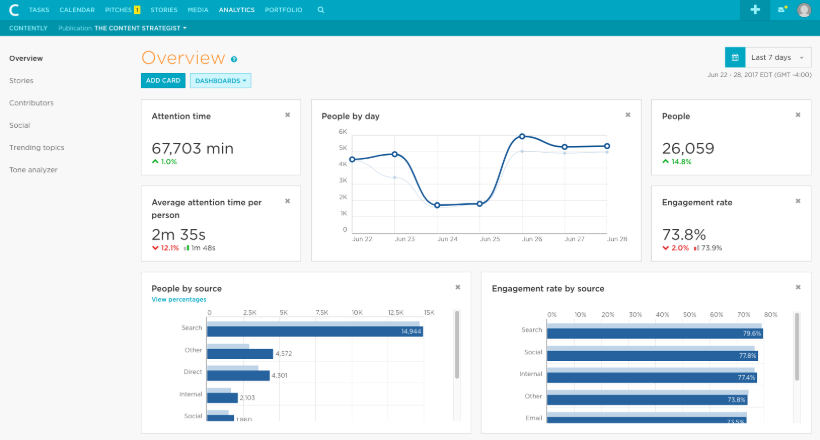 Contently has an unmatched global freelancer network that can put users in contact with +55,000 professional freelancers. It also offers a smart content strategy for users to set up a content roadmap and tell stories that resonate with their audience and encourage sales.
18. Outbrain
Outbrain is one of the world's leading content marketing and native advertising platforms, connecting marketers, publishers, and consumers. The platform organically personalizes and enhances the reader experience through:
Content marketing
Content recommendation optimization
Real-time recommendations
Responsive design
Content analysis and advanced testing tools
Instant headline and image testing
Dedicated help center and support team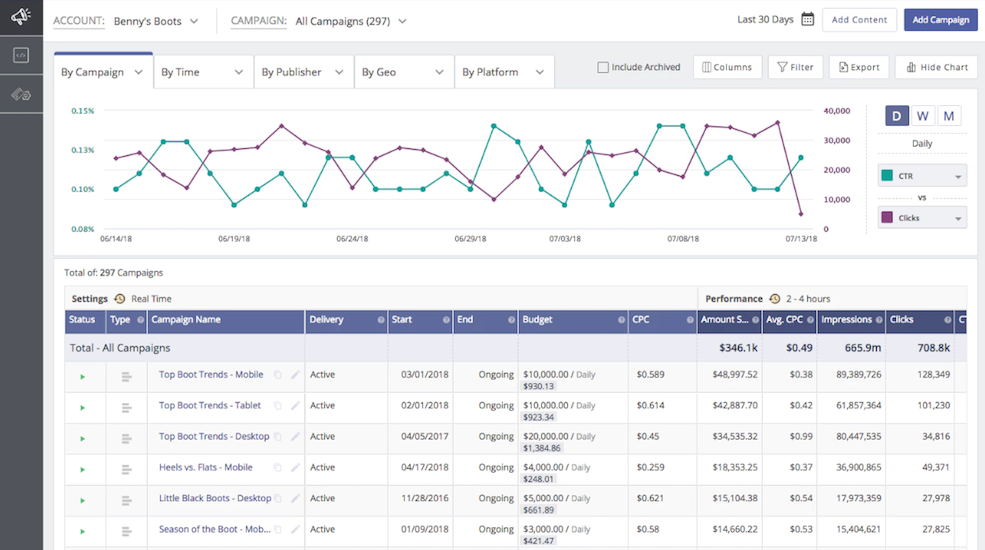 This vendor serves over 275 billion recommendations to enhance the reader experience so its easy to see why Outbrain is a preferred vendor in this category.
Marketing cloud vendors
Businesses use marketing cloud vendors to outsource hosting, database construction, cloud security capabilities, and data storage. Companies often use PaaS clouds as scalable software for new or expanding applications to larger audiences, which allows them to avoid long-term investments in development time. Rather, most cloud vendors offer a usage-rate pricing model, allowing for growth and flexibility.
19. Salesforce Platform
Salesforce connects business users and IT with a full suite of tools for building apps that automate business processes faster than ever before.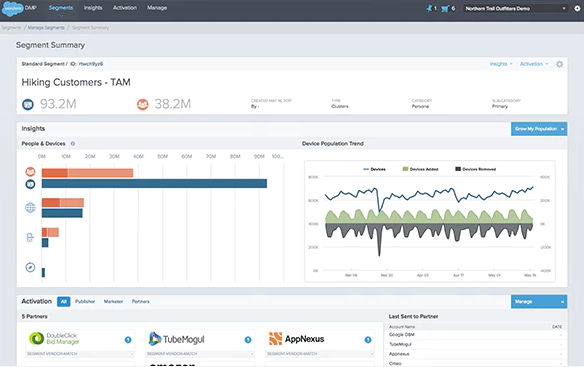 Business users and admins love Salesforce because they can collaborate in real time while developers love customizing anything with Lightning Components. Plus, you can connect any app to all of your Salesforce data to give you a single point of view on every customer interaction. Couple that with enterprise-level control and integrated identity features, and it's no wonder that Salesforce is a leader in this category.
20. SAP HANA Cloud
SAP HANA Cloud dramatically accelerates business processes, sentiment data processing, marketing analytics, and predictive capabilities to run businesses in real-time. It provides an all-inclusive solution that addresses HR tasks, customer overviews, order tracking, and much more. Users have access to up to 10 GB of unstructured storage and up to 10 GB of bandwidth per month: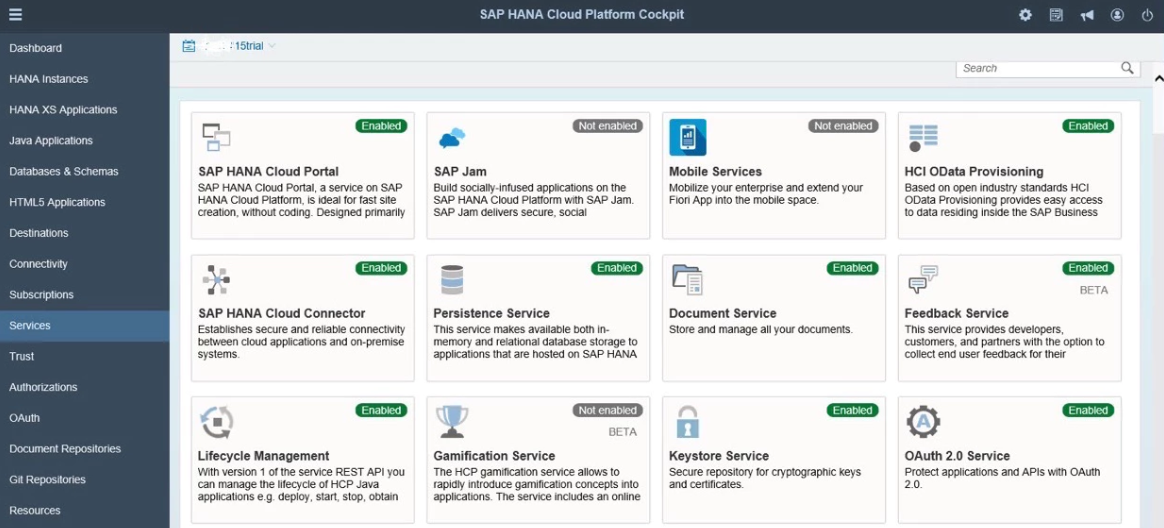 Serving as the central backbone of all lines of business, SAP HANA Cloud is available in 4 different versions — Free, Professional, Single Application, and Multiple Application — to address the demands of any business with any budget.
Search engine marketing vendors
Search engine marketing (SEM) vendors enable marketers to target consumers performing internet searches, via PPC services and SEO services. These SEM agencies can be used by businesses in any industry to grow traffic and reach new clients. They're also commonly paired with other digital marketing vendors for maximum results.
21. Boostability Inc.
Boostability Inc. offers tools for SEO planning (needs assessment, keyword research, resource allocation, budgeting, etc.) and delivery (technical expertise, scope management, etc.):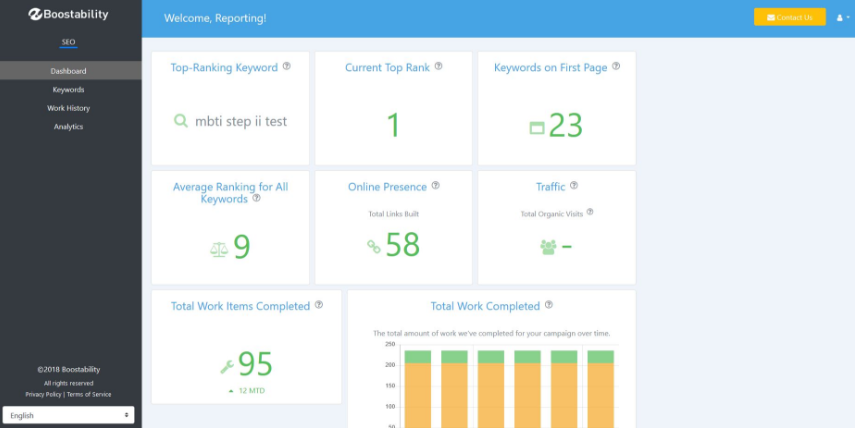 This vendor also facilitates high-quality teamwork and collaboration, offering features around change management, meeting management, and technological partnerships.
22. WebiMax
WebiMax services include PPC, SEO, social media, web design, inbound marketing, and more. This vendor works closely with clients to build each campaign specific to their needs, by including a different custom-tailored strategy each month: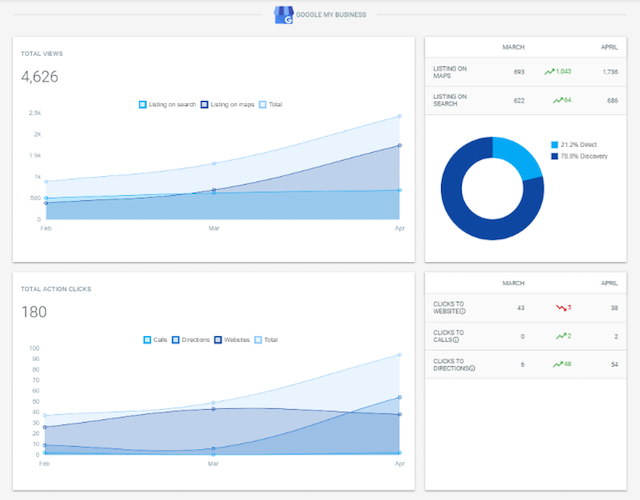 Also, while many other vendors have fixed price plans, WebiMax offers custom pricing to fit each clients' marketing needs. Customers aren't locked into year-long contracts either since month-to-month campaigns are available.
Create a best-of-breed ad tech stack
With all of these vendor options, settling with a single-vendor suite may seem like the simplest solution. However, when it comes to maximum functionality and usability, the benefits don't compare to finding a best-of-breed vendor for each individual discipline.
To simplify building a best-of-breed ad tech stack for large businesses and enterprises with a $1M+ advertising budget, we created the guide below. Download the guide today and start creating your own powerful best-of-breed tech stack.