One of the reasons 90% of startups fail is that the product is not perfect for the market.
If your startup is part of the 10% that hasn't failed, it means that people want your product. If you validated your product, you need traction. More free trials and more chances to activate customers.
When free trial is activated, it can encourage more registered users to upgrade their accounts at the end of the trial period. Lincoln Murphy agrees. Free trials don't make your product less valuable. On the contrary, it makes people think that "our product is so good it sells itself."
In this article I'll show you four ways to get more free trials for your product using content, email marketing, and conversion rate optimization.
1. Produce killer content
When it comes to B2B lead generation, content is one of your best tools to attract traffic and leads month after month.
If you pour your heart into content, you can use it to drive engagement on any device, repurpose it into other forms of content that your audience wants: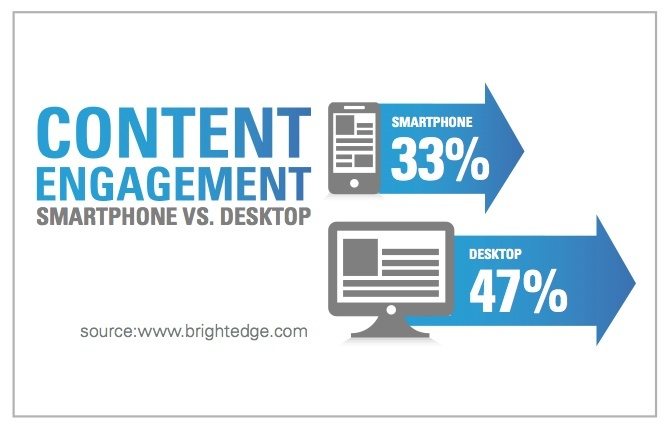 To a large extent, where you're at right now — and the level that you want to reach in your digital marketing — depends on content.
Brian Clark who started Copyblogger may be the best example of how a business can rely solely on content marketing to grow. The secret is to create high quality content, like the one below (with over 2,600 social shares at the time of this article's publishing):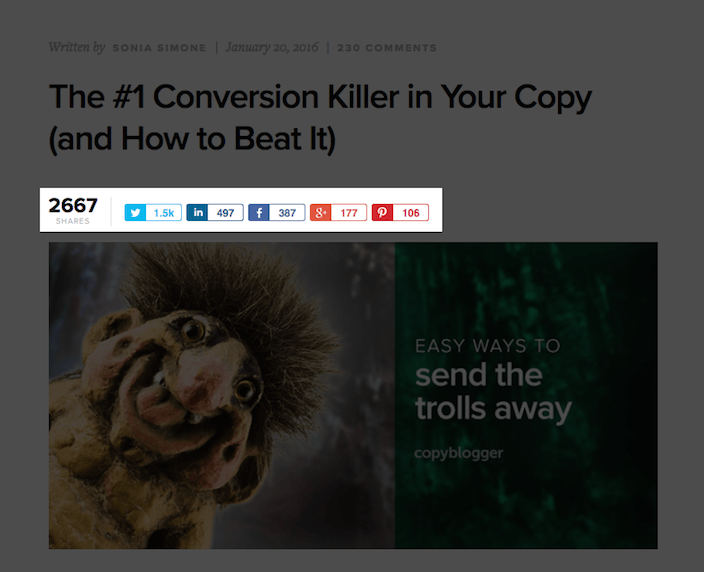 Consequently, his target audience fell in love with his blog, and within a few years, Copyblogger transformed into a $7 million digital marketing company.
He was consistent. Consistency is key.
But let's face it. If you don't have excellent copywriters, professional writers or journalists in your team, it's tough to keep the rhythm.
Remember that the rules are not set in stone. You can become a creative content creator.
Though, you should follow a sequence if you want your content to resonate with the target audience, and get you more users.
Here are some tips that learned in my career as a content marketer:
Create customer personas
It's important to know who you're writing for. Otherwise, you'll find yourself getting disappointed by the lack of positive feedback from readers.
Everyone can create "theoretical content." But the most valuable content comes from people who write from their own experience.
Here's an example from HubSpot of how a well-defined buyer persona can help you craft relevant and meaningful content for your audience:

Craft irresistible titles
You don't have to waste time wondering "what's the best title" right before you hit publish. Instead, brainstorm in advance some titles with 2-3 colleagues or even ask people to vote the ones that you create. The secret is to use formulas and incorporate the keywords you're targeting without having to write completely from scratch.
Open your introduction with a bang
Don't lose your reader with a boring introduction. Make it strong, relevant, and persuasive. You could tell a short story, ask a question, use an analogy, or state the obvious. Here's an example from an article published last week: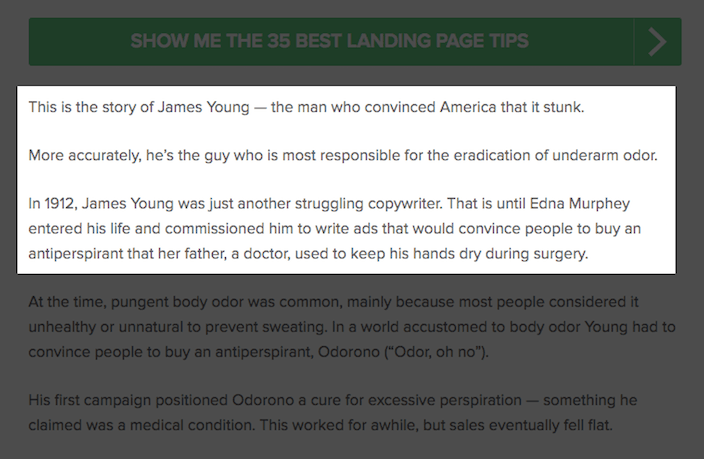 Draft your outline
At the beginning of my career as content marketer, I had to deal with writer's block. It was horrible. As time passed by, I understood that trying to write from scratch wasn't going to take me anywhere. Instead, I started using the outline as a "tool" to help me beat the writer's block. An outline "allows you to find plot holes and inconsistencies before you start drafting" as Melissa Donovan says.
An outline helps me in the writing, why not try it yourself?
Source for credible data
When you create any piece of content (including podcasts and videos), you should always endeavor to back up your points with data from credible sources.
I love how Alex Birkett from CXL applies this tactic. He makes references to credible sources to prove his points: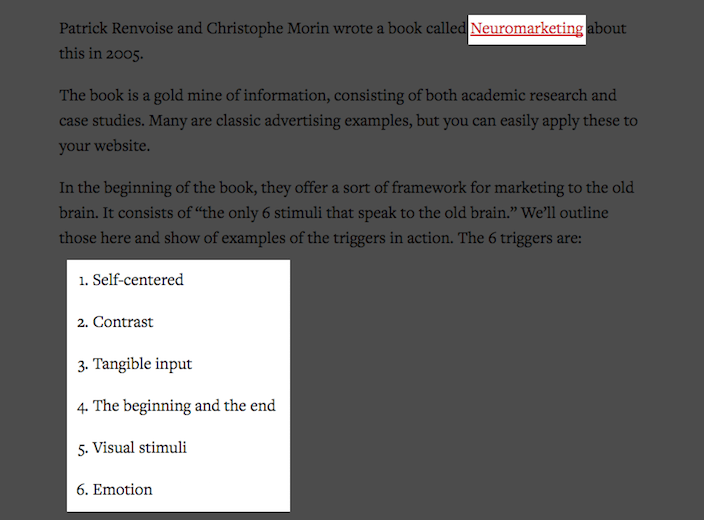 Steal ideas, but make them your own
To a large extent, there is nothing new online. Every topic has been covered. Here's a great quote from famed writer and producer Aaron Sorkin: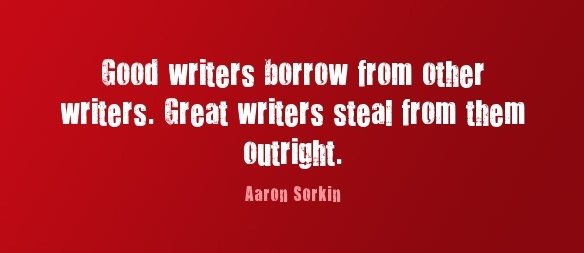 For this reason, you can steal ideas for your content, but make them your own. Add your own twist. Make it unique. Or create a better version of the same topic.
Go deep
I learned this from Brian Dean. It's the famous skyscraper technique: finding a piece of content that received a lot of shares and links — and writing something even better. Upgrading the idea makes your content original, superior, and more valuable.
These tips can help you attract more traffic to your blog — traffic that you will convert into free trial signups. This takes me to the next step in the process of generating more free trial conversion rates: growing your email list.
2. Grow your email list
Truth be told, growing an email list is not as difficult as most marketers paint it.
If you manage to create valuable content constantly, then you can make a promise to your readers. The promise is your newsletter's unique value proposition.
To showcase your newsletter UVP, you can use the data collecting forms from your blog and pop-ups.
Use pop-ups to collect email from users
Most people frown at pop-ups. They claim it doesn't work. But maybe they do work.
A recent experiment by Dan Zarrella shows that email popups don't hurt readers. On the contrary, Dan's research shows that popups can work, and you can use them to add hundreds of new people to your list: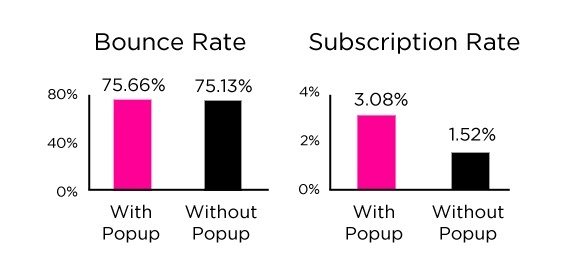 Also, Joanna Wiebe from Copyhackers defends pop-ups in any webinar or conference where she is invited. For instance, when I attended the Email Success Summit, she said that pop-ups can increase your newsletter subscription rate by even 300%.
Another great tactic comes from Brian Dean who uses content upgrades to boost conversions by 785%. Convinced by this strategy, we have used it on the Omniconvert blog. Usually, a blog article with a content upgrade generates 10 times more subscribers than a post without a content upgrade.
In this case, we use an exit pop-up and two-step opt-in form, demonstrated here: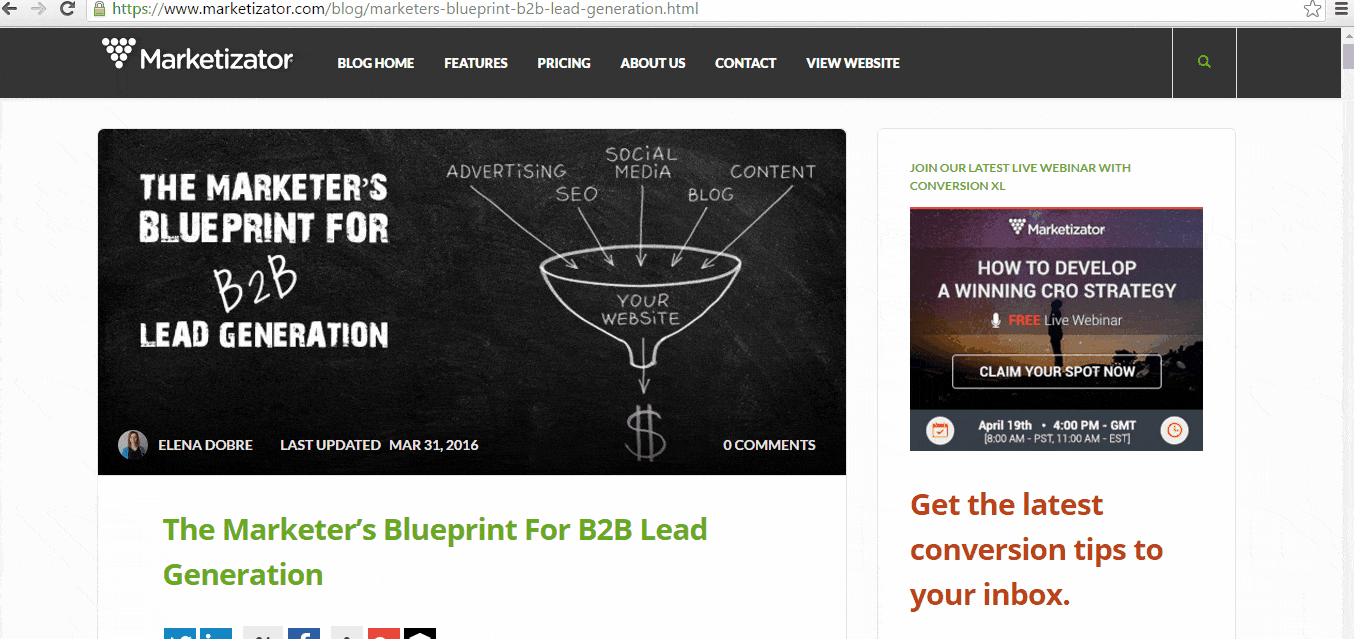 Use data collection forms in a smart way
In addition to using email pop-ups, you should also optimize data collection forms on your site.
You could add a static web form to your blog sidebar, and give away a valuable ebook, video, podcast, software, etc. That's exactly how Neil Patel collects email addresses for Quick Sprout's visitors: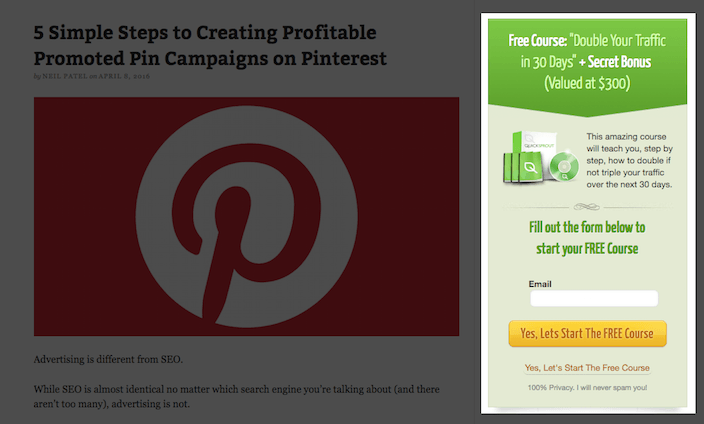 You can also customize your theme to accommodate a web form above the fold. It's recommended you test this approach and see how it affects your newsletter subscription rate.
Derek Halpern does it well with his simple form: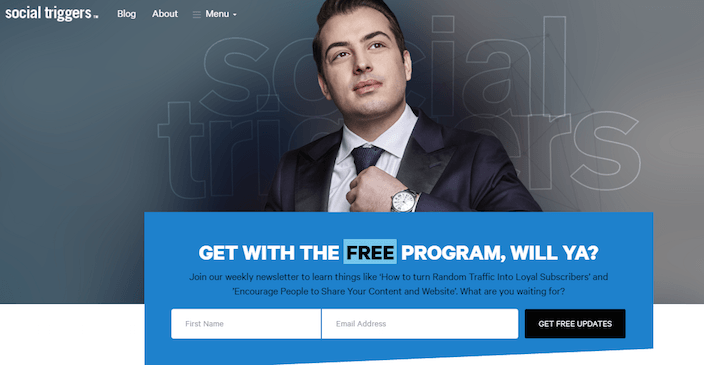 Of course, you've got to create that unique value proposition, the core reason why people should choose your offer instead of your competitor.
3. Drive traffic from email to the product page
An intermediate goal in the process of increasing your free trial conversion rates is building a list of loyal subscribers.
Then you nurture the relationship, and bring them over to your free trial signup page.
Here are some tips to drive traffic to your post-click landing pages from your newsletter.
Set expectations
When you make a promise to your subscribers, you must keep your word.
Setting expectations in the welcome email is a tactic I learned from Susan Su, a great marketer who knows how to do life-cycle marketing right:
If you set expectations, people will wait for your newsletter at the promised day and time. It's like a date.
The same happens with your email marketing. To make sure people will show up at your date (open and read your next email), you should create two basic things:
a value proposition that tells people why they should subscribe to your email list
a welcome email that sets up expectations: what's the frequency of your future emails? Or is there a specific day for your newsletter? Let people know this information.
Write persuasive emails
The battle between long form vs. short form emails should not take away your focus from what's important: the email conversion rate.
Writing long emails can make people read through the content and become impatient to click to see what's all about. Joanna Wiebe from Copyhackers uses this technique with success on me because anytime I get an email from her she makes me anxious to click: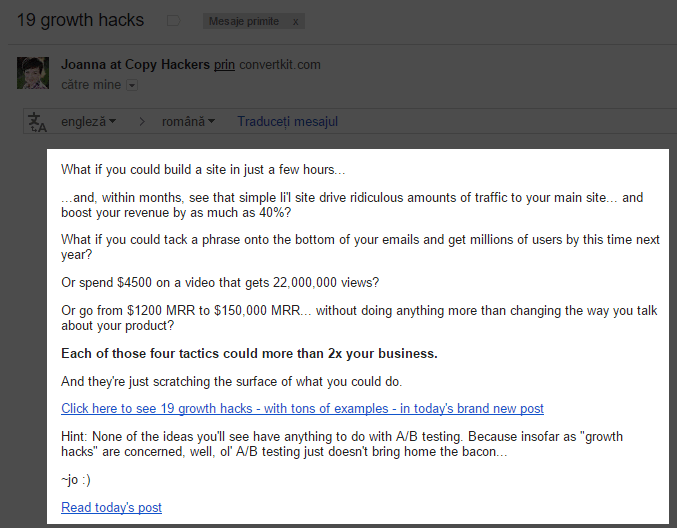 The secret in writing persuasive emails is to always measure and test. Try testing different approaches until you find a successful formula that you can use repeatedly.
This takes me to the last step of this process: optimizing post-click landing pages.
4. Optimize the product page for traffic coming from email
You've made it this far. Now you need to optimize your product page for traffic coming from email.
Here are some tips:
Build a dedicated post-click landing page for email traffic
To increase your free trial conversion rates, it's recommended that you build a unique and relevant post-click landing page for your email subscribers. They're special. So treat them accordingly.
This tactic can be used for any other important channel. Instapage's CEO, Tyson Quick, says in a roundup post on Omniconvert that all paid ads should direct traffic to post-click landing pages:
"Since all paid ads should direct people to post-click landing pages, we use our own post-click landing page software with our online advertising. By doing this, we convert nearly 40% of all paid traffic into signups."
Optimize your post-click landing page
First, you should use best practices in the design of the post-click landing pages. Some of them, consist of using social proof, listing the benefits instead of the features, or repeating the call to action.
Secondly, you should optimize it using CRO tactics. Here are some that generate great results:
Run A/B tests on the call to action wording, positioning, the number of fields, headline, etc.
Use exit surveys to find out what's missing on the page
Use exit pop-ups with an offer to the product you're promoting
This last step is crucial because you worked so hard to attract attention and keep people engaged in your sales funnel. Now is the moment of glory — the moment when you can enjoy the benefits of your hard work — and you don't want to risk losing visitors without offering one last chance for them to convert.
I may be biased, but using Instapage's post-click landing page builder coupled with Omniconvert's conversion optimization platform can help you convert more traffic from your blog into email subscribers, and email traffic into free trials.
Conclusion
I hope that I managed to explain the process that can help you generate more free trial signups for your SaaS business. Remember that these are just a few of the many ways you can get new free trials signing up month after month. It's just a content marketer's perspective, and it's recommended you select only what's best for your business.
Sign up for an Instapage Enterprise demo today.
About the author
Elena Dobre is handling content marketing at Omniconvert, a conversion optimization platform that offers everything under the same roof: A/B testing, segmentation, personalization, and surveys.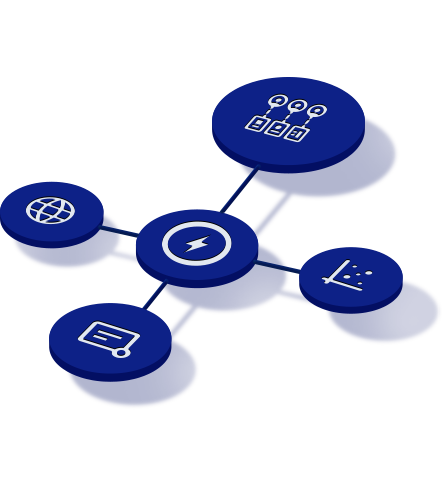 See the Instapage Enterprise Plan in Action.
Demo includes AdMap™, Personalization, AMP,
Global Blocks, heatmaps & more.