When done right, Facebook ads get you much more than page likes. It helps both B2B and B2C businesses use paid ad campaigns to reach out to their target audience and convert them into customers.
According to data, the average conversion rate for Facebook Ads is 9.21%: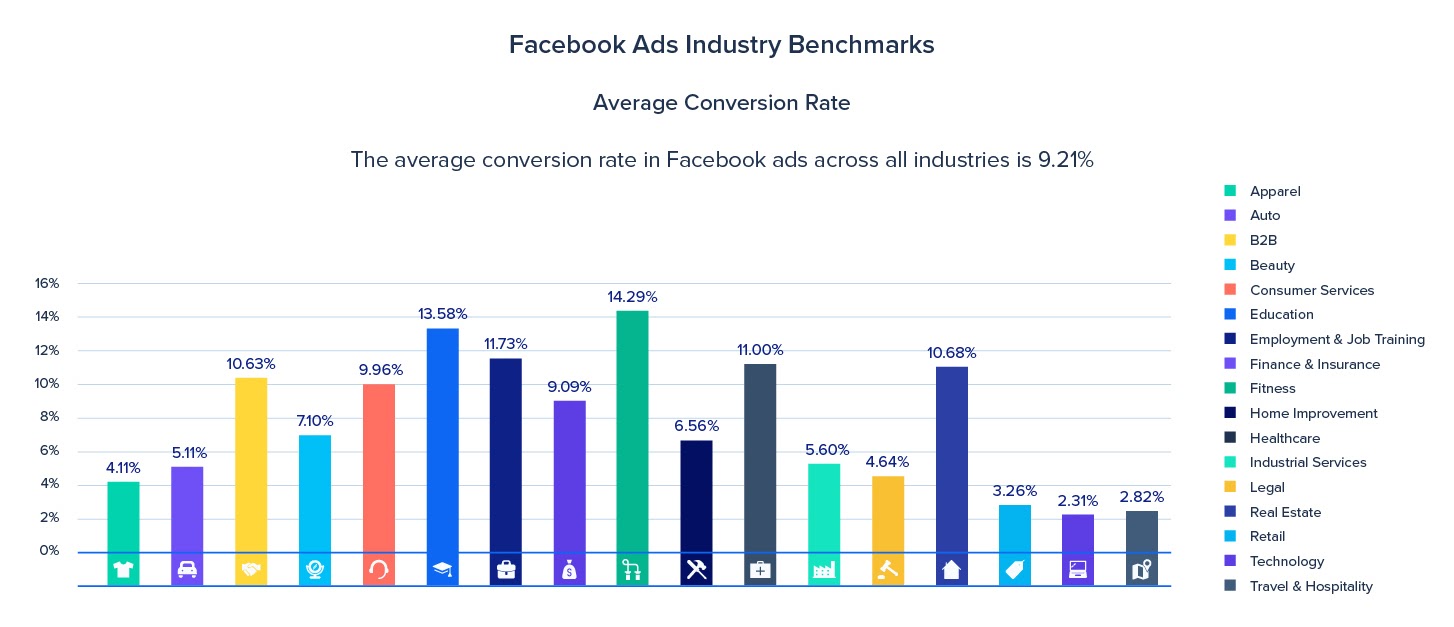 This means almost 90% of Facebook ads don't lead to conversions. That's a huge chunk of advertising conversions to miss out on. The primary reason for the mediocre average conversion rate lies in the fact that when creating their ad campaigns. Advertisers don't give equal attention to both halves of the Facebook advertising puzzle.
What are the two halves of the Facebook advertising puzzle?
All the work you put into the ads manager, selecting the bid, choosing targeting options, going through audience lists, picking the location and the language is all happening in the background. It's not what the user sees.
And hence is not the topic of today's post, to get a more detailed account of how to create your Facebook ad campaign from scratch, go through this Facebook Ads guide.
What we are going to go through today are the pieces of your Facebook ad campaign the user actually sees i.e. the ad and the landing page connected to it.
Creating an optimized Facebook ad doesn't get you advertising conversions. Because even if the user clicks the ad it doesn't mean they're also going to convert. To increase the chances of converting a user on a landing page, you need to connect all targeted Facebook ads with relevant personalized landing pages. This could be easily managed by the Instapage platform for creating and promoting landing pages.
You must create message-matched landing pages for your social media ad campaigns to increase conversions and your ROI. The landing page that follows the ad should narrate the same story/message in the ad, fulfill user expectations — all this makes them more likely to convert.
Don't send audiences to your Facebook page or website homepage after they click the ad since 31% of advertisers are losing leads because they're sending traffic to their homepage or another Facebook page.
To master the two halves of the Facebook Advertising puzzle you need to optimize your ads and connect them to personalized landing pages. Let's first have a closer look at Facebook ad types advertisers have access to for promoting their offers.
Promote your landing pages with multiple Facebook ad formats.
Facebook gives advertisers the option of reaching new audiences and remarketing to previous site visitors through multiple Facebook ad types.
Link click ads
When you think of a typical Facebook ad, you're actually thinking of link click ads. Link click ads help promote various offers, and direct visitors to landing pages. You can use Facebook link click ads with several ad placements. This allows you to deliver the same ad to your target audience across multiple placements.
Link click ads can be placed in the right column, desktop news feed, mobile news feed, and Instagram.
Here's what a typical link click ad looks like.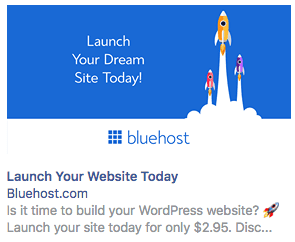 Boosted page posts
Every time you post something on Facebook, the network offers you the chance to increase the post's reach via a boosted post. Choosing to boost the post, allows you to select the target audience you want to show the post to and the preferred bidding method.
Boosted page posts look like ordinary posts, they just have a 'sponsored' note at the top of the ad: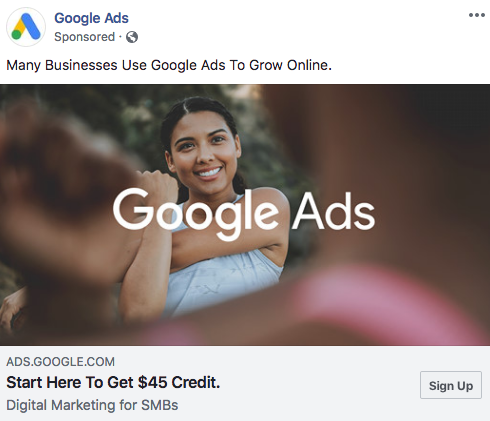 Video ads
Facebook's video ads are similar to link click ads where the user is taken to a dedicated landing page. The difference between link click ads and video ads is simply that the latter features a video instead of an image.
Video ads help add personality to your brand, make it more relatable, and stand out among other ads with the help of motion and movement.
This is an example of a typical video ad: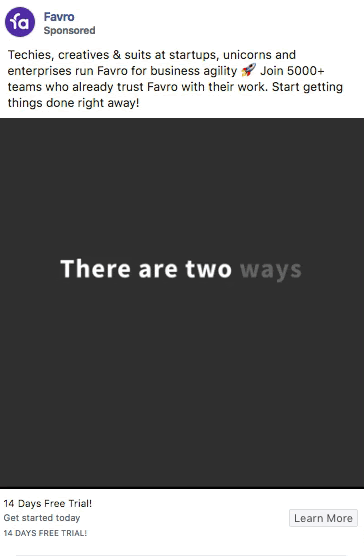 Lead ads
Facebook lead ads help you collect leads via the ad itself. Lead ads look similar to Facebook ads, however, after the ad click, instead of taking the user to a dedicated, they see a form that's already pre-filled with the information they've entered in the network: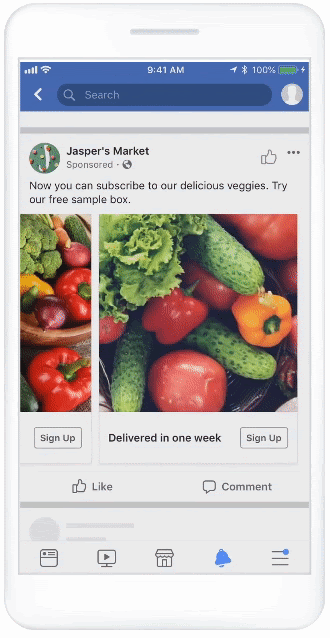 Advertisers can use lead ads for the following purposes:
Collect email sign-ups: You can use leads to get subscribers for your email newsletter. Commonly requested user information in this category is email and gender.
Manage inquiry forms: Use lead ads to ask questions from users about their interests, and follow up with them to provide the requested information and make a sale.
Offer deals or promotions: Lead ads also work well to offer users special deals and promotions.
While it may seem like a no-brainer to use leads to collect leads, there are 7 good reasons why you should use landing pages rather than leads ads to collect better quality leads.
Messenger ads
Facebook messenger ads work with the help of Facebook bots, which have the ability to deliver news and send promotional content — however, the user needs to start the interaction, and ad content needs to be sent within 24 hours.
Here's how a typical Facebook messenger ad works: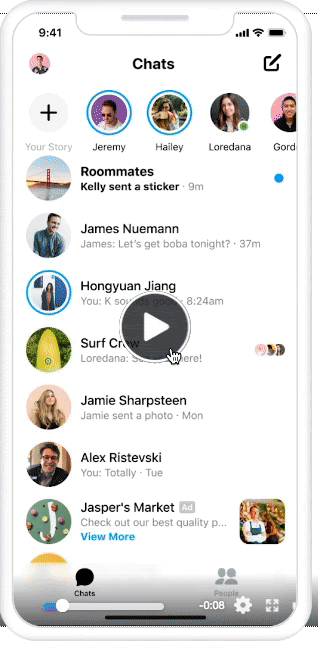 Carousel ads
The carousel ad format allows you to showcase up to 10 images and/or videos, headlines, links, and call to action buttons in a single ad unit.
Carousel ads work best for businesses who are looking to showcase multiple products/services. Carousel ads are currently available for desktop news feed, mobile news feed, right column, Audience Network, and Instagram.
Here's what a typical carousel ad looks like: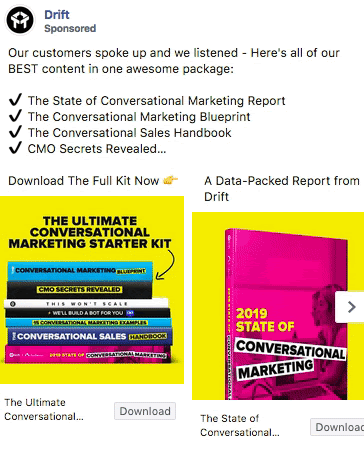 Dynamic product ads
Dynamic product ads are essentially remarketing display ads, they target users based on their past actions and inactions on your website, landing page, or app with a perfectly timed ad.
All you have to do to start showing dynamic product ads is upload your product catalog and set-up your campaign once, it will then continue working for you as long as you want. Dynamic ads find the right people for each product and use up to date pricing and other product information.
With dynamic product ads you get to:
Reach out to more shoppers: Show people products that are tailored specifically for them, their interests.Whether or not they have been on your website, landing page or have used your app.
Complete the Sale: Retarget visitors to remind them of the items they viewed but haven't bought yet.
Contact people across devices: Have the chance to reconnect with visitors on desktop or mobile, wherever they originally first interacted with your products.
Promote your landing pages at scale: Since these ads are placed with a relevant landing page automatically, you can promote your entire store without creating ads for every landing page.
This is what a typical dynamic ad looks like: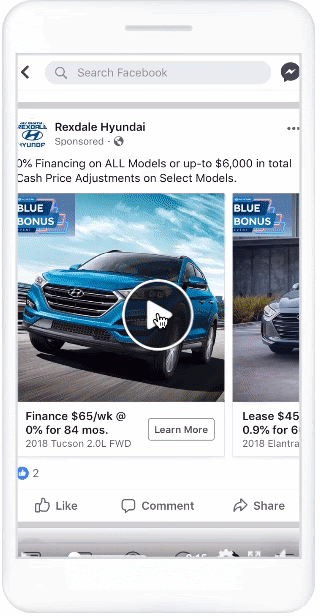 Canvas ads
Facebook introduced Canvas as a 'full-screen ad experience built for bringing brands and products to life on mobile.' Canvas helps you shorten the distance between your offer and the customer by instantly loading ads that are mobile-optimized and are designed to capture the complete attention of your audience.
Canvas ads help you showcase videos, photos, and carousels all in a single ad. At first glance canvas ads look like regular news feed ads. However, when clicked, the ad opens up to cover the entire mobile screen: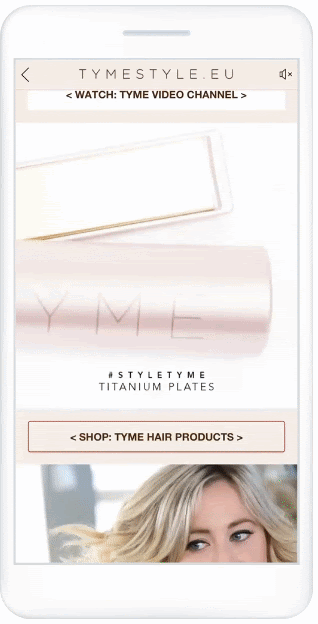 Combining videos, photos, GIFs, and call-to-action buttons, canvas ads deliver a "microsite-like experience" that allows people to click, scroll, swipe, and tap to engage with brands right on the Facebook platform.
Canvas ads can be created in the following layouts:
Grid layout: You can showcase products in a grid layout so users can browse more of your products from a single ad.
Lifestyle layout: Allow people to explore your products in action by featuring them in photos.
Collection ads
Facebook collection ads make it easier for users to discover, browse, and purchase products and services via their mobiles. Collections ads use the Canvas format to show users a full-screen experience. It drives engagement and piques their interest to click and eventually buy. These are not ideal for promoting your landing pages, as they are meant to keep users within the Facebook Ads environment.
Collection ads can be showcased in the Mobile News feed: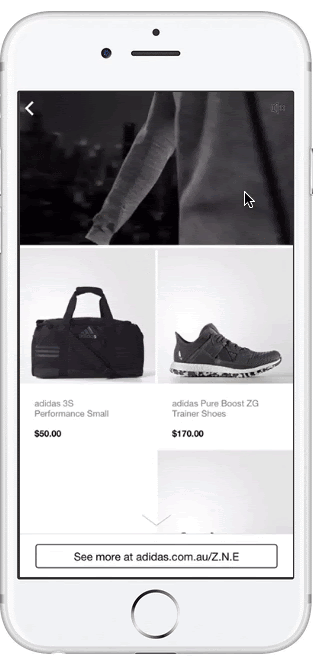 Mobile app install ads
Facebook mobile app install ads help you connect with users who are more likely to install your app. You can showcase mobile app install ads across Facebook, Instagram, and the Audience Network.
The ads can be linked directly to the App Store, Google Play, and Kindle Fire store. So people can immediately download your app. However it's better to direct visitors to an optimized landing page: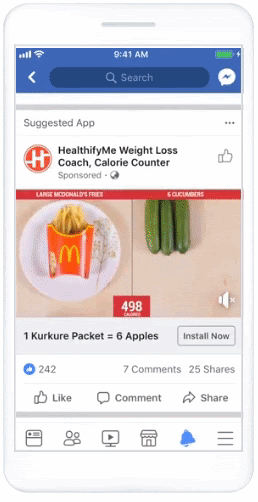 Let's now analyze a few Facebook ads and their landing pages on message match and conversion ratio.
A showcase of optimized ads and personalized landing pages
Before we begin showcasing the examples, let's define what optimized ads and personalized landing pages are.
Optimized ads: An optimized Facebook ad includes a headline that features the offers UVP. Copy that explains what offer is about/or what the user will get, media that's relevant to the offer, and a CTA button that makes sense for the offer.
Personalized landing page: A personalized landing page/experience continues the same message narrated with the ad and perfectly matches the user's expectations.
Let's analyze the ad and corresponding experiences of three brands to see what a personalized landing page and an optimized ad look like.
Favro
Favro's ad and landing page is a perfect example of what an optimized ad and personalized experience should be.
The ad promotes Favro's 14-day free trial. The copy describes what the app helps users do. It also mentions the customer count "Join over 1,000 businesses" which helps instill social proof. The gif showcases how Favro works and the CTA button promises visitors that after the click they'll get to "Learn More".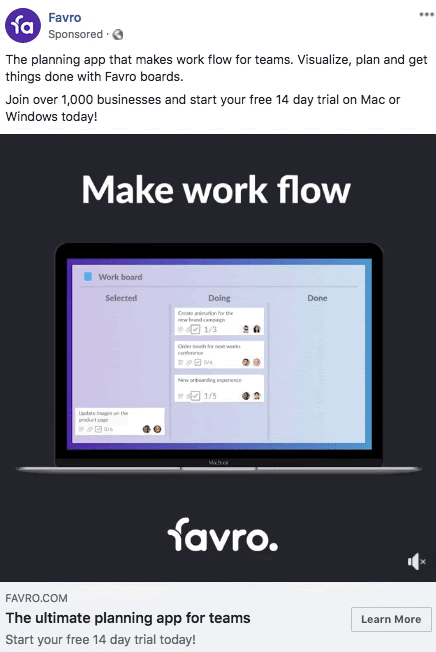 This is the page the user is sent after the ad click: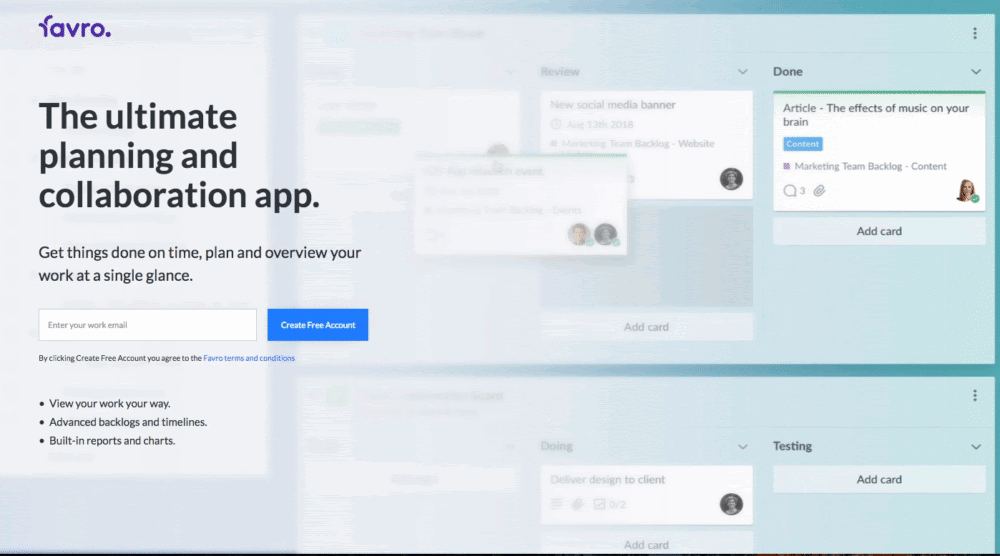 The headline and sub-headline fulfill the promise made in the ad copy, it helps the user learn more about what Favro is.
The CTA button is relevant in terms of the free trial offer in the ad.
The background gif gives a preview of how the app works and what the interface looks like.
The bullet points list the app features, the user can view their work and enjoy built-in reports and charts.
Intercom
Intercom's ad promotes their free guide. The copy outlines for users why they need to get the guide and the image showcases the guide's front cover. The CTA button copy "Download" is relevant to the ad offer: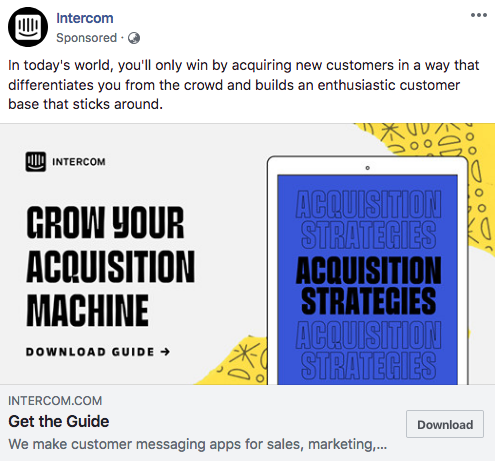 Here's the landing page: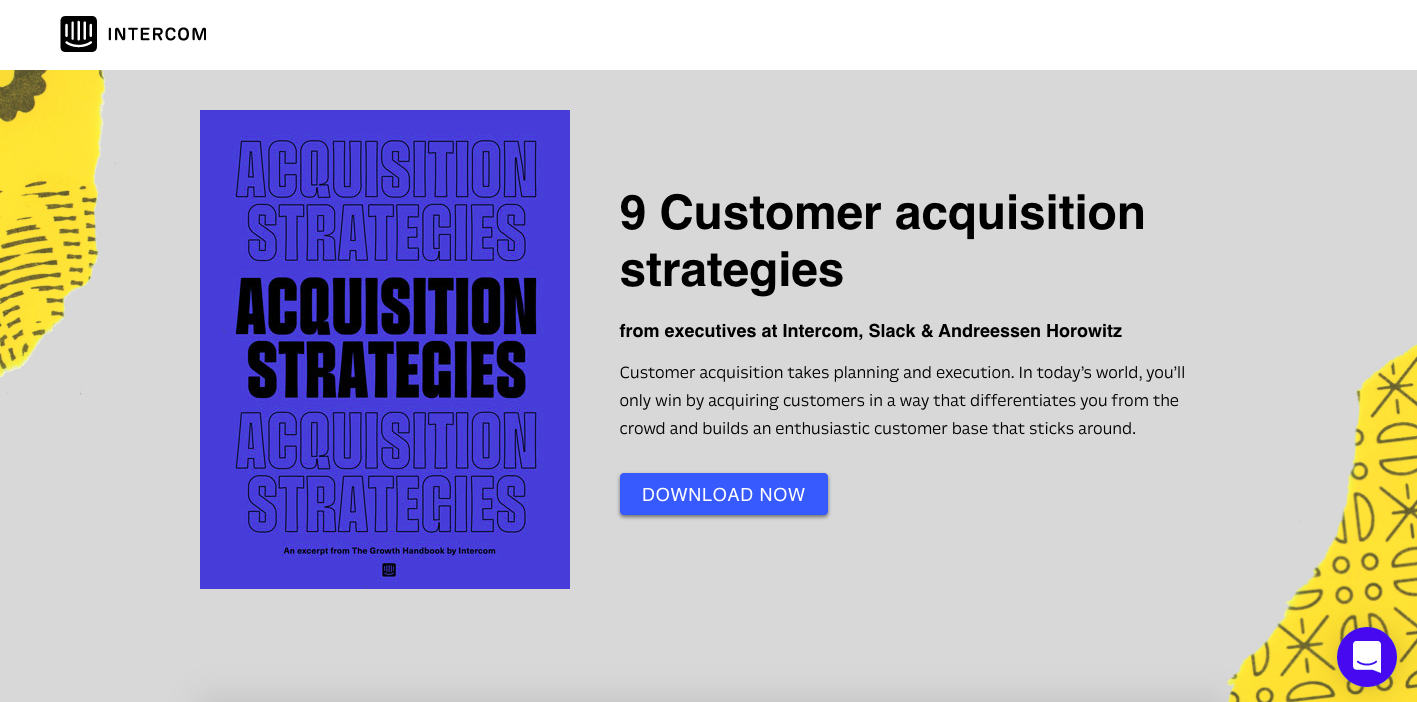 The headline and copy give an overview of what the ebook has instore for users. It also features that the writers of this ebook are from Intercom, Slack, and Andreessen Horowitz.
The "What's Inside" section gives users a breakdown of the information available in the guide. They'll learn about the cost of customer acquisition, the channels they can use, and why they should always be testing.
The images are relevant to the page offer, one showcases the front cover of the book while the other is a slider that shows pages from inside the book.
The primary CTA button lets the user know that clicking it would download the guide. While the secondary button featured at the bottom of the page promotes Intercom's free trial offer.
The "who will you hear from" section shows the names, designations, and hero shots of all the authors that have contributed to the guide.
Workplace by Facebook
The ad copy describes what the service is and what it will help the user achieve. The CTA button copy "Sign Up" lets the user know that the ad will direct them to a sign-up page.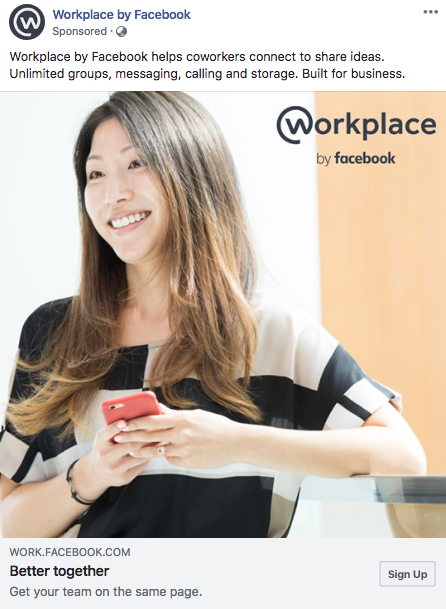 This is the page users go to after clicking the ad: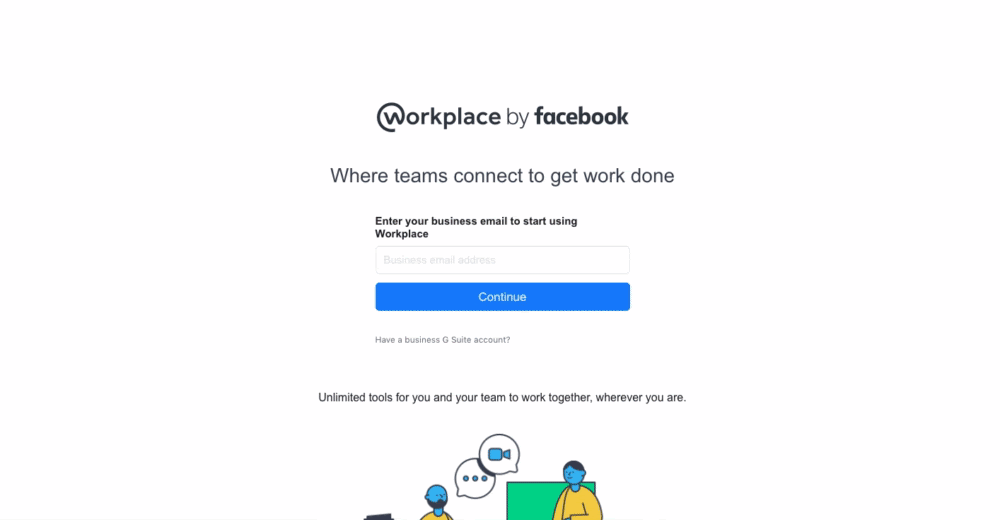 The headline highlights the UVP of the service, "Where teams connect to get work done".
The CTA button shows users that the form is multi-step and they will progress to the next step. And, in the end, they can "start using Workplace".
The graphic shows people connecting while doing work, which is what the service is about.
To increase advertising conversions for your Facebook ads it's necessary that all ads take users to a landing page.
Get more Facebook advertising conversions and promote your landing pages
Getting an ad-click isn't the end goal of your Facebook advertising campaign. What you want is to take visitors to the real destination – a page with the offer and the final CTA button.
This only happens with a personalized landing page.
Always send users to a personalized experience after the ad click because that is what will get you advertising conversions.
Remember to connect all your Shopping ads to dedicated landing pages. Find out how you can personalize and promote your landing pages at scale. Sign up for an Instapage 14-day free trial today.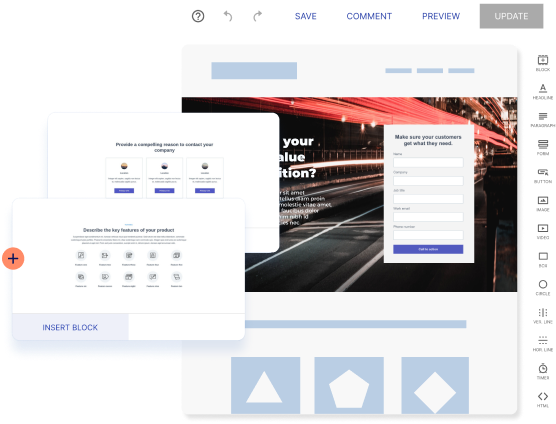 Try the world's most advanced landing page platform with a risk-free trial.