No doubt, you've heard about Google's recent search ranking update and have a lot of questions as to how it will affect your ad campaigns. We'll explain what the change is and how you can address it.
Google's recent update changed its search ranking algorithm to include a factor called Page Experience. It's not a small change—the update includes the addition of three new ranking signals—but once you understand more about what's behind this update, you shouldn't have to make big adjustments to your marketing strategies. Let's take a look at what Page Experience entails and how to address it.
What the Google Page Experience update is about
What's new and different about the Page Experience algorithm is that it's designed to evaluate the quality of a site's user experience and reward the site with higher search rankings. So, the pages with the best user experiences will find themselves higher in search results, and those with poor user experiences will rank lower.
The update—which is meant to give users more access to the most relevant content—introduces three new signals. And that's a big change. But, there's no cause for alarm since these changes are intended to improve visitors' experience on your web pages. You may need to make some adjustments, but after that, the update should ultimately improve your customers' experiences, leading to stronger conversions. Let's dive into the specifics.
Google introduces Core Web Vitals
In shifting its algorithm, Google is adding a new set of three signals called Core Web Vitals to its existing four search signals—mobile-friendliness, safe browsing, HTTPS security, and intrusive interstitial guidelines. The combination of all seven signals empowers search page results to analyze for page experience quality.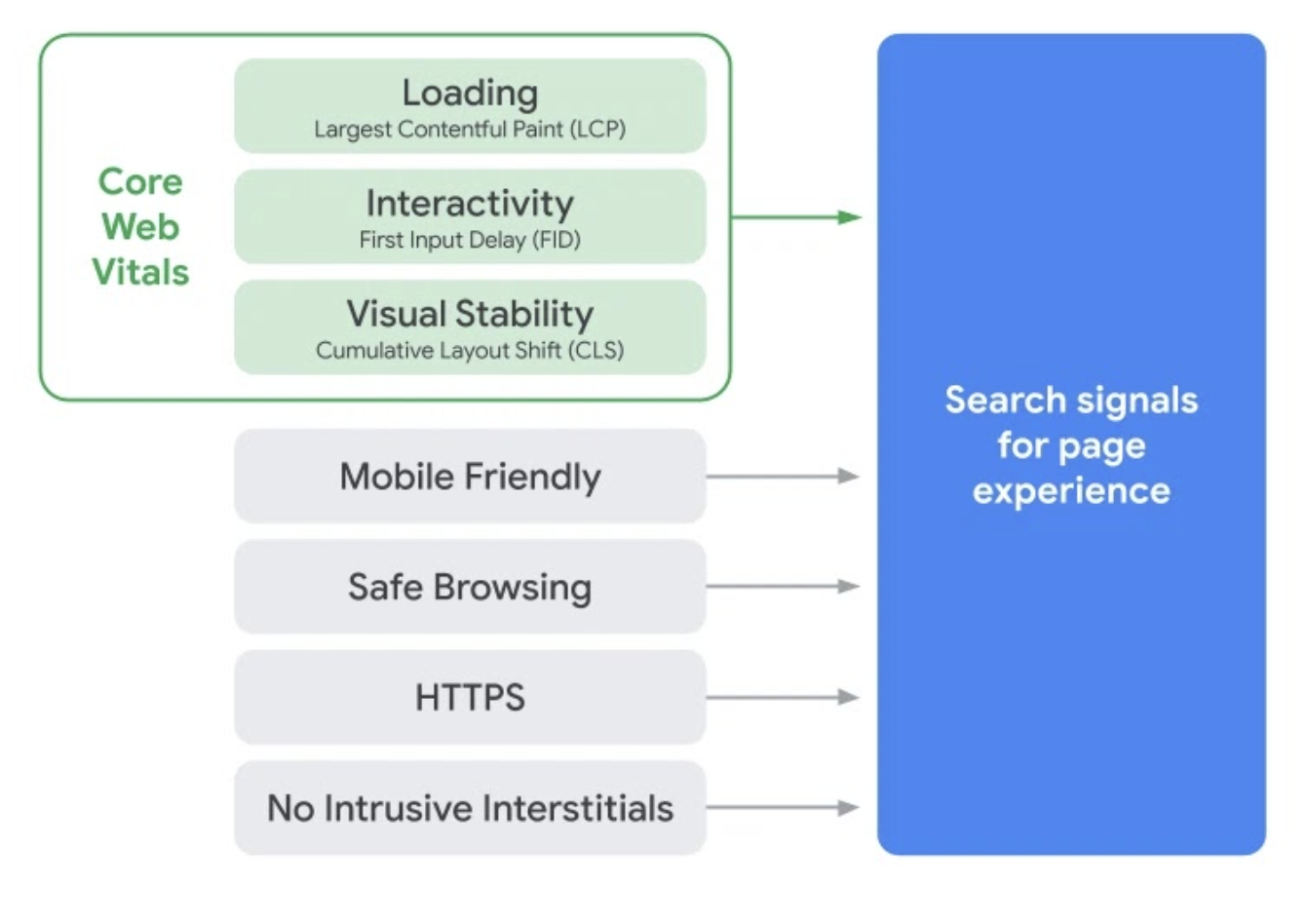 Core Web Vitals measure customer experience by analyzing three factors about a page: Its loading performance, interactivity, and visual stability. Here's more on how that works: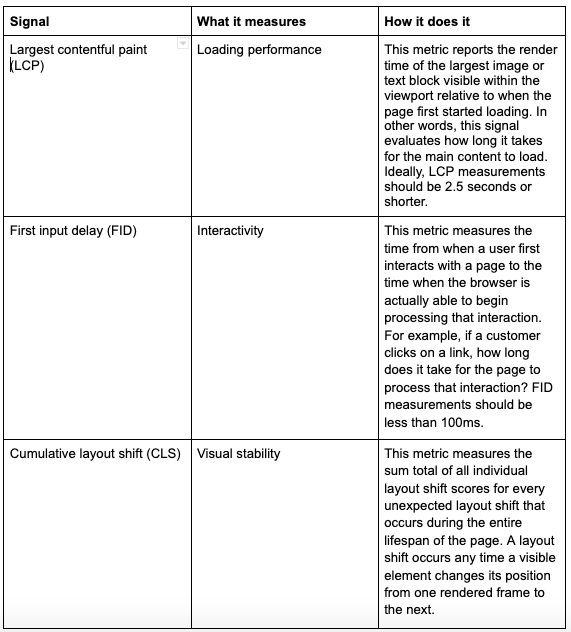 Largest contentful paint (LCP) measures loading performance. It reports the render time of the largest image or text block visible within the viewport relative to when the page first started loading. In other words, this signal evaluates how long it takes for the main content to load. Ideally, LCP measurements should be 2.5 seconds or shorter.
First input delay (FID) measures interactivity. This metric measures the time from when a user first interacts with a page to the time when the browser is actually able to begin processing that interaction. For example, if a customer clicks on a link, how long does it take for the page to process that interaction? FID measurements should be less than 0.1 seconds.
Cumulative layout shift (CLS) measures visual stability. This metric measures the sum total of all individual layout shift scores for every unexpected layout shift that occurs during the entire lifespan of the page. A layout shift occurs any time a visible element changes its position from one rendered frame to the next. An ideal CLS measurement is less than 0.1 seconds.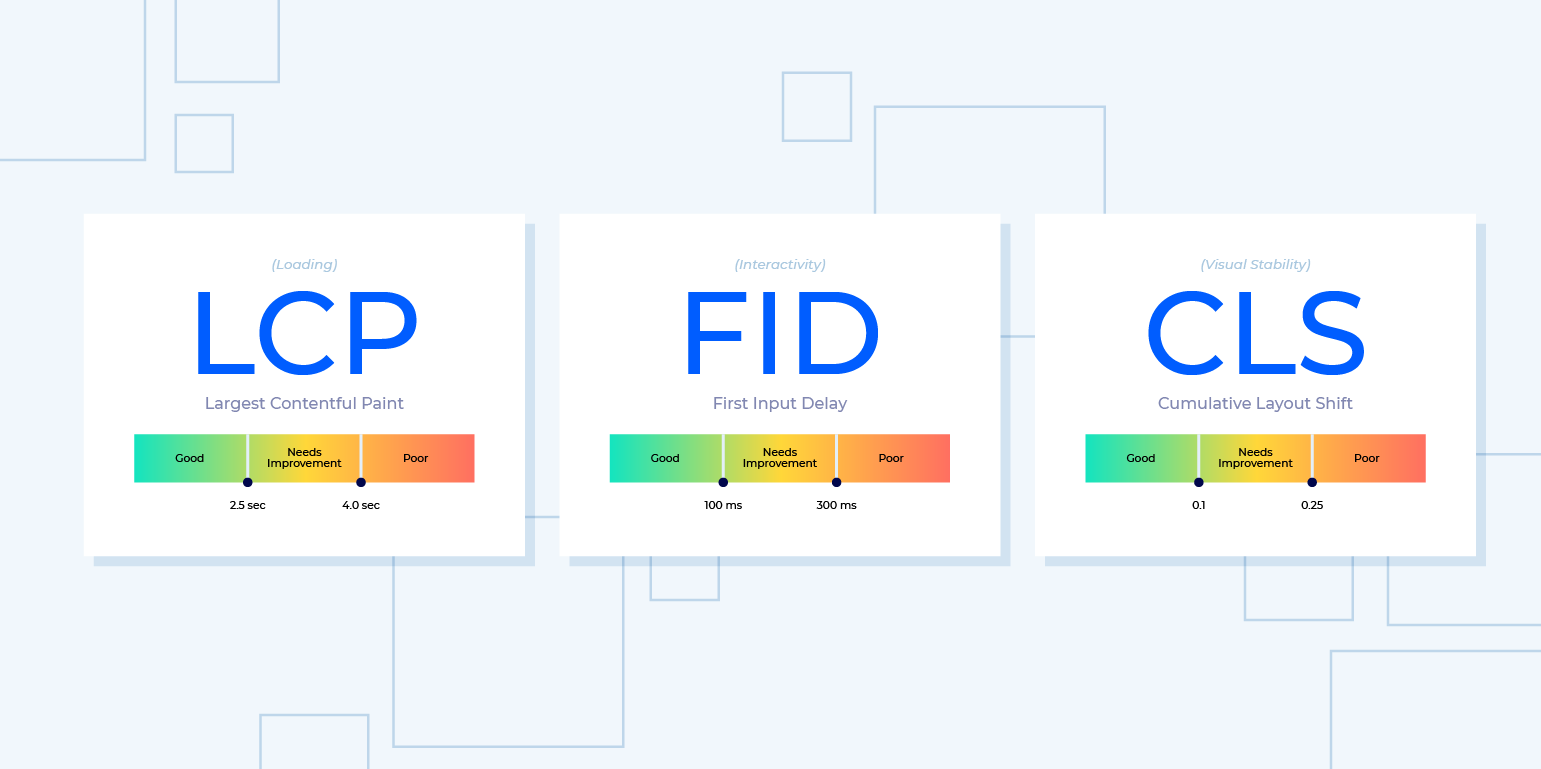 Less preferential treatment for AMP pages
Google's Accelerated Mobile Pages (AMP) enable marketers to create fast, optimized mobile web pages. These pages load instantly and reduce bounce rates. Since 85% of mobile users expect pages to load as fast as they do on desktop, AMP enables marketers to provide fast-loading, high-quality experiences on mobile devices.
As part of this update, Google announced that the AMP badge icon will be removed from search results and AMP will no longer be a factor for ranking in the Top Stories carousel and Google News. This will be a change for marketers who've been relying on AMP. Be sure to diversify your strategy and implement mobile landing page design methods.
How to address the update
The best way to address this update is to use Google's provided tools to measure the user experience of your pages and improve based on reports. These tools will help ensure your pages are fast-loading, interactive, and visually stable. Here are some steps you should be taking:
Use Search Console's Core Web Vitals Report to evaluate page performance and provide reports on LCP, FID, and CLS based on field data that show URL performance grouped by status, metric type, and URL group.
Run Google's PageSpeed Insights for recommendations on how to fix issues and see performance data on a specific URL.
Optimize mobile page load speeds by reducing page elements and images.
Use AMP pages for faster load times and better performance. Even if AMP itself isn't a ranking factor, improved speeds and performance contribute to a higher ranking.
Employ mobile-first design to ensure that interactive functionality is built into your pages so users can enjoy a mobile-optimized experience and fast load speeds.
Looking for ways to improve your page experience and drive stronger conversions? Instapage can help. We offer three plans so you can find the right path toward improved advertising success. Learn more and schedule an Instapage demo here.