Facebook video ads help you increase ad engagement, drive more conversions, and boost brand awareness—when done right.
But there's a catch. Crafting a successful Facebook video ad campaign is not as simple as it sounds. You need to create a video that your visitors will love, optimize it for the mobile experience, target a specific audience with an engaging video type, track performance data, adjust creative testing, and keep up with trend changes.
So, if your Facebook video ads are underperforming and failing to engage audiences, you're not alone.
It's time to rethink your strategy.
Start with your campaign goals
One of the first things Facebook requires you to do when setting up your video ad campaign is select the campaign objective.
Even though this seems like a simple selection, each campaign objective has a different role to play. You need to analyze all your options and consider the bigger picture before clicking the one that seems the most accurate.
For example, "Traffic" or "Brand awareness" objectives work for SMBs that are after brand recognition, while the "Catalog sales" objective works best for established brands that want conversions and to retarget people by showing them products they've already put in their carts.
Take time to analyze each objective and choose the one best suited for each campaign.
Creating different video ads for your cold, warm, and hot audiences
The best way to ensure a high ROAS for your video ad campaign is to segment your audience and create relevant video ads for each. You can do this by dividing your Facebook audience into three categories: cold, warm, and hot.
Cold audiences are visitors who haven't engaged or noticed your content yet.
Warm audiences are visitors who have previously engaged with your brand.
Hot audiences are your existing website visitors or leads that have already submitted their contact information on one of your landing pages.
Get audience information by installing a Meta Pixel on your landing page and layer your audiences within the Ads Manager.
Once you have audiences defined and configured on the platform, it's time to create a video that makes sense for that type of audience.
Explainer and educational videos for cold audiences
Explainer videos engagingly inform users about the product/service or offer in less than two minutes. Meanwhile, educational videos revolve around a specific problem users might be facing and present the offer as the solution.
The Grammarly video ad explains the product for cold audiences who haven't heard of the service before and also features the "incorrect word usage" problem potential users might be facing: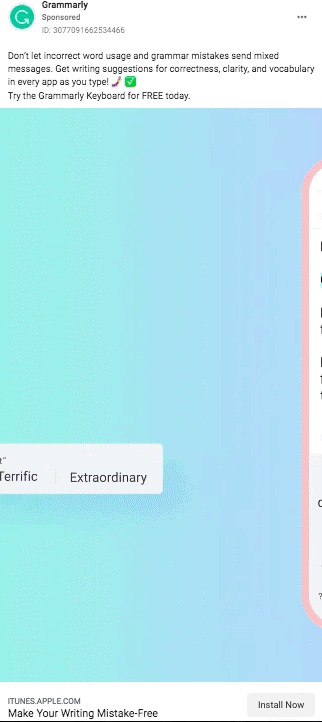 Product and how-to videos for warm audiences
Both video types showcase the benefits, qualities, and uses of your offer or service. Moreover, they give you the perfect opportunity to showcase your brand personality and creativity.
Calm's Facebook video ad features one of their "Sleep Stories" and demonstrates to warm audiences why they need to get the app.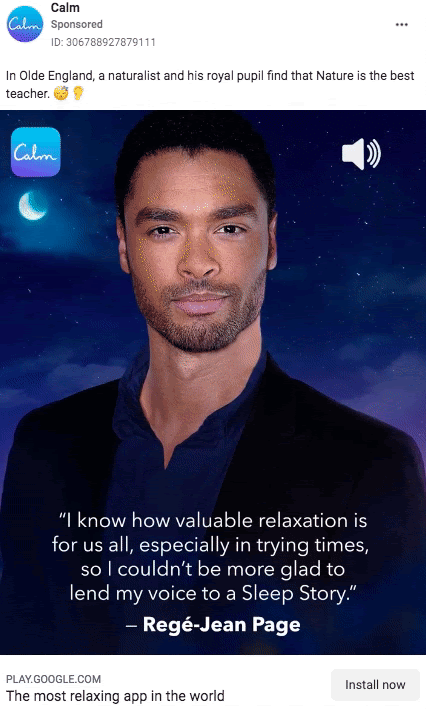 Similarly, HelloFresh's video ad features their $130 off discount code to leads who are already familiar with the service and are ready to convert: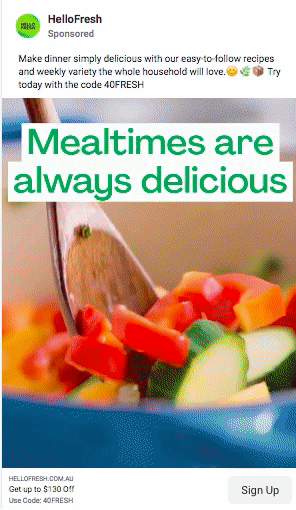 Testimonial videos for hot audiences
Hot audiences are the closest to making a buying decision because they are already familiar with your brand. All they need is a little boost to close the deal. Testimonial videos help you share current buyers' perspective with potential customers, instilling social proof and making it easier for them to convert.
Keep your videos short
The shorter your Facebook videos, the better.
Short-form videos have made their way across all major platforms—TikTok, Instagram, Facebook, and even YouTube are now heavily promoting short videos.
For in-stream video ads, Facebook recommends a length of 5 to 15 seconds. For standalone ads in News Feed, Facebook recommends creating ads that are 15 seconds or shorter.
Keep your videos short and to the point, and make sure to mention your brand within the first 3 seconds.
Focus on sound-off views
According to Facebook data, when feed-based mobile video ads play loudly, 80% of users react negatively toward the platform and the advertiser.
So, when creating video ads, it's best to make sure the video content doesn't require sound to communicate the core message. Facebook internal tests show that captioned video ads increase video view time by an average of 12%.
While your audio should add value, it shouldn't be essential to getting your message across.
Optimize your Facebook video ads for better engagement
Don't let your underperforming Facebook video ads deprive you of meeting your engagement and conversion goals. Use the best practices outlined in this post to optimize your ads, start improving campaign performance, and increase ROAS.
Another way to ensure you get a high ROAS is by optimizing your video ad landing page experience. To accomplish this, you need message matching and a platform capable of providing an end-to-end solution.
Enter Instapage.
Find out more about how Instapage can help you create dedicated pages by looking through our three plans that help you take the stress out of creating, optimizing, and converting post-click landing pages.
Create better landing pages and see better conversion results. Interested in trying us out? See all Instapage plans here.