With more than 2 billion people users on Facebook every month, advertising on the platform is a no-brainer. To ensure your ads are not overlooked though, without any action taken from those users, your ads must be engaging.
Facebook post engagement is what really matters, and Facebook engagement ads are an ideal ad type to persuade users to take action.
What does Facebook post engagement mean?
Post engagement on Facebook refers to the total number of actions people take involving your posts. This includes liking/reacting, commenting, sharing, claiming your offers, clicking the link, etc.
When people see posts that are relevant to them, they're more likely to interact. So, higher post engagement indicates that your ads are relevant to your target audience.
So, for your business, how can you boost engagement on your Page posts?
Facebook engagement ads.
What are Facebook engagement ads?
Facebook engagement ads, or Page post engagement (PPE) ads, enable businesses to share information with more people by extending Page posts beyond the business Page. In essence, it's paying for Facebook post engagement: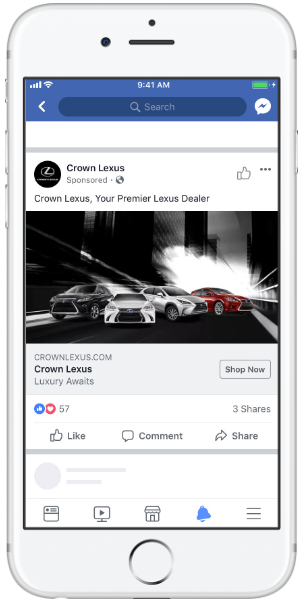 Note: PPE ads are not just boosted posts. Boosting a post turns an organic post into an ad, but it does so with the basic "reach" objective. PPE ads pay for engagement, rather than reach.
By checking insights such as how many users liked, shared, or commented on your ad — a method for evaluating performance of engagement ads — you can better understand the type of content your audience likes, and produce more of it.
Engagement vs. other ad objectives
Facebook divides ad objectives into three main categories:
Awareness, including top of the funnel objectives that aim to generate interest in your product or service
Consideration, including middle of the funnel objectives to reach people who already have some interest in your business, and might want more information
Conversion, including bottom of the funnel objectives that encourage highly interested prospects to purchase your product or service
Within each of these categories are more specific objectives you can select, depending on what best aligns with your campaign goal: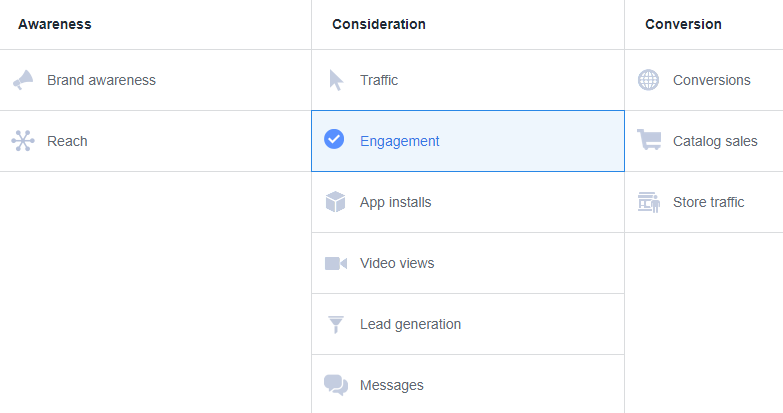 Choosing the engagement objective is best for targeting consumers in the consideration stage of the funnel — when they've already done some research and are somewhat interested in your product or service. At this point, with your PPE ad, you can get your content in front of relevant users who already have an interest in your product or service, and most likely to interact. The result is genuine and valuable engagement.
Engagement ads also help boost social proof and reach. The more people who engage with your post, the more it encourages others to do the same. Similar to viral posts, the more people talking about it, can equate to more shares, more exposure, and organic reach beyond the initial audience you paid for.
What is a good Facebook post engagement rate?
Marketers can measure engagement rate in three ways, which means a "good" rate can look different depending on the calculation method:
1. Engagement Rate = Total Engagements/Followers
This calculation measures engagement on a per follower basis — the individuals whom your post could potentially be directly exposed to. Although it's easy to calculate rate this way, it doesn't account for any non-follower engagement.
For follower-based calculation, an engagement rate above 1% is considered good. If your posts continuously receive less than 1% engagement, you likely have a very inactive follower base that's not engaged with your content.
Measured this way, in 2018 the average Facebook post engagement rate across all industries was 0.16%: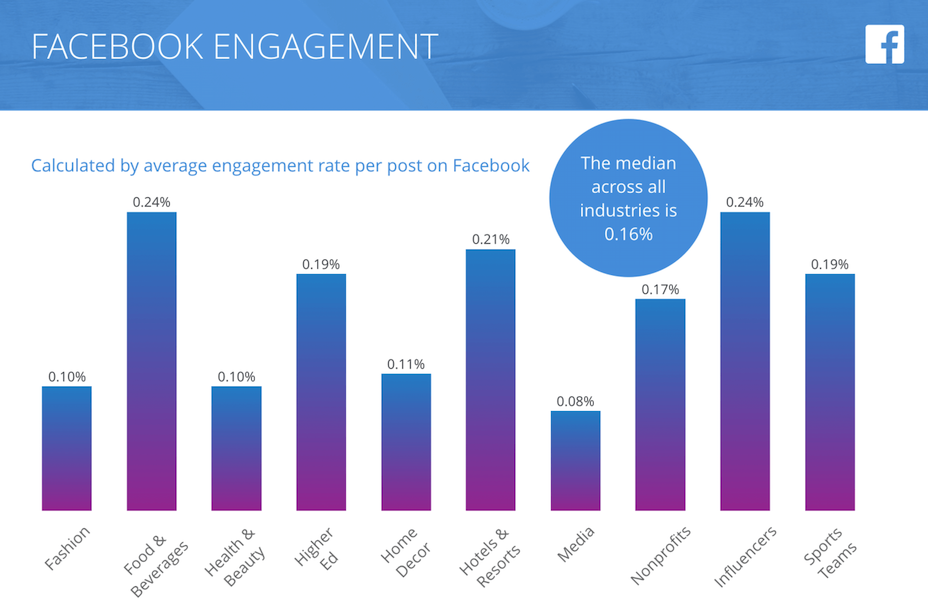 2. Engagement Rate = Total Engagements/Reaches
This method of calculation measures engagement on a per individual basis — the total number of individuals that your post is exposed to. In this case, impression frequency is not taken into consideration.
For reach-based measurement, a 1%-2% Facebook engagement rate is considered good. This is because promoted content is tailored to a unique audience, so they should be interested in your ad if you selected your targeting criteria appropriately. If your posts receive less than 0.7% engagement on average, it may mean you're targeting the wrong audience.
3. Engagement Rate = Total Engagements/Impressions
Impression-based engagement rate measures engagement on a per view basis. Although this method is useful for measuring CPM, the frequency variable (impression = reach x frequency) can lead to inconsistent results.
A good impression-based engagement rate is the same as a good reach-based engagement rate, and for the same reason.
With these different measurement methods, businesses must choose the campaign KPIs that best align with their goals and use the most appropriate method to calculate their engagement rate.
Ad specs
Engagement ads can be created in image or video format, each with different specs and requirements:
Image
Design recommendations:
File type: jpg or png
Image ratio: 9:16 to 16:9
Recommended resolution: Upload the highest resolution image available
Text: 125 characters (images that consist of more than 20% text may experience reduced delivery)
With link:
Image ratio: 1.91:1 to 1:1
Recommended resolution: at least 1,080 x 1,080px
Headline: 25 characters
Link description: 30 characters
Technical requirements:
Minimum image width in pixels: 600
Minimum image height in pixels: 600
Aspect ratio tolerance: 3%
Placement:
News Feed
Instant Articles
Video
Design recommendations:
File type: Most file types are supported, however, H.264 compression, square pixels, fixed frame rate, progressive scan, and stereo AAC audio compression at 128kbps+ is recommended.
Video ratio: 9:16 to 16:9
Recommended resolution: Highest resolution available that meets file size and ratio limits
Video file size: 4GB Max
Video length: 1 second to 240 Minutes
Video captions: Optional but recommended
Video sound: Optional but recommended
Text: 125 characters
Video thumbnail images: More than 20% text may experience reduced delivery
Vertical videos (with aspect ratio taller than 2:3) may be masked to 2:3
With link:
Headline: 25 characters
Link description: 30 characters
Technical requirements:
Aspect ratio tolerance: 3%
Placement:
News Feed
Instant Articles
In-stream Video
Suggested Video
Audience Network In-stream Video
For more details on Facebook ads — and other digital ad types across all platforms — download the Instapage Digital Advertising Reference Guide and get the most updated ad specs, best practices, examples, and more.
7 Engagement ad best practices
Engagement ads can be set up in Ads Manager, by creating a new campaign or using an existing campaign: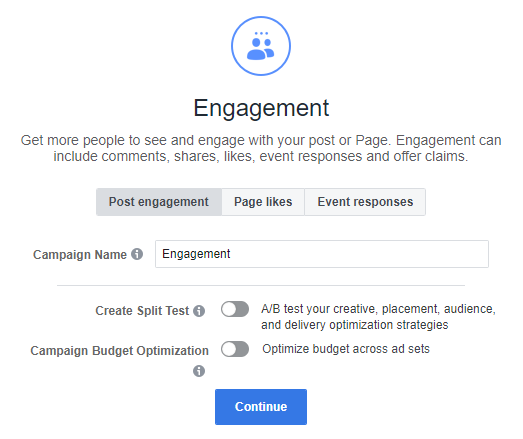 When setting up your campaign, be sure to keep these Facebook ad best practices in mind for the most engagement:
1. Experiment with vertical videos
Since most people hold their phones vertically, you'll cover more screen area with a vertical or square aspect ratio: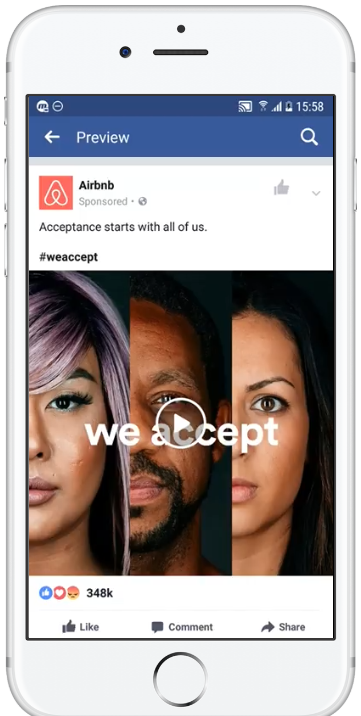 2. Avoid text on images
Use the headline, description, and link fields for copy, instead of placing it on images, since Facebook images without text. If you absolutely require text on your image, be sure to use a smaller font and limit the text to lower the proportion of text to image.
3. Minimal text
Facebook users scan their feeds quickly. On average, they spend 1.7 seconds with a piece of content on mobile, and 2.5 seconds on a desktop. Keep your text short, clear, and precise to ensure your message gets seen immediately.
4. Test multiple images with a Carousel
Adding multiple images is possible with the Carousel format, allowing advertisers to show more images at the same cost. This is an ideal opportunity if you have a lot of product or brand images that you want prospects to scroll through.
5. Add movement
Ads with movement stand out most in users' News Feeds, so videos and gifs are excellent for engagement ads: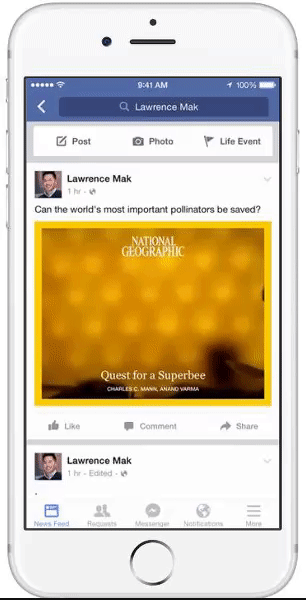 Other options include Facebook's free video effects tools to automatically animate your ad, or free apps like Hyperlapse, Boomerang, and Adobe.
6. Use call to actions
Multiple CTAs are available for Facebook engagement ads: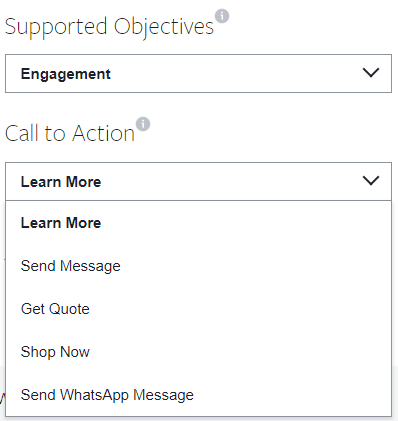 Experiment with different CTAs based on your campaign goals to see which option generates the most engagement.
7. Create app engagement ads
If your business has an app, this ad type can help you increase actions within that app. They are designed to help you reach the people who have downloaded your mobile app, so you can regularly encourage them to reopen it and take various actions (shop, play, etc.). Similar to Google engagement ads, Facebook app engagement ads send people to a specific area within your app, such as a product page, travel search, or the start of a game.
Get the best engagement possible
Use the information and examples above as inspiration to create new Facebook engagement ads and improve your existing ads — especially if the campaigns haven't been performing up to your liking.
Remember to use text-free images, vertical videos, short and precise copy, and always add a CTA that links to your dedicated landing page. Sign up for Instapage 14-day free trial today.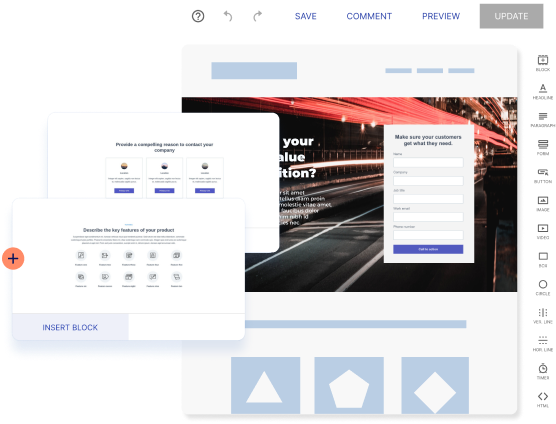 Try the world's most advanced landing page platform with a risk-free trial.