You may have cracked Twitter and Facebook conversion to your post-click landing pages, but Instagram comes with its own special challenges. For instance, did you know that you can only add one link to your profile? Or that you can't make any images or videos you post linkable?
Instagram might be a slow burner in terms of e-commerce conversions, but with its 400 million+ user base, it's not a platform any brand can afford to ignore. According to Shopify, its average order value is second only to Pinterest, beating both Facebook and Twitter. With the addition of linkable ads in your feed, locking down your Instagram conversion strategy right now could put you miles ahead of your competitors.
Today, we're going to show you how you can drive greater success in your marketing campaigns by connecting your Instagram ads to post-click landing pages.
9 Ways to use Instagram advertising and post-click landing pages
1. Know your audience
Any social media tips article will tell you about the importance of growing your following. It'll probably also talk about focusing on quality and not quantity. It's no good having a million followers if they are only interested in your business because you once posted a photo of Kim Kardashian or Drake.
The question to consider here is, who do you want to target with your posts? Is it millennials who own a car? Baby Boomers who are looking to buy a second house? Creating a buyer persona is all the rage these days, but once you've done that, make sure you are following these people and targeting them with your Instagram posts to ensure high-quality conversions to your post-click landing pages.
Fast food restaurant A&W is a good example of a company that knows how to target its audience. It launched a campaign focusing on its use of healthy ingredients to attract the health-conscious younger generation: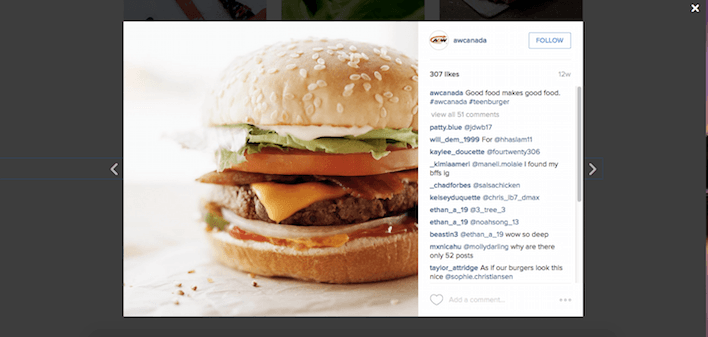 2. Don't go it alone
There's a reason why Instagram is called a social network; the idea is to connect with others, not be a one-man band marching to your own tune. Connect with other brands, products, people, places, and businesses relevant to your company and start liking and commenting on their content. Then link up with them so they'll do it right back.
Try the same technique with influencers in your field — those people who have real reach with the people you're attempting to connect with. Connect with them, like their stuff, and show them why your product or service is excellent. If you convert them into a fan then you'll have the perfect brand ambassador to promote your product, and you'll get access to their great (and relevant) followers.
Air Canada hired travel social media influencers to travel to the destinations they fly to and post Instagram photos to promote the local area: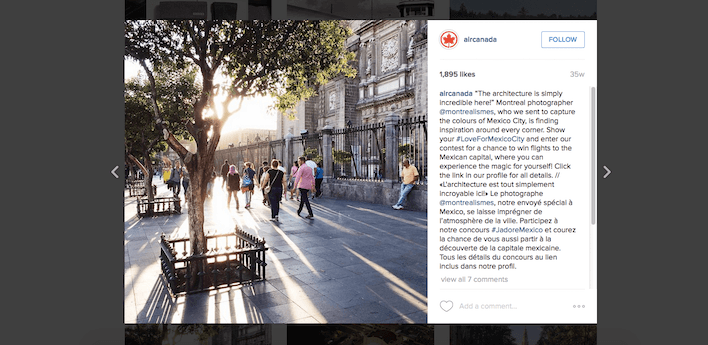 3. Offer exclusive incentives
It may be tempting to post the same offers across all your social media channels. But if you offer incentives specifically for your Instagram followers it will make them feel like valued (potential) customers. It also allows you to target the portion of audience who prefer Instagram to other social networks, such as Twitter.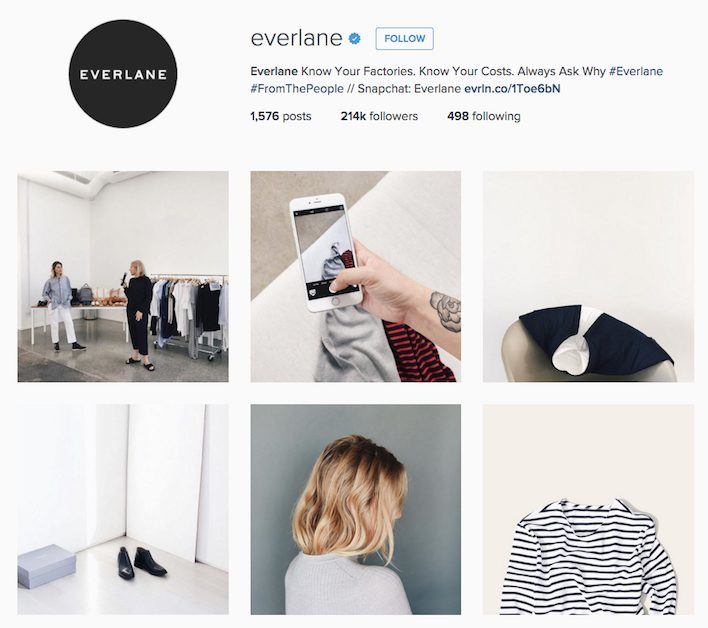 This exclusive content could even extend beyond discount codes to launching a new product on Instagram, or sharing behind-the-scenes footage of the opening of a new store, something that high-end retailer Everlane does well. Making your customers feel more connected to your brand will increase their engagement and is more likely to turn them into loyal shoppers.
4. Test different calls to action
What is the ultimate aim of each photo or video you post to Instagram? Do you want your followers to tag their friends, to give you feedback, or to sign up to your mailing list?
Whatever the goal, make sure you include a relevant call-to-action, which can be tweaked according to the quality of the conversions.
If you find that a giveaway earns you more followers by asking people to like or comment on a photo — but none of those people ever buy anything from you — then you might want to change that CTA. Perhaps you could ask them to sign up for your newsletter instead, or share with a friend. Test what works for each situation and tweak accordingly.
Extend this CTA testing to the link in your profile. But remember that Instagram doesn't allow clickable links within photos so unless your URL is super short and simple, don't bother with it. Clothing retailer Frank and Oak has a nifty strategy for its CTAs, both encouraging users to click the (ever-changing) link in its bio, as well as complete other actions such as tag a friend: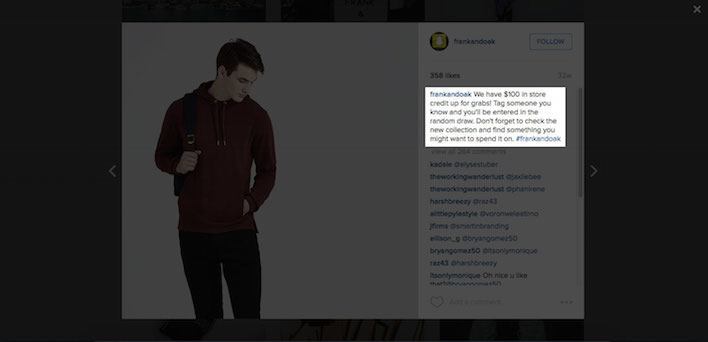 With only a single link available, make it count, and send Instagram users to a dedicated post-click landing page with your one conversion goal in mind.
5. Make your hashtags memorable
Joining other hashtag campaigns is a great way to get involved in a conversation, but if you're going to create your own hashtags, make them interesting and different.
Hashtags are also a great way to tap into user-generated content. Get your followers to share pictures of them using your product, eating in your restaurant, or going to your shop with a specially-crafted hashtag. This way your audience will grow to include their followers as well.
Word of mouth marketing is an effective way to create high-quality conversions without having to sell to your followers. Red Bull performed a highly successful #PutACanOnIt campaign was inspired by an Instagram user who got creative with a can of the popular drink and a Mini Cooper: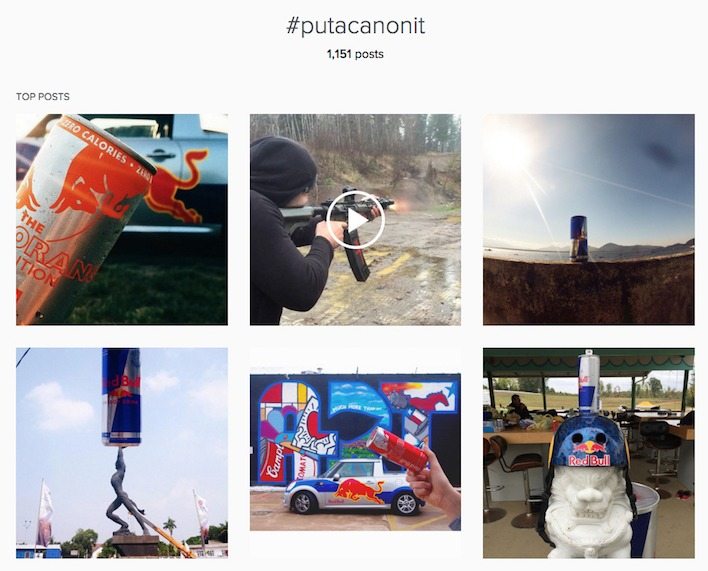 There's also a big drive to shop local and reinvest in your community and by creating or using hashtags from your area, you'll connect with a whole different audience.
6. Stop selling so hard
When your ultimate goal is to drive traffic to your post-click landing pages and get sales for your business, it may seem counter-intuitive to stop selling.
But imagine this scenario: the minute you walk into a store the sales assistant starts pushing products. You turn away, only to be met with another assistant trying to sell you more stuff. You eventually run out of the store just to avoid the constant sales pitches. Posting sales-only content on your Instagram profile is the online equivalent, and will have your followers running away from you just as fast they can hit the back button.
If you want higher conversions, make your brand one that matters by sharing fun, topical, and interesting content, and engaging properly with your fans. Take an interest in what they are posting, and liking and commenting where relevant. Think about the word of mouth conversions you can get from happy, engaged fans who genuinely enjoy what you share and see you as a brand they can identify with. Brand fans are a powerful tool!
Burberry is a great example, sharing content ranging from Chinese New Year celebrations, to topical posts on new movies, and behind the scenes photo shoots with the likes of Romeo Beckham.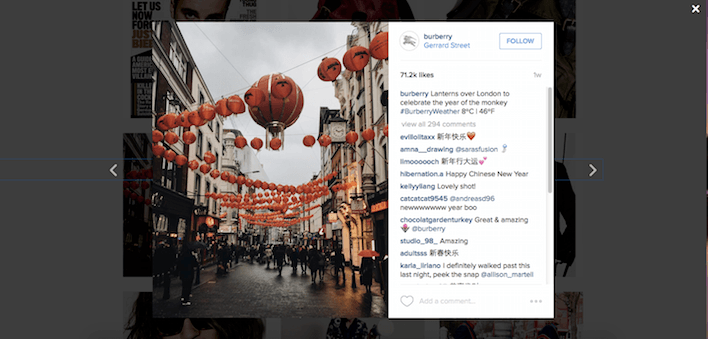 7. Don't forget about the ads
I know I said to stop selling, but there's a time and a place for selling. That place is in your advertising.
Instagram introduced ads in 2013, and the good news is that they are clickable and you can use multiple photos to send your followers to your beautifully-crafted post-click landing page: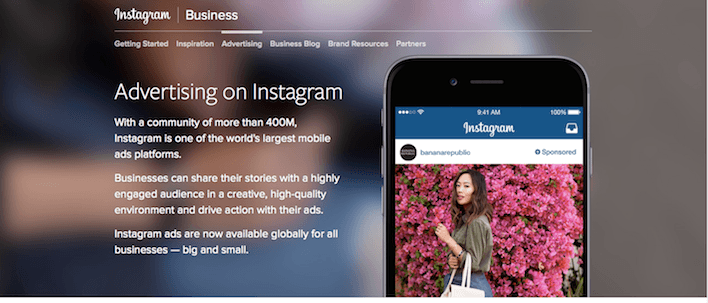 Given that Instagram is a platform for sharing beautifully edited and filtered photos, these ads must look as slick as any image you share. There are also apps that allow you to go directly to a customized shopping page linked to your Instagram account. This link can be added to your profile.
8. Measure your efforts
You wouldn't dream of not measuring your email marketing campaign and implementing proper tracking metrics to help you make the right decisions in the future.
There's no reason you shouldn't be doing the same for your Instagram marketing.
Unlike Twitter and Facebook, Instagram doesn't come with built-in analytics functionality, you'll have to resort to a third-party app. There are plenty of apps out there such as Iconosquare that can help you work out what to track and measure how effective your efforts have been in each campaign: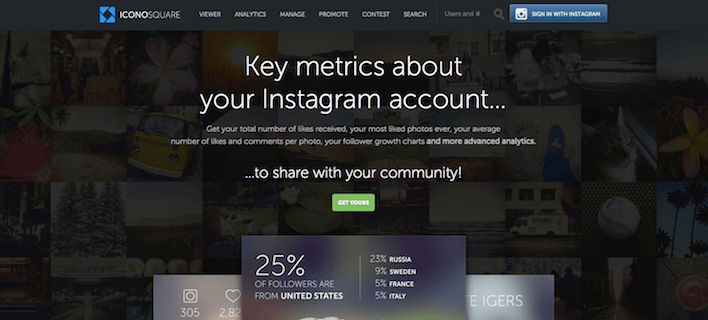 9. Embrace technology
Aside from measuring your metrics, there's a ton of other ways third-party social media marketing apps can help you drive better conversion from Instagram to your post-click landing pages.
Womenswear retailer Bikini Luxe uses the Foursixty.com app, which creates a shoppable page of Instagram images. Another great tool is Soldise, which helps you take advantage of that all-important one link in your Instagram profile.
There is also Latergramme, which allows you to schedule posts for certain times of the day, SocialRank which takes a deep dive into the demographics of your followers, and Repost, which lets you repost content with automatic attribution.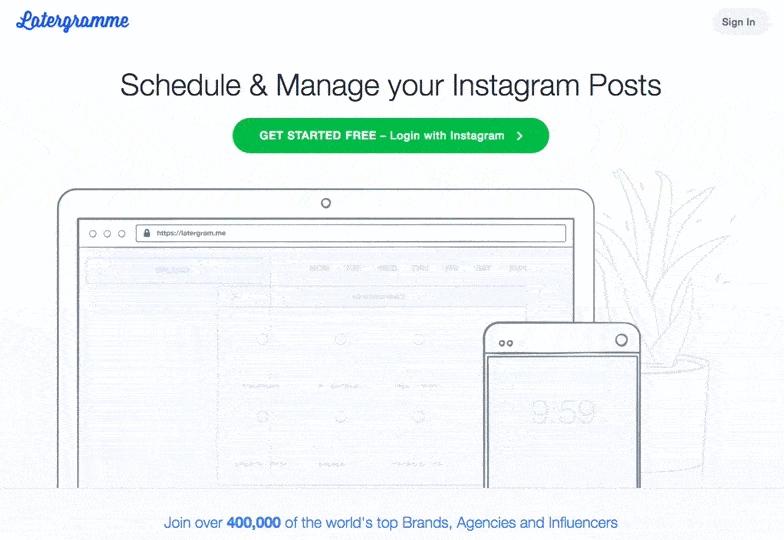 Ready to start converting?
There isn't a one-size-fits all strategy for all platforms when it comes to social media marketing that will allow you to seamlessly and successfully convert your followers into customers.
While there are crossover areas, Instagram requires a different strategy from its fellow social media platforms.
Don't ignore the post-click stage, provide every prospect with a personalized experience from start to finish. Sign up for an Instapage Enterprise Demo today.
Author bio
Karen McCandless is a writer for the GetApp Lab, as well as editor of the small business software discovery site's blog. Before working at GetApp, Karen spent a lot of time reviewing photo and productivity apps for Android and iOS, as well as covering all things B2B, primarily for retail and manufacturing. When not writing about B2B apps, she enjoys trips to the theater, playing badminton, and working out ways to travel more.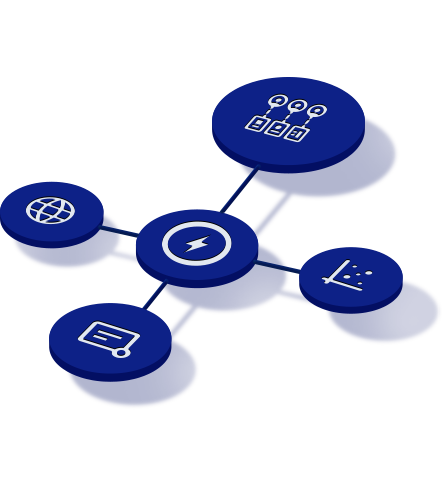 See the Instapage Enterprise Plan in Action.
Demo includes AdMap™, Personalization, AMP,
Global Blocks, heatmaps & more.